The Best Soldering Irons in 2022- It should come as no surprise that this tool, which was originally mass-produced in 1894 and is a mainstay in the toolboxes of many workers, engineers, and housewives alike, is so widely used in so many different industries. Along with electricians, who frequently use this useful tool for splicing and fusing wires, people in the auto repair, roofing, plumbing, and even jewelry industry all rely on their trusted soldering irons.

Many consumers are left with a large number of computers and other electronic items that require some amount of maintenance due to the advances in technology that have made them more accessible and affordable over the past ten years. The public is no longer required to rely on professionals to repair faulty or damaged circuit boards.
Soldering irons have advanced as well, much like hardware, and a wide variety of brands are now available online. You may get reviews of the top 10 soldering irons everywhere by reading the ones listed below. To assist you to finish soldering tasks fast, they supply kits with additional tools.
Linquip offers a thorough range of services for all OEM fleets. Please get in touch with Soldering Iron Experts to find out more about how to establish connections with a wide range of service providers who consistently deliver high-quality goods. Many different Suppliers, businesses, manufacturers, and distributors provide soldering irons, and Linquip offers a vast assortment of Soldering Irons for Sale.
For both pros and amateurs, having the best soldering iron for electronics makes all the difference. Today, many high-quality soldering iron kits include a full complement of accessories and deliver consistent performance. Which soldering irons are best for you will be the only consideration.
The most popular and suggested soldering irons for electronics are pencil-size soldering irons. This soldering iron is excellent for fixing small electronics and electrical circuit boards in addition to its straightforward operation and compact shape.
A soldering iron is occasionally needed for maintenance and repair work on vacuum tubes, printed circuit boards (PCBs), stained glass, and metal gutters.
Here are the three primary criteria we took into account while selecting our top selections, to help you select a professional soldering iron.
Wattage Ratings – The device receives enough power via a high-wattage electronic soldering iron, which also ensures steady heat. It heats up and maintains temperature more quickly and for a longer period with a greater wattage rating. You may complete soldering jobs more quickly and avoid electronic component damage from overheating by using powerful soldering irons.
Adjustable Temperature Control – It is advisable to use a temperature-controlled soldering iron rather than a regular one. Because not all devices use the same solder type, it is essential to have a temperature that can be adjusted. The 60/40 tin-lead solder is needed for some electronics applications because it melts at lower temperatures. Lead-free solder is used in other applications; however, it requires higher temperature settings. For rapid heating, precise adjustability and changing temperature control are essential.
Reliable Soldering Stand – There are soldering iron sets with tiny iron stands and sets with metal spring stands. A spring-type soldering stand is preferred by most experts because it effectively lifts the soldering iron and frees up the workspace.
You can offer context for the available options by reading the Buyer's Guide further down. See our top options for the best soldering irons below, as determined by thousands of satisfied customers. The soldering iron suggestions from Linquip are shown below, each having unique advantages and disadvantages. To determine which model is best, look at the list. Additionally, for extra shopping advice, check the buying guide.
Best Soldering Irons Reviews
The 8 Best Soldering Irons in 2022 include:
Vastar Full Set 60W 110V Soldering Iron Kit

ANBES 60W Soldering Iron Kit

Plusivo 60W Soldering Iron

POWER PROBE Butane Soldering Kit (PPSK)

 OMorc Desoldering Wick

Master Appliance Ultratorch UT-100SiK

Tabiger Soldering Iron Kit for Electronics

Magento's Superb 14 Pieces Set
1. Vastar Full Set 60W 110V Soldering Iron Kit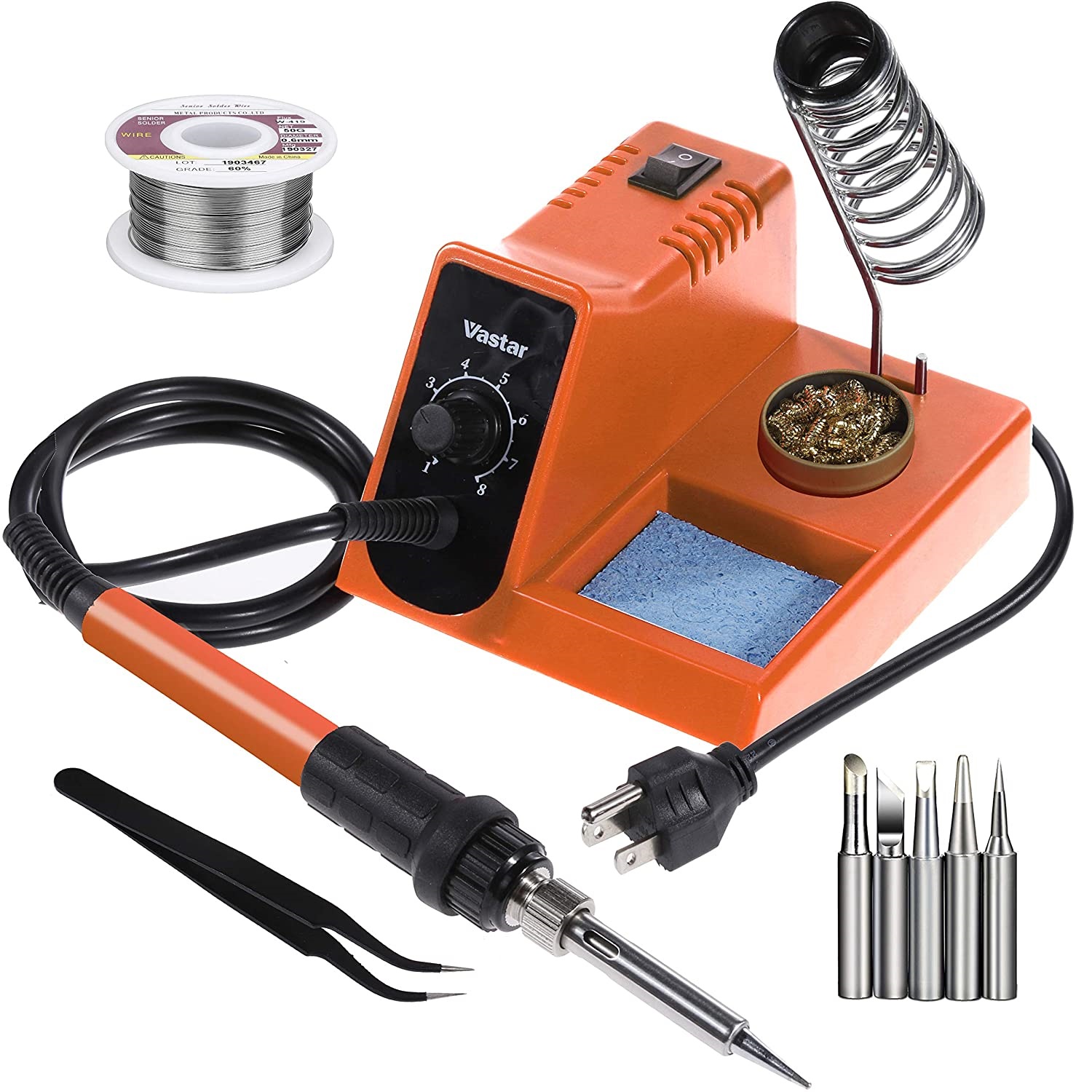 General Descriptions
A soldering iron kit with every safety feature you can imagine is the Vastar Full Set. It's uncommon to find a product better than this one that has sturdy tips that won't melt even after hundreds of uses.
The construction is evidence of its professional caliber, and it may be used with lead-free solder. It's simple to adjust the temperature. Simply rotate the tiny yellow and white dial located on the side of the handle. Do not become alarmed if you feel it warming to the touch. After being on for a long, it can get a little warm, but not to the point where it would interfere with your job. In general, having the Vastar kit on hand when working on a circuit board is a smart idea.
Item Weight: 8.8 ounces
Power: 60W
2. ANBES 60W Soldering Iron Kit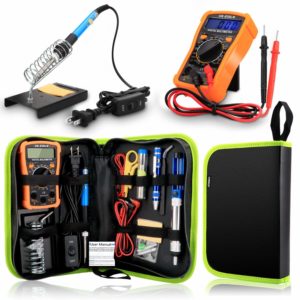 General Descriptions
When we need to make quick repairs to an electronic device, we always use the ANBES Soldering Iron. This soldering iron is smaller than other soldering irons, making it ideal for grab-and-go applications. Along with the other tools we generally carry in the bag, it doesn't take up much room.
Working with this specific soldering iron is enjoyable. Shorter cool-down times and stable temperature settings are possible thanks to its effective temperature management and heat dispersion. Additionally, the handle and screw thread on the solder head are heat-resistant, adding to the unit's durability.
Its two-color temperature dial is ideal for making quick temperature selections. Low-temperature solder performs best between 200 and 300 degrees Celsius, which is shown by the green index. For tougher solder material, the red index varies from 350 to 450 degrees Celsius.
The extra five soldering tips are also ideal for a variety of soldering tasks. For larger-spaced applications and precision soldering, we can utilize a broad tip.
3. Plusivo 60W Soldering Iron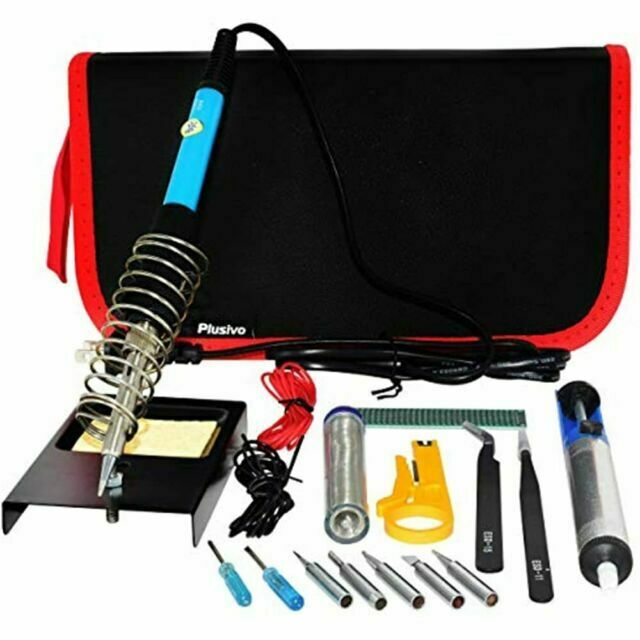 General Descriptions
A cost-effective electronic soldering kit is the Plusivo 60W Soldering Iron. We enjoy having additional shrink tubing since we frequently utilize it for circuit tasks.
For disassembling and accessing circuit boards, the pen screwdriver that comes with it and has a set of seven magnetic bits is useful. In addition, the storage bag has a practical, robust design that makes it simple to pack and move around.
A heat-resistant cap that is safe to attach even before the iron has finished cooling down covers the soldering tip. This layout makes it simple for me to store the kit after work and pack it up. Every time we finish the day, we don't have to wait 15 to 20 minutes to make sure it won't harm the other instruments in the bag.
4. POWER PROBE Butane Soldering Kit (PPSK)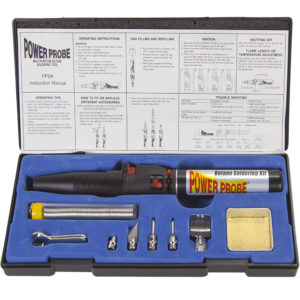 General Descriptions
The Power Probe Butane Iron comes with a kit that contains several additional soldering tools. The iron itself is extremely durable in every way. It wouldn't break if you dropped it accidentally. Additionally, the body's quality construction means that you won't likely need to buy a new set for a very long time.
Regarding the extras, it includes a compact carrying box made of reinforced plastic, tips, and inside foam padding. Since the shell is waterproof, you may use it outside in the rain without worrying about anything inside being wet. Recommended for customers who value excellence and speedy heating.
5. OMorc Desoldering Wick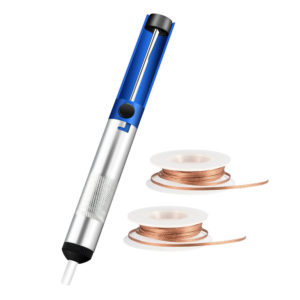 General Descriptions
Despite not being a soldering iron, the OMorc Desoldering Wick can be a huge aid when used with one. The tool desolders and cleans boards by sucking off the old residue from the pins, as its name implies.
You can apply it before or during the soldering process, and you'll see that the finished boards are considerably cleaner. You won't have to solder over already-existing metal any longer. Simply light the wick, depress the upper pin, and let all debris fall into the handle-mounted receptacle. If your kit doesn't specify that it comes with a wick, keep in mind that you can use the OMorc with any iron of your choosing.
6. Master Appliance Ultratorch UT-100SiK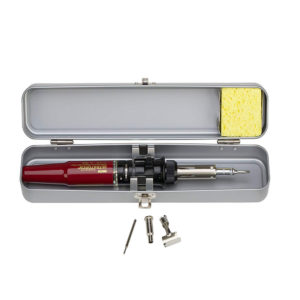 General Descriptions
The Principal Appliance Another gas-powered soldering iron with a pocket-sized carrying pouch is the Ultratorch. It may simply fit in your pocket or be carried around without getting in the way. The only fuel source for the iron is butane; there is no power available.
About two hours will pass before a refill is required, according to the runtime. Although it doesn't happen often, there are times when the ignitor can only be started manually. However, it shouldn't stop you from using the Ultratorch, especially if you require a wireless iron.
7. Tabiger Soldering Iron Kit for Electronics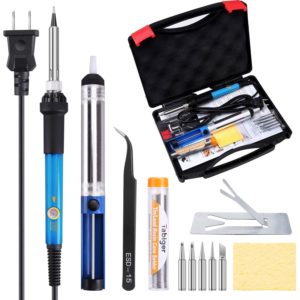 General Descriptions
When it comes to additional accessories, the Tabiger Soldering Iron is the best. Everything is delivered in a single box or package. The carrying case protects the tools like that of a tiny toolbox.
If you choose the Tabiger, you won't need to seek a wick because it is included in the package. Although the handle of the iron is a little lighter, it is nevertheless of great quality. As a result, getting tired is possible, especially if you have big hands. Choosing the Tabiger might be OK if you believe this is not a problem.
8. Magento's Superb 14 Pieces Set
General Descriptions
The ideal equipment for tiny welding and soldering is the Magento Superb Set. The benefit is how comfortable it is to wield the instrument, whether you're repairing jewelry or using a powerful computer. A small but useful bonus is the mount or stand.
Nothing will shake or be at risk of tipping over when you lay the iron inside the coils. Temperatures are also nearly decimal precise. The solder that comes with the item has the largest problem. If you have soldering experience, you've probably used superior materials in the past. If you replace it with a better one, your kit will be comparable to any high-quality soldering iron.
Best Soldering Irons—Buying Guide
Our selection of the top models contains something for everyone, from beginners to specialists, if you're looking for a new soldering iron or want to purchase your first one.
It used to be that technicians, typically those who worked with computers of some kind, were expected to know how to solder. These days, soldering courses are a standard part of the curricula at schools all around the world. But that doesn't imply that most people won't get a subpar soldering iron that breaks before they've even used it. You may narrow down your options using the information below, and by the time you're done, you should know roughly what to look for.
Types of Soldering Irons
Typically, soldering irons have a power range of 15–35 watts and a temperature range of 392–896°F. The more complex models have changeable temperature controls and even automatically regulate the temperature, while the simpler models have a set temperature. Soldering irons are most frequently corded, but they are also available in USB charging and rechargeable cordless variants. Another common cordless option is butane soldering irons, which are fueled by a little gas tank.
Soldering stations with their electrical power supply, tips with temperature sensors, and stands and wet sponges for simple cleanup offer greater control over adjusting power and temperature. Those working with electrical components, PCBs, and surface mount devices frequently use these soldering iron stations (SMDs). In circumstances when more heat is needed than a soldering iron can deliver, such as in heavy electrical and sheet metal applications, soldering guns are also available and frequently utilized.
For various tasks, soldering iron tips of various sizes and shapes are available, including magnetized, chisel, pyramid, conical, and concave tips, tweezers, and knives made of copper, iron-plated copper, solid iron, and steel, though the latter two tend to store heat less efficiently and are not typically preferred by professionals.
What to Use Soldering Irons For
Consider using a soldering iron as much smaller-scale welding. Long metal alloy pieces are melted during the process until they adhere to the surface or object being worked on. Even yet, the fundamentals of soldering may be taught relatively rapidly.
Circuit boards (PCBs), which are found on anything from everyday home items to high-end computers and smartphones, typically need the usage of electrical soldering irons. This application will probably be useful if you need to fix your stale old laptop or PC.
Maybe you wish to build your PCB panels from the ground up! Having a soldering iron on hand at home and understanding how to use it are both wonderful alternatives to purchasing new electronics whenever anything breaks.
Video Tutorial: How to Solder
Power Choices
Although there are many various types of soldering irons and they can serve many different functions, the power source can be used to distinguish between those that are frequently sold online. Some are powered by electricity or gas. If you don't require an AC cord, be careful to read the product description since DC adapters may also be used.
The benefits of wired irons include greater power and heat regulation, as well as temperature-controlled soldering irons when used with a soldering station. You won't have to be concerned about refueling the tank or how hot the tip will get if you choose an AC and DC-powered device.
For power, butane soldering irons normally use butane fluid, which may be supplied by the manufacturer in a modest quantity or something you'll need to buy separately. The most obvious advantage of these cordless soldering irons is the freedom to solder anywhere without a wire, but there is also heat. Some soldering irons that rely on fire can heat up to a temperature that instantly melts solder when it comes into contact.
Which one should you pick? Although it's up to you, consider the environment in which you'll be working, particularly if you're planning to solder in more than one place and how frequently you solder.
Accessories
A soldering iron that is offered alone very rarely appears on the market. The majority of them will include kits with sufficient supplies to avoid making additional purchases.
Tweezers for fixing errors and removing old solder, a vacuum to keep the work area tidy, and a carrying case are typically included with soldering iron kits. There may be additional equipment, but don't limit yourself to the accessories. Your kit should be evaluated first and foremost by the iron, as even the nicest accessories may be useless if the iron itself isn't up to par.
Don't worry too much if you find low-quality parts included in a pack. They are always replaceable. In essence, the iron is what matters.
Temperature Control and Settings
Older soldering irons frequently only had one fixed temperature setting. Thankfully, those times are behind us. You may alternate the heat with today's brands between a few degrees above room temperature to hundreds of degrees.
Finding a device with appropriate temperature control could be difficult, especially if you want to work with some different solder compounds. Some solder performs better at particular temperatures. For instance, brazing copper will probably necessitate temperatures that are significantly greater than those needed for standard solder.
Look at items with temperature control if you want to be able to achieve both extremely hot and moderate alternatives in one soldering iron. Electric-powered brands, as previously indicated, frequently offer more alternatives, but gas-powered versions are also possible.
FAQs about Best Soldering Irons
1. What Wattage Soldering Iron Is Best for Electronics?
A power rating of 20 to 50 watts should be adequate if you only need a soldering iron for basic soldering jobs or ham radio use. It is especially advised for beginners to solder to use this power rating.
For professionals who require a high-power soldering iron for a variety of soldering procedures, a power rating of 60 to 100 watts is perfect. This soldering iron's quick heat-up capability enables us to use a much higher temperature for solder wire that is difficult to melt.
2. What Temperature Should Soldering Iron Be for Electronics?
The melting point of the solder you're using determines the temperature of your soldering iron. A 60/40 tin-lead solder with a melting point between 350 and 380 degrees Fahrenheit is used with some tiny electronics soldering irons. If you need to utilize a lead-free solder, a higher temperature setting of 620 to 750 degrees Fahrenheit would be necessary.
3. Do You Need Flux to Solder Electronics?
When soldering an electrical circuit board or other devices, you might require additional flux if you use a non-flux solder. Fortunately, most solder today already has a flux core, so you may use it without adding any more flux. Flux paste is additionally used to remove the oxide from the metal surface to create a superior polish.
4. Is A 40-Watt Soldering Iron Powerful Enough?
Basic and modest electronics tasks can be completed using a 40-watt tiny soldering iron. Remember that higher temperatures are not necessarily caused by using more power. Simply put, a 40-watt soldering iron has more power. Therefore, compared to a 30-watt soldering iron, a 40-watt soldering iron is a little bit quicker and more effective. The TS100 is the best option for small electronics because it heats up so quickly and is comfortable to hold.
5. How Hot Is A 25-Watt Soldering Iron?
The majority of 25-watt soldering irons have a 750-degree maximum temperature. People frequently believe that low-watt soldering irons can only produce low temperatures. But to melt solder, soldering irons must achieve a temperature of 370 degrees. In actuality, the majority of soldering iron tips have a maximum temperature of over 700 degrees.
Having said that, it is crucial to use a low temperature while working with solder for the first time. You can prevent destroying materials if you start small and build up.
6. How Hot Is A 60-Watt Soldering Iron?
The majority of 60-watt soldering irons have a 900-degree maximum temperature. Having said that, the majority of 60-watt soldering irons have programmable temperature adjustments. Furthermore, the manufacturer affects the temperature restrictions. However, the typical temperature range for 60-watt soldering irons is 400 to 900 degrees.
7. What Metal Cannot Be Soldered?
Aluminum, high-alloy steel, iron, and stainless steel are all exceedingly difficult metals to solder. These metals can only be soldered if they have been plated in an appropriate metal and flux. Soldering cannot be done on this metal. When heated to a high temperature, they oxidize.
8. What Wattage Soldering Iron Do You Need?
A variety of powers are offered for soldering irons. Low-wattage soldering irons range in power from 15 to 25 watts. The more powerful versions range in power from 30 to 60 watts. Soldering iron with a power output of between 15 and 25 watts is excellent for minor electronics work. High-wattage soldering irons or soldering guns are preferable for larger jobs. Choose a soldering iron with 25 to 35 watts of power if you plan to use it sparingly.
Before choosing a soldering iron, decide what you want to solder. A low-watt soldering iron will work just fine if you are working with little wires and circuit boards. Depending on the size of your project, you may need to adjust the soldering iron's power.
9. What Is the Ideal Soldering Temperature?
The majority of lead-based solders melt between 360 and 370 degrees Fahrenheit (about 180 degrees Celsius). If you want to melt the solder in a reasonable length of time, your soldering gun's tip needs to be hotter than that. It should be fine to set the temperature at around 540F (280 Celsius). The size of the joint you want to solder may also affect the amount of heat you need.
Remember that there are numerous varieties of solder. Each solder has a certain melting point. The alloy makeup of a solder affects its melting temperature. When soldering, use flux as directed.
It's crucial to know how to choose the appropriate soldering temperature because different soldering processes demand different soldering temperatures. Set your soldering iron's temperature as low as possible to do this. Turn up the heat gradually until the solder starts to melt. You should melt the solder slowly and low if you are new to soldering. You can avoid burning the rosin or delicate components of a circuit board by using low temperatures.
High temperatures are used by skilled solderers. However, most inexperienced solderers feel at ease working at temperatures between 600 and 700 degrees. You won't be able to change the heat while using a soldering iron that has a preset temperature.
Conclusion
Are you certain about the soldering iron manufacturer you want to purchase after reading the reviews on the list? There's still good news if you're not. Two of the products are ensured to function properly for everyone, from seasoned assemblers to novices looking to revive their computer's outdated hardware.
The Vastar Full Set and Power Probe Butane Soldering Kits include excellent temperature control and practical additions for the work, as well as everything you'll need to get started. Having said that, don't have a bad opinion of the other brands. Additionally, they are superb, virtually guaranteeing that the instrument you choose will be used for many years to come.
For more information, you can use the complete list of Linquip's Service Providers to meet all your requirements or contact Soldering Iron Experts.
Download Best Soldering Irons PDF 
If you want to know the best soldering irons completely, visit this file.
Buy Equipment or Ask for a Service
By using Linquip RFQ Service, you can expect to receive quotations from various suppliers across multiple industries and regions.
Click Here to Request a Quotation From Suppliers and Service Providers
Read More On Linquip