The Best PLA Filaments in 2023 – The most often used material for FDM 3D printing is PLA. It has excellent material characteristics and is safe, inexpensive, and simple to print. PLA filament is available in a broad variety of composites and colors and may be used for a wide variety of purposes.
Because PLA is so widely used in the 3D printing world, there are a ton of alternatives available. It can be challenging to identify which items are high-quality and made by reputable producers when there are so many different companies providing the same material. You don't want to purchase the most costly filament when a less expensive option would have been just as excellent if it means that it will provide subpar print results.
On the Linquip website, among the many options available to you, you will find all the information you need to know about the PLA Filaments, as well as information regarding this marketplace. You can count on Linquip to provide you with as much general and reliable information about this topic, whether you're a professional or a customer looking for a proper company. We recommend you review a list of all PLA Filaments available in Linquip.
We would be delighted to provide you with more information on how we can help you generate revenue within your industry. Don't hesitate to contact us if you have any questions! With Linquip's Solutions for Each Company Level, you will be able to upgrade the capabilities of your organization in order to gain a competitive edge by taking advantage of a wide range of options to enhance your organization's performance. If you are looking for the simplest or the most sophisticated marketing and advertising package for your business, we can help you ensure that your company gets as many customers as possible to grow your business.
The Best Brush Cutter in 2023
1. Hatchbox PLA Filament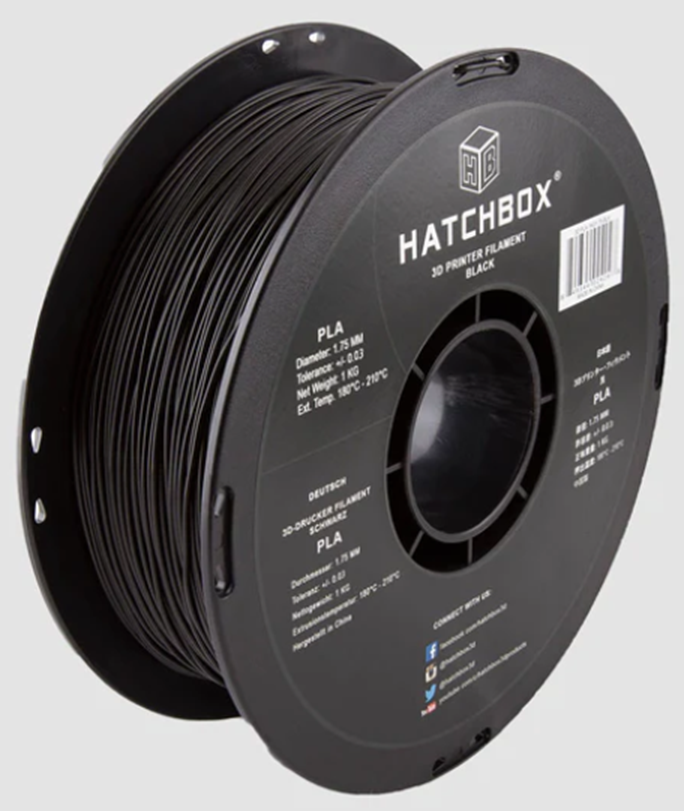 Specifications
| | |
| --- | --- |
| Size | 1.75 mm |
| Print Temperature | 180°C – 220°C |
| Heating Bed Requirement | No |
Product Description
Such a thief is the Hatchbox PLA, a PLA filament with a vivid appearance. It has captured the hearts of countless happy Amazon consumers. and also ours. For several reasons, this is without a doubt the 3D printing filament that we suggest the most. On the whole, it is the best PLA filament on our list.
To begin with, prints generated with this filament are pliable and durable. In our test models, stringing wasn't seen. Additionally, the finishes came out shiny. We discovered that the layer adhesion was excellent and that there was no warping throughout the printing process. Prints easily adhere to the bed.
These PLA filaments smell wonderful, man. made us think of pancakes. Use this filament only if you are not hungry. 180°C to 220°C are ideal nozzle temperatures for PLA filament operation.
The Hatchbox PLA family is a vibrant group of people. There are 28 various colors for the filaments, including yellow, blue, white, and black. We adore the company, but detest Hatchbox's backing. The support personnel might be difficult to reach, and the situation is awful. Having said that, we heartily endorse the Hatchbox company. It is a fantastic PLA filament for such a low cost.
2. Polymaker Polymax PLA Filament
Specifications
| | |
| --- | --- |
| Brand | BuildTak |
| Material | PLA |
| Colour | Schwarz |
| Item weight | 1.65 Pounds |
| Item diameter | 1.75 Centimeters |
Product Description
The Polymax PLA 3D printer filament from Polymaker is the hardest kid on the PLA block. Hit it, smack it, anything. However, take caution since this bully isn't afraid of you.
Polymax PLA is durable. The prints come out to be quite robust. On the finished prints, many impact tests were performed. They made it through with ease. It has a strong impact resistance that is almost 7-9 times more than the PLA that is typically sold. Additionally, ABS is 20% softer than Polymax. The PLA filament easily adheres to the bed frame. Additionally, not all of our test pieces had warped.
The Polymax PLA produces amazing prints. They have an appealing appearance. The models appear to be manufactured by injection molding and the individual layers are not visible. The prints appear to be fully fused and intact. In addition, the surface has a smooth appearance and feel.
There are practically no conditions on the final prints. This makes the prints appear extremely tidy. A must-have is Polymaker's Polymax PLA filament, especially if you want your prints to be strong.
3. Sunlu PLA Filament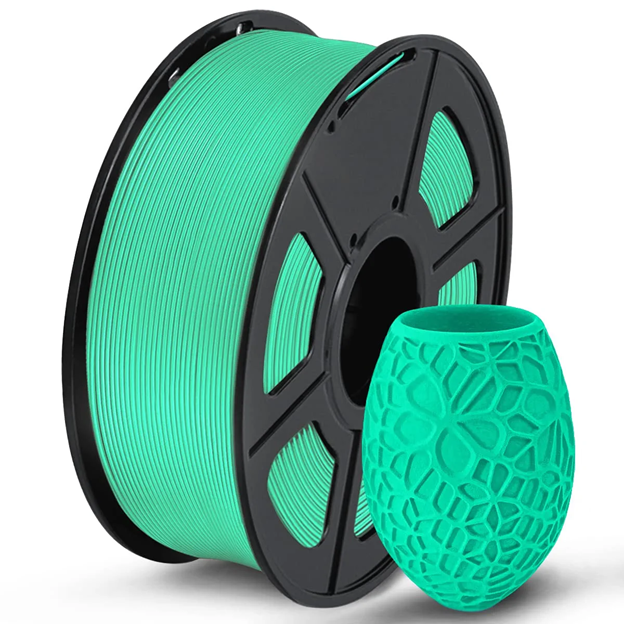 Specifications
| | |
| --- | --- |
| Brand | SUNLU |
| Material | Polylactic Acid |
| Color | Pla Green |
| Item Diameter | 1.75 Millimeters |
Product Description
Which business offers the finest packaging for its filament? Sunlu PLA receives the fictitious PLA filament award for Best Packing!
We just adored the packaging the filament came in. It is completely tangle-free and wrapped really nicely. In other words, you may watch TV, prepare dinner, or go bungee jumping. There is no need to be concerned about prints failing in the middle due to tangling.
This 3D printing filament produced prints with a smooth, sparkly surface that are wonderful to touch. The layers are small and seamlessly blend into one another; they are hardly visible to the unaided eye. The print quality is incredibly precise and ideal for printing gears and other mechanical components.
There is minimal possibility of the nozzle being clogged because the PLA filament extrudes smoothly.
Remember to keep the nozzle temperature above 220°C while 3D printing for the best print quality. The high temperature does release a lot of fumes, so use caution. Fortunately, you do not need to remain in the space while the printer prints, eh?
Sunlu is a highly coveted PLA filament brand that is utilized by both experts and novices. This is the most cost-effective PLA filament for 3D printing and is a no-nonsense filament that simply gets the job done.
4. Overture PLA Filament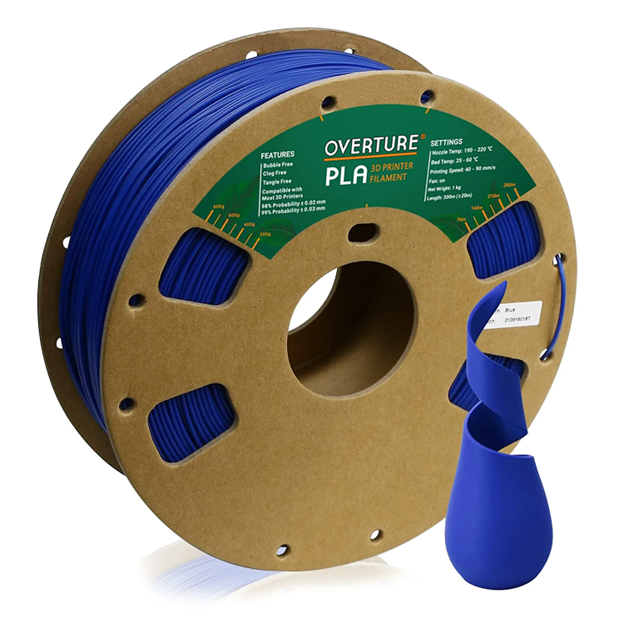 Specifications
| | |
| --- | --- |
| Material | |
| Brand | OVERTURE |
| Material | Polylactic Acid |
| Color | Blue 1-pack |
| Item Weight | 2.2 Pounds |
| Item Diameter | 1.75 Millimeters |
Product Description
Searching for an affordable and dependable filament? Well, your quest is over with this one!
With good reason, the Overture PLA Filament is a favorite among 3D printing enthusiasts.
The variety almost completely fills the color wheel with hues including Space Grey, Fresh Red, Sakura Pink, Black, and mouth watering Chocolate! This filament is ideal if you wish to print something in a variety of colors at a reasonable cost.
Additionally, this filament allows for odorless printing so that your home won't smell like a burning Barbie factory. Sorry, Barbs.
The smooth feeding of the Overture filament is another benefit; in contrast to many filaments, it doesn't snap or break at irregular intervals, ruining your print. One word of warning, though: if incorrectly kept and left unused for an extended period of time, this filament can become brittle.
Additionally, we discovered that this filament tends to tangle when used as is. However, adding a filament guide to your printer can successfully fix this problem.
The absence of bubbles or stringing with this filament is a major benefit, provided that the parameters are correct. When you overheat the bed or extruder, any filament might perform poorly. Layer adhesion is excellent at a bed temperature of 50–60°C and this filament prints best at an extrusion temperature of 200–220°C.
It is quite precisely measured, so you receive exactly 1.75mm, no more, no less. This guarantees fewer printing problems (such as clogging or jamming), as the filament diameter matches exactly what the printer anticipates. Nice!
5. FormFutura EasyFil PLA Filament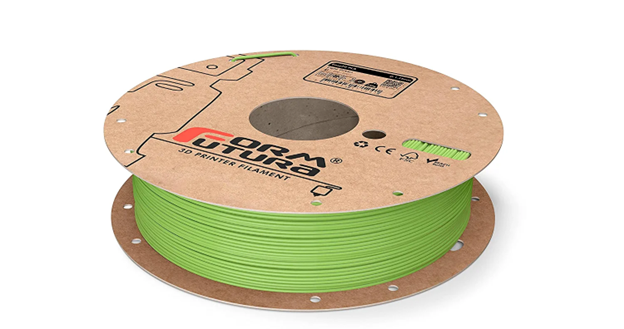 Specifications
| | |
| --- | --- |
| Brand | Formfutura |
| Material | PLA, Polylactic Acid |
| Color | Light Green |
| Item Weight | 1.05 Kilograms |
| Item Diameter | 1.75 Millimeters |
Product Description
This filament has both beauty and strength, so look no further! The price could make your pocketbook a touch brittle, but this isn't your typical brittle material. It's worth it, though. Prints made with this material are readily drop-resistant. (Perhaps not a fall of 100 stories, though. (Tip: Avoid throwing your prints from great heights.)
It offers 99 percent odorless printing (the remaining 1 percent emerges as a very faint odor during printing, which is manageable). This filament is ideal for novices to print at home because of its simple filament flow and excellent layer adhesion. Without bubbles or stringing, you get layers that are stunningly smooth and seamless.
For this filament, a nozzle with a diameter greater than 0.15mm is advised. It demands a medium print speed and works optimally at extruder temperatures between 200°C to a toasty 215°C.
The FormFutura is available in 750g spools rather than the usual 1kg. If you're used to a fuller spool, this could be a cause of irritation, but given the high quality of this filament, we're ready to overlook it.
Additionally, as we previously stated, the price is high; but, with lower-quality filaments, the price is actually one of time and effort. Therefore, if you have the money, go for it!
Although the FormFutura is advertised as a biodegradable filament, the FormFutura website states that moisture and temperatures of more than 60°C are required for PLA to decompose over time.
6. Eryone PLA Filament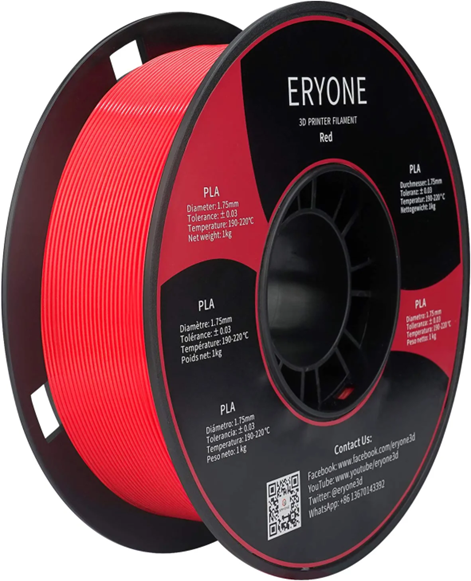 Specifications
| | |
| --- | --- |
| Brand | ERYONE |
| Material | PLA |
| Color | Pla Red |
| Item Diameter | 1.75 Millimeters |
Product Description
The Eryone PLA is a cost-effective choice that is renowned for its glossy look and easy printing. You can count on easy and clog-free printing with a 1.75mm diameter and 0.05mm tolerance. (For the most part… we'll go into greater detail.)
It can withstand temperatures of 190 to 220 °C, while 210 to 220 °C is advised. Additionally, a heated bed of about 50–60°C improves printing. The higher the temperature, the better for this filament!
For this filament, a print speed of 50 to 100 mm/s is appropriate. This option aids in producing layers that are flawlessly finished and clearly defined.
The spool of Eryone PLA filament is extremely tightly wrapped, which minimizes tangling. It still experiences clogging difficulties with the Prusa MK3, though.
It's advised to clean your extruder first if you have an MK3 and want to use this filament. Then, build a temperature tower to see what temperature the filament works best at. Consider switching to a 0.6mm nozzle if you're experiencing problems with extrusion and clogging using a 0.4mm nozzle.
Eryone produces real white filament with the color code #FFFFFF, unlike other manufacturers that can only produce white that is near to being creamy or off-white.
Additionally, it is offered in black, blue, red, green, striking orange, and yellow.
7. MatterHacker's Build PLA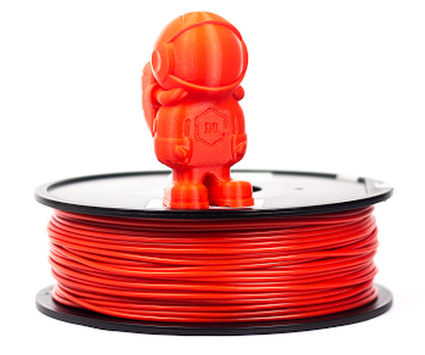 Specifications
| | |
| --- | --- |
| True Diameter | 1.75mm |
| Density | 1.25 g/cm³ |
| Volume | 0.80 L |
| Length | 332.60 m |
| Dimensional Accuracy | ±0.05mm |
Product Description
Looking for an affordable PLA filament that still includes everything? Then you ought to look about Build PLA from MatterHacker.
Overall, the results of our tests with the filament for 3D printers were excellent. The prints came out flawless, with fine details. There was a shiny finish. Just like that, the PLA supports were removed with ease. However, the somewhat excessive stringing didn't exactly make us pleased. Overall, the prints were robust and durable due to the high layer adhesion.
The MatterHacker PLA filament made printing easy and pleasurable for us. We had no problems at all (except for the stringing). I heartily endorse this reasonably priced PLA.
8. ESun PLA PRO (PLA+) Filament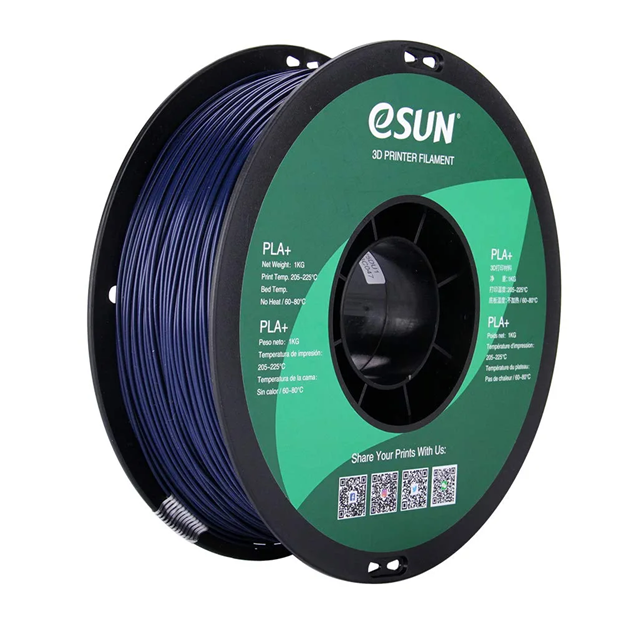 Specifications
| | |
| --- | --- |
| Brand | ESUN |
| Material | Polylactic Acid |
| Color | Various colors |
| Item Weight | 2.2 Pounds |
| Item Diameter | 1.75 Millimeters |
Product Description
The corn-based eSUN PLA PRO (PLA+), which is not safe for chickens, is a very hard and shiny PLA filament.
With remarkable mechanical qualities that make it almost impervious to breaking and damage, its recipe makes it 10 times stronger than normal PLA.
Every time you print, the eSUN's outstanding layer bonding and adhesion ensures a flawless result with a glossy finish. The eSUN PLA PRO (PLA+) is the one for you if you want prints that look good and printing that is simple.
Warning: This filament demands extremely high temperatures starting at 205-220°C. Before ordering this filament, make sure your hot end can achieve 205°C at the very least. A word of caution: When 3D printing at high temperatures, make sure your windows are open since the fumes are poisonous. You'll also want a print bed temperature of 60 to 80°C.
There are several different colors available for this filament, including olive green, dark blue, black, white, and grey.
9. Gizmo Dorks PLA Filament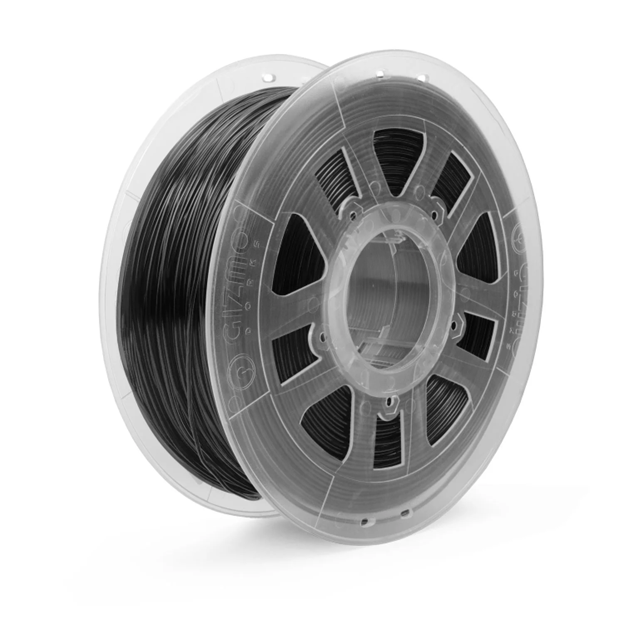 Specifications
| | |
| --- | --- |
| Brand | Gizmo Dorks |
| Material | Pla |
| Color | Various colors |
| Item Weight | 2.85 Pounds |
| Item Diameter | 1.75 Millimeters |
Product Description
They sell PLA filament in 1.75mm and 2.85mm 1kg spools. With 29 (yes, 29!) color selections, they have a wide spectrum of colors to choose from, including pink, orange, blue, red, and a gorgeous opaque purple.
Gizmo Dorks PLA offers exceptionally high-quality prints with smooth surfaces and overhangs for the money. Depending on your printer, it prints best between 200 and 210°C.
However, there are some drawbacks. This filament can distort if cooled down too rapidly and is prone to becoming brittle at low temperatures. Additionally, it occasionally tangles in the spool, which is a literal pain in the behind. However, if you want to take a chance, this filament can do wonders while also helping you save a ton of money.
FAQs about PLA Filaments
1. Which Filament Should I Use First?
The ideal filament to use when purchasing a printer for the first time is PLA. It is the most commonly accessible, the safest in terms of fumes, and the simplest to print with. When you initially start, picture yourself lying in a PLA shop. A one kilogram roll may seem like a lot, but once the itch sets in, materials go rapidly.
2. Are There Several Filament Sizes?
Yes. If you mix up the two primary filament thicknesses, your printer will not print.
The most prevalent filament is 1.75mm. Most 3D printer manufacturers in the globe now use it, and if you have an entry-level printer, it probably uses 1.75mm filament.
But before you spend a lot of money on the wrong material, find out if your 3D printer employs the thinner 2mm style or the thicker 3mm style.
3. Are All Filaments Poisonous?
It's vital to keep in mind that, while using any filament for 3D printing, you are effectively burning plastic. That sort of material is never going to be good for you to breathe in, but not all strands are equally harmful.
ABS is undoubtedly the most hazardous of the four primary filament kinds. If you don't have a well-ventilated place separate from your regular living surroundings, you shouldn't even consider printing it. Despite having a complete ventilation system in my workshop, the fumes may occasionally be rather unpleasant.
Although PLA and PETG are both thought to be harmless, you should nevertheless keep your workspace aired when using them. Both filaments are safe to print indoors, and despite their unpleasant odor, they are not considered carcinogenic. The filament you use for 3D printing is thought to be harmless and nonreactive, so you should have no problems printing it even if other types of TPU can be harmful.
4. Does The Color Of The Filament Remain The Same After Printing?
Typically, yes. The filament might be burned by a poorly calibrated printer, which would cause it to turn discolored. However, the color fidelity is typically rather near.
A specific word of caution for transparent plastics: Filament cannot produce prints that are entirely translucent. Any clear plastic that is printed on becomes foggy and hazy due to the nature of the printing process and infill. You will want a resin printer if you want to make models that resemble pieces of glass.
Download PDF for The Best PLA Filaments in 2023
You can download the PDF format of this post from the link provided here.
Buy Equipment or Ask for a Service
By using Linquip RFQ Service, you can expect to receive quotations from various suppliers across multiple industries and regions.
Click Here to Request a Quotation From Suppliers and Service Providers
Read More on Linquip