The Best CO2 Monitor in 2023 – The Consumer Product Safety Commission estimates that 30% of newly constructed and renovated buildings in the United States have unhealthy levels of indoor air pollution. Numerous studies have demonstrated how poor air quality negatively affects human health and productivity. The prevalence of SBS (sick building syndrome) is worrisome because it demonstrates that poor air quality can cause symptoms more than just a drop in productivity, such as headaches and respiratory issues.
On the Linquip website, among the many options available to you, you will find all the information you need to know about the CO2 Monitors, as well as information regarding this marketplace. You can count on Linquip to provide you with as much general and reliable information about this topic, whether you're a professional or a customer looking for a proper company. We recommend you review a list of all CO2 Monitor Products available in Linquip. You can also be encouraged to visit CO2 Monitor for Sale and find the most suitable device based on your applications and demands.
The Best CO2 Monitor in 2023
1. Awair Element Indoor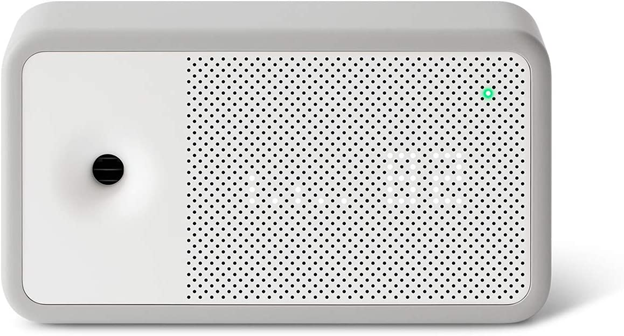 Specifications
| | |
| --- | --- |
| Measures | PM2.5, VOC, CO2, humidity, temp |
| Wireless | No |
Product Description
We recommend the Awair Element Indoor if you're looking for a high-quality gadget to monitor CO2 and other common air contaminants. Its companion app makes it simple to monitor your home's air quality in real time and overtime. You may also set alerts for when certain contaminants in the air reach dangerous levels. You may use the WiFi connection to check in on your heater while you're away and make sure it hasn't broken. You may also customize the meter's front display to show whichever measurement is most important to you, making it easy to check the status with just a glance. Finally, this meter breezed through our initial accuracy testing for both PM2.5 particulate matter and carbon monoxide with flying colors.
One major drawback of the Awair is that it needs to be plugged in at all times in order to function. In addition, the LED screen might be difficult to read in bright environments. We still believe the Awair Element Indoor Monitor is an important tool for keeping tabs on air quality in any household, despite these small complaints.
2. YVELINES Air Quality Tester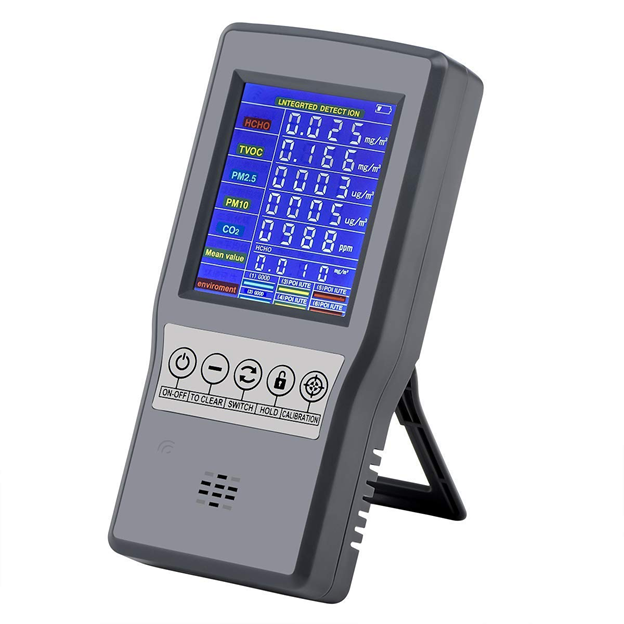 Specifications
| | |
| --- | --- |
| Measures | PM2.5, PM10, VOC, CO2, formaldehyde |
| Wireless | Yes |
Product Description
The Yvelines Air Quality Tester is a low-cost alternative to other popular devices that delivers accurate monitoring of indoor air quality. It's comprehensive, measuring not only two types of particle pollution but also VOCs, formaldehyde, and carbon monoxide. During our tests, it tracked nearly identically to our professional-grade air quality meter for PM2.5 (the particles linked with wildfire smoke and other smoke-based forms of air pollution), which we found to be quite impressive. You may quickly view short-term averages for every metric by using the straightforward controls. Formaldehyde has a 60-minute average, while CO2 and PM2.5 have 10-minute averages. It doesn't matter how bright or dim the room is, the color screen is always legible. The internal battery will keep the device running for up to 12 hours while you take readings in the field.
The Yvelines Air Quality Tester provides helpful short-term averages, but they probably won't be enough for anyone who is interested in monitoring longer-term changes in their home's air quality. To do so would necessitate time-consuming manual monitoring of the device's output. In addition, the CO2 readings from this device were always lower than our properly calibrated CO2 meter by more than 10%. The CO2 values, however, were always 15% to 20% higher than predicted. Despite the fact that it consistently over-read the calibrated pro meter in our tests, we think it may be beneficial for people who wish to monitor the CO2 levels in their homes. If you want to make sure your home's air quality maintains below acceptable levels during times like wildfire season or the chilly winter months when appropriate ventilation is more challenging, this meter is a fantastic and very affordable alternative.
3. Airthings 2930 Wave Plus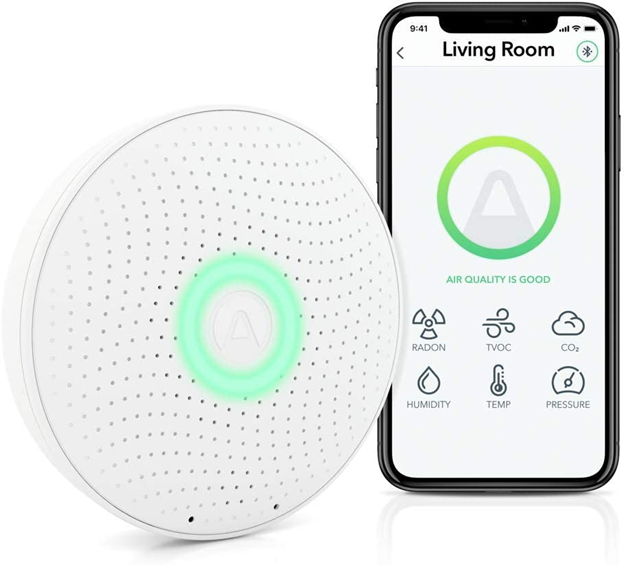 Specifications
| | |
| --- | --- |
| Measures | Radon, VOC, CO2, humidity, temp, pressure |
| Wireless | Yes |
Product Description
Long-term trends and averages can tell you more about the quality of the air in your house than random samples taken at random intervals. One of our favorite air quality meters, the Airthings 2930 Wave Plus, really excels in this situation. Its intuitive interface provides instant access to 48-hour, weekly, monthly, and annual averages, as well as trend graphs, for all of the pollutants it monitors. Since it detects radon, it is one of the few consumer meters available and hence a viable option for people living in radon-heavy regions. If you don't want to keep checking your phone, you may get alerts when certain levels of pollutants are reached. You may also just wave your palm over the meter to obtain a quick summary in the form of a green, yellow, or red light. This meter can operate for weeks on only two AA batteries, making it convenient to put it virtually anywhere without worrying about access to an electrical socket. Finally, it demonstrated acceptable levels of accuracy in our CO2 monitoring tests.
This air quality meter's major drawback is that it cannot detect PM2.5 particles, hence it cannot detect the particulate air pollution caused by wildfires and other smoke. Furthermore, the meter can only exchange data with your phone at a close range of 30 feet or so via Bluetooth. Though it wouldn't have stopped us from buying such a powerful meter, a WiFi connection that allows for monitoring even when away from home would have been nice (a WiFi hub is reportedly in the works). Overall, the AirThings 2930 Wave Plus is a wonderful gadget if radon monitoring is a priority and you don't mind the absence of particle pollution tracking.
4. Huma-i Advanced HI-150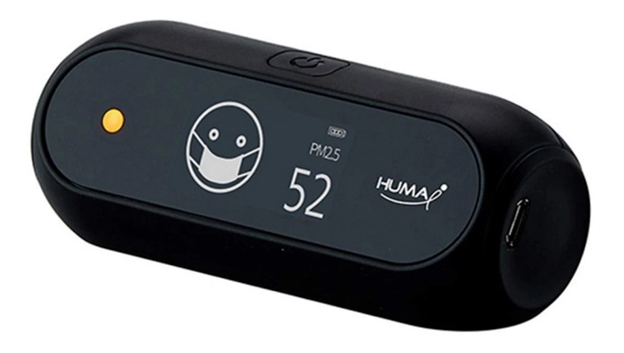 Specifications
| | |
| --- | --- |
| Measures | VOC, CO2, PM2.5, PM10, AQI, Temp, humidity |
| Wireless | Yes |
Product Description
The Huma-i Advanced HI-150 is an excellent device to have on hand if you frequently travel and like to perform random checks of the air quality in your hotel room. You may tuck this little monitor into a front pocket and within seconds it will be ready to take readings on a variety of air quality parameters. The LCD display is straightforward, and the air quality can be quickly assessed by looking at the indicator lights (which are color-coded from green to yellow to red). With the push of a single button, you may quickly browse among all of the available dimensions.
This air quality meter is designed for occasional and temporary usage and therefore does not offer any of the long- or short-term averages or trends that could be of interest to the user in their own living environment. In addition, it only gives you an excellent, moderate, or bad reading and a little bar chart rather than the real CO2 concentration. Nonetheless, we found that it had comparable accuracy to professional-grade air quality and CO2 meters, suggesting that it might give a welcome piece of mind for those traveling to locations where poor air quality is a concern.
5. Forensics Basic CO2 Meter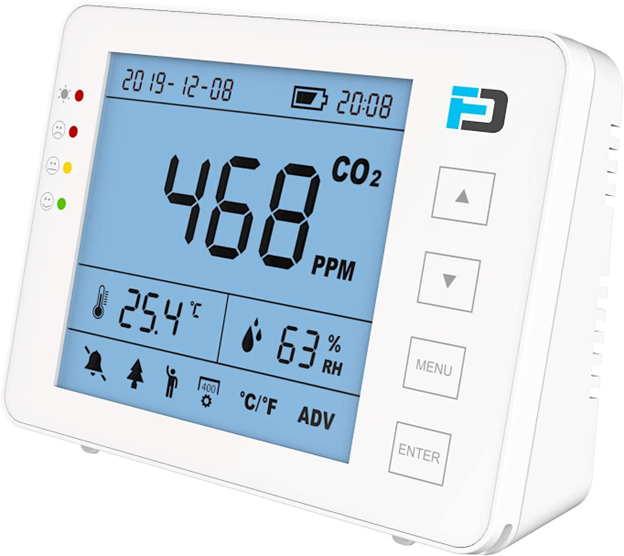 Specifications
| | |
| --- | --- |
| Measures | CO2, temp, humidity |
| Wireless | Yes |
Product Description
The Forensics Basic CO2 Meter provides easy-to-use, precise monitoring for those whose only concern is with carbon dioxide levels. We found it to be reliable since its test results were nearly identical to those of a properly calibrated CO2 meter. The meter's internal battery can keep it running for up to 12 hours on a single charge with a micro USB cord. The current CO2 concentration, temperature, and humidity are all displayed clearly on the digital screen. The CO2 level may be monitored and an alert can be triggered if it goes too high or too low.
The limited range of this meter's measurements to carbon dioxide is its main drawback. In addition, it cannot simply produce averages or trends over a longer time period. The Forensics Basic CO2 Meter, in our opinion, is one of the simplest and most effective devices available if your primary concern is knowing when the CO2 concentration increases over a specific level.
6. Gain Express Wall Mount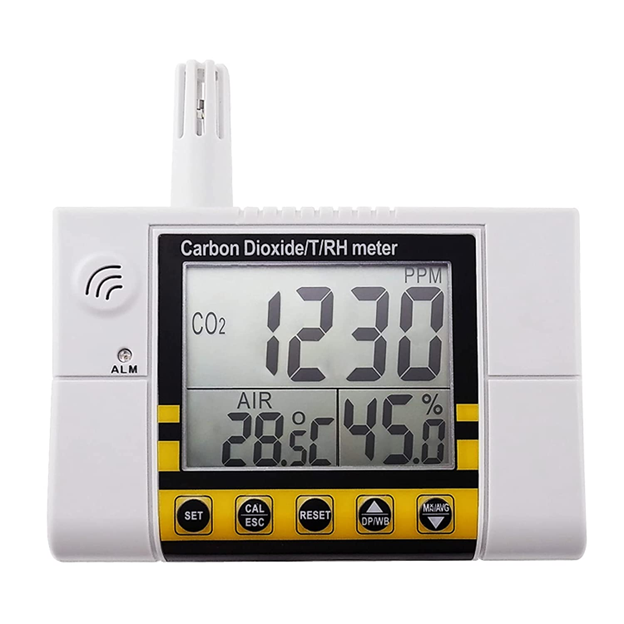 Specifications
| | |
| --- | --- |
| Measures | CO2, temp, humidity |
| Wireless | No |
Product Description
How well your home is ventilated may be inferred from the CO2 content there. In particular, it may show you if stale air is building up in your house or if there is adequate ventilation. Therefore, in some cases, reducing the amount of carbon monoxide (CO2) in the air can assist prevent the spread of viruses through the air. We advise the Gain Express Wall Mount if this is your primary goal while checking the quality of the air within your home. To begin with, we have a great deal of faith in this meter's accuracy because its readings were quite close to those we saw on our properly calibrated CO2 meter throughout our testing. Second, it's easy to read since you can put it on the wall and it's a big screen. This eliminates the need to continuously walking over to the meter or using an app on your phone to monitor CO2 levels. Thirdly, you may configure custom alerts that will sound when the concentration of CO2 exceeds a specified threshold, which will serve as a helpful reminder to check the readings at crucial moments. Finally, if you're more concerned with long-term trends and averages in CO2 concentration, this device can show you those figures in a flash, for either the previous 15 minutes or the last 8 hours. In addition, an RS232 port allows the device to be linked to a computer for real-time data logging.
The Gain Express Wall Mount has a few flaws, the most notable being its inability to be used without a power outlet. Since it primarily targets CO2, it also won't be of use during the summer when fires are more prevalent. If carbon dioxide concentration is your primary concern, however, this meter provides accurate and easy monitoring with a large, legible display.
7. Temtop M2000C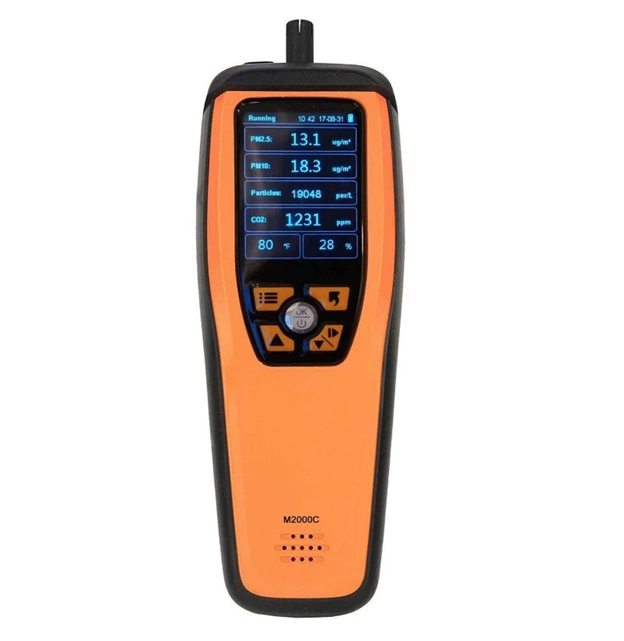 Specifications
| | |
| --- | --- |
| Measures | CO2, humidity, temp, PM2.5, PM10 |
| Wireless | Yes |
Product Description
During our testing, the Temtop M2000C blew us away with its precision. Its readings frequently matched or beat out those from our high-end, commercial-grade air quality and CO2 sensors. Short-term graphs of each pollutant measured are available for as long as the device has been on. Also, if any of those pollutants ever reach dangerously high levels, you may set individual alerts to alert you. A rechargeable battery provides power for the whole device, letting you use it without being near an electrical socket. The Temtop M2000C has all you need to keep tabs on air quality as you work on a project that might cause pollution to the surrounding area.
Though it performs admirably for short-term applications, the Temtop M2000C isn't the ideal choice for continuous monitoring. If you plan on using it for more than a few days, you'll need to keep it plugged in, however the connection is frustratingly located near to the air sensor, making it hard to install appropriately. The design of the device makes it impossible to set it down in a convenient reading posture. The Temtop M2000C, however, is a great option for short-term monitoring of air quality.
8. Hydrofarm APCEM2 Autopilot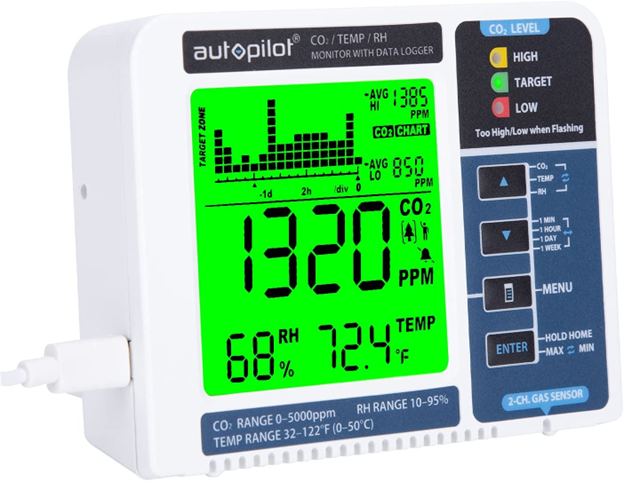 Specifications
| | |
| --- | --- |
| Measures | CO2, humidity, temp |
| Wireless | No |
Product Description
The Hydrofarm APCEM2 Autopilot is a straightforward option if all you care about is keeping tabs on the CO2 levels in your house and getting a sense of how they fluctuate throughout the day. We found its CO2 readings to be quite close to those of our professionally calibrated meter, and we especially liked that the readings for any time period, from the past hour to the last week, can be shown on a straightforward graph. Additionally, an audio alert may be configured to sound when the CO2 level surpasses a predetermined threshold.
There is no simple way to store or export data from this device, despite its ability to offer a rudimentary depiction of CO2 concentration during the last week. If you're looking for a tool to monitor changes over time, this is not the gauge for you. Further, unlike most other meters, this one needs to be plugged in at all times. Not being able to temporarily move it away from an outlet or continue monitoring in the event of a power outage is a little letdown, given that most meters need being plugged in if you wish to monitor for numerous days. If simple CO2 trend monitoring is all you require, this is an adequate tool.
9. HEI LIANG AIR Accurate Tester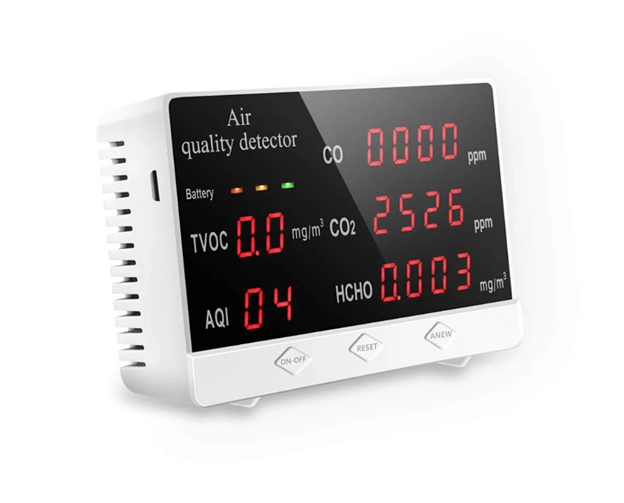 Specifications
| | |
| --- | --- |
| Measures | CO2, AQI, formaldehyde, VOC, CO |
| Wireless | Yes |
Product Description
The HEI LIANG AIR Accurate Tester is a straightforward instrument that can detect and measure several prevalent indoor air pollutants. It achieves this at a price that is lower than that of many similar devices. It can operate for up to four hours without needing to be plugged in, thanks to its built-in battery. While one of the few air quality meters we've seen that also detects carbon monoxide, its lack of warnings means it isn't a suitable replacement for a dedicated CO detector.
With no further features, this meter is among the most basic devices we've seen. It gives you data in real-time, but there's no simple method to look at long-term patterns or averages. The apparent inconsistencies we found throughout testing are more worrisome. At low particle concentrations, for instance, the AQI measurement appeared to be correct; but, when we blew out candles adjacent to the meter, the AQI result remained unchanged, whilst the reading on our professional-grade air quality meter shot through the roof. Our properly calibrated CO2 meter likewise gave a different value. The CO2 measurement was regularly 15-20% higher than our pro meter's, but we still think the gadget has promise as a warning system for growing CO2 levels. Although the HEI LIANG AIR is not our top pick, it is an alternative for individuals who need merely a basic gadget to provide a rough estimate of the CO2 level.
Features to Look For in a Carbon Dioxide Monitor
There are a few considerations to bear in mind while shopping for a carbon dioxide detector. While any of these factors does not ensure a quality product, they are present in every high-quality item.
You should know that these are the basic minimum requirements. It's up to you to decide what else to prioritize when shopping for a carbon dioxide monitor, although a large screen and mobility are always nice to have. For those who are interested, here are a few tiny details to keep an eye out for:
Connectivity

Thresholds for alarms and notifications that may be adjusted

Visible, long-lasting, battery-free e-ink display.

Small in stature

Electrochemical storage device that can be recharged

Updateable
FAQs about CO2 Monitor
1. Should I Get a CO2 Detector?
Most likely not. However, if you have a carbon dioxide sensor, you can keep tabs on ventilation and adjust your masking accordingly.
2. How Much Do CO2 Detectors Cost?
Carbon dioxide sensors for the general public cost anywhere from $50 to $300.
3. Which Features Should a Carbon Dioxide Detector Have?
Be sure the CO2 monitor contains an NDIR sensor, that it can be manually calibrated, and that it runs on batteries (if you want to use it on the go).
4. Which Detector of Carbon Dioxide Is the Most Accurate?
Whatever you require, of course. The Aranet4 is the most precise, while the Vitalight Mini CO2 Detector is the most convenient to carry along.
5. Is There an Optimal Level of Carbon Dioxide?
Maintaining concentrations below 800 ppm is preferable. If that's not an option, then concentrations below 1000 ppm are typically regarded to be risk-free.
Conclusion
You may acquire all the details you want about the CO2 Monitors and details about this market on the Linquip website, one of the numerous possibilities available to you. Whether you're a professional or a client seeking for a reputable business, you can rely on Linquip to give you as much basic and trustworthy information on this subject. We advise you to look through the whole range of CO2 Monitor Experts and take advice from our professionals. If you need any services required for your product, you can count on Linquip and visit CO2 Monitor Services.
Download PDF for The Best CO2 Monitor in 2023
You can download the PDF format of this post from the link provided here.
Buy Equipment or Ask for a Service
By using Linquip RFQ Service, you can expect to receive quotations from various suppliers across multiple industries and regions.
Click Here to Request a Quotation From Suppliers and Service Providers
Read More on Linquip