Best Circuit Breaker Locators- Anyone planning a DIY electrical renovation should have a circuit breaker locator. Even though a circuit breaker locator isn't one of the most frequently used tools in a DIYer's toolbox, it can be crucial for house improvements like replacing a light fixture, updating an outlet, or installing a new light switch. When adding a dimmer switch or installing a new ceiling fan, you can securely turn off the circuit breaker by using a circuit breaker locator to identify the circuit breaker that is connected to each light or outlet.
If you're a professional contractor or electrician working on residential or commercial projects, or even if you just want to dabble in some DIY around the house, having the best circuit breaker locators in your toolbox can be quite helpful.
For all OEM fleets, Linquip provides a comprehensive range of services. Vendors for Linquip can help you with this. To learn more about how to connect with a variety of Service Providers who continuously produce high-quality items, please get in contact with Circuit Breaker Locator Experts.
A good circuit breaker locator is a safety requirement if a project calls for rewiring as part of a remodel, renovation, or even just relocating a wall. This is especially true in older homes or buildings where the accuracy of circuit labeling (if there are any) may be in dispute.
While manually attempting to identify what is wired to each circuit breaker can take hours, using a circuit breaker locator helps speed up the process.
A receiver that scans the circuit breaker box is included with these useful gadgets, along with a transmitter that connects to a power outlet or a light receptacle. To enable the receiver to locate the associated breaker, the transmitter transmits a tone over the circuit. Some breaker locators may also detect wiring issues in GFCI (ground-fault circuit interrupter) outlets, which are frequently used in restrooms, kitchens, and outdoor spaces.
This guide lists some of the best models available for DIYers and experts, as well as many of the crucial characteristics to take into account when choosing the best circuit breaker locator.
Types of Circuit Breaker Locators
A receiver at the circuit breaker box receives a tone that is transmitted through an electrical outlet by circuit breaker locators. The sensitivity of a receiver determines how accurately it detects signals. While manual devices allow the user to fine-tune the sensitivity, automatic circuit breaker locators provide the convenience of auto-adjusting for sensitivity.
Automatic
A built-in microprocessor in an automatic circuit breaker automatically calibrates the device by passing the receiver back and forth over the electrical panel a couple of times. The sensitivity will be set to the ideal level by a circuit breaker locator that can calibrate itself automatically, helping to avoid false positives from nearby circuits that are also emitting tones. It is unnecessary with an automatic circuit breaker locator to manually set the sensitivity, which might be challenging for people who aren't familiar with using one.
Manual
The circuit breaker locator on manual circuit breakers has a dial that the user can adjust to increase the locator's accuracy. This level is useful for people who live in crowded regions where a lesser sensitivity is required to prevent signal interference from outside sources. Professional electricians who are accustomed to utilizing a circuit breaker locator will find manual controls to be more suitable.
To further help you comprehend circuit breaker locators, a comprehensive "Buying Guide" is also supplied below. Make sure to read the article in its full capacity to ensure you make the right choice. Below is a list of the best circuit breaker locators for maintaining essential operations in the event of a power outage.
Reviews of the Best Circuit Breaker Locators
The 8 Best Circuit Breaker Locators include:
Klein Tools ET310 AC Circuit Breaker Locator
Amprobe BT-120 Circuit Breaker Tracer
Ideal Industries – 61-534 Digital Circuit Breaker
3-in-1 multitool from VersativTECH
Sperry Instruments circuit breaker finder
Extech – 1218G94EA CB10 Circuit Breaker Finder
Zircon Circuit Breaker Finder, 277VAC
Southwire Circuit Breaker, Finder 41210S
We've selected eight of the best circuit breaker locators on the market in 2023 to fit all budgets and needs, whether you're looking for a straightforward circuit breaker locator or a multitool that can also test and trace wire. To select the perfect locator for your needs, scroll down:
Klein Tools ET310 AC Circuit Breaker Locator
General Descriptions
By removing the need to repeatedly visit the circuit box to determine which breaker controls which electrical outlet, an effective circuit breaker locator should save time. A circuit breaker locator, like this one from Klein, should be simple to operate in light of this. To rapidly find the right circuit breaker, insert the three-pin transmitter into a socket and scan the breaker box.
The majority of home electric systems are covered by the tester's operating voltage range of 90 to 120 volts. Additionally, it checks the correct wiring of GFCI outlets using simple-to-read light codes. The transmitter easily plugs into the receiver while not in use, preventing the loss of the parts.
Amprobe BT-120 Circuit Breaker Tracer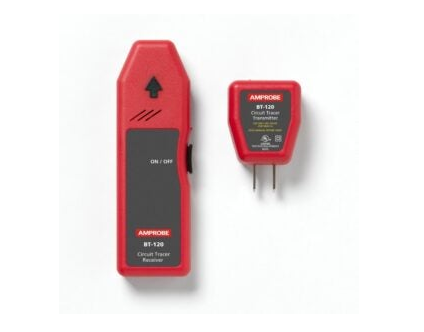 General Descriptions
Amprobe's circuit breaker locator is a great choice for do-it-yourselfers who occasionally need to match circuit breakers with electrical receptacles due to its user-friendly layout and reasonable price. This type is appropriate for most homes because it is suited for 90 to 120-volt circuits.
This tool is simple to use thanks to an automatic sensitivity adjustment. Put the receiver over the breaker box to match the breaker, then plug in the transmitter. The breaker is indicated with a sizable green arrow. To signal to the user that it is turned on and ready for identification, the transmitter emits red light. By turning off the matched breaker and the accompanying LED light on the receiver, the LED system enables the user to verify the receiver's values.
Ideal Industries – 61-534 Digital Circuit Breaker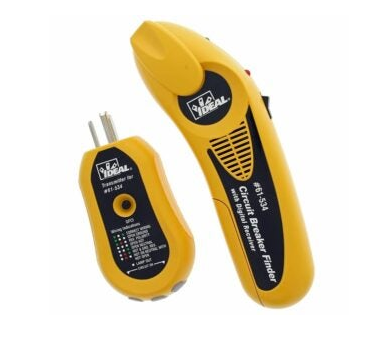 General Descriptions
This model gives a more complete way of recognizing circuit breakers because it may be used with many kinds of electrical receptacles. Both three-prong plugs and two-prong outlets, such as those used for light bulbs, are compatible with the transmitter. Without the need to adjust sensitivity, the receiver calibrates automatically to enable instant identification of circuits.
Additionally, the transmitter's three colored lights and readily visible wiring codes help it identify any ground fault issues with GFCI outlets. Other features include a handy auto-off mode that turns the device off after 10 minutes of inactivity to conserve the batteries. Additionally, it features a receiver that, to avoid false readings, beeps as soon as it cannot correctly identify a signal from the transmitter.
3-in-1 multitool from VersativTECH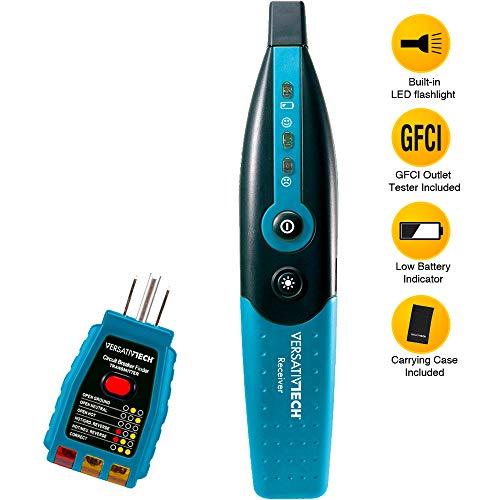 3-in-1 multitool from VersativTECH (Reference importitall.co.za)
General Descriptions
This VersativTECH 3-in-1 multitool combines a circuit tester, a circuit breaker locator, and an LED spotlight. It has a low battery indicator that alerts you when you need to recharge and can immediately recognize the five most typical problems with electrical outlets. This accurate and user-friendly digital circuit breaker locator with a GFCI outlet tester comes with a 9V battery and a carrying case to keep everything together.
Sperry Instruments circuit breaker finder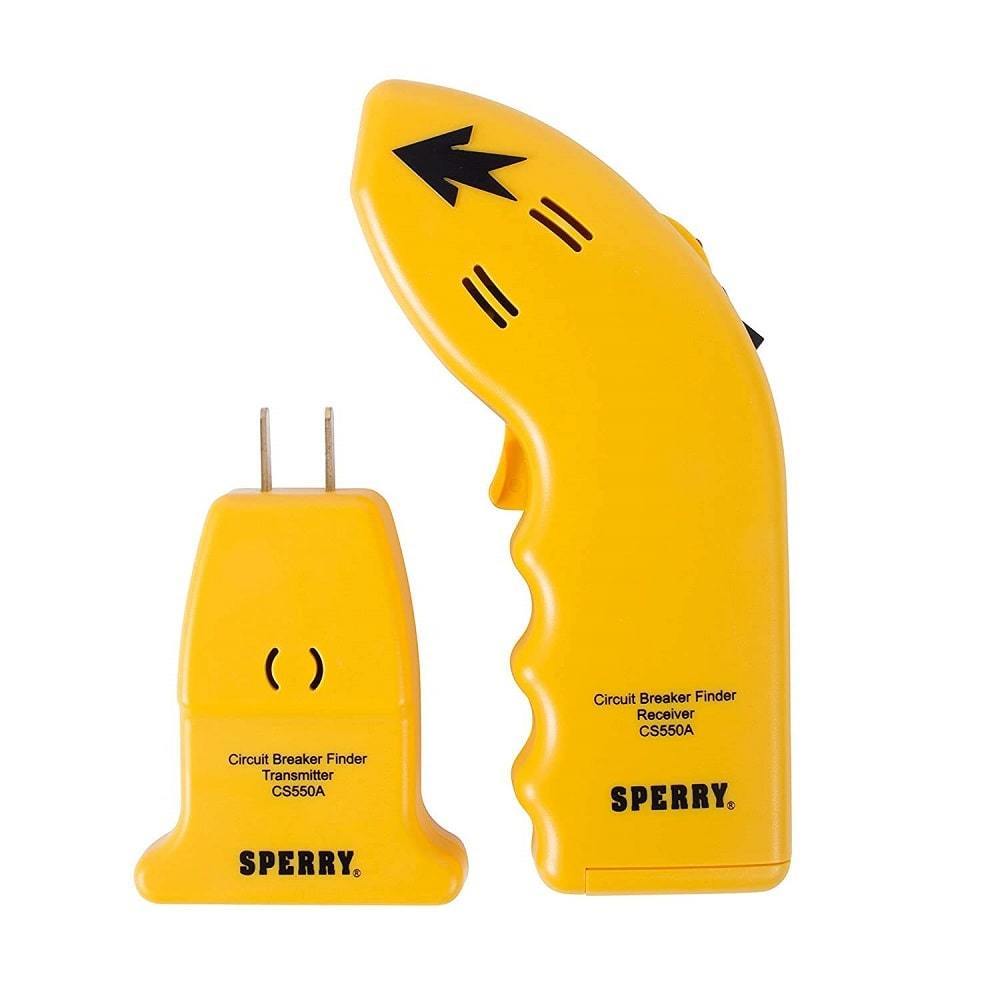 General Descriptions
The inexpensive Sperry Instruments circuit breaker locator, which includes a plug transmitter and an automated receiver to swiftly locate AC circuits and fuses, is a basic instrument that accomplishes exactly what it says without needless extra bells and whistles.
Extech – 1218G94EA CB10 Circuit Breaker Finder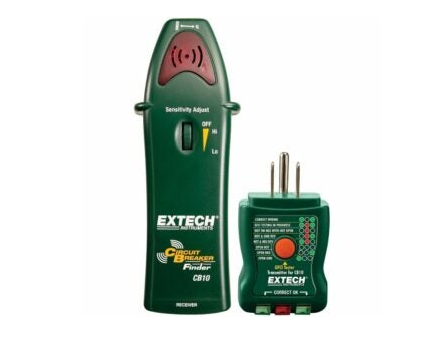 General Descriptions
This circuit breaker locator is a great choice for electricians because it has a manual sensitivity adjuster and the ability to test for defective wiring. This model offers plug-and-play simplicity like other circuit breaker locators, enabling the device to rapidly discover the appropriate circuit breaker to match the outlet or light receptacle.
Additionally, it has a dial that the user may physically turn, to manually change the sensitivity, increasing it for a quick reading or reducing it for greater accuracy. Errors are eliminated by an arrow directing precisely to the placement of the relevant circuit breaker on the receiver's LED lights. This type is also better for use in busy work environments because it generates a louder tone than other versions when identifying a circuit breaker. The transmitter also serves as a GFCI tester, detecting a variety of wiring issues with simple-to-read light codes.
Zircon Circuit Breaker Finder, 277VAC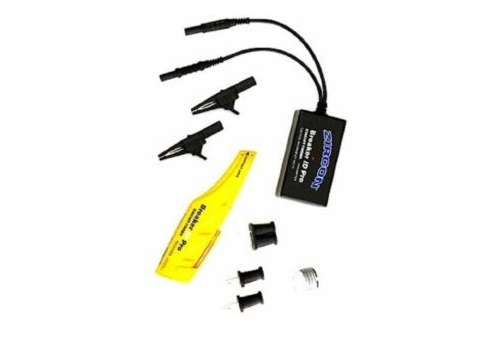 General Descriptions
When working on industrial projects, a circuit breaker locator that can recognize higher voltage circuits is necessary. Most circuit breakers can only handle voltages up to 120 volts, but this Zircon model can handle voltages up to 277 volts, making it perfect for industrial applications. Additionally, compared to other circuit breaker locators, its design is more adaptable. Individual blades that attach to the transmitter allow it to work with both double- and three-prong plugs as well as international plugs in place of the typical three-prong plug. Alligator claws for bare wires and an adapter for a light socket are also included in this package.
The receiver automatically calibrates, making use of it simple. The receiver only needs to pass once over the circuit box in order to begin identifying breakers. The package comes with a useful aluminum carrying box that keeps the accessories, transmitter, and receiver all in order.
Southwire Circuit Breaker, Finder 41210S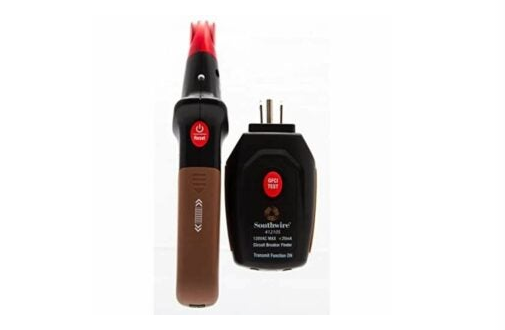 General Descriptions
This circuit breaker locator enables the user to test essentially every breaker in the house thanks to the extensive adapter kit that it includes. One must be able to test typical three-prong outlets, light receptacles, and, in some cases, bare wires to perform a full inspection of a home's breakers. The user can test all three using the accessory kits that come with this model.
The Southwire kit has a receiver and a transmitter, just like previous kits. Any three-prong socket with 120 volts will accept the transmitter. When the receiver is placed over the appropriate circuit breaker, a bright green LED light turns on and the receiver automatically calibrates to the breaker box. This device is perfect for folks who have never used a circuit breaker locator because it also comes with a three-minute instructional film.
What to Consider When Buying the Best Circuit Breaker Locators
Working with circuits requires the appropriate tools, just like most home improvement projects. When looking for one of these instruments, it's crucial to take into account a circuit breaker locator's capacity to function with outlets or light fixtures as well as its GFCI testing capability. Continue reading to find out more about these and other vital aspects to take into account when choosing a circuit breaker locator. You can also visit this video to know them completely.
UL Certificate
Circuit breaker locators could be dangerous because they operate with live electrical currents. The transmitter for these devices needs to be inserted into a working electrical outlet. An electrical shock or circuit damage might be brought on by a subpar product.
Use only circuit breaker locators that have a UL certification to make sure the product is secure. Underwriters Laboratories, a company that has been testing the safety of emerging technology for consumer use since the late 1800s, has certified consumer goods with a UL certificate. On the product, look for the UL logo.
GFCI Testing Capability
Circuit breaker locators can do more than just identify the circuit that corresponds to each outlet or light fixture. By reporting the wiring state of the circuit, they can also determine if a ground-fault circuit interrupter (GFCI) outlet is operating properly.
To prevent an electric shock, GFCI outlets include built-in breakers that shut off the circuit if there is a ground fault. Between the two three-prong inputs on a GFCI outlet are two tiny buttons with the labels "test" and "reset," which are used to check the operation of the built-in breaker and reset it if the breaker trips. GFCI outlets are a crucial safety feature since they may stop the flow of electricity more quickly than the circuit breaker in the breaker box.
The majority of outlets in bathrooms, kitchens, or on the exterior of the home have a GFCI outlet because a ground fault can happen if water splashes the circuit. Normally, a single GFCI outlet can regulate several outlets in space. Two or three different colored LED lights are used in circuit breaker locators that can detect GFCI wiring faults to show if the circuit wiring is damaged or not.
Frequency
A receiver and transmitter are used in a circuit breaker locator's operation. The receiver plugs into an outlet and transmits a signal to the breaker box via the wire. The circuit breaker locator can find the appropriate breaker for the outlet, switch, or receptacle by determining that frequency. The receiver must be able to distinguish between the transmitter's frequency and other frequencies that are moving up and down the electrical cables of a house for this to work. This is where a circuit breaker locator's sensitivity is useful.
The signal sent by the transmitter can be more easily detected by a receiver operating at a higher sensitivity. False positives can result from the device picking up signals from other circuits or even electromagnetic waves released by other gadgets. Sensitivity can be decreased to make it simpler for the receiver to distinguish between the transmitter's signal and other signals. While manual models require the user to turn a dial to change the sensitivity, automatic circuit breaker locators will automatically set this sensitivity to the ideal level.
Voltage
Locators for circuit breakers have a maximum voltage. The majority of residential circuit breaker locators are compatible with typical 120-volt circuits. Except for those that manage bigger appliances, such as clothes dryers, which utilize 220-volt circuits, this covers the majority of a home's circuits.
For usage with high-voltage circuits, circuit breaker locators made for industrial use have voltage maximums of 270 volts or more. Most households only need a circuit breaker with a maximum voltage of 120 volts, but professional electricians may need a breaker with a greater voltage capability.
Maximum Interrupting Capacity
The maximum interrupting capacity of the circuits must be known while determining the circuit breakers in a home. The greatest fault current that a circuit breaker may interrupt without malfunctioning is this value. A typical 15-amp circuit breaker, for instance, can withstand up to 1,800 watts of power before tripping. Up to 2,400 watts can be applied to a 20-amp breaker without it tripping.
Add the wattage of all the electric devices plugged into a circuit to find the load on a breaker. The sum should not be greater than the breaker's maximum interrupting capacity. For instance, a 15-amp circuit may support a 1,650-watt 50-inch LCD TV and a 1,500-watt space heater without tripping the breaker. A breaker stops a circuit from overheating and igniting by cutting off power.
Tips for Using & Buying the Best Circuit Breaker Locators
It's critical to take into account a few recommendations that will help you choose the ideal model for your home's electrical system when looking for the best circuit breaker locator.
Verify that it has the required amount of power. A circuit breaker locator with a maximum voltage of 120 volts is enough for the majority of home uses. It may be necessary to use a circuit breaker locator with a greater maximum voltage of 270 volts when locating circuits in an industrial setting.
Purchase a calibratable model. The task of matching outlets and light fixtures to circuit breakers is expected to be quick and simple with the aid of circuit breaker locators. If this is your first time using a circuit breaker locator, choose one that will automatically calibrate to the circuit breaker box. This will save you time because you won't have to do it manually.
Purchase a test model for GFCI circuits. The majority of circuit breakers contain transmitters that, in addition to assisting with the matching of outlets and circuit breakers, will detect wiring issues in GFCI circuits. This extra feature can assist in identifying potential electric shock threats in a home before an incident occurs.
Aware of any adapters required. The vast majority of circuit breaker locators support three-prong outlets. This won't be sufficient if you're trying to mark every circuit in a circuit box. If you reside in an older home, look for models that either come with adapters for testing light bulb sockets and two-prong outlets or equipment that can be added as accessories to adapter kits.
FAQs about Circuit Breaker Locators
Read on for answers to some of the most often asked questions regarding the electrical circuits in a home, such as how circuit breakers function or where to find the wire in your walls.
1. How Do I Know What Size Circuit Breaker to Use?
To determine the amperage required for the circuit breaker, first determine the total wattage that the circuit consumes. Then, divide that result by 240 volts. Then select a circuit breaker that is greater than that amount. Using a 30-amp circuit breaker is appropriate if the circuit consumes 28 amps.
2. How Do I Trace an Electrical Circuit in A Home?
It might be challenging to trace an electrical connection through a wall. You'll need a magnetic stud locator that can identify wires to do this without causing damage to the wall. You can use this tool to identify the wires that lead from an outlet or light receptacle to the breaker box.
3. How Can I Make Sure Not to Drill into A Wire?
To determine whether there are any wires in the area where you intend to drill, use a magnetic stud locator that can detect wires, just as you would when tracing a home electrical circuit.
4. How Can I Find a Hidden Outlet?
Check the wall for any irregularities or bulges caused by the outlet box rubbing up against the drywall. The majority of outlets are no closer than 6 feet from a door and often sit between 18 and 24 inches off the ground, which is the most typical height for wall outlets.
Conclusion
The Klein Tools ET300 model is ranked first on our list as the highest-rated circuit breaker locator on Amazon. You can't go wrong with the 3-in-1 multitool from VersativTECH if you're looking for a handheld, 3-in-1 device that can also test circuits. Our examination of circuit breaker locators was intended to be informative.
Remember to post a comment with your thoughts. Additionally, you can ask any questions there or by getting in touch with Linquip's Experts.
Download Best Circuit Breaker Locators PDF
Visit this file to know the best circuit breaker locators completely.
Buy Equipment or Ask for a Service
By using Linquip RFQ Service, you can expect to receive quotations from various suppliers across multiple industries and regions.
Click Here to Request a Quotation From Suppliers and Service Providers
Read More on Linquip