The Best Laser Measures of 2023 – There is virtually no reason to use a conventional, physical tape measure these days when the best laser measurements are so reasonably priced. The findings are considerably more precise, they are a lot easier to use, and you can even obtain assistance with your calculations. It makes sense that they are the go-to tool for experts in the fields of building, surveying, IT networking, and energy fitting.
On the Linquip website, among the many options available to you, you will find all the information you need to know about the Laser Measures, as well as information regarding this marketplace. You can count on Linquip to provide you with as much general and reliable information about this topic, whether you're a professional or a customer looking for a proper company. We recommend you review a list of all Laser Measure Products available in Linquip. You can also be encouraged to visit Laser Measures for Sale and find the most suitable device based on your applications and demands.
The Best Laser Measures of 2023
1. Mileseey 70m / 229ft Digital Laser Tape Measure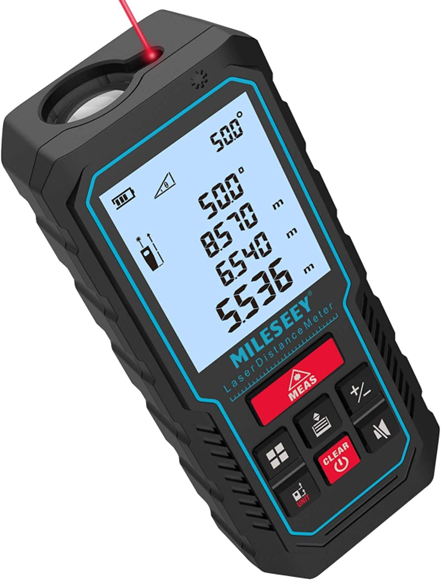 Specifications
| | |
| --- | --- |
| Brand | MiLESEEY |
| Are batteries included | Yes |
| Colour | Black |
| Material | ABS + PP |
| Item weight | 7 Ounces |
| Item dimensions L x W x H | 11.5 x 5 x 3 centimeters |
Product Description
The best laser measuring tools can be fairly pricey, but if you simply need one for some DIY projects around the house, then follow our advice. This measuring tool from Mileseey is reasonably priced and accurate to within 0.2 mm (1/16 inch), so it does a nice job. It has a measuring range of 16 cm to 70 ft, is splash- and dust-proof to meet IP54 requirements, and has several helpful added features.
For instance, the horizontal distance and vertical height may be determined by simply measuring the hypotenuse. Alternatively, if you measure just two hypotenuses, an automated calculation of vertical height is made.
This gadget uses two AAA batteries and can save up to 20 measurements at once. Although more costly versions offer more, this is likely all you need for house design.
2. Leica D1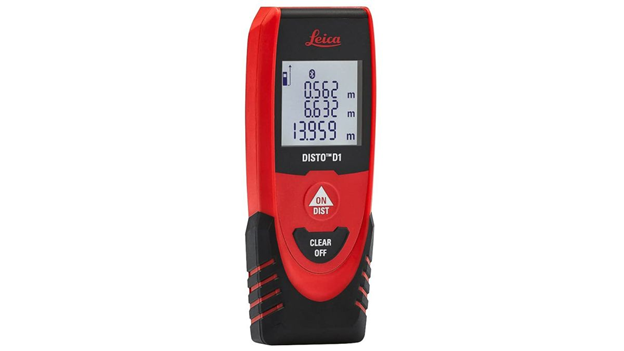 Specifications
| | |
| --- | --- |
| Brand | Leica |
| Are batteries included | No |
| Colour | Red, black |
| Material | Fiberglass reinforced plastic |
| Weight | 0.5 Kilograms |
| Item dimensions L x W x H | 23 x 43 x 114 millimeters |
Product Description
In carpentry, the saying "measure twice, cut once" is often used, and the best laser measures will give you the most accurate measurements.
We like the D1 for these uses. It has a light-touch keypad and only the buttons you want, making it both stylish and easy to operate. This makes it a fantastic tool for measuring small areas and single pieces of wood, while those working outside or in bigger areas might want to opt for a stronger laser.
It also offers several cutting-edge features. The most notable feature is that it works with Leica's free Disto Plan software, which turns the two-button function into a complete room measurement tool using Bluetooth and any Apple or Android phone. With the help of this, you may incorporate your measurements into project or job site sketches.
3. Leica Disto S910

Specifications
| | |
| --- | --- |
| Brand | Leica Geosystems |
| Are batteries included | Yes |
| Colour | Zwart, rood |
| Material | Metaal met glasvezel versterkte kunststof |
| Weight | 0.8 Kilograms |
| Item dimensions L x W x H | 16.4 x 6.1 x 3.2 centimeters |
Product Description
The Leica Disto S910 demonstrates how much more than just straight-line measurements can be accomplished with this technology. Sure, it is pricey. But there are those for whom it will quickly pay for itself.
The 4x zoom of the built-in camera, which is used to precisely detect spots for precision aiming, makes it easier to take several measurements with the SmartBase from a single tripod position. Using WiFi, Bluetooth, or the Android/iOS Disto App, it is simple to export the data as DXF to AutoCAD files. You can make a decision on the spot thanks to the incredible amount of intricate area and volume calculation capabilities that are incorporated.
4. Magpie VH-80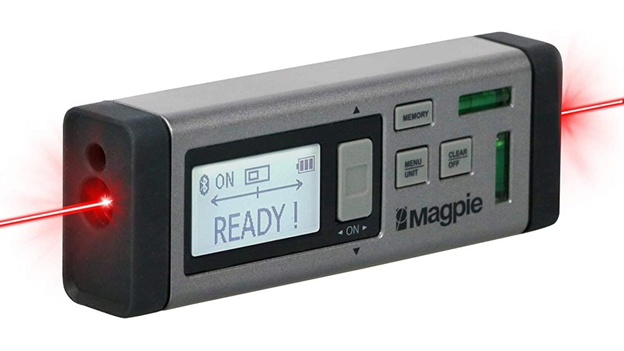 Specifications
| | |
| --- | --- |
| Brand | MAGPIE |
| Are Batteries Included | Yes |
| Color | Space Gray |
| Material | Plastic |
| Item Weight | 0.71 Pounds |
Product Description
Here is an alternative method for measuring lasers that adds its own length to the total distance from two lasers. This means it can be pointed in three different directions from the middle of a room to get the three measurements needed to estimate the room's volume without having to move.
The gadget has double the margin of error compared to a single laser measure, which is a small tradeoff. Yet this is probably not going to be a big problem for contract estimators. On the bright side, the gadget offers a companion app for both iOS and Android that can export data and drawings in JPG, PDF, and XLS in addition to helping with area estimates for materials.
5. Mileseey S6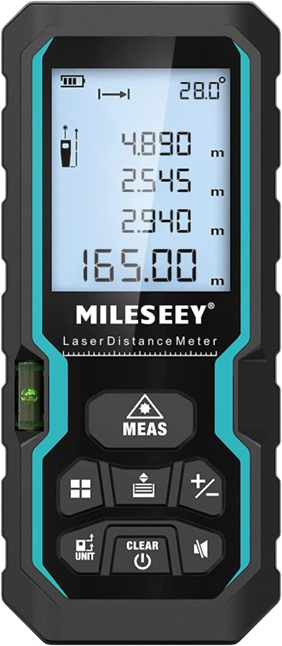 Specifications
| | |
| --- | --- |
| Brand | RockSeed |
| Are batteries included | Yes |
| Colour | Grey |
| Item dimensions L x W x H | 11.7 x 4.7 x 7.7 centimeters |
| Battery description | Alkaline |
Product Description
The Mileseey S6 is a multipurpose electronic measuring device with a long measuring range of 100 m, making it more helpful in factories, warehouses, as well as enormous homes and other vast locations. Moreover, it provides Pythagorean, volume, area, and distance measurements.
It has IP54 ingression protection, making it relatively tough. Drops aren't a major problem because of the rubber body's excellent traction. For individuals who just want to verify a level fast or who want to avoid giving their elder coworker a "good old days" lecture by transferring the equipment to them, an electronic inclinometer and bubble level are also included.
6. Bosch GLM400CL Blaze

Specifications
| | |
| --- | --- |
| Brand | BOSCH |
| Are Batteries Included | Yes |
| Color | Blue |
| Material | Plastic |
| Item Weight | 0.46 Pounds |
Product Description
The Bosch GLM400CL Blaze can take a lengthy measurement on a moderately bright day, but its technology is what truly makes it stand out. The camera is the cherry on top of a solid collection of measures, which also includes Pythagorean areas (thanks to the inclinometer). The camera performs two tasks. It makes it easier to recognize the area that the laser is focused on and records a picture along with the measurement.
7. Nikon Forestry Pro II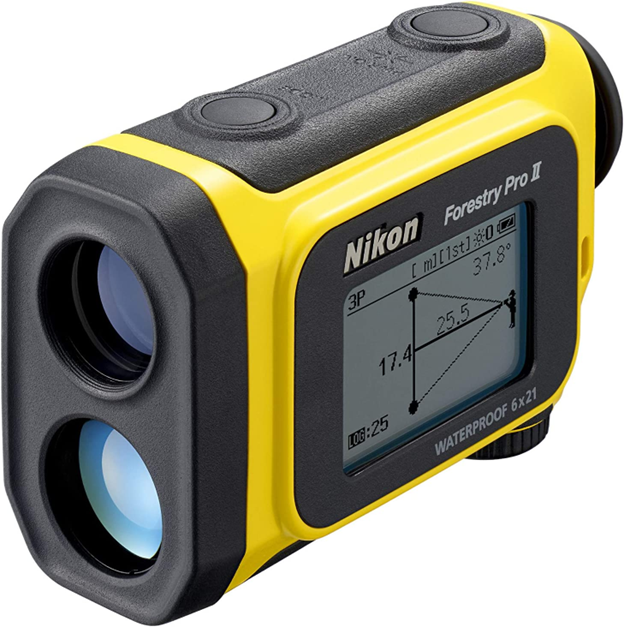 Specifications
| | |
| --- | --- |
| Measurement range | 1600 m |
| Display | Backlit dot matrix LCD |
| Memories | 250 measurements |
| Accuracy | ± 1ft |
| Weight | 170 g |
| Dimensions | 110 x 74 x 42 mm |
Product Description
The Forestry Pro greatly simplifies the process of measuring tree height from a distance. It operates using an optical monocular finder and, in that regard, resembles a more advanced golfer's laser rangefinder.
Professionals will locate their targets rather simply with a 6x magnification, but if necessary, there is also a Target Priority Mode to assist in finding items in order. Despite the fact that distance measurements take roughly 0.3 seconds, you may cover a lot of ground without pulling out a notepad thanks to the memory of 250 measurements.
8. Leica Disto E7500i

Specifications
| | |
| --- | --- |
| Brand | Leica |
| Are Batteries Included | Yes |
| Color | Red Black |
| Material | Plastic |
| Item Weight | 7.2 Ounces |
Product Description
Even though it is cheap, the E7500i seems to have all the features that professional surveyors need. It is compatible with Leica's Disto software and can monitor height.
The IP65 classification indicates that it can withstand a water jet in addition to being splash-proof. Any area, volume, and Pythagorean calculation can be aided by the method. Also, the 4x zoom digital camera and a function dubbed Smart Horizontal for traversing barriers make it simpler to take long-range, long-distance measurements.
The battery consumption rate is the only possible problem. Of course, a pro would do well to bring a tripod, target, and even laser glasses for any long-range measurement in order to be prepared for all circumstances.
9. TickTock Tools Laser Tape Measure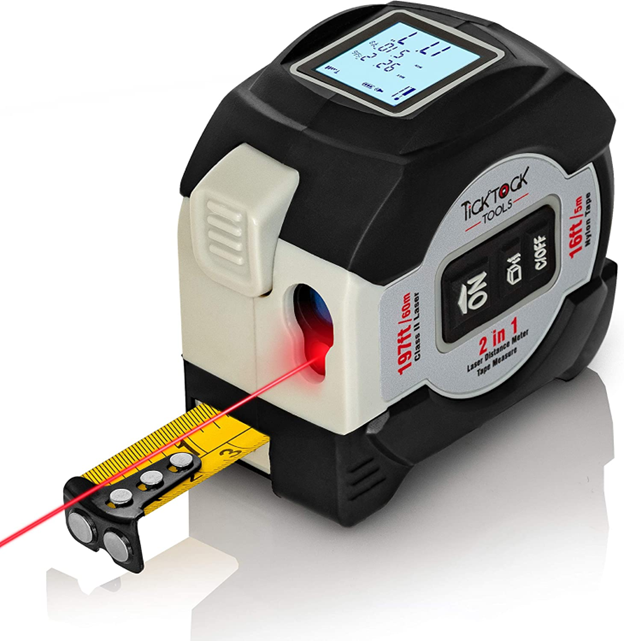 Specifications
| | |
| --- | --- |
| Brand | TickTock Tools |
| Item dimensions L x W x H | 7.6 x 4.4 x 7.6 centimeters |
| Blade material | Nylon |
| Measurement accuracy | 2 mm |
Product Description
It's advantageous to keep a conventional tape measure on hand for a number of reasons, particularly when measuring short distances. Although it could add some weight to combine the laser measure and tape in one enclosure, doing so makes sense and is practical.
We suggest the Laser Tape Measure from TickTock Tools if this concept appeals to you. In contrast to some other 2-in-1 designs, the laser measure is built into the tough housing instead of being bolted to the side.
With a long push of the center button, the laser may measure from the front or rear (i.e., include or exclude its own length in the measurement). While there isn't much room on the body for additional buttons, basic gadgets often utilize long-press or short-press buttons, which can be forgotten in between uses. Moreover, pressing that button activates modes for area, volume, and Pythagorean calculations.
10. Leica D110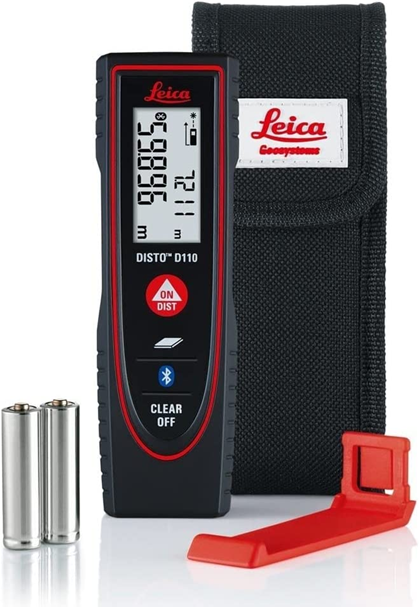 Specifications
| | |
| --- | --- |
| Brand | Leica |
| Are batteries included | Yes |
| Colour | Black, red |
| Material | Fiberglass reinforced plastic |
| Weight | 92 Grams |
| Item dimensions L x W x H | 12 x 3.7 x 2.3 centimeters |
Product Description
Leica is a name that many photographers desire, and the company has several possibilities in the laser-measure market. This is their smallest and features a detachable belt clip, which significantly reduces the size.
It has a stylish design, IP54 water resistance, and a backlit screen. While it is rather expensive, the screen displays both the past and current readings. Also, you can use the Leica Disto app to make floor plans and sketches and send measurements to your phone through Bluetooth. While the accuracy is greater than most, it was done on purpose to leave out elements like area computations and instead rely on the app.
What to Take Into Account While Selecting the Best Laser Distance Meter
Both professionals and DIYers can choose from a wide variety of laser distance meters. While comparing laser measuring equipment, keep in mind a few essential aspects to help narrow down your choices because certain features are significant for various project types. You could find the ideal instrument for the work with the aid of the following elements:
Outdoor Versus Indoor Usage
There are certain laser tape measures designed expressly for outdoor usage, while the majority of them are only useful for measuring distance indoors. Although the majority of outdoor versions can measure longer distances, the laser light used in the laser measure remains constant.However, the bodies of outdoor models must be able to withstand harsh weather conditions, including rain, snow, and temperature changes.
The tool's inside is less likely to be harmed by moisture buildup thanks to its weather resistance, and the case's tight seal also keeps out dust. Users may expect to spend extra for an outside laser measure because the improved enclosure is pricey.
Precision and Scope
Most items claim an average accuracy rating to within 1/8-inch at a distance of 50 feet, with the accuracy and measurement range usually provided simultaneously. Nevertheless, certain laser distance meters can measure distances up to 320 feet accurately. Just keep in mind that accuracy may start to wane as the distance grows.
Long-range laser measurements sometimes offer a higher degree of accuracy; several systems can measure precisely to within 1.6 millimeters or 1/16-inch. This improvement in precision is frequently brought on by a more powerful laser, which is typically more expensive.
Functionality
When selecting a laser distance measurer, consider the various features that may help a project be as effective and successful as possible.If you've never used a laser distance measurer before, you might want to look at a device with thorough instructions or one with very simple features.
Although the fundamental task of a laser measurer is to only calculate the separation between two spots, certain measurers may also carry out more intricate tasks.
For flooring projects, the area of the space must be determined; hence, some laser distance meters have an incorporated calculator that utilizes the length and width measurements.
Some devices have the ability to compute volume using several laser readings. This is useful, for instance, for figuring out what kind of heater is required for a certain space.
Some laser measurements have a Pythagorean measuring function that determines an unknown length or distance using known proportions.
The majority of laser measuring devices are operated by pressing a button; however, others offer continuous or automated measurements as the user walks to find the perfect angle without having to take several measurements. This is helpful for rapidly determining a room's length, breadth, and height.
Display
A laser distance measurer must have a bright display with text that can be seen in low light. The text is easier to read in low light and in direct sunlight if the display is backlit.
Only a few numbers, together with the distance and unit of measurement, may be shown by laser measuring instruments. The displays might also be more complicated, with a variety of menus, capabilities, and accuracy options. Some even feature displays that can rotate, making it simpler to examine the information from any angle.
Communication and Storage
A continuous measure function and data transmission capabilities are frequently included in the best laser tape measures. Newer devices have a wider measuring range and could be able to measure indirectly using the Pythagorean function, keeping all data securely saved on the device.
Laser rangefinders may also include Bluetooth connectivity, which makes it easier and faster to wirelessly transmit the stored data to a smartphone or tablet. Just be careful to connect the gadget according to the manufacturer's instructions.
Extraordinary Qualities
The greatest laser measurement devices go beyond the fundamentals. A battery life indicator, audible alarms, automatic shutdown, and holsters are just a few of the extra features that may be added to make the laser measure more user-friendly and practical.
Battery life indicators are often straightforward visual symbols that are presented on the screen to inform the user of how much battery life is left. If the battery level drops too low, the indicator may start to flash or activate an alert sound.
Indicating that the device is ready to take a measurement, warning the user about a low battery, or simply informing the user that the laser measure has taken the specified measurement successfully are all possible uses for sound warnings.
A laser's automated cutoff feature extends battery life. The equipment shuts down after a certain amount of time to save energy but normally keeps the prior readings.Holsters might not add any capability to the tool, but they do make it simpler to carry, store, and retrieve the laser measurer when needed.
FAQs about Laser Measures
How exactly does a laser measure
In essence, a laser measure creates a focused beam of light, then counts the time it takes for the light to strike an item and return to the laser measure. This procedure allows it to calculate the separation between the laser measurement and the target it is pointing towards.
Can a tape measure be replaced with a laser one?
A regular tape measure is preferable for quick measurements because it requires less setup time; however, there are hybrid laser measures that combine a traditional tape measure with the laser measure to provide users with access to both instruments.
How precise is a laser rangefinder?
At a distance of 50 feet, a typical laser distance meter can measure a distance with an accuracy of 1/8 inch or even 1/16 inch.
Can you use a laser rangefinder outdoors?
Yes, it is possible to use a laser distance meter outside, although strong sunshine may make it difficult to see the laser dot. Furthermore, additional elements like falling leaves or wind-blown dust and debris might affect the reading. For improved outcomes while shooting outside, think about employing a tripod, a targeting camera, or a telescopic optical viewfinder.
How is a laser distance meter calibrated?
Consult the instructions provided by the manufacturer to calibrate a laser distance meter. Each model could have a unique calibration process, such as an intricate manual procedure or an automated procedure. Certain laser measurements might need to be calibrated by a specialist.
Conclusion
You may acquire all the details you want about the Laser Measures and details about this market on the Linquip website, one of the numerous possibilities available to you. Whether you're a professional or a client seeking for a reputable business, you can rely on Linquip to give you as much basic and trustworthy information on this subject. We advise you to look through the whole range of Laser Measure Experts and take advice from our professionals. If you need any services required for your product, you can count on Linquip and visit Laser Measure Services.
Download PDF for The Best Laser Measures of 2023
You can download the PDF format of this post from the link provided here.
Buy Equipment or Ask for a Service
By using Linquip RFQ Service, you can expect to receive quotations from various suppliers across multiple industries and regions.
Click Here to Request a Quotation From Suppliers and Service Providers
Read More on Linquip