The Best Laser Level of 2023 – Bring some special operations equipment and the finest laser levels to the job site or your home installation. Using these useful tools makes it simpler to consistently achieve the right measurements for your job, whether you're hanging pictures on the wall, finishing a construction project, or doing any other activity that requires exact alignment.
The majority of laser levels broadcast out a horizontal line over your workplace to provide a consistent height, but some also beam out a vertical line to aid in vertically positioning objects. One kind of laser level could be a better fit for you than another, though, depending on the kinds of projects you have on your to-do list and the features that will be most useful to you while you work.
On the Linquip website, among the many options available to you, you will find all the information you need to know about the Laser Levels, as well as information regarding this marketplace. You can count on Linquip to provide you with as much general and reliable information about this topic, whether you're a professional or a customer looking for a proper company. We recommend you review a list of all Laser Level Products available in Linquip. You can also be encouraged to visit Laser Level for Sale and find the most suitable device based on your applications and demands.
The Best Laser Level of 2023
1. Tavool Self-Leveling Laser Level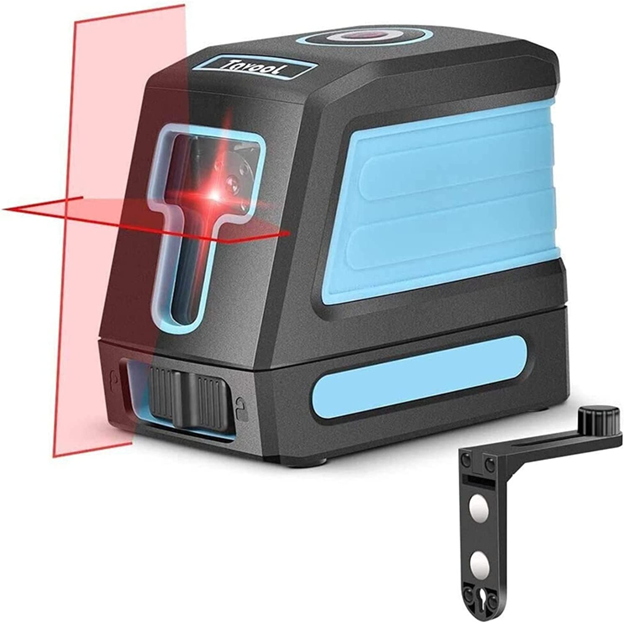 Specifications
| | |
| --- | --- |
| Brand | Tavool/lo |
| Color | Red |
| Item Dimensions LxWxH | 3.5 x 2.2 x 3.15 inches |
| Style | Laser,Horizontal |
| Item Weight | 11.2 Ounces |
Product Description
You should have alternatives with a competent laser level while attempting to maintain a straight surface. When you have a lot of freedom at your disposal, using various projections and features can simplify the task. Because it gives versatility when your project calls for straight lines on level surfaces, the Tavool Self-Leveling Laser Level wins the top rank. It can manage operations as easy as hanging a picture and as difficult as installing new kitchen cabinets or a tile floor because this level can generate a bright red horizontal, vertical, or cross-line on any surface up to 50 feet away. That flexibility, however, is meaningless if the laser level is off. Fortunately, that is not an issue with this Tavool product, as it consistently casts straight lines during the tests.
The self-leveling function makes it very simple to set up the laser and eliminates a lot of the guessing. The laser will take over to adjust the final position after you get the laser set up within 4 degrees of true level. The level will flash to let you know you need to make further adjustments before the self-leveling mechanism engages if it is more than 4 degrees off-level. However, the lock mode will allow you to move the laser in any direction you need if you need to project something that is purposefully distorted.
It's simple to comprehend and use a laser level, even if you've never used one before. Simple top-button navigation through the different laser settings is all that is required; there are no complex instructions. The transition between horizontal lines, vertical lines, and crosshairs was simple for us to understand. The laser level was reduced during testing, yet it sustained no harm and kept functioning as it had previously. Four AA batteries, which are included, power the gadget. With a 1/4 inch thread pole, it is tripod mountable.
2. Johnson Level & Tool 40-0921 Self-Leveling Cross-Line Laser Level Kit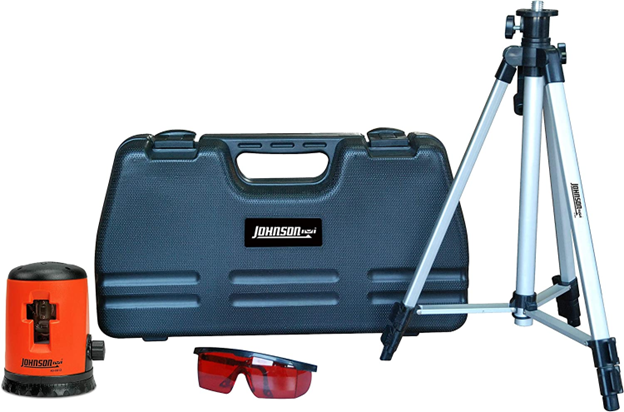 Specifications
| | |
| --- | --- |
| Brand | Johnson |
| Color | Red |
| Item Dimensions LxWxH | 19 x 10 x 5 inches |
| Style | Cross Line Laser Level Kit |
| Item Weight | 5 Pounds |
Product Description
You need a laser level you can rely on if you do DIY jobs that call for extreme accuracy, such as installing kitchen cabinets or worktops, hanging doors, or even hanging curtains. With the Johnson Level & Tool 40-0921, you just get that. This professional-grade application performed well during the tests and was simple to use. Both the horizontal and vertical beams were on point. In the testing, the laser level was dropped from every angle, yet it maintained its accuracy and showed no signs of wear.
Up to 100 feet indoors are within the level's usable range, allowing you to establish vertical, horizontal, or cross-lines across even sizable rooms. We found it pretty amazing that this laser level has an interesting feature—it comes with red glasses that tremendously aid in visualizing the laser beam. This one is a wonderful choice if your tasks take a while to finish because the three AAA batteries that are provided will allow for about 12 hours of continuous operation. In addition, the kit comes with a tripod and a durable carrying bag for all of the kit's parts. Overall, if you regularly require a laser level for big or difficult jobs, this is a wonderful option.
3. HYCHIKA 50-Foot Cross-Line Laser Level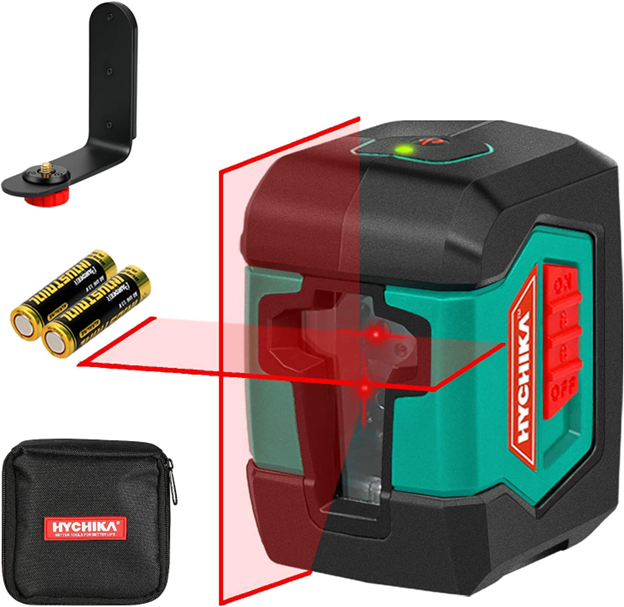 Specifications
| | |
| --- | --- |
| Brand | HYCHIKA BETTER TOOLS FOR BETTER LIFE |
| Material | Acrylonitrile Butadiene Styrene |
| Color | Red |
| Style | Red |
| Operation Mode | Automatically |
Product Description
You might not want to spend a lot of money on a laser level if you don't use one frequently. Fortunately, the HYCHIKA 50-Foot Laser Level has enough accuracy, while being a little trickier to operate than some of the more expensive models. During testing, we saw that the instructions were not very clear, particularly for the laser's self-leveling feature, but that the laser operated effectively after we grasped the procedure. It accurately projects a red horizontal, vertical, or crossing line up to 50 feet in length. The red-beamed laser is challenging to see outside or in low light, just like other red-beamed laser levels.
With only one button for on/off, mode selection, and locking or unlocking the laser, this laser level has basic controls. Despite needing 90 seconds to reset itself after the drop test, the gadget worked well. There is no tripod included with the laser, only two AA batteries and a magnetic mounting bracket. However, it may be fixed to a tripod pole with a 1/4-inch thread. While it may not be the best option for jobs demanding the highest levels of precision, it is more than enough for straightforward chores like hanging shelves or portraits.
4. Huepar 3D Laser Level Cross Line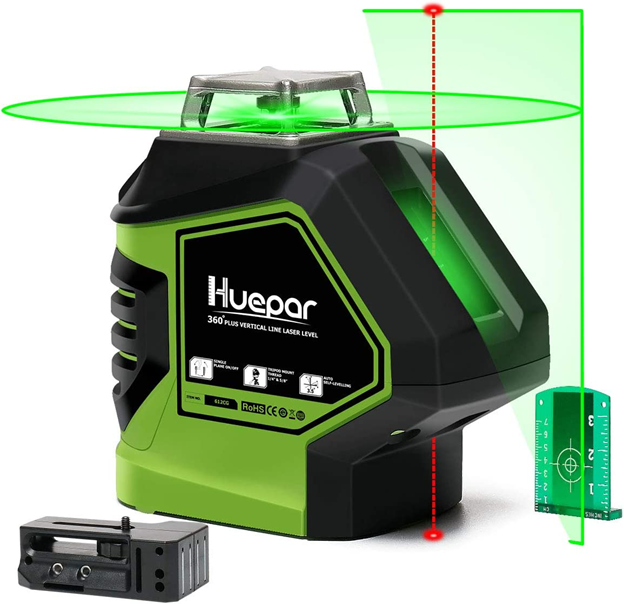 Specifications
| | |
| --- | --- |
| Brand | Huepar |
| Material | Acrylonitrile Butadiene Styrene, Rubber |
| Color | 621cg |
| Item Dimensions LxWxH | 4.8 x 2.7 x 4.2 inches |
| Style | 621CG |
Product Description
Most laser levels emit a red beam, which is straightforward to see inside or in ideal lighting. However, a gadget that generates a green laser, which is much easier to see in the bright outdoors, is what you'll want if you need to use your laser level outside. The Huepar 621CG projects a 180-degree vertical line with two red plumb dots and a 360-degree horizontal green beam that circles a room. We saw that it was quite straightforward to operate and that the laser beam could be seen clearly across a wide area, including the entire yard. Additionally, it includes two brightness settings, which might be advantageous while using the instrument in dim light.
The laser level is superior to most other equipment of a similar nature in that it can self-level to an accuracy of 3.5 degrees. Although the manufacturer claims that it has a 1/9-inch accuracy within 33 feet, it performed flawlessly in the tests. It did not sustain any damage or functional loss during the drop test. It does not come with a tripod, but it does come with a magnetic pivoting base and four AA batteries. However, it may be fastened to any tripod having 1/4-inch or 5/8-inch threads.
5. Bosch GLL25-10 Self-Leveling Laser Level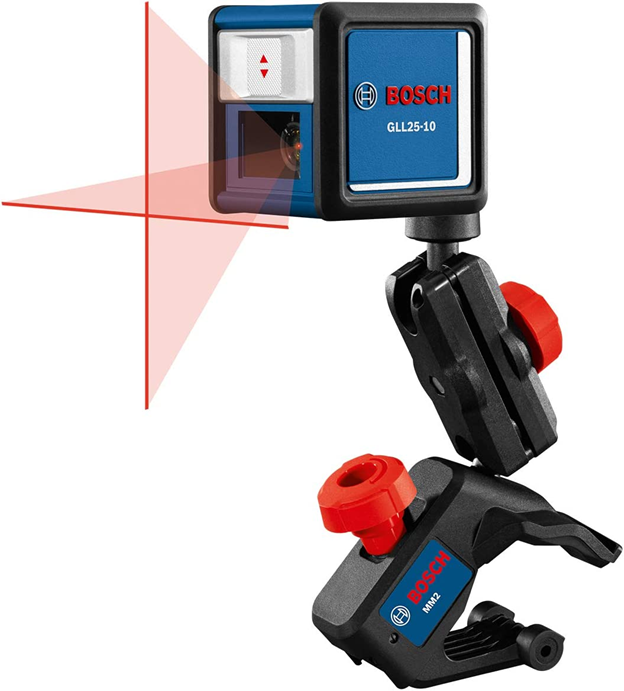 Specifications
| | |
| --- | --- |
| Brand | BOSCH |
| Color | Red |
| Item Dimensions LxWxH | 7.24 x 5.24 x 3.24 inches |
| Style | Cross-Line Laser |
| Item Weight | 1.1 Pounds |
Product Description
It is considerably simpler to cast a beam from normally unusual angles when using the Bosch GLL25-10 since it comes with a flexible mounting clamp that allows you to connect the tool to any surface that is 1/2 inch to 2 1/4 inches thick. That may be very helpful if you require a vertical, horizontal, or cross-line at a high place or in a location where using a tripod would be challenging. But this tool provides more than just that. We discovered that it was quite accurate, never deviating by more than 1/16-inch. We also liked how the red laser lines were narrow, clear, and simple to see.
This tool is a good option for most indoor jobs because it self-levels to within 4 degrees and retains accuracy up to 30 feet, but it is not appropriate for particularly big spaces. It is simple to use and does not display any harm or loss its settings throughout the drop test. It comes with two AAA batteries and a mounting bracket. Although it doesn't come with a tripod, you may mount it to any tripod that has a 1/4-inch threaded pole.
6. Huepar B03CG Pro 3D Cross-Line Self-leveling Laser Level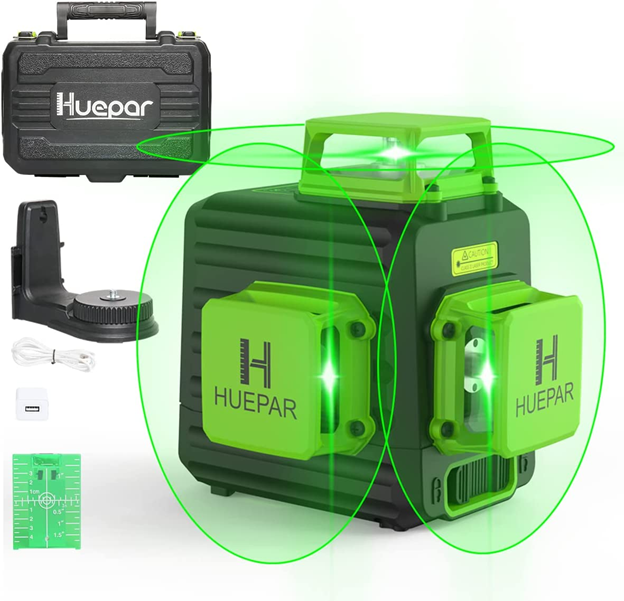 Specifications
| | |
| --- | --- |
| Brand | Huepar |
| Material | Acrylonitrile Butadiene Styrene |
| Color | Green |
| Style | 3×360 Laser Level |
| Operation Mode | Manual |
Product Description
Instead of using replaceable batteries as other laser levels do, the Huepar B03CG Pro may be recharged using the provided USB cable. One 360-degree horizontal and two 360-degree vertical beams may be combined to meet your needs on this professional laser level. All of the beam options are green for excellent visibility even outside. This makes it simple to project a beam across a room's floors, walls, or ceilings, which is incredibly helpful when working on challenging chores like installing cabinets or framing. Although we appreciated the tool's precision and its successful self-leveling capabilities, we did observe that the instruction manual was difficult to understand.
The tool's beam range can reach up to 85 feet, and although its precision is supposed to be plus or minus 1/9-inch, the tests revealed that it is really more accurate. And the gadget remained accurate and undamaged despite being dropped three times. However, this can be overkill for the typical individual who merely wants to use a laser level to hang pictures or drapes and a tool better suited to a professional or experienced DIYer. A carrying case, a rechargeable battery with a charging wire and base, and a magnetic pivoting base are all included with the gadget. Although a tripod is not included, it may be mounted on one with 1/4-inch threads.
7. Bosch GLL30 Cross-Line Laser Level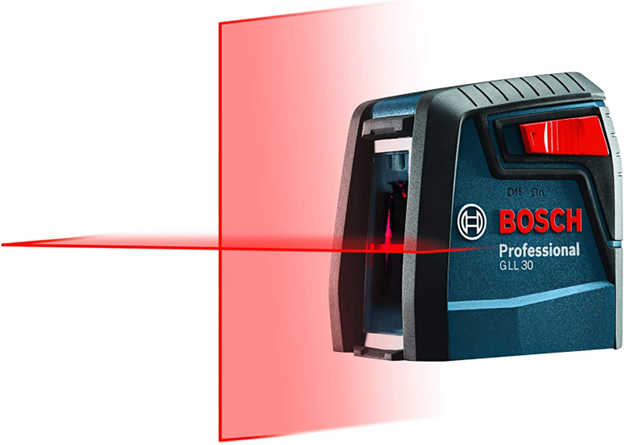 Specifications
| | |
| --- | --- |
| Brand | BOSCH |
| Material | Plastic |
| Color | Black |
| Item Dimensions LxWxH | 2.8 x 2.2 x 2 inches |
| Style | New Unit with Improved Design |
Product Description
The Bosch GLL30, which is about the size of a tape measure, won't take up much space in your toolbox but is quite useful for usage around the house when you need to make sure your lines are straight. This level accurately beams a red cross-lined laser beam up to 30 feet. Both up close and far away, it is simple to see the laser line. The program is quite simple to use and does most of the leveling and tweaking by itself, which is a feature we really liked. It contains a micro-fine adjustment knob for even more exact angling, a clamp that secures to any surface between 1/2 inch and 2 1/4 inch thick, and it comes with a clamp that does the same.
The gadget easily withstood our drop test, continuing to work normally even after two drops. Two AA batteries, which are not required but are included, power this laser level. Although a tripod is not included, if you like, you may place it on one as long as the threads are 1/4 inch. This is an excellent option if you merely want to have a laser level on hand in case you need to precisely install a mirror or do other similar operations but don't require one for difficult jobs.
8. DEWALT DW088K Cross-Line Laser Level
Specifications
| | |
| --- | --- |
| Brand | DEWALT |
| Material | Composite |
| Color | Multi |
| Item Dimensions LxWxH | 9.65 x 9.25 x 4.41 inches |
| Style | Line laser |
Product Description
Many laser levels only have beam ranges of about 30 feet, so if you need a straight line over a long distance, you could find this to be the case. But when used inside in bad lighting, the DEWALT DW088K can generate a red laser beam that is visible for up to 100 feet. The beam should still be visible for up to 50 feet if the light is stronger, which is more than enough for the majority of jobs. You can view the beam for up to 165 feet using a detector that is offered separately.
The gadget does not have 360-degree functionality, but it does generate horizontal, vertical, and cross-lines. It is accurate to plus or minus 1/8 inch at 30 feet, yet in the tests, it was much more precise. The laser level is very simple to use and self-adjusts within a 4-degree angle. Should it be dropped, a rubbery outer molding surrounds it to shield it from harm. In fact, for accuracy, performance, and use, this was the greatest laser level. It is a terrific option for professionals or serious DIYers. It includes a magnetic pivoting base, three AA batteries, and a carrying case. It may be used with a tripod with a 1/4-inch thread.
9. Cigman 3×360° Green Laser Level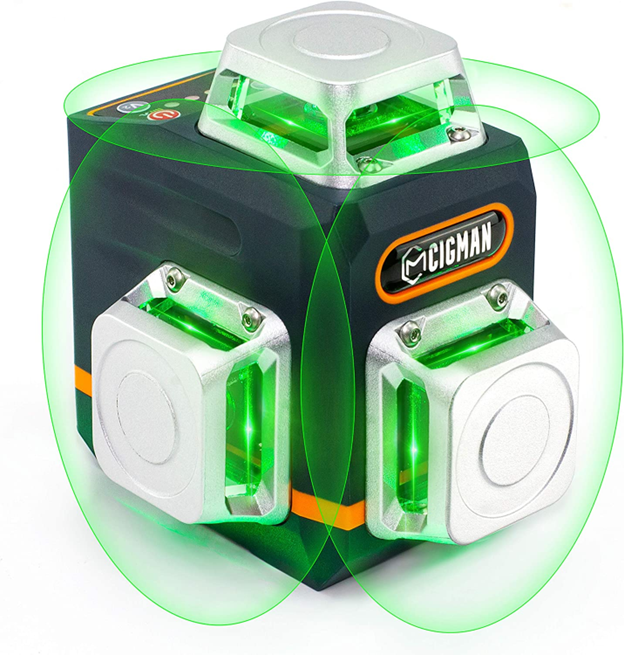 Specifications
| | |
| --- | --- |
| Brand | CIGMAN |
| Color | Blue Yellow |
| Style | 3*360° |
| Item Weight | 2.6 Hundredths Pounds |
| Operation Mode | Off |
Product Description
The CIGMAN 3×360° 3D Green Cross-Line Laser Level is pricey, but it's worth it if you're embarking on a significant DIY home improvement project or require a laser level for work. As long as it's not being used in the most intense sunshine, this professional instrument can beam a green laser line that can be seen up to 100 feet away. We had no trouble spotting the clear, green lines running the length of the testing area indoors. The device contains three lasers: one 360-degree horizontal line and two 360-degree vertical lines, which may be used separately or in different combinations. This enables you to make grids for challenging cabinet installs or other big-item setups.
If you're working in a big location, the remote control that comes with this laser level will enable you to change the brightness of each laser from a distance. The tool automatically levels itself to within plus or minus 4 degrees, or you may lock it so that it doesn't self-level. Its performance was unaffected by the drop test, and its accuracy at 33 feet is plus or minus 1/9 inch. The tool also comes with a compact tripod, a magnetic fastening base, and a carrying case in addition to a USB wire for charging the batteries.
How to Buy Laser Levels Like a Professional
Accuracy
Naturally, you'll want a laser level that provides the most precise readings possible, with lines that are absolutely level and plumb without the need for any adjustments. The best solutions should have a very little variance (or none at all), ideally around 1/8-inch, so be careful to check at the degree of accuracy normally mentioned on the package while looking for these equipment.
Beam Direction
Most laser levels have vertical and horizontal beam orientations (with one or both being 360-degree planes). However, some higher-end versions will have an additional vertical laser indicated, enabling you to cover a bigger area. Which number of orientations is best for you will depend on the size of the room(s) you'll be using the level in most often. If expense allows, always strive for a level with at least one 360-degree beam so you can quickly cover all of your territory.
Light Color
Red or green laser lights are available on laser levels. Green lasers are preferable to red lasers if increasing visibility is your top objective since they "are more visible from a wider distance and simpler to utilize when working outside," according to McCoy. Red lasers, on the other hand, are less powerful but cost less and require less battery life.
Range
Most laser levels can cast light up to 50 feet in the air, which is often sufficient for most household tasks. However, if you need to cover a bigger area, seek for a model that has a range of up to 100 feet; just be ready to spend significantly more for the added range.
Self-Leveling
Choose a laser level that can self-level if at all feasible to "prevent calibration problems," advises Nasir. You simply need to set the level down on a flat surface to assure its stability, and the internal pendulum and magnets will do the rest to level it out completely. When working on a project where precision is crucial and you don't want to take any chances, this tool might be extremely helpful. In this post, we only advocate self-leveling lasers.
FAQs about Laser Levels
How does the laser level function?
Light Amplification by the Stimulated Emission of Radiation is referred to as laser. This effectively implies that lasers release radiation in the form of visible light, despite the fact that the science is quite complex. An LED (light-emitting diode) semiconductor emits the radiation light in the case of a laser, which is then sharply focused into an intense beam of light using an internal mirror or prism.
You may utilize the tool's vertical and horizontal tiny light beams as guidance for mounting cabinets, hanging artwork, or doing other operations that call for extremely exact alignment of items.
How do you hang pictures using a laser level?
You actually don't need a laser level if you are only hanging one little, light picture on the wall. However, you'll find that using a laser level makes the job much easier than eyeballing it or relying on a measuring tape and pencil if you're hanging several pictures in a row, hanging a single heavy mirror or picture that needs multiple nails to secure it in place, or hanging pictures along an incline, such as over a staircase.
Decide where and how you want to hang your images before using a laser level to hang them. Next, shine a light beam onto the wall where the photos will be mounted using your laser level.
You must take a measurement from the hanging hook or wire on the artwork's back to the top or bottom border if you want the tops or bottoms of the photographs to be in alignment. Now determine where you need to insert nails by measuring the distance above or below the light source.
You must calculate each artwork's midway by measuring its height, dividing it by two, and then aligning it with the midpoint of each image. Next, determine how far it is from that midway to the picture's hanging wire or bracket. Finally, find the height above the laser beam using your ruler, and mark each location where you will drive a nail with a little pencil mark. Then drive the nails and hang the piece of art.
Without a tripod, how do you use a laser level?
While a tripod makes it simple to maintain your laser level's steadiness, doing so is not strictly necessary. Any flat surface across the room from the wall you wish to project the light onto can be used as the location for the laser level, such as a chair, table, cabinet, or another flat object. To elevate the laser level to the proper height, you might need to utilize books or other objects.
Conclusion
You may acquire all the details you want about the Laser Levels and details about this market on the Linquip website, one of the numerous possibilities available to you. Whether you're a professional or a client seeking for a reputable business, you can rely on Linquip to give you as much basic and trustworthy information on this subject. We advise you to look through the whole range of Laser Level Experts and take advice from our professionals. If you need any services required for your product, you can count on Linquip and visit Laser Level Services.
Download PDF for The Best Laser Level of 2023
You can download the PDF format of this post from the link provided here.
Buy Equipment or Ask for a Service
By using Linquip RFQ Service, you can expect to receive quotations from various suppliers across multiple industries and regions.
Click Here to Request a Quotation From Suppliers and Service Providers
Read More On Linquip