Top wind turbine manufacturers in USA – Wind turbines create clean electricity for a variety of power needs, from large wind farms to small turbines powering a single home. Wind turbines are becoming more common in the United States. The overall capacity of wind power in the United States has expanded more than 24-fold since the turn of the century. In the United States, there is currently enough wind power capacity to create enough electricity to power over 15 million homes, paving the path for a clean energy future.

The Basics of Wind Turbine
What Is a Wind Turbine?
A wind turbine is a machine that converts the kinetic energy of the wind into electricity. Wind is a type of solar energy that is produced by a series of three events:
The sun unevenly heats the atmosphere
Irregularities on the surface of the earth
The earth's rotation
Wind patterns and speeds range considerably across the United States and are influenced by bodies of water, vegetation, and topography changes. Flying a kite, sailing, and even generating electricity are examples of how humans employ wind flow or motion energy.
Wind turbine blades turn between 13 and 20 revolutions per minute, depending on technology, at a constant or variable velocity, with the rotor's velocity varying in relation to the wind's velocity to achieve greater efficiency. Hundreds of thousands of large turbines in wind farms now generate over 650 GW of electricity, with 60 GW added every year. Wind turbines are becoming a more important source of intermittent renewable energy in many nations as a way to reduce energy costs and dependency on fossil fuels. Smaller wind turbines are used for battery charging, auxiliary power for boats and caravans, and traffic warning signs. Larger turbines can contribute to a household power supply while also selling unused electricity back to the utility via the electrical grid.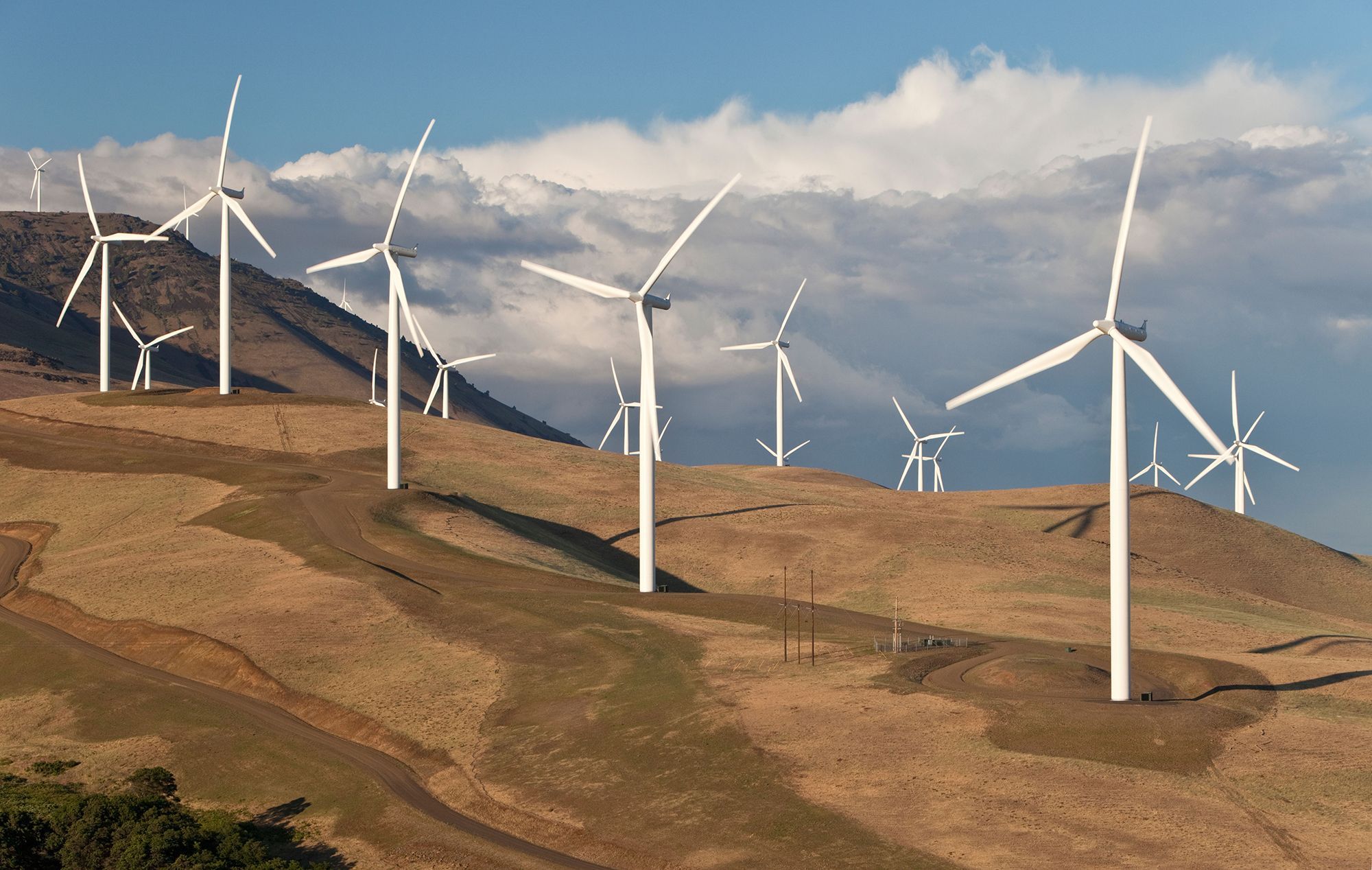 How Does a Wind Turbine Work?
Both "wind energy" and "wind power" refer to the process of using the wind to generate mechanical or electrical power. This mechanical power can be employed for certain tasks, or it can be converted to electricity using a generator. The bulk of the wind turbines has three blades fixed to a tubular steel tower. There are further versions with two blades or concrete or steel lattice towers, which are less popular. The tower, which is 100 feet or higher above the ground, allows the turbine to benefit from the stronger wind speeds at higher elevations.
Wind turbines transform wind energy into electricity by utilizing the aerodynamic force of the rotor blades, which function similarly to an airplane wing or helicopter rotor blade. A pocket of low-pressure air forms on one side of the blade when the wind blows over it. The low-pressure air pocket subsequently pulls the blade toward it, turning the rotor. This is referred to as a lift. The lift is substantially stronger than the drag, which is the force of the wind against the blade's front side. The rotor spins like a propeller due to the combination of lift and drag. The rotor is connected to the generator either directly (if it's a direct drive turbine) or within a shaft and a series of gears (a gearbox), which speeds up the rotation and allows the generator to be physically smaller. A sequence of gears accelerates the rotor's rotation from about 18 revolutions per minute to around 1,800 revolutions per minute, allowing the turbine's generator to generate AC energy. The conversion of aerodynamic force to generator rotation generates electricity.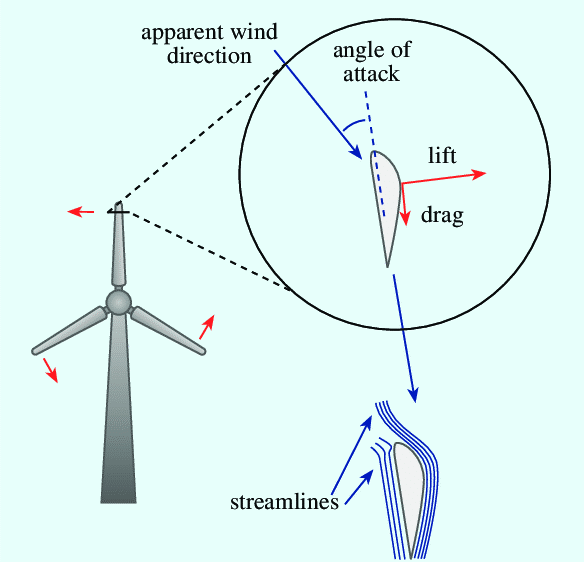 Key turbine components, including the gears, rotor, and generator, are housed in a nacelle, which is a streamlined shell. Some of the nacelles atop the turbine tower are large enough for a helicopter to land on. Another important component is the turbine's controller, which limits rotor speeds below 55 mph to prevent damage from severe winds. An anemometer detects wind speed in real-time and sends the information to the controller. In an emergency, a brake, which is likewise housed in the nacelle, stops the rotor mechanically, electrically, or hydraulically.
Types of Wind Turbines
Wind turbines are divided into two categories: those with a horizontal axis and those with a vertical axis.
Horizontal Axis Wind Turbine: The majority of wind turbines feature a horizontal axis, which is a propeller-style construction with blades rotating around it. Horizontal axis turbines can be downwind (the wind hits the tower before the blades), or upwind (the wind hits the blades before the tower). A yaw drive and motor are also included in upwind turbines, which turn the nacelle to keep the rotor facing the wind as the wind direction changes.
Vertical Axis Wind Turbine: Vertical axis wind turbines have not yet penetrated the utility size market (100 kW and bigger) to the same extent as horizontal access turbines. There are two types of vertical-axis turbines:
Drag-based turbines, also known as Savonius turbines, contain solid vanes that revolve around a vertical axis.
Lift-based turbines, also known as Darrieus turbines, have a tall, vertical airfoil design (some appear to have an eggbeater shape).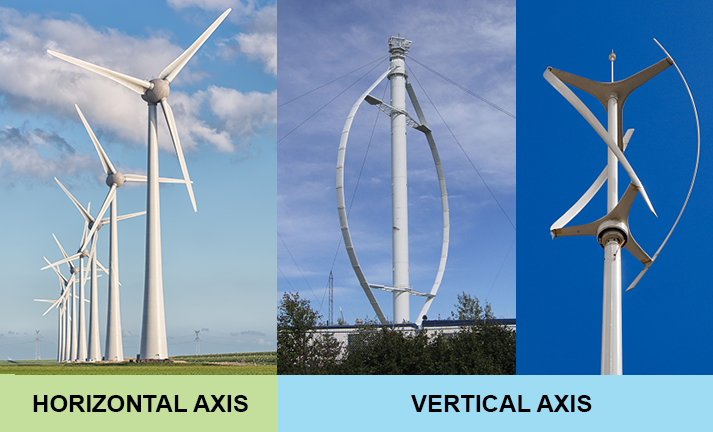 Application of Wind Turbines
Wind turbines are used for a wide range of purposes, from harnessing offshore wind resources to providing electricity for a single home:
Large wind turbines range in size from 100 kilowatts to several megawatts and are most commonly used by utilities to deliver power to the grid. To generate huge amounts of electricity, utility-scale turbines are frequently placed together in wind farms. Wind farms can be as few as a few turbines or as many as hundreds, with enough power to power tens of thousands of homes.
Small wind turbines with a capacity of up to 100 kW are often located near where the generated electricity is needed, such as near houses, telecommunications dishes, or water pumping facilities. Diesel generators, batteries, and photovoltaic systems are all common connections for small turbines. These systems are known as hybrid wind systems, and they are often employed in remote, off-grid locations without access to the utility grid.
Offshore wind turbines are employed in several nations to harvest the energy of strong, constant winds prevalent off coasts. The technological resource potential of the winds above US coastal waters is adequate to generate over 4,000 GW of energy, or almost four times the current US electric power system's generating capacity. Even if not all of these resources are utilized, they represent a significant opportunity to deliver power to densely populated coastal communities.
Top Wind Turbine Manufacturer in the USA in 2022
With the demand for wind energy growing as the cost per megawatt falls, wind turbine manufacturers are outperforming the competition with their technology and innovation. The following table lists some of the top Wind Turbine manufacturers in the USA, as well as their annual sales. Further information about each business's headquarters location, the number of workers, and descriptions of corporate operations are given in what follows.
Table 1: Top Wind Turbine Manufacturer in the USA in 2022
| Company | Headquarters | No. of Employees | Annual Sale |
| --- | --- | --- | --- |
| General Electric (GE) | Boston, Massachusetts | 1000+ | $250 Mil. and over |
| ESAB Welding & Cutting Products | Taneytown, Maryland | 500-999 | $250 Mil. and over |
| Clipper Windpower, LLC | Cedar Rapids, Iowa | 50-99 | $25 - 49.9 Mil |
| AllEarth Renewables | Williston, VT | 10-49 | $10 -49 Mil |
| Sangster Group, LLC | Brooklyn, New York | 10-49 | $1 - 4.9 Mil |
| OEA International, Inc. | Morgan Hill, California | 10-49 | $1 - 4.9 Mil |
| Heartland Energy Solutions | Mount Ayr, Iowa | 10-49 | $1 - 4.9 Mil |
| Continental Wind Power, Inc. | Carpentaria, California | 10-49 | $1 - 4.9 Mil |
| Eastern Wind Power, Inc. | Cambridge, Massachusetts | 10-49 | Under $1 Mil |
| Supreme Gear | Fraser, Michigan | 50-99 | Under $1 Mil |
Top Wind Turbine Manufacturer in the USA in 2022 Summaries
General Electric (GE)
GE is a multinational conglomerate headquartered in Boston, Massachusetts, and founded in New York State. The company operated in several industries until 2021, including aviation, power, renewable energy, digital industry, locomotives, weapons manufacturing, and venture capital and finance, but it has since divested from several of them, with the first four segments now accounting for the majority of the company's operations.
According to the Fortune 500, GE was the 33rd largest company in the United States by gross revenue in 2020. GE was the 14th most profitable corporation on the Fortune 20 list in 2011, but its profitability has since declined significantly, and the company has underperformed in the market by nearly 75%. Two GE employees have been awarded the Nobel Prize: Irving Langmuir (1932) and Ivar Giaever (1973).
On November 9, 2021, the corporation declared its intention to separate into three public organizations. The new companies will focus on healthcare, aviation, and energy (renewable energy, power, and digital). The healthcare division's initial spinoff is scheduled for 2023, and the energy divisions is set for 2024.
ESAB Welding & Cutting Products
ESAB is a global leader in the manufacturing of welding and cutting equipment and consumables. Their cutting-edge, globally recognized equipment and solutions are designed with client input and constructed with the expertise and heritage of a worldwide manufacturing leader. In the core areas of manual welding and cutting equipment, welding consumables, welding automation, and mechanized cutting systems, the ESAB brand is synonymous with world-leading expertise.
Manufacturers all across the world are seeking ways to promote productivity and reduce expenses. One approach to reach this goal is to work with a welding and cutting company that can provide a full range of new solutions to match the industry's immediate requirements. Since its inception, ESAB has been at the forefront of the research and development of superior technologies and products for this industry. For practically any welding and cutting process and application, ESAB has a wide range of products and solutions. They work in industries that benefit the entire world, such as:
Automotive
General fabrication & civil construction
Pipelines
Pipe mills
Power generation
Process industry
Repair & maintenance
Shipbuilding & offshore
Transport & mobile machinery
Clipper Windpower, LLC
Clipper Windpower, founded in 2001 by James G.P. Dehlsen, is a wind turbine manufacturing company. It designed one of the largest wind turbines in the United States, which was manufactured in Cedar Rapids, Iowa. It collaborated with the National Renewable Energy Laboratory on this project. Clipper aims to serve its customers and their existing Liberty 2.5MW wind turbine fleets by providing OEM-trained gearbox and component part refurbishment services, as well as stocking a full line of wind turbine service parts. They understand that delivering dependable service necessitates the use of established processes, quality standards, specialized tooling, and proven test procedures, as well as the expertise of a seasoned workforce.
AllEarth Renewables
AllEarth Renewables is a company that specializes in renewable energy equipment design and manufacturing. Their AllEarth Solar Trackers are dual axis solar power systems that are both inexpensive and grid-connected. AllEarth Solar Trackers create up to 45 percent more electricity than fixed rooftop systems by positioning the panels to face the sun throughout the day. AllEarth Solar Trackers ease system design, supply chain, installation, and management for big and small systems by using a whole system approach that incorporates GPS and wireless technology. BuildingGreen awarded the AllEarth Solar Tracker a Top-10 green product of the year.
The purpose of AllEarth Renewables is to minimize reliance on nuclear and fossil fuels while also reducing greenhouse gas emissions and providing long-term, well-paying jobs. In 2010 and 2011, AllEarth Renewables was recognized as the fastest growing company in Vermont, and it has won the "Best Places to Work in Vermont" award three times. Business Week named David Blittersdorf, CEO of AllEarth Renewables, one of the top 25 "America's Most Promising Social Entrepreneurs of 2011."
Sangster Group, LLC
Sangster Group LLC, which is locally owned, is more than a renewable energy designer and manufacturer; they are stakeholders who are assisting in the transition to a renewable energy future. They make solar and wind energy products, as well as LED lighting systems for household and commercial use. Wind turbines, street lights, solar panels, floodlights, LED tubes, and light bulbs are among their products, which include hybrid inverters, wind hybrid, and solar charge controllers, wind turbines, street lights, solar panels, floodlights, LED tubes, and light bulbs.
OEA International, Inc.
The Energy Division of OEA International, Inc. was founded in 2007 and manufactures and distributes innovative wind and water turbines that use Akcasu Turbine technology. The OEA Energy Division's technology has the advantage of being able to deliver more energy per footprint than any other technology. This is owing to a unique design that allows blades to be changed continuously for maximum energy capture, even at low speeds. In the near future, products based on this technology are likely to be accessible.
Heartland Energy Solutions
Heartland Energy Solutions is a firm established in Lowa that manufactures the world's most cost-effective 100 kW wind turbine and blades for the generation of electricity in the moderate-wind industry. Their experience has resulted in the development of a unique, world-class turbine for use in areas where wind speeds are low but energy demand is great, such as the United States and other parts of the world.
The FreedomTM 100 wind turbine marks a significant advancement in renewable energy technology as a more cost-effective and efficient option, capable of producing power at wind speeds as low as six miles per hour. Heartland Energy Solutions turbine is designed to work in areas with moderate wind availability and force, such as the continental United States. The lower size also makes their turbine more user-friendly – it's easier to ship, install, and repair, and it's less harmful to the environment.
Continental Wind Power, Inc.
Continental Wind Power produces modern, midsize wind turbines that are designed to be extremely dependable and are much more cost effective to install and maintain than massive, megawatt turbines. Schools, cities, counties, farms, factories, communities, and other major power consumers can benefit from Continental's midsize wind turbines by lowering their energy expenses while "going green." They either sell or install wind turbines and then sell the electricity generated. They provide full monitoring, maintenance, and repair services in either instance.
Eastern Wind Power, Inc.
Eastern Wind Power Inc. is a company that works in the Wind Farm industry. This is based in the United States, with its headquarters in Cambridge. Eastern Wind Power makes turbines for disaster relief, rural electrification, rural communications ground stations, and military defensive field operations. One of their products is a 50Kw vertical axis wind turbine.
Supreme Gear
Supreme Gear has been serving businesses that are critical to the success of countries throughout the world for over 70 years, including aerospace, defense, automotive, medical, commercial, and industry. They supply highly crucial aircraft and missile engine gears, full gearboxes, gear shafts, drives, sprockets, and other gear components to several major aircraft makers, including Boeing, as a manufacturer of precision machined parts.
Conclusion
This article has created a collection of data and company descriptions for some of the most well-known wind turbine manufacturers in the United States, as well as a brief introduction to wind turbine basics. To get further information about these companies and identify suppliers of additional industrial and commercial equipment, visit the Linquip website.
Buy Equipment or Ask for a Service
By using Linquip RFQ Service, you can expect to receive quotations from various suppliers across multiple industries and regions.
Click Here to Request a Quotation From Suppliers and Service Providers
Read More In Linquip