Top Wind Turbine Manufacturers In India – In 2019, India added 2.4GW of new wind capacity, slightly more than the 2.3GW installed in 2018. In 2019, the top two turbine manufacturers captured 49 percent of the Indian market. In 2019, Siemens Gamesa surpassed Suzlon as the leading turbine manufacturer, moving Suzlon to the second position. Vestas, Inox Wind, GE Renewable Energy, and Envision Energy combined for a market share of 47 percent. The remaining 4% was provided by five other manufacturers. In this post, we present a study on the basics of the wind turbine, as well as the top wind turbine manufacturers in India.

What is a Wind Turbine and How Does it Work?
The wind is caused by a combination of events that trigger the atmosphere to move. Now that this naturally occurring motion, or kinetic energy, is out there, it only makes sense to figure out how to capture it. For us humans, wind kinetic energy is nothing new. We've been using it to turn our windmills for almost a thousand years. For example, we've been utilizing it in windjammers for quite some time. Is there any other way to put wind energy to use in a more practical way?
Of course, the response is a resounding YES! The basic concept is that wind kinetic energy may be utilized to rotate equipment, similar to windmills, but this time to create electricity, similar to gas turbines, where hot gas rotates the turbine and generates electricity. As a result, we now refer to wind energy as wind power, which is the process of creating electrical energy from wind kinetic energy using wind turbines.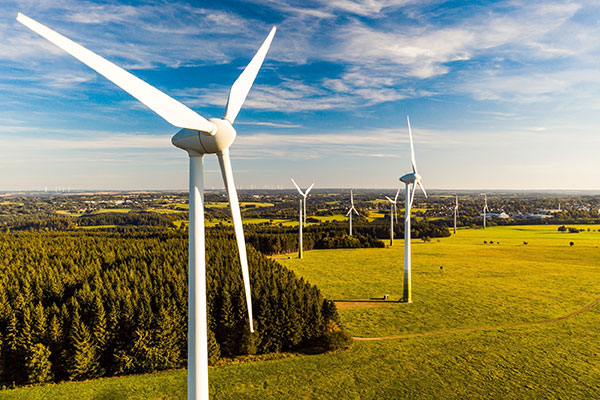 Types of Wind Energy and Wind Turbines
Wind may be divided into two categories based on where its energy is harvested: land wind and offshore wind. The land wind is divided into two categories: "small wind" or "distributed wind" and "utility-scale" wind.
Small wind energy refers to the use of wind energy on a small scale for homes, farms, and companies, with small wind turbines with capacities of up to 100 KW providing the needed electricity. The wind turbines are not linked to the grid in this design, and the generated power is used directly by the end customer.
Wind energy is used in large-scale power production applications, which is referred to as utility-scale wind. The wind turbines employed for this project range in size from 100 KW to several megawatts. Despite their tiny size, utility-scale wind turbines feed their generated electricity into the power grid, where it is distributed and utilized by end consumers.
Offshore wind, as the name implies, involves the installation of enormous wind turbines in offshore places to harness wind energy. Because offshore wind turbines are bigger than land-based turbines, they can often generate more electricity than their land-based counterparts.
Different types of wind turbines exist for converting wind energy to electrical energy. Horizontal Axis Wind Turbines (HAWT) and Vertical Axis Wind Turbines (VAWT) are the two types of wind turbines in the broadest sense (VAWT). Despite the fact that some wind turbines fall into neither of these categories, due to their limited use in real-world applications, we may naturally remain with the two types of HAWT and VAWT as the most common forms of wind turbines in use.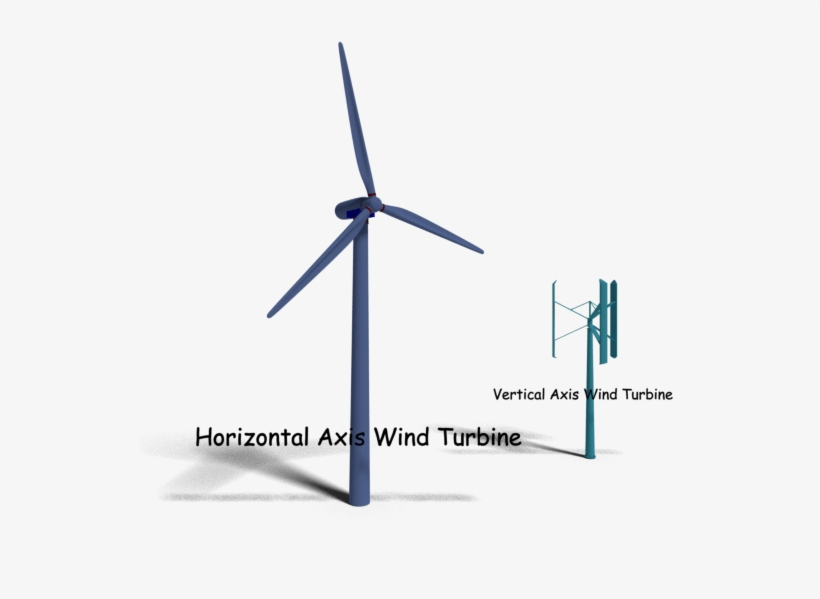 Why are wind turbines being used?
The need for energy is increasing every day, and with all of the current environmental challenges, such as global warming and air pollution, it is no longer prudent to rely entirely on conventional hydrocarbon power sources. As a result, the demand for green and renewable energy sources is rapidly increasing.
Wind is one of the most important sources of green and renewable energy. The wind blows all around the world, and there are numerous places where it may be used to create electricity, from tiny sizes for houses to industrial proportions, as well as supplying town and city power systems.
Many governments genuinely assist residents who have made the decision to convert to renewable energy sources. Furthermore, not having to pay for electricity is a compelling reason to explore wind turbines for a variety of purposes.
Top Wind Turbine Manufacturers In India in 2022
The table below lists some of the top Wind Turbine Manufacturers In India. Additional information about each business's headquarters location, as well as the number of workers and descriptions of corporate operations, are given in what follows.
Table 1: Top Wind Turbine Manufacturers in India in 2022

Top Wind Turbine Manufacturers In India in 2022 Summaries
Siemens
Siemens Gamesa surpassed domestic supplier Suzlon to take the top place in the manufacturers' rankings in 2019. Siemens Gamesa's rise to the top was aided by operational troubles at other manufacturers and the company's competitive character. Alfanar Firm gave the company 453MW of new turbine orders that were initially meant to be delivered by Senvion.
Suzlon
Suzlon Energy Limited, situated in Pune, India, is a wind turbine manufacturer. MAKE formerly classified it as the world's sixth largest wind turbine manufacturer. Suzlon's market share in total installations fell to 19% in 2019, down from 41% in 2018, as the business struggled with financial and operational issues. Suzlon deployed 0.46GW of projects in 2019, which is 50% less than it did in 2018.
Winds of the World (India)
Wind World India, situated in Mumbai, was founded in 1994. Wind World employs around 5,000 people in the manufacturing of concrete and steel Wind Turbine Generators in Daman, as well as concrete towers in Karnataka, Tamil Nadu, and Gujarat.
Regen Powertech private limited
ReGen is a company based in Chennai that manufactures wind turbines. ReGen was founded in 1994 and has a manufacturing site in Tada, Andhra Pradesh. Manufacturing, consultation, supply, erection, operations, commissioning, and maintenance are among the services provided by ReGen in the field of wind power generating.
Inox Wind limited
INOX Wind Limited (BSE: 539083) is a company that provides wind energy services in India. Gujarat Fluorochemicals Limited owns the firm, which is based in Noida, India. Inox Wind Limited produces wind turbine generators (WTGs) and provides wind power project services such as wind resource evaluation, site acquisition, infrastructure development, assembly and commissioning, and long-term operations and maintenance. In 2015, Inox Wind was placed 167th on Business Today's list of India's 500 most valuable firms. Ahmedabad, Gujarat, Una, Himachal Pradesh, are where the company's production facilities are situated.
Orient Green Power Limited
Orient Green, a Chennai-based wind power firm, is a joint venture between Shriram EPC and Bessemer Venture Partners. The firm, which was founded in 2006, is a major participant in the country's renewable energy industry, producing biogas, biomass, wind energy, and hydropower projects. The company's yearly capacity is 466 megawatts of power, with aspirations to increase to 1,000 megawatts.
Indowind Energy Limited
Indowind Energy Ltd is a wind energy firm that provides a variety of services in the wind energy industry, including the development of wind farms for sale and the generation of wind energy. The company's headquarters are in Chennai, and it has offices in Mumbai and Madurai.
RRB Energy Limited (India)
RRB Energy Limited, situated in New Delhi, is a privately held corporation that specializes in wind energy generation. The company's manufacturing facilities are located in Delhi and Tamil Nadu. RRB Energy operates in Tamil Nadu, Maharashtra, Madhya Pradesh, Karnataka, Gujarat, and Rajasthan across India. In addition, the firm has a government-approved R&D center that creates turbines with larger MW capacities.
Vestas India – International Players
Denmark-based Vestas is the world's largest wind turbine manufacturer. Vestas was created in Aarhus, Denmark, in 1945. In 1979, Vestas established facilities in India to manufacture and build wind energy farms. The firm, which was established in 1979, is the world's market leader in wind energy generation, with operations in more than 70 countries and 57 GigaWatt of installed capacity. Over 17,000 workers work at the company's 24 branch offices throughout the world. Vestas has wind farms in Karnataka, India.
Enercon India Pvt limited – International Players
Enercon is a wind energy firm that was created in 1983 and has a capacity of roughly 28 GW of electricity output. Power Generation, Technical and Business Support, Process & Industrial, and New Plant Services are among the services offered by the organization, which is based in Germany. Enercon's operations in India are managed by Banner Wind World Ltd.
Gamesa wind turbines private limited – International Players
Gamesa, a global producer of wind turbines and a market leader in the building and development of wind farms, was founded in 1976. It is the world's fourth largest maker of wind turbines, with headquarters in Zamudio (Spain). Wind projects by Gamesa may be found in Karnataka and Tamil Nadu.
GE Wind Energy Limited – International Players
GE Wind Energy Ltd., a global wind turbine manufacturer, was founded in 1980 in Fairfield, Connecticut. The company primarily manufactures low and medium-voltage frequency converters for use in wind turbines, with a capacity of 26 GW.
Other Wind Turbine Suppliers and Manufacturers In India in 2022
The table below lists some of the small-scale wind turbine suppliers and manufacturers In India, along with their headquarters and the year of establishment.
Table 2: Other Wind Turbine Suppliers and Manufacturers In India in 2022

FAQs about Wind Turbine Industry
1. How big is the wind turbine industry?
From 2017 to 2023, the global wind turbine market is expected to increase at a CAGR of 7.2 percent, from $81,147 million in 2016 to $134,600 million in 2023.
2. Is the wind turbine industry growing?
The global wind energy market was worth $62.1 billion in 2019 and is expected to rise to $127.2 billion by 2027, with a CAGR of 9.3% from 2020 to 2027.
3. What is the demand for wind turbines?
In May 2020, the median annual pay for wind turbine technicians was $56,230. Wind turbine technicians' employment is expected to expand by 68 percent between 2020 and 2030, substantially faster than the average for all vocations. Over the next ten years, an average of 1,400 vacancies for wind turbine technicians are expected.
Conclusion
This post has offered a collection of data and business summaries for some of the most well-known wind turbine manufacturers in India, and a short description about the basics of wind turbines. You are also encouraged to visit the Linquip website to learn more about these firms, as well as to find providers of additional industrial and commercial items. You can also visit our Wind Turbine Suppliers and Companies to find out a complete list of wind turbine manufacturers and suppliers.
Buy Equipment or Ask for a Service
By using Linquip RFQ Service, you can expect to receive quotations from various suppliers across multiple industries and regions.
Click Here to Request a Quotation From Suppliers and Service Providers
Read More on Linquip