Best Portable Band Saws- When working with wood, you might need to cut wood even if you're not at your fully-equipped workbench. In these situations, having the best portable band saw would be quite helpful. A band saw may be used to cut a variety of materials, including metal, in addition to making astonishingly exact cuts in even the hardest varieties of wood, which makes it widely employed in the woodworking and lumbering industries.
Cutting metal pipes, rebar, conduit, or angle iron is a simple task for a standalone band saw in the workshop, but when the material needs to be cut and can't be moved to the workshop with ease, you'll need to find a means to cut it on the spot. Sparks frequently fly when using an angle grinder, and heavy cutting with a handheld hacksaw can result in aching elbows.
Portable band saws are offered by a wide range of vendors, companies, Manufacturers, and distributors, and Linquip provides a huge selection of Portable Band Saws for Sale. For all OEM fleets, Linquip provides a comprehensive array of services. To learn more about how to connect with a variety of Service Providers who consistently produce high-quality products, please contact Portable Band Saw Experts.
A portable band saw is an alternative that performs similarly to a freestanding band saw but that you can transport while working to make rapid, precise cuts when needed. We examined portable band saws to see how well they function and how safe they are for DIYers because they are still rather new, having entered the market only a decade or two ago.
A continuous band of metal with sharp saw teeth that stretches between two wheels makes up the band saw, also known as a "continuous band saw" or "bandsaw," one of the most important saws available for woodworking. It is a versatile, simple-to-operate, and highly effective electric-motor power saw (although some have three or even four). Bandsaws offer uniform cutting, even when working with curved or irregular shapes, because of their uniformly distributed tooth load.
A portable bandsaw is often a more compact, smaller version of a conventional bandsaw that is lighter and easier to transport. Some saws are also cordless, enabling you to use them wherever you are, whether an outlet is nearby or not. Portable bandsaws are often priced around $200, whereas industrial-grade bandsaws are frequently priced upwards of $700 (and frequently much more).
Don't miss this guide outlining the details if you're considering adding a portable band saw to your collection of power tools. Additionally, you'll learn how each of the ensuing models came to be listed among the top portable band saws on the market right now.
A thorough "Buying Guide" is also provided below to further assist you in understanding the best portable band saws. To make the best decision, be sure to read the article in its entirety. The best of them are listed below for your operations.
Tips for Choosing the Best Portable Band Saw
A portable band saw is ideal for people working in the plumbing or renovation industries since it can be used to make straight cuts on bars and pipes. Cutting curves is not advised due to its low throat capacity. The portable band saw can be used to cut 90-degree straight lines, like when removing a pipe part for splicing. You can also visit this video to learn more about them.
Power Source
As a power source, battery technology has advanced significantly, making high-performance cordless instruments more commonplace. However, compared to a comparable cordless device, purchasing a corded portable band saw might result in savings of up to 50%. Additionally, batteries don't need to be recharged. Additionally, users usually want at least one additional battery to use a cordless tool all day. To maximize runtime when purchasing a spare, always use the highest amp hour (Ah) rating available.
With a corded type, an extension cable is frequently needed, which can occasionally be difficult, as the cords for portable band saws are typically around 8 feet long. However, a lot of job sites have a generator for power, and most homes have an outlet close by.
Weight
One of those things that most people don't care about is weight. You can be sure, though, that it's a key component of practically every job you choose to work on, whether you're chopping a single pipe or updating your worn-out furniture. The levels of weariness increase according to the unit's weight. In simpler terms, the heavier the machine is, the quicker you'll become weary. Additionally, it will take longer to complete the assignment the more pauses you have from exhaustion.
Now, lighter models will typically produce better outcomes if you're pressed for time or in a rush, but not always. The explanation is straightforward: a heavier model is occasionally a better choice because it demands less strain and effort. As you can see, the trick is to find the "sweet spot" in weight such that it doesn't wear the user out too much while also not requiring too much pressure.
Cutting Capacity
The cutting capacity is one of the most significant variations in portable band saw characteristics. The range of options may be limited if the material must be trimmed to a specific size. Although width and depth specifications are typically the same, double-check. All of the items on this list are square.
The term "width of cut" refers to either the length of the band saw blade that is available for cutting or the separation between the two sides of the body where the band saw wheels are located.
The term "depth of cut" describes the separation between the blade and the back of the frame.
The largest portable band saws typically have a cutting capacity of 5 inches by 5 inches, while small ones intended for one-handed operation may have a maximum cut of about 112 inches by 112 inches.
Speed and Blade Type
The speed of a portable band saw is measured in surface feet per minute (SFPM), or more commonly, just "FPM," which is also occasionally written as "ft/min." Portable models can cut a wide range of different materials because they can run between 0 and 550 FPM.
Trigger operation is sometimes used to control variable speed. Many machines, however, have up to six-speed ranges. The speed may be changed and controlled more easily thanks to a thumb wheel located on the grip.
A portable band saw is often regarded as a tool for cutting metal, and some of them are thus labeled. Usually, the machine comes with a general-purpose blade for metals with 14 to 18 teeth per inch (TPI). However, there is also a large selection of wood-cutting blades, often 8 to 10 TPI.
The performance of different materials can be determined by reading the manufacturer's descriptions when searching for substitutes or alternatives. Always spend money on high-quality blades; inexpensive band saw blades quickly degrade.
Size and Portability
The size and weight of a portable band saw are undoubtedly the most important considerations. DIY enthusiasts might not be too bothered, but people who use a tool continuously, especially at head height, will typically wish to reduce size.
Although a saw can be made lighter by using aluminum and plastic parts, using too much plastic can reduce a portable band saw's durability. Keep in mind that the weight of the battery may not be listed in the specs when examining the weight of a cordless portable band saw. Nearly all batteries weigh 1 pound.
When working in a small area, take external dimensions into account as well. Some small and sub-small portable band saws are made to be operated with just one hand. Larger models frequently have an additional handle for improved control towards the front that may be adjusted for working at various angles.
Bumpers, Cases, Lighting, and Bare Tools
Around the outside of the wheel shrouds, rubber bumpers are frequently used. They frequently serve as an important kind of damage prevention for the instrument because they take daily impacts in stride.
Although they aren't often offered, a storage case is also helpful. To help illuminate dark spots, several portable band saws come with LED work lights.
Portable cordless band saws are frequently sold as "bare tools" without the battery or charger. This can result in significant savings with suitable equipment, but if the current tools are more than five years old, make sure they are compatible.
Price
Better quality isn't usually associated with a higher price. In reality, it seldom ever comes true. Many consumers, however, take this for granted and go for the priciest models under the mistaken belief that they will perform far better than more affordable models. That's not how it works, and you might lose a lot of money if you make that error. The brand is the first thing you should consider. Naturally, more well-known brands like Dewalt and Makita will always cost a little more than no-name ones.
Even though it has two sides, it's always advised that you choose the most secure choice. Additionally, larger brands frequently offer better warranty terms and generally interact with consumers better. While less expensive versions can provide comparable functions, the absence of a warranty and customer service can occasionally be a pain. You must ultimately decide which choice best suits your needs. From our perspective, trusted brands are the way to go.
List of the Best Portable Band Saws
The 7 Best Portable Band Saws in 2023 include:
Makita 18V LXT Cordless Compact Band Saw Kit
DEWALT (DCS371B) 20V MAX Portable Band Saw
Milwaukee M12 Cordless Subcompact Band Saw Kit
Metabo HPT MultiVolt 36V Deep Cut Band Saw
DEWALT (DWM120K) 10 Amp Portable Band Saw
Wen 94396 10-Amp 5-Inch Portable Band Saw
Milwaukee M18 Fuel 18V Lithium-Ion Band Saw Kit
We'll now examine the portable band saws that performed the best in our practice tests. The following array includes full-size and compact variants, and while most are cordless, we also discovered a corded type that performed well. Learn about the performance of each portable band saw its advantages and disadvantages, and the kind of use each of these exceptional models is most suited for.
We've identified the best portable bandsaws, from renowned tool companies like DEWALT, Makita, and Milwaukee, based on raving Amazon ratings, whether you're looking for a cordless bandsaw for wood or a bandsaw that can handle metal and other materials. To see our recommendations, scroll down.
Makita 18V LXT Cordless Compact Band Saw Kit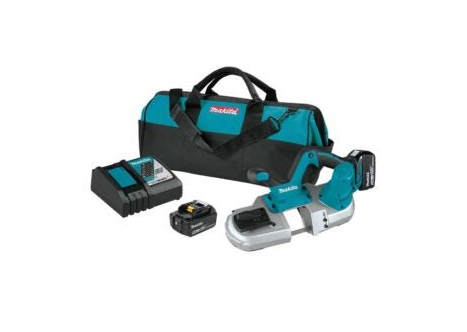 Specifications
Power supply: 18V, cordless
Cutting capacity: 2½ inches by 2½ inches
Weight: 9 pounds (with battery)
General Descriptions
The Makita portable band saw did not strike us as being very weighty or underweight at first. For comfortable, repeated use, the size, and weight are approximately right. Despite being a small, portable band saw, it has a cutting speed of up to 630 FPM, making it a tool of prosumer grade. In our timed rebar test, it performed superbly, cutting through the bar in three seconds.
We adored how silently this instrument works. The only sound the engine made was that of the blade slicing through the material. Although the manufacturer doesn't provide the decibel level, we calculated that it was around 70 dB, or around the volume of heavy traffic. Overload protection and a safety switch to stop unintentional starting are safety features. Additionally, it has an LED work light.
When the battery is in place, the Makita portable band saw weighs 9 pounds, making it light enough to cut overhead pipes or bars without tiring the arms. It is incredibly ergonomic and comfortable to use; the tool has a second pommel handle for stability, and the trigger grip is nonslip. Although the cutting area is only 212 inches by 212 inches, it is more than sufficient to cut conduit, water supply lines, and ordinary home vent pipes.
Even though it is costly, this Makita portable band saw will probably be useful and time-saving for people who frequently cut pipes, metal railings, and rebar. There is an 18V, 5Ah lithium-ion battery included with the tool. Other 18V Makita batteries might suit the tool, but if they have a capacity of less than 5Ah, they won't deliver as much power.
DEWALT (DCS371B) 20V MAX Portable Band Saw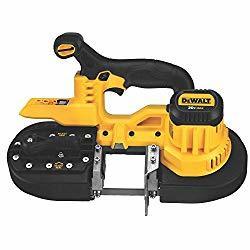 Specifications
Power supply: 20V, cordless
Cutting capacity: 1¾ inches by 1¾ inches
Weight: 6.6 pounds
General Descriptions
The DEWALT Max portable band saw, Amazon's top pick for the best portable bandsaw under $200, is an ergonomic tool with a soft, comfortable, and flexible grip with a centered handle position for optimum balance and precise cuts. A useful blade tracking adjustor is included, and the easy changing lever loosens the blade to make quick changes possible. Additionally, there is a 20-second delay LED work light that illuminates dim work surfaces for simpler and more precise cutting.
Additionally, it is fairly durable. "We dropped it off a boom lift," reads one of the numerous ecstatic reviews. 12–15 feet later, it hit the concrete. We lifted it not believing it could have survived and found no damage. pressed the trigger after popping the battery back in (it had fallen out on impact). worked perfectly. Only the black housing around the blade had a scuff when it was examined closely. cuts through the conduit effortlessly. The simplest straight cut we've found among the port-a-bands we've utilized. 20 feet in the air with a mini in the mouth, an EMT stick in one hand, and the saw in the other? Straight cut, as if we used a tripod to shoot it.
Milwaukee M12 Cordless Subcompact Band Saw Kit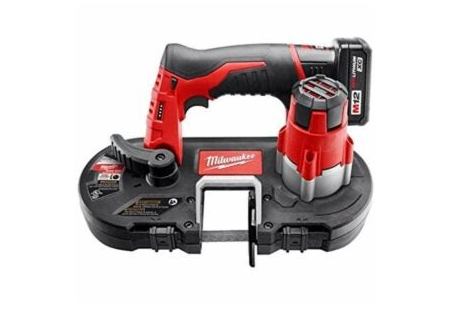 Specifications
Power supply: 12V, cordless
Cutting capacity: 1⅝ inches by 1⅝ inches
Weight: 6.75 pounds (without battery)
General Descriptions
The subcompact Milwaukee M12 portable band saw is the smallest tool we tested, measuring only 12 inches long and weighing less than 6.75 pounds. Despite this, its 158-inch cut capacity is sufficient for many plumbers and electricians, and it is constructed to the same high standards as all Milwaukee tools. It lacks some of the power of some of the larger cordless band saws, but that is primarily because it uses a 12V lithium-ion battery, which is less powerful than the 18V and 20V batteries found in the larger equipment.
We were nevertheless able to test this little Milwaukee on smaller iron and steel things, including rebar, even if the cutting capacity wasn't great enough to handle some of the bigger pipes we could cut with the other versions. It has a maximum cutting speed of 280 FPM, and it required 12 seconds to cut through a piece of 5/8-inch rebar. The tool is ergonomically built, comfortable to use, and ideally suited to confined spaces where a larger band saw won't fit, although it isn't as quick as the other types.
The absence of a second handle for stability is a minor drawback. We discovered that we had to cling to the battery to steady the saw while cutting. Although it is intended to be used with one hand, most users will probably want to use a second hand to make sure the cut is precise and clean.
Using the tool's integrated lever made installing the band blade a breeze. Despite the lack of speed adjustment control, the variable speed trigger on this tiny tool made it simple to choose the ideal speed for the material we were cutting. We believe that this tiny, portable band saw is well suited for cutting pipes at home but less well suited for labor-intensive operations like making numerous cuts in rebar.
Metabo HPT MultiVolt 36V Deep Cut Band Saw
Specifications
Power supply: 36V, cordless
Cutting capacity: 4¾ inches by 4¾ inches
Weight: 16.5 pounds (with battery)
General Descriptions
Although the Metabo HPT MultiVolt Band Saw weighs a substantial 16.5 pounds, its additional weight and 36V of power enable it to easily cut through steel and iron. This portable band saw is the most potent of all the ones we tested, cutting through the 58-inch rebar in the timed rebar test in just 3.5 seconds. Even our corded model was beaten by it.
The Metabo has a top speed of 640 FPM, and we discovered that for it to cut effectively, we needed to have the blade exactly aligned. The two loop handles on this model are one of its best features because they let us employ an under-grip rather than merely holding onto a stabilizing knob. A loop handle like this one makes it simpler to elevate the saw when necessary while using a heavier tool.
The Metabo's cutting capacity is 434 inches by 434 inches, giving us enough space to cut different pipes, angle iron, and other metal objects. Even a 4-inch by 4-inch steel fence post was easily cut through by our team. The saw has a good LED light that illuminates the material being cut, as well as a speed dial that can be adjusted.
Interestingly, despite being a heavy-duty saw, we discovered that it sliced quite quietly. For making quick metal cuts on the spot, this robust saw would be at home on a remodeling job or at a building site.
DEWALT (DWM120K) 10 Amp Portable Band Saw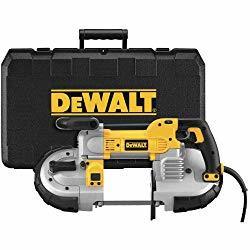 Specifications
Power supply: 10A, cordless
General Descriptions
The Deep Cut 10-Amp (DWM120K) version of the DEWALT bandsaw has once again been recognized by Amazon as the best bandsaw in the $200–$400 price range. This portable bandsaw's powerful 10-Amp motor can cut rectangular stock up to five inches deep (slightly less for round stock), and you can adjust the speed via the variable speed dial to suit the particular task at hand. It shares many of the same great features as the DCS371B, such as the LED work light.
One content customer wrote: "To lessen our effort while completing an extension on our lake house, we got this saw. Both the uno-bar for the roof and the aluminum railing components for the deck didn't need to be hand-sawn. Wow, we should have purchased this saw twenty years ago, is all we can say. It moves well. a great cut is left behind. Both quickly and effectively."
Wen 94396 10-Amp 5-Inch Portable Band Saw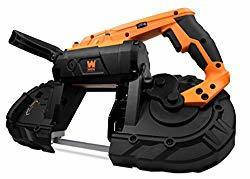 Specifications
Power supply: 10 amps, corded
Cutting capacity: 5 inches by 5 inches
Weight: 14.5 pounds
General Descriptions
This Wen 94396 model is a robust portable band saw that offers good value. To ensure smooth operation, the blade guides use ball bearings. Its auxiliary handle may run at up to 420 FPM and is adjustable. What makes it so cost-effective? It does not run on batteries. Although the Wen cannot be used on a task where there is no electrical outlet because it comes with an electrical cord, it can be used with an extension cord.
Wen is heavier than some, though not unduly so, at 14.5 pounds. We discovered that the extra weight accelerated the cutting process. The 5/8-inch rebar was cut through in approximately 4 seconds. We also put the Wen to the test by cutting conduit, conduit, steel, and angle iron. Like butter, it cuts right through each of them.
This deep-throat band saw can cut through large materials with a cutting capacity of 5 inches by 5 inches, and since it is corded, it won't run out of power as long as an outlet is close by. It has an LED guide light that aids in cutting in low-light conditions, and because it is battery-free, there is no downtime while the battery is being recharged. We had full power every time we cut.
Milwaukee M18 Fuel 18V Lithium-Ion Band Saw Kit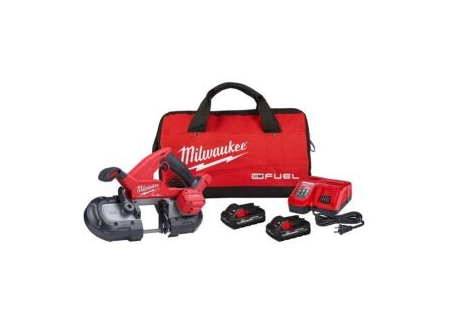 Specifications
Power supply: 18V, cordless
Cutting capacity: 3¼ inches by 3¼ inches
Weight: 7.67 pounds (without battery)
General Descriptions
We had high expectations for this portable band saw because Milwaukee is one of the leading names in the power tool industry, and we were not let down. The M18 Fuel, one of Milwaukee's most recent models, is regarded as tiny even though it has certain full-size features. For instance, the M18 Fuel has dual handles, which are uncommon on tiny versions but which we valued because they assist support the tool when cutting.
We started testing after fully charging the tool's 18-volt (V) lithium-ion battery. The trigger handle on the M18 Fuel is ergonomically built, and the second handle has a pummel knob. The saw's included metal-cutting blade was easy to install and secure in place. Then we began cutting after using a vise to hold pipes, angle iron, rebar, and other materials.
The weight of the instrument does the cutting, as it does with all portable band saws; avoid applying pressure to the saw to speed up cutting or risk damaging the cutting blade. 540 FPM is the cutting speed of this tool. The instrument is perfectly suited for a project where rebar is utilized to strengthen a concrete pour since, according to our testing, it only takes 7 seconds to cut through a conventional 58-inch piece of rebar. It also has a dial for speed control.
The position of the safety lock, which must be pressed before engaging the power trigger, is a drawback. Although it is situated above the trigger grip, it is difficult to squeeze the trigger and hold down the lock button at the same time to engage the blade.
Tips for Using a Portable Band Saw
While following standard band saw safety recommendations will help reduce some of the risks associated with using a saw, a portable band saw has some unique safety issues of its own.
Make a few trial cuts on scrap material if you've never used a portable band saw before to get comfortable with the machine.
When changing the blade, put on gloves. The blade may be too dull to cut metal, but it still has the potential to cut fingers. Before attempting to change a blade, be sure the instrument is unplugged or the battery has been removed.
Before setting the tool down, make sure it has come to a complete stop because the wheels and blade can pick up and toss debris.
Check the blade tension frequently. In extreme circumstances, loose blades could come off the wheels and cut poorly.
When operating a portable band saw, eye protection should always be worn.
Keep an eye out for where the cut piece of material will land and pick it up with gloves on. Metal that has just been cut can get quite hot.
FAQs about Best Portable Band Saws
Customers should gain vital knowledge on how to choose the best portable band saw for particular tasks after reading this material. There might still be unanswered questions, though. Some of the most frequently asked questions have responses here.
1. How Long Do Portable Band Saws Last?
A portable band saw's lifespan is difficult to predict because so much relies on how frequently it is used and the environment in which it is used. Professionals might anticipate using theirs for at least a few years, while DIYers may have much longer use out of theirs.
2. How Deep Can a Portable Band Saw Cut?
Check the specifications because it varies. These top picks show a wide range of options, but the top size is typically around 5 inches.
3. How Do We Clean the Portable Band Saw?
Each manufacturer offers instructions for routine cleaning and maintenance. To increase productivity and tool life, adhere to the directions. The band saw wheels tend to collect waste, which can be cleaned with an air gun or shop vac. Use a noncorrosive liquid rust remover to wipe the blade if it develops rust spots.
4. Are Portable Band Saws Worth It?
Yes, if you use it frequently enough to make the expense worthwhile. No other portable saw combines power and material-cutting flexibility like this one does.
Conclusion
Everyone should have a portable band saw in their toolkit. The best thing about them is how simple they are to use and grasp, even if you have no prior expertise at all. However, they are also excellent for serious experts who want to cut thick pieces of both metal and wood without worrying about a lack of power, weariness, or pricey equipment. Speaking of pricey, another quality of these devices is their accessibility.
There are some pricey ones available, but there are also a lot of less-priced ones that can greatly simplify your life. Finding a model that meets your requirements and fits inside your experience range is crucial. To put it another way, avoid buying a complicated power tool if you don't know how to use it, and avoid purchasing low-quality replicas merely because you require a tool for an urgent task. Choose one that you'll still find valuable years from now, instead.
Remember to post a comment with your thoughts. Experts at Linquip can assist you in fulfilling your needs. You may also ask questions there if you have any as well!
Download Best Portable band saws PDF 
Buy Equipment or Ask for a Service
By using Linquip RFQ Service, you can expect to receive quotations from various suppliers across multiple industries and regions.
Click Here to Request a Quotation From Suppliers and Service Providers
Read More on Linquip