Best Portable Power Station Generators in 2023- If you need to recharge common personal devices and small appliances while spending extended periods away from household AC outlets or if you want to have backup power available in case of an emergency, a portable power station is your best bet.
Many different Suppliers, manufacturers, and distributors provide portable power station generators. Linquip has a vast assortment of Portable Power Station Generators for Sale.
A full list of portable power station generator services for all OEM fleets is available on the Linquip website. Linquip vendors can assist you with this. Please get in touch with Portable Power Station Generators Experts to find out more about how to find a wide range of service providers who continuously deliver high-quality goods.
These gadgets are essentially big batteries enclosed in protective enclosures with built-in AC outlets and other connectors. They surpass our recommendations for portable laptop chargers and power banks in size, weight, power, and overall toughness. This increases their adaptability for tasks like setting up a picturesque photo shoot, working in a remote area of your house, or going on a camping trip with plenty of technological equipment.
Despite not being as strong as gas-powered portable generators, they have some significant benefits in an emergency. You may securely utilize portable power stations inside a home during a blackout since they are emission-free and silent. Additionally, since there is no motor, you don't need to have gas on hand or conduct the small maintenance tasks required by a combustion engine, such as oil changes. For jobs requiring powerful power tools, battery-powered generators are an excellent alternative, but they are often larger, heavier, and have a significantly lesser capacity than the top competitors in our list.
You probably won't be carrying one of these in a backpack or briefcase because it can weigh up to 50 pounds and is about the size of a typical plastic milk carton. However, you can pack your portable power station into a trunk with the rest of your belongings, charge it overnight on a wall outlet (charging most of them from empty to full takes 12 to 24 hours), and then bring it along to keep your phone, camera, laptop, GPS unit, projector, drone, breast pump, or other electronic device powered for extended periods.
To accommodate a larger range of devices, portable power stations typically have other output choices in addition to AC and USB, such as 6 mm DC connections and automobile power sockets.
Even the best-of-breed portable power stations have limits when compared to gas generators, although they may be an excellent backup in an emergency. They are unable to power refrigerators or other large appliances, and anything that produces heat runs the risk of overloading them or causing the battery to discharge too quickly for them to be of any use. Space heaters and hair dryers can be safely powered by a good generator, but you should never connect them to an outside outlet.
When they go camping, some individuals utilize portable power stations to power their CPAP machines (used to treat sleep apnea) and other electronic medical equipment. If that applies to you, we suggest purchasing one of our high-capacity selections to ensure that your gadget continues to function properly for as long as possible. You can also visit this video to explore more about them.
If you intend to travel, bear in mind that portable power stations typically need to be transported by ground. You cannot fly with any of our recommendations since the FAA prohibits passengers from bringing batteries with a capacity of more than 160 Wh in carry-on or checked luggage.
Best Portable Power Station Generators Reviews
Jackery Explorer 1000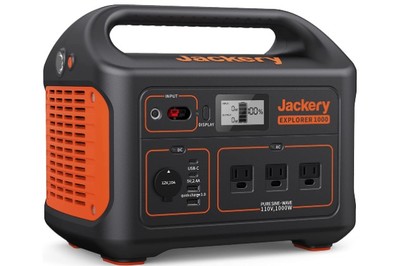 Specifications
| | |
| --- | --- |
| Rated max output | 1,000 W |
| Rated capacity | 1,000 Wh |
| Weight | 22 pounds |
| Body dimensions | 12.5 by 8 by 8.5 inches |
General Descriptions
The Jackery Explorer 1000 can power your electronic equipment for hours or even days at a time if you're going off the grid or preparing for an emergency. It offers a consistent stream of power without the noise or emissions of a gas-powered portable generator and is about the size and weight of a compact microwave. After 73 hours of testing 16 portable power units, we discovered that the Explorer 1000 stood out from the competition thanks to its high maximum output, variety of connectors, user-friendly interface, and tough exterior.
Even the most power-hungry appliances in our tests were able to operate on the Jackery Explorer 1000, which is light enough for the typical adult to lift and carry without risk. It also featured one of the greatest battery capacities of the models we examined, making it possible to power the majority of devices all day (or all night), including a laptop or CPAP machine.
We adore its simple-to-read LCD, which displays input/output wattage and the amount of reserve power. Additionally, it boasts more output connections than virtually any portable power station we've tested—three AC, two USB-A, and two USB-C—allowing you to charge a range of devices, including laptops, cameras, and GPS units.
This device has a lot of power packed into a lightweight, robust, and user-friendly design. Furthermore, compared to other portable power stations we've evaluated, it includes more AC, USB-A, and USB-C ports.
Anker Powerhouse II 800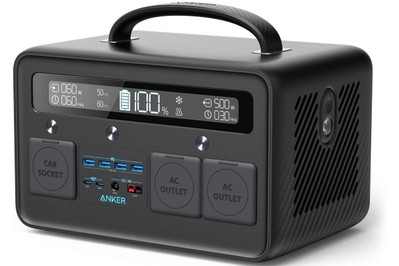 Specifications
| | |
| --- | --- |
| Rated max output | 500 W |
| Rated capacity | 777 Wh |
| Weight | 18 pounds |
| Body dimensions | 12 by 8 by 7 inches |
General Descriptions
Anker PowerHouse II 800 may not be able to power your highest-wattage appliances, such as a vacuum or window air conditioner, because it has a lower maximum output than our top option. But despite being a few pounds lighter, it has a capacity that is virtually as impressive.
It offers similar features to the Explorer 1000, including a durable exterior, a lightweight design, a useful display, and output ports (two AC, four USB-A, and two USB-C) that offer a variety of charging alternatives for various devices. Additionally, it is currently roughly $150 less expensive.
This particular type has a large capacity, good output, and a variety of ports. It also costs less than other top competitors and weighs less than 20 pounds.
Jackery Explorer 300 Generator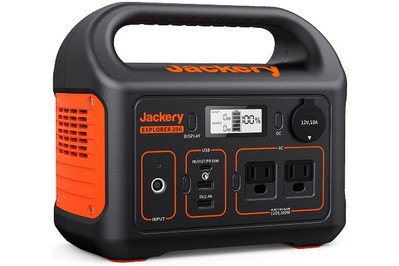 Specifications
| | |
| --- | --- |
| Rated max output | 300 W |
| Rated capacity | 293 Wh |
| Weight | 7 pounds |
| Body dimensions | 9 by 5 by 8 inches |
General Descriptions
The Jackery Explorer 300 weighs under 7 pounds and has more ports than any other lightweight alternatives we tested, including two AC outlets, two USB-A ports, and a USB-C port. It is nearly identical to its larger, more potent sister. We enjoy taking it with us to the beach, park, or camping to operate a fan, blow up an air mattress, or charge devices like our phones, cameras, portable speakers, lanterns, and headlamps.
Don't expect to operate an air conditioner or charge numerous computers; you lose some of the power and capacity that our larger selections have, but you gain room (and money).
The Explorer 300 provides a broad variety of port options and has the same robust construction as our top selection if you don't mind giving up a little power. Additionally, it is light enough for a little toddler to carry.
FAQs about Portable Power Station Generators
How Should You Pick the Best Portable Power Station Generators?
We looked through the top results on Amazon, Google Shopping, and famous retailer websites like Home Depot, REI, and Walmart to identify the most well-liked portable power stations now on the market. We also took into account the ideas that were suggested by publications like Business Insider and Popular Mechanics.
We evaluated the features and specs of each model we discovered before focusing our search on the following criteria:
A battery capacity of at least 300 Wh: Since watts per hour are measured in watt-hours (Wh), a battery with a 300 Wh capacity may theoretically power a 300 W item for an hour. (Less than 100 percent of a battery's specified capacity is used for a number of reasons.) In other words, that is equivalent to five hours of continuous use of 60 W equipment, such as a MacBook Pro, projector, or tabletop fan. This was a prerequisite for our top selections, and we gave our lightweight and low-cost competitors great preference in this regard. With batteries, capacity reigns supreme.
An output rating of at least 200 W: Each of our main and budget contenders had to be rated for at least 200 W, and we wanted the lightweight (under 5 pounds) contenders to be rated for at least 100 W to distinguish the portable power stations from their smaller, less powerful counterparts (USB power banks and portable laptop chargers). For charging phones and the majority of other gadgets, lower outputs work just fine, but if you want to charge many devices simultaneously (particularly if one is a powerful item like a laptop), you'll need 100 W or more.
Maximum weight of 50 pounds: The majority of portable power stations are too massive and heavy to be carried on foot over long distances by the typical individual. However, we still established a weight restriction of 50 pounds, which is a reasonable amount for one or two strong persons to carry. Anything more substantial could be challenging to load into and out of a car or to move about a house in a power outage.
A rugged and portable design: Each portable power station's outside components, including any additional components like wheels or handles, were evaluated for quality. To carry anything this heavy, handles are essential, and since you may need to move them around frequently and use them outside—in a backyard or at a camper, for example—we wanted them to be scratch- and scuff-resistant.
An informative display: We favored displays that showed an estimated percentage of the charge over imprecise displays that just included a few line segments, even though most portable power stations contain a battery meter so you can see how much charge is remaining.
At least one AC outlet: Since most devices—from desk lights to baby monitors—use AC power, a single AC outlet is a bare minimum necessity. Our top portable laptop chargers feature just one outlet that can only power lower-wattage devices, and none of our recommendations for the best USB power banks include an AC outlet. Although some models with a single AC outlet were taken into consideration for our guide, we favored models with at least two, which enable you to power two AC-powered gadgets at once.
At least two fast-charging USB-A ports: Any USB-A port worth its salt should allow charging at least at 2-amp (10 W) rates. You'll quickly become aware of how slowly your phone, tablet, and other gadgets charge if you use anything less. Although we liked it over the slower Quick Charge technology found in certain USB-A connectors, it wasn't necessary. These ports allow you to free up one AC outlet so that other, more power-hungry devices, including portable Bluetooth speakers, phones, and tablets, may utilize it.
At least one USB-C port, 6 mm DC port, and/or car power socket: Having one or more USB-C connections, 6 mm DC ports, or automobile power outlets (what my parents, who were former smokers, wrongly refer to as "the cigarette lighter") would allow you to charge a larger range of gadgets. We didn't need each model to have all three, though.
Charges from an AC wall outlet: Each model has to be able to be charged at the very least using an AC wall outlet because USB-only charging is just too sluggish for batteries this size. If you routinely go more than a few days without access to the grid, charging some portable power stations with solar attachments or automobile power outlets is a wonderful addition.
Contains a pure sine-wave inverter: The sine-wave inverter on a battery converts the direct current (DC) power it produces into the alternating current (AC) power most electronics require. Pure sine-wave (PSW) inverters, which generate electrical waveforms as clear and smooth as the AC electricity coming out of any wall socket, were a requirement for each model. Modified sine-wave (MSW) inverters are often less expensive but result in choppy waveforms. These inverters may be found in some of our favorite portable laptop chargers. These are typically OK for operating most devices with a power brick on the cable or for charging other devices, but you shouldn't use them to power strong motors. Appliances like corded drills, vacuum cleaners, and blenders may become damaged by MSW inverters because of uneven speeds, heat accumulation, or all three. By mandating pure sine-wave inverters in our top selections, we intended to increase the number of devices you could securely plug into them. (For the lesser candidates, we preferred but didn't need a PSW inverter because they aren't powerful enough to run the appliances that would need one anyhow.)
At least a one-year warranty: This is not a gadget you would use every day. A one-year warranty guarantees that you can use the item before it loses its warranty. To eliminate models that were likely to malfunction or stop working as soon as the warranty expired, we also considered the brand's reputation and looked at online user reviews. No battery lasts forever, and its capacity normally decreases after the first year, but the batteries we chose should continue to function well after the warranty has expired.
Readily available customer support: To determine how challenging it would be to get in touch with someone and seek assistance should an issue emerge, we made anonymous calls to each firm.
Good value: We considered capacity (measured in Wh) per dollar rather than imposing a strict price restriction. Although prices might change, this allowed us to quantitatively analyze the value of your money.
How Should You Test the Portable Power Station Generators?
You should evaluate each model's performance in a few crucial areas, such as the following:
Battery run time (hours): We put a 127 W room fan (our runner-up option) into each portable power station's AC socket, turned them on, and left them running on high until the batteries died. The time it took for the battery to go from fully charged to totally dead was then recorded. (Note: The fan we selected has an operating power of 70 W, but because of the power factor of 0.55, the battery really draws 127 W.)
Peak power output (W): Each portable power unit and its AC outlet were turned on. A Kill A Watt power meter was then plugged in, and a series of 10 light sockets were filled with one 50 W halogen bulb at a time until the device overloaded and shut off. We measured the rise in watts after each bulb was added. If the overload from the ten bulbs wasn't enough, we switched out the array for our favorite surge protector and kept adding lights and other appliances. After trying various combinations of appliances without success to overload some of the most powerful portable power stations we tested—and after irreversibly damaging a microwave—we plugged in a power-hungry garment iron. (We did not do this at home; we only did it where a fire extinguisher was within reach. Irons, hair dryers, space heaters, electric kettles, and similar devices with open heating elements should always be plugged directly into a wall socket since they can quickly overheat and catch fire when hooked into an extension cable, surge protector, or portable power station.
Look and feel: We touched each unit a lot throughout testing as is only natural. We also took care to pick them up, carry them from room to room, and examine every square inch of their exteriors.
When is it worth splurging on a portable power station?
Always think about treating yourself to a portable power station if you have the money. Before investing in a portable power station, it's critical to determine how much reserve capacity and output you require to run all of your gadgets. However, what if your power requirements rise? What if you encounter a crisis and discover that you require more power than you anticipated? It's usually a good idea to decide exactly what you need before making this sort of purchase, and if you have the money, go a bit beyond.
Where should you store a portable power station?
When not in use, your portable power station should be kept in a cool, dry location. Store it away from any area where it could get warm or exposed to humid or wet circumstances. While keeping your power station in your car or RV while on a journey is OK, doing so continuously can diminish the battery's lifespan.
In addition to putting your portable power station in a climate-controlled area, it's a good idea to do so with the battery roughly 40 to 50 percent charged rather than fully charged since this will extend battery life. With one exception, you'll be better off keeping the battery charged during periods when your neighborhood experiences frequent power outages due to winter storms, hurricane season, or other natural catastrophes. Maximizing battery life isn't as crucial as having your portable power station ready to go in case of an emergency.
How often do portable power stations need replacing?
Depending on how frequently you use a portable power station, you might anticipate having to replace it. The number of times a portable power unit may be fully drained and recharged before the battery capacity falls below 80% of its initial capacity is known as the duty cycle rating. The average person may use a portable power station for two to five years before the capacity starts to decline dramatically, but heavy use can substantially shorten that time.
Buy Equipment or Ask for a Service
By using Linquip RFQ Service, you can expect to receive quotations from various suppliers across multiple industries and regions.
Click Here to Request a Quotation From Suppliers and Service Providers
Read More on Linquip