The Best Chain Saw Sharpener in 2023 – Even though the chain of your chainsaw will eventually grow dull, you may extend the life of the chain by sharpening it instead of replacing it. It feels like such a throwback to get your chainsaw sharpened in a hardware shop. There's no need to go anyplace else if you have the greatest chainsaw sharpener in 2023.
On the Linquip website, among the many options available to you, you will find all the information you need to know about the Canopy Tents, as well as information regarding this marketplace. You can count on Linquip to provide you with as much general and reliable information about this topic, whether you're a professional or a customer looking for a proper company. We recommend you review a list of all Chain Saw Sharpener available in Linquip.
We would be delighted to provide you with more information on how we can help you generate revenue within your industry. Don't hesitate to contact us if you have any questions! With Linquip's Solutions for Each Company Level, you will be able to upgrade the capabilities of your organization in order to gain a competitive edge by taking advantage of a wide range of options to enhance your organization's performance. If you are looking for the simplest or the most sophisticated marketing and advertising package for your business, we can help you ensure that your company gets as many customers as possible to grow your business.
The Best Chain Saw Sharpener in 2023
1. Oregon 410-120 Compact Universal Chainsaw Sharpener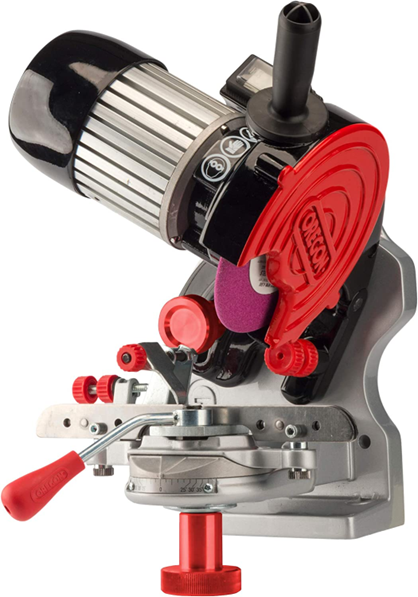 Specifications
| | |
| --- | --- |
| Mount Type | Bench |
| Wheel Size | 5-3/4″ |
| Volts | 120V |
| Hertz | 60Hz |
| Amps | 4.3A |
| Watts | 300W |
| Rated RPM | 3400 RPM |
Product Description
The Oregon Compact Universal Chainsaw Sharpener is an excellent choice for a chainsaw sharpener since it consistently produces sharp saw chains and maintains the overall condition of the equipment. The gear is a bit pricey, but it's well worth it if you routinely need to tune up chainsaws, whether you're cutting wood for your fireplace, clearing brush, or working as a professional landscaper. It comes with everything you need to get the best results and can be used to sharpen models from a wide range of well-known manufacturers.
Attached to a bench or the wall, this 120-volt chain grinder can hone chains with a pitch of 1/4 inch, 3/8 inch (low profile), 0.325 inch, 3/8 inch (full profile), and.404 inch (all manufacturers) (including Oregon, Stihl, Husqvarna, and more). The package includes a grinder, dressing brick, a grinding template for rapid inspection, and three different grinding wheels. It may illuminate your work area and includes a wear indicator for the wheels.
Investing in an Oregon chain saw sharpener is a good idea if you use your tool frequently, but it's probably unnecessary for someone who only chops wood a few times a year.
2. Dremel Chainsaw Sharpening Kit 1453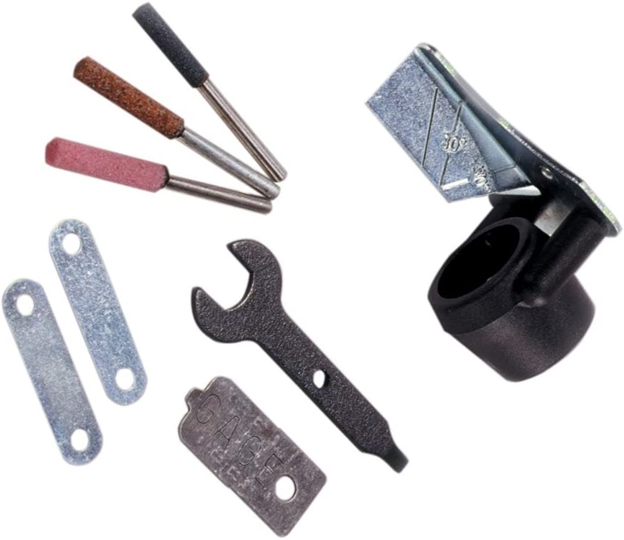 Specifications
| | |
| --- | --- |
| Type | Electric  |
| Power Source | Corded |
| Maximum Speed | Variable |
| Variable Speed | Yes |
| Pitches Sharpened | All common sizes |
| Sharpener Weight | 3.5 ounces |
Product Description
This affordable chainsaw sharpening kit is a useful addition to the toolset of anybody with a Dremel Multi-Tool, a rotary tool that can accept a wide range of attachments. Four standard-sized grinding stones, an angle guide attachment, an adjustment gauge, two spacers, a wrench, and comprehensive instructions are included in the Dremel Chainsaw Sharpening Kit.
This accessory makes sharpening a chainsaw blade simpler than using a manual file, and it costs far less than purchasing a dedicated chainsaw sharpener. Using the proper grinding stone, sharpening a chain is a simple process that returns it to its original state of efficiency without requiring much practice or special equipment. This accessory is compatible with the majority of Dremel Multi-Tools, including the 3000, 4000, and 8000 series.
3. Sharp Pebble Electric Chainsaw Sharpener Kit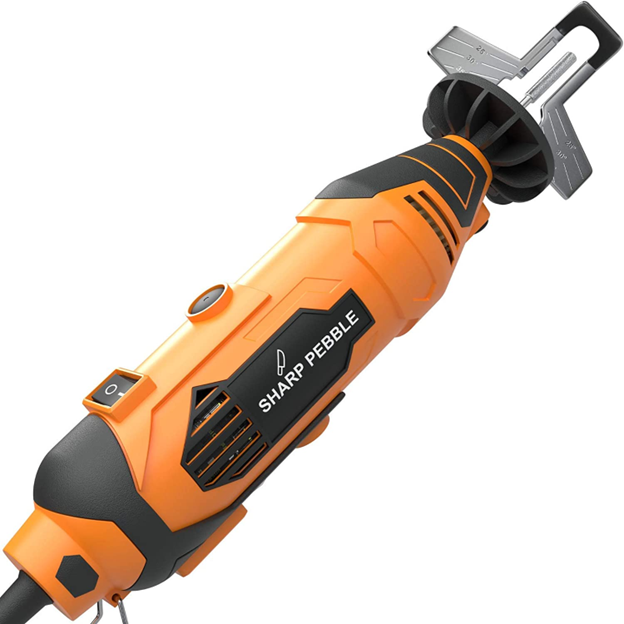 Specifications
| | |
| --- | --- |
| Type | Electric  |
| Power Source | Corded |
| Maximum Speed | 33,000 rpm |
| Variable Speed | Yes |
| Pitches Sharpened | All common sizes |
| Sharpener Weight | 2 pounds |
Product Description
This device from Sharp Pebble is the best electric chainsaw sharpener you can buy and does rapid work of maintaining a razor-sharp cutting edge. The portable electric chain sharpener has speeds ranging from 8,000 to 33,000 RPM and is suitable for use with any standard chain pitch. The cushioned handle makes the tool more pleasant to use, allowing you to give your whole attention to precision.
This chainsaw sharpener features three sharpening stones of varying sizes (5/32″, 3/16″, and 7/32) and a chain angle guide to ensure precision. Once you get the hang of it, sharpening your chainsaw won't take more than a few minutes, and you won't even need to remove the chain. The length of the cord is six feet, allowing you to operate without being confined by its proximity to the power source.
4. Timber Tuff CS-BWM Benchtop Electric Chainsaw Sharpener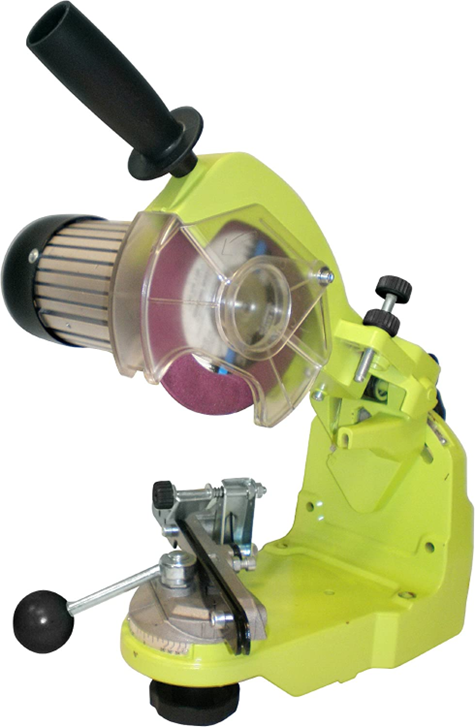 Specifications
| | |
| --- | --- |
| Type | Electric  |
| Power Source | Corded |
| Maximum Speed | 3,600 rpm |
| Variable Speed | No |
| Pitches Sharpened | All common sizes |
| Sharpener Weight | 17 pounds |
Product Description
The Timber Tuff Benchtop Electric Chainsaw Sharpener was made specifically for mounting on a workbench. This sharpener may be fixed on a bench, wall, or vise and is powered by a compact but robust motor. However, appropriate installation is essential to avoid vibrations.
The grinding speed of this chainsaw sharpener is 3,600 rpm. Sharpening chains with a pitch of 1/4 inch to 3/4 inch is a breeze with the included 1/8 inch, 3/16 inch, and 1/4 inch grinding wheels. An intuitive adjustment guide ensures precise sharpening, while a transparent safety shield and built-in work light ensure your protection while you work. Either side may be angled for optimal use in maintaining your chain.
5. Buffalo Tools ECSS Electric Chainsaw Sharpener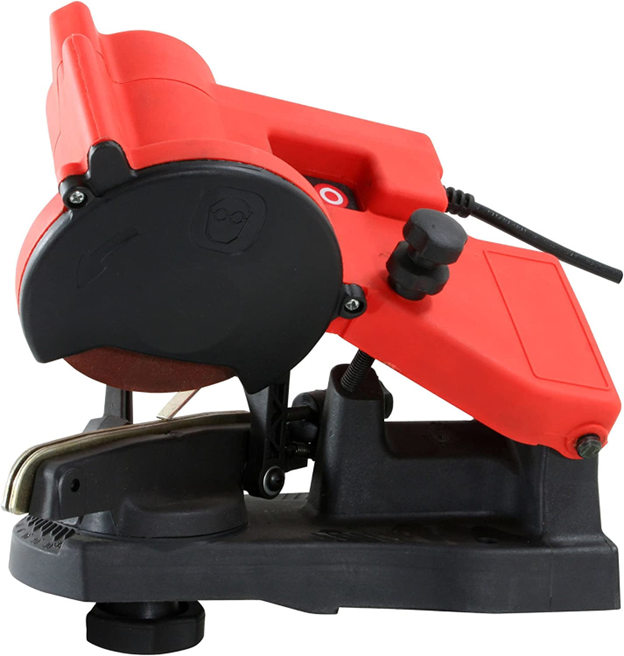 Specifications
| | |
| --- | --- |
| Material | Plastic |
| Brand | Buffalo Tools |
| Color | Red |
| Item Weight | 6 Pounds |
| Grit Type | Coarse |
| Product Dimensions | 13.5″L x 9.5″W x 6.25″H |
Product Description
If you're short on floor space in your workshop or garage, consider the Buffalo Tools ECSS Electric Chainsaw Sharpener, which can be installed on the wall. This useful tool may be mounted to a wall, bench, or vise for easy access and robust stability, and it can be easily modified to accommodate a broad range of popular chain designs. However, chains with a.043-inch gauge will not work with the Buffalo Tools Chainsaw Sharpener. A 3/8-inch chain may be adjusted to suit a 5/16-inch or even a 7/16-inch opening.
The gadget includes a 4-1/2-inch grinding wheel with a 1/8-inch thickness, and its 4,200 RPM grinding speed will make short work of the chore when plugged into a standard 120-volt power outlet. It may take some practice to master the sharpener, but once you do, you can simply restore chains to their original condition.
6. Katzco Chainsaw Sharpener File Kit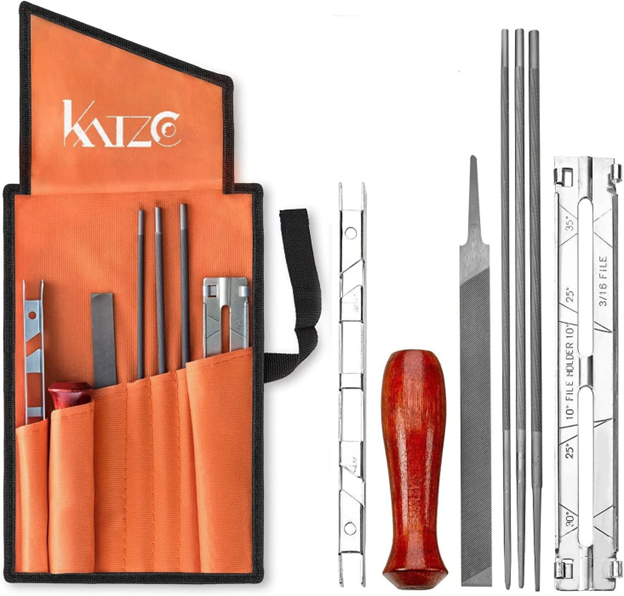 Specifications
| | |
| --- | --- |
| Type | Manual |
| Power Source | Manual  |
| Maximum Speed | Not applicable |
| Variable Speed | Not applicable |
| Pitches Sharpened | All common sizes |
| Sharpener Weight | 0.5 pounds |
Product Description
The inexpensive Katzco Chainsaw Sharpener File Kit has everything you need to manually sharpen your chains, whether you like to do things the old-fashioned way or not. The eight-piece set features three different-sized circular fine-tooth files, a filing guide, a depth gauge, a flat file that's six inches in length, a hardwood handle, and a storage pouch.
This kit includes three different file sizes (5/32″, 3/16″, and 7/32) and may be used with any chainsaw. The depth gauge and files may both be stored in the handle provided for a more secure and ergonomic grip and a streamlined workflow. Furthermore, the entire set can be purchased for less than $20, making it a great choice for individuals who only need to sharpen their chainsaw a few times a year or who must do it in remote areas without access to electricity.
7. Granberg 106B Bar-Mount Chainsaw Sharpener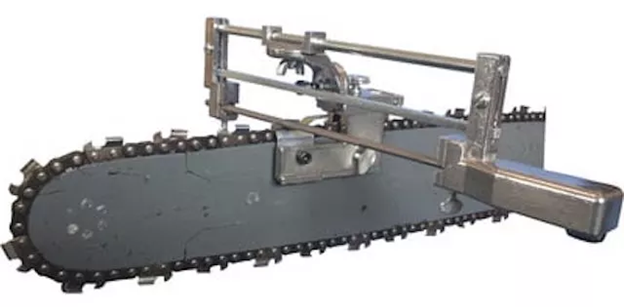 Specifications
| | |
| --- | --- |
| Type | Bar-mount |
| Power Source | Manual  |
| Maximum Speed | Not applicable |
| Variable Speed | Not applicable |
| Pitches Sharpened | All common sizes |
| Sharpener Weight | 2 pounds |
Product Description
The Granberg Bar-Mount Chainsaw Sharpener is designed to fit directly onto the bar of your chainsaw, enabling you to manually sharpen all common saw chain pitches without taking the chain off the saw. The tool quickly connects to your guide bar and functions as a guide for your chainsaw file, keeping the file at the ideal angle and depth for clean cuts every time. It even features calibrated swivel guide marks to help you locate the proper angle.
It's made in the USA from cast aluminum and zinc-plated steel for unrivaled durability, but files aren't included, so you'll have to buy those separately. Achieve a precise angle match with the chain manufacturer by utilizing the correct file size for your chainsaw.
8. Oregon 575214 Sure Sharp 12V Handheld Chainsaw Chain Sharpener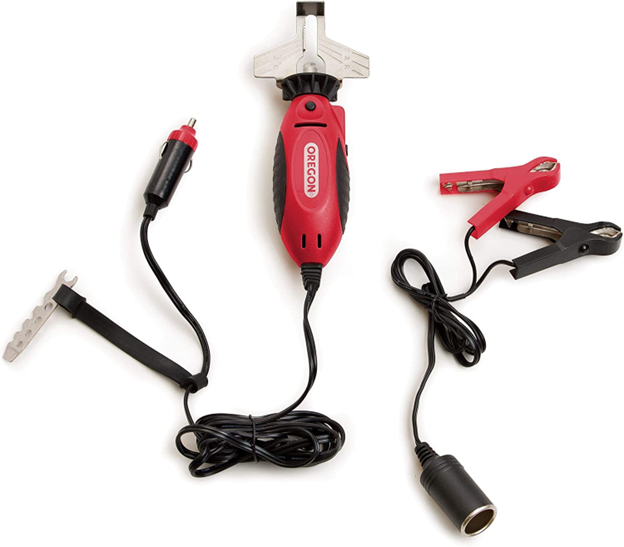 Specifications
| | |
| --- | --- |
| Type | Electric  |
| Power Source | Battery  |
| Maximum Speed | 25,000 rpm |
| Variable Speed | No  |
| Pitches Sharpened | All common sizes |
| Sharpener Weight | 1 pounds |
Product Description
The Oregon Sure Sharp Handheld Chainsaw Chain Sharpener is a handy device to have on hand and carry to work sites since it can be used to sharpen your chainsaw anywhere thanks to its portability and 12-volt vehicle adapter or battery clips. Although compact in size, the electric unit's motor provides a sharpening speed of 25,000 RPM, making it suitable for use with chains of various diameters and thicknesses (including 1/4-inch, 3/8-inch low profile, 0.325-inch, 3/8-inch, and 0.404-inch).
Included in the package are three different-sized sharpening stones (5/32″, 3/16″, and 7/32), a collet wrench, and an easy-to-use sharpening angle adjustment guide. The device is small and light, taking up little space in a toolbox; nevertheless, it does not come with a regular wall plug-in AC adapter. The length of its power chord is nearly 16 feet, giving you plenty of space to move about as you work.
9. Garrett Wade Quick-Feed Chain Sharpener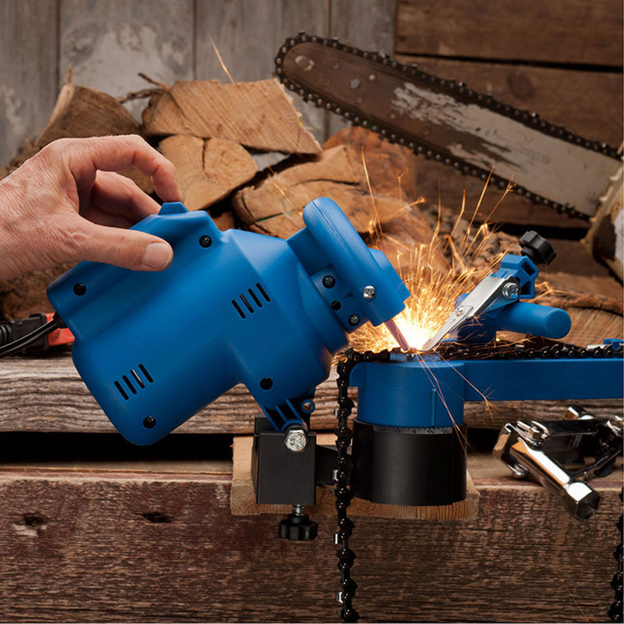 Specifications
| | |
| --- | --- |
| Type | Electric  |
| Power Source | Corded  |
| Maximum Speed | Not stated |
| Variable Speed | Not stated |
| Pitches Sharpened | All common sizes |
| Sharpener Weight | Not stated |
Product Description
Manually moving the chain from one tooth to the next can be a tedious process for many electric chainsaw sharpeners. The Garrett Wade Quick-Feed Chain Sharpener, on the other hand, eliminates that issue by providing a technology that aids in the rapid and accurate advancement of the chain, allowing you to sharpen the chain for a 20-inch saw in just four minutes.
This chain sharpener has a 4.5-millimeter grinding wheel and is meant to be installed on a workbench. The business claims that the initial setup takes no more than 5 minutes and that once you're up and running, sharpening will go quickly so you can get back to work as soon as possible.
10. LEGENDARY-YES Electric Grinder Chain Saw Bench Sharpener Vise Mount W/Grind Chainsaw Wheel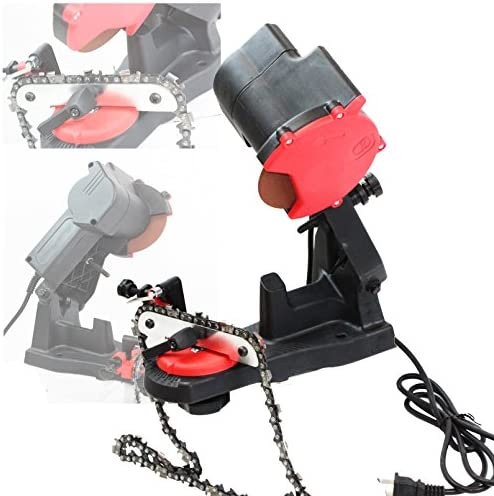 Specifications
| | |
| --- | --- |
| Type | Electric  |
| Compatible Pitches | All Common Pitches |
| Mountable | Yes  |
| Max Speed | 4200 RPM |
| Weight | 5.98 Pounds |
Product Description
An electric chainsaw sharpener that is fast, risk-free, robust, and reasonably priced; perfect for maintaining your chainsaw's peak performance.
The Legendary-Yes chainsaw sharpener is versatile enough to be attached to a workbench, wall, or vise. It's a cheap and easy way to keep your chainsaw in tip-top shape.
Any chain may be sized and pitched with the help of the chain vise. The setup time is cut down and your comfort is increased thanks to the chain advance rollers on this tool.
You may change the height and scale in addition to the angle for more precise sharpening.
You may use the chainsaw sharpener with confidence because of the massive side safety shield that surrounds the whole device.
Changing the chain on a chainsaw is as easy as removing it and readjusting it in the advancing roller.
The chainsaw sharpener does not, however, include any extra grinding wheels or a dressing stone. These extras are not included and must be purchased separately.
Shopping Advice
When it comes to choosing a sharpener for your chainsaw, there are a few crucial points to keep in mind (s). It's important to know the pitch of the chain (or chains) you'll be sharpening, as well as whether you'd like an electric or hand-powered sharpener, where you'll be mounting it, and whether or not you'd want some of the more sophisticated features.
If you're new to sharpening chainsaws, there's a lot to take in. For instance, what is the chain's pitch? In this Buyer's Guide, we'll break down the steps involved in sharpening a chainsaw, clarify some crucial words, and analyze some of the most important choices you'll have to make along the way.
Explaining How It Operates
It takes more than meets the eye to understand how a saw chain cuts wood. A chainsaw employs a succession of various chain links and components, including tie straps, drive links, rivets, and cutters.
The three most crucial aspects of the cutters to learn about while sharpening are the depth gauge (or raker), the gullet, and the operating corner (usually a chisel cutter).
An accurate reading from the depth gauge is necessary for setting the cutter's depth of cut. Cutting action occurs at the working corner, the pointy end of the cutter. The cutting edge and depth gauge of a chainsaw are kept in operating order with the aid of a chainsaw sharpener.
Pitch Compatibility
In a chainsaw, the distance between links is indicated by the pitch. In the case of a saw chain, it's the distance between any three adjacent rivets divided by two. Fourteen millimeters, three-eighths of an inch, three-quarters of an inch, four hundred forty-five millimeters, and three-quarters of an inch are the six available pitch sizes. 3/8″ and 3/8″ low profiles are the most widely used diameters. In most cases, the chainsaw's bar will include a notation indicating the chain's pitch.
If you need to sharpen your chain, check to see if the sharpener you want to use is compatible with the pitch of your saw chain. In general, electric sharpeners can accommodate a range of sizes from two to six. With manual sharpeners, you'll need to swap out files as you go.
Which Is Better: Electric or Manual?
Both manual and electric versions of this tool exist.
When sharpening a chainsaw by hand, it is common practice to use a round file on the cutting edge and a flat file on the depth gauge. Some hand-sharpening devices include a setup that lets you utilize both files at once.
Sharpening the chain by hand is fast, easy, and portable, and it usually doesn't even need taking the chain off the saw. They're fantastic for maintaining the edge of single chain size and may be used in the field to sharpen a saw as needed.
An electric sharpener is your best choice if you need to sharpen chains of varying widths. They're strong, accurate, and able to manage high throughput of chain sharpening. The majority of these tools employ a chain vise to secure the chain while a grinding wheel is dropped onto the cutter or raker to smooth out any rough spots.
Though there are portable models, wall-mounted electric sharpeners are the norm. Electric sharpeners typically have a maximum rotation speed of between 3000 and 4200 RPMs.
Methods of Attachment
Depending on the kind of sharpener you buy, you have a few different wall-mounting options to pick from.
Most electric sharpeners are designed to be attached to a work surface (bench, wall, vise, or tripod) for convenient use. Most people mount their tools in a vise or on a workbench. You'll need to buy a separate tripod if you want to install it on a tripod. By attaching it to the wall, you can free up valuable counter space and position the sharpener at a more natural working height.
Even electric sharpeners may be carried in the palm of your hand. The majority of manual sharpeners are portable, but there are some models that are fixed onto the chainsaw's bar for increased stability and accuracy.
A variety of Hydraulic Help, Automatic Progress, and Advancement Choices
These days, you may find a variety of high-tech features on electric sharpeners.
With hydraulic aid, the chain vise automatically clamps onto the chain as the grinding wheel is lowered.
When the chain links are automatically advanced by the chain vise, honing is done quickly and easily.
There are also industrial-strength sharpeners available, some of which are fully automated and employ digital technology to precisely measure sharpening angles. These are high-end choices typically seen in business environments.
FAQs about Chain Saw Sharpener
1. How Often Do You Need To Sharpen Your Chainsaw?
The average lifespan of a saw chain is four to six sharpenings. How often you need to sharpen your saw depends on how often you use it, the type of wood you are cutting, and the conditions under which you are performing the cuts.
You can tell when a saw is growing dull because it will take longer to cut and will generate a fine powder instead of bigger chunks.
2. If You Own A Chainsaw, Is It Worthwhile To Keep It Sharp?
Yes. In the long term, you may save money by sharpening your chainsaw chain instead of replacing it.
If your chain ever dulls while you're working, having a hand file or handheld electric sharpener to restore its edge is a huge help. After some practice, sharpening your own chain is a simple and time-saving task.
3. And I Can't Figure Out Why My Chainsaw Dulls So Quickly?
Some things can hasten the dulling of a chain. Cutting unclean trees or coming into touch with the ground can shorten the lifespan of your chain.
A saw chain will wear down quickly if the cutters are angled too steeply or if the rakers are set too low. You may also require a new grinding wheel, a dressing block to remove dirt from the wheel, or a new file to sharpen with.
Download PDF for The Best Chain Saw Sharpener in 2023
You can download the PDF format of this post from the link provided here.
Buy Equipment or Ask for a Service
By using Linquip RFQ Service, you can expect to receive quotations from various suppliers across multiple industries and regions.
Click Here to Request a Quotation From Suppliers and Service Providers
Read More on Linquip