The Best Hand Saw in 2023 – Every type of cutting power tool (compound miter saw, circular saw, jigsaw, and reciprocating saw) now appears to be equipped with an electric motor. They make hand saws appear archaic in comparison. A hand saw is still an essential instrument in most workshops, despite the widespread perception that a power saw can handle any cutting job. The best hand saw is often the only option. Find out the characteristics to look for and why these saws make the cut if you want the finest hand saw for your workshop by reading on.
On the Linquip website, among the many options available to you, you will find all the information you need to know about the Hand Saws, as well as information regarding this marketplace. You can count on Linquip to provide you with as much general and reliable information about this topic, whether you're a professional or a customer looking for a proper company. We recommend you review a list of all Hand Saw Products available in Linquip. You can also be encouraged to visit Hand Saw for Sale and find the most suitable device based on your applications and demands.
The Best Hand Saw in 2023
1. WilFiks 16" Pro Hand Saw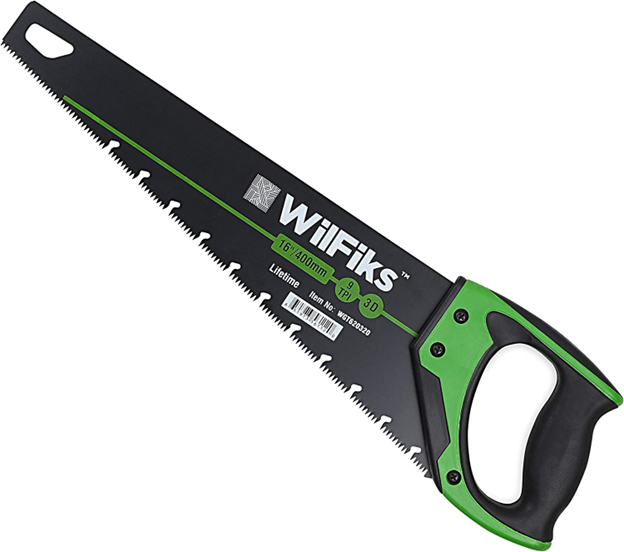 Specifications
| | |
| --- | --- |
| Brand | WilFiks |
| Blade Material | Carbon, Steel Blade |
| Surface Recommendation | Wood, Plastic |
| Item Weight | 13.6 Ounces |
Product Description
Most do-it-yourselfers seek a handsaw that can cut through a range of materials. This saw's 9 TPI and deep gullets make it ideal for ripping boards, making cross cuts, and even sawing through the rare tree limb. Our top selection for the finest general-purpose wood-cutting hand saw, it is flexible enough to be forgiving but strong enough to handle quick cutting.
The 16-inch blade of this hand saw provides for long, bidirectional strokes that facilitate rapid cutting. It's easy to hold and maneuver because of the ergonomic, slip-resistant grip and low weight (less than a pound). With its adaptable design and ergonomic grip, this is an ideal handsaw for regular usage.
2. STANLEY FatMax Hand Saw

Specifications
| | |
| --- | --- |
| Type | Panel saw |
| Number of Teeth | 9 TPI |
| Length | 15 inches |
Product Description
The STANLEY FatMax Hand Saw is a great option if you want a hand saw yet need it for tough jobs. This blade is stronger and more durable than most, with three cuts instead of one, nine TPI on a 15-inch blade, and induction-hardened technology for clean, precise cuts.
This hand saw is great for cutting tree limbs, wooden planks, and other hardwood items, and the rubberized grips prevent hand and wrist discomfort.
3. CRAFTSMAN Hand Saw, 15-Inch (CMHT20880)

Specifications
| | |
| --- | --- |
| Brand | Craftsman |
| Blade Material | High Speed Steel |
| Surface Recommendation | Wood, Plastic |
| Power Source | Manual |
| Included Components | Saw |
Product Description
This Craftsman 15-inch handsaw, for example, is a lot cheaper than its power saw equivalent. It has a unique tooth arrangement that allows for deeper cuts on the downstroke and softer cuts on the backstroke, resulting in swift and smooth cutting. This sturdy stainless steel blade's tiny teeth have been induction-hardened, ensuring they retain their sharpness for an exceptionally long period. It's one of the cheapest hand saws for chopping down trees without sacrificing quality.
This saw's handle is broad and rubberized for a firmer grip and more comfort while cutting larger boards, granting you better control over the tool. The handle is pre-cut at 90 and 45 degrees, allowing you to make straight, accurate cuts even while using the blade's dull side.
4. LENOX Tools High-Tension Hacksaw, 12-inch (12132HT50)
Specifications
| | |
| --- | --- |
| Brand | Lenox |
| Color | Blue |
| Blade Material | High Speed Steel |
| Power Source | Manual |
| Included Components | FRAMES HT50 HIGHEST TENSION HACKSAW |
Product Description
A high-tension blade is essential for cutting metal precisely. However, how much tension is optimal? You can make a clean cut through even the hardest materials with this Lenox hacksaw since it generates blade tension of up to 50,000 PSI.
Cutting metal is a breeze with the saw thanks to the rubberized handle. This saw has several hidden features, such as a place to keep up to five blades and a bracket for a second blade that converts it into a jab saw.
5. AIRAJ 12 Inch Adjustable-Tension Hacksaw Frame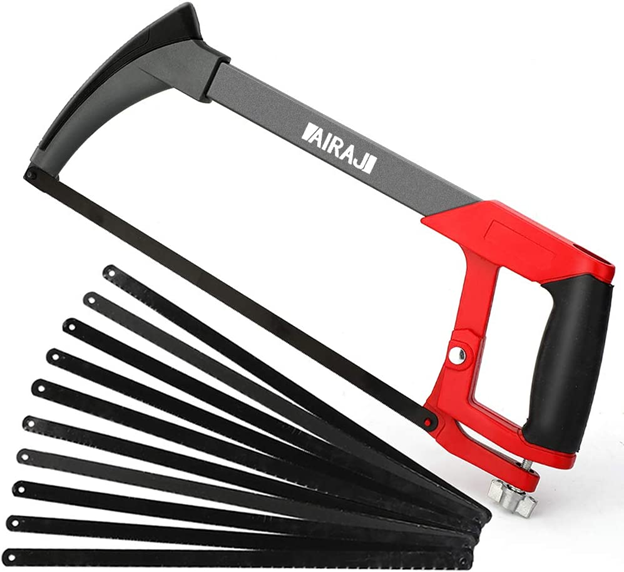 Specifications
| | |
| --- | --- |
| Brand | AIRAJ |
| Color | Red |
| Blade Material | Alloy, Metal, Steel |
| Surface Recommendation | Wood, Metal |
| Item Weight | 460 Grams |
Product Description
The AIRAJ hacksaw's utility will astound you. The tool's high-quality steel blades and comfortable grip make short work of plastic tubing, hardwood, and metal. There's also a dial you can use to fine-tune the blade tension as you go, letting you tweak it for peak cutting efficiency.
The saw comes with two sets of brackets so you can make cuts at either the normal 90 degrees or the more precise 45 degrees. A comfortable and easy-to-hold rubber coating. You can operate the saw with two hands since it has an additional handle on the other end. Ten sharp steel blades are included in the AIRAJ 12's arsenal.
6. DEWALT Jab Saw (DWHT20540)

Specifications
| | |
| --- | --- |
| Type | Jab saw |
| Number of Teeth | 8 TPI |
| Length | 6 inches |
Product Description
Comfort is of utmost importance while using handheld tools, especially when working in unclean environments, such as when hacking through the drywall. In the absence of a motor, your arm must perform all the work. You can confidently grasp this DEWALT jab saw thanks to its molded rubberized grip.
This saw's aggressive tooth geometry makes short work of cutting drywall, which will both hasten the completion of your project and reduce the strain on your arm. The instrument is capable of cutting through a wide variety of construction materials, including plastic. And the induction-hardened teeth mean it won't lose its edge until you've finished your assignment.
7. SUIZAN Japanese Ryoba Pull Saw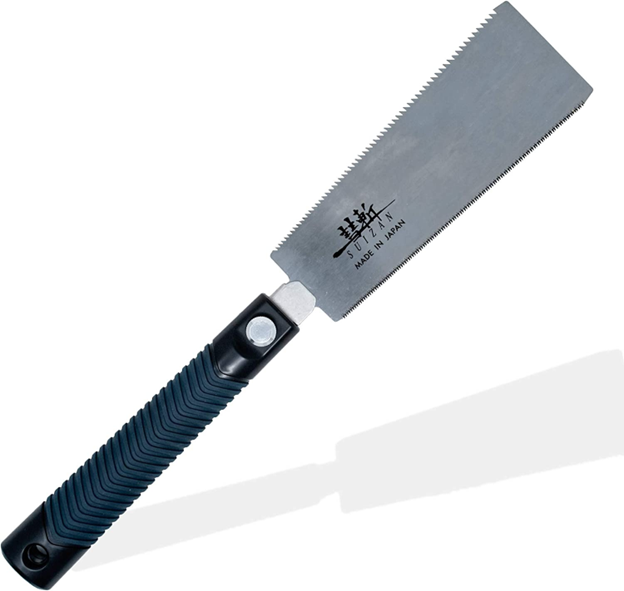 Specifications
| | |
| --- | --- |
| Brand | SUIZAN |
| Blade Material | Alloy Steel |
| Surface Recommendation | Wood |
| Product Dimensions | 15.75″L x 2.76″W x 0.79″H |
Product Description
The push phase of a saw's stroke is where most Western saws get their cut. The blade of this Japanese hand saw reverses the typical sawing motion by cutting on the pulling motion. Exactly what benefit does this provide? You can make cleaner cuts using a pull saw. A narrow blade makes quick work of wood with this saw.
This Japanese pull saw is really two saws in one, with one side sporting fine teeth for clean crosscuts and the other sporting bigger, more aggressive teeth for ripping. For these reasons, it ranks among the top choices among woodworkers' hand saws. Both knives are made from high-carbon Japanese steel, so they'll hold an edge for a long time without dulling. Rubberized grips on the handle provide for a firm hold and precise maneuvering.
8. Home Planet Gear Folding Saw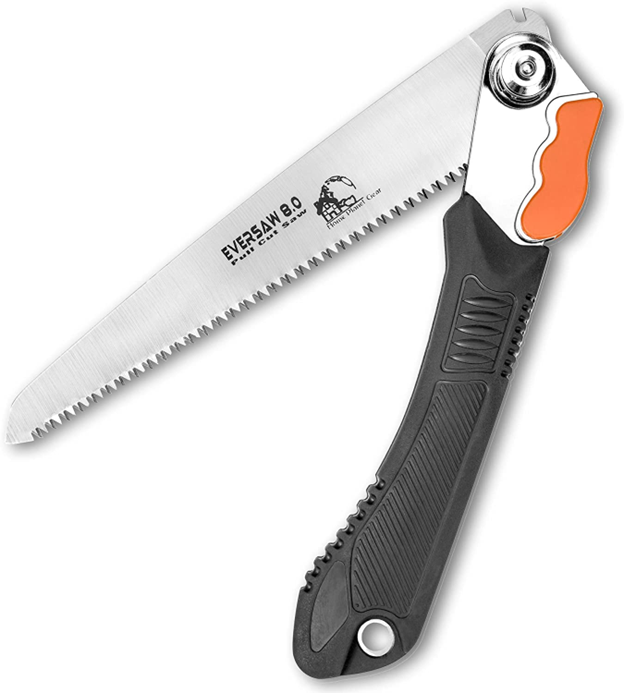 Specifications
| | |
| --- | --- |
| Brand | Home Planet Gear |
| Color | Silver |
| Blade Material | Carbon Steel |
| Surface Recommendation | Wood, Plastic |
| Power Source | Human |
Product Description
When camping, a portable hand saw comes in handy for a variety of tasks, including chopping long branches for kindling and shortening the length of the cooking fire. The Home Planet Gear Folding Saw is a sturdy and dependable choice. It has a medium-toothed 8-inch blade with 9 TPI, making it ideal for cutting through twigs and branches with a few draw strokes.
Like the previous design, this one may be folded inward and locked in place with a slotted screw. The saw's ribbed rubber handle provides a secure hold, and a hole at the grip's base makes it convenient to carry on a belt or in a pack.
Tips on Choosing a Tree-Cutting Hand Saw
TPI (Teeth Per Inch) (Teeth Per Inch)
Generally speaking, the more TPI (Teeth Per Inch) a blade has, the smoother but slower the cut will be. Less TPI, on the other hand, permits a harsher but quicker shave. When it comes to gardening, for instance, most people would rather have lower TPI. They must be proficient in quick tree or branch cutting.
Blade: Straight Or Curved
A curved-edge saw or a straight-edge saw are both available to you. The blade of a straight-edge saw is perfectly flat. This layout is typically slower, but the cuts are more accurate and easier to manage.
The cutting edge of a curved saw is curved. This layout is typically quicker, but the cuts are less exact and more difficult to manage.
In the garden, speed usually prevails, especially when it comes to the never-ending task of pruning or trimming. If you don't require extremely precise cuts, a curved-edge saw is your best bet.
Excellent Quality Blades
You need a saw that can withstand heavy use for many years. For this reason, you should check if the blade is constructed of top-notch material. These knives have a longer lifespan due to their strength and durability. They're tough enough to sustain constant use. They won't feel cheap and will require minimal upkeep. Eventually, low-quality blades will bend or shatter due to wear and use.
Regardless of how severe the weather is, the saw should function normally. Ideally, it wouldn't rust. Moisture, heat, and cold should have no effect on the saw.
Blade Size
Considerable thought must be given to the length of the handsaw blade. The more material a blade can cut at once, the longer it has to be. Consequently, a longer blade may make a larger and more rapid incision.
Nonetheless, longer swords may be cumbersome and difficult to wield. Using a handsaw less often with a shorter blade is OK. But if you're going to use the handsaw frequently, you should acquire one with a longer blade.
Size And Weight
Size and weight are other important factors to consider. A lightweight and compact saw makes cutting and slicing considerably less of a chore than a large and cumbersome one.
Cut through wood with less effort with a larger and heavier handsaw. Saws with greater weight provide more stability and precision. In other words, the amount of force required to operate the saw will depend on the size of the blade.
The size of the saw you need depends on the diameter of the trees and branches you plan to lop off in your yard or other outdoor space.
To prune small trees or branches, for instance, a handsaw tailored to such tasks would be appropriate. You'll need a bigger handsaw if you want to chop bigger ones.
Sharpness of Teeth
A saw with sharp teeth can create clean cuts with minimal effort and speed through the wood. Dull teeth make sawing less efficient and more time-consuming.
Ergonomic Design
The most comfortable handsaw is the one you use to chop down your trees. If the saw is too painful to hold for an extended period of time, it will not get much use. How much a change in the handsaw's handle may impact your cutting ability is astonishing.
Pick a tool with an ergonomic handle made from a material that allows you to maintain a solid grip without tiring. The more convenient you find your hand saw to operate, the more you'll utilize it.
FAQs about Hand Saw
Just what kinds of projects would benefit from a hand saw?
A hand saw may be used to cut any type of wood. While it lacks the brute force of a miter or chop saw, a hand saw is better suited for making finer, more intricate cuts. When working in confined quarters, many do-it-yourselfers turn to hand saws to construct furniture and make other changes.
Can you explain what a ryoba is?
Japan is the birthplace of a unique kind of hand saw known as a ryoba. A pair of blades is a ryoba, as the Japanese term suggests. A ryoba is characterized by its dual cutting edges, thus the name. Typically, a rip pattern (for cutting with the grain of the wood) will be found on one edge, and a cross pattern (for cutting across the grain) will be found on the other.
When should I sharpen the saw blade on my hand saw?
If you're using a hand saw and you feel that the blade is getting dull, sharpen it right away. If you use yours often, this should be done every two to four weeks at the most.
Conclusion
You may acquire all the details you want about the Hand Saws and details about this market on the Linquip website, one of the numerous possibilities available to you. Whether you're a professional or a client seeking for a reputable business, you can rely on Linquip to give you as much basic and trustworthy information on this subject. We advise you to look through the whole range of Hand Saw Experts and take advice from our professionals. If you need any services required for your product, you can count on Linquip and visit Hand Saw Services.
Download PDF for The Best Hand Saw in 2023
You can download the PDF format of this post from the link provided here.
Buy Equipment or Ask for a Service
By using Linquip RFQ Service, you can expect to receive quotations from various suppliers across multiple industries and regions.
Click Here to Request a Quotation From Suppliers and Service Providers
Read More On Linquip