The Best Industrial Sewing Machine in 2023 – An industrial sewing machine is a worthwhile investment if you run or want to launch a sewing-related small company.
In order to run your business effectively, you need a reliable sewing machine. If you only ever undertake relatively little or occasional sewing chores, you could be fine with a basic home sewing machine. However, you shouldn't expect them to be able to handle thick fabrics or stitch all day long. For this, a commercial sewing machine with more robust features is required.
There are many different manufacturers of industrial sewing machines to choose from. Price, specs, and availability can also vary widely. Think about the variety and volume of sewing done at your company. Perhaps you've seen a rise in business that has outpaced the capacity of your home machine. An industrial sewing machine might be useful in this situation.
On the Linquip website, among the many options available to you, you will find all the information you need to know about the Industrial Sewing Machines, as well as information regarding this marketplace. You can count on Linquip to provide you with as much general and reliable information about this topic, whether you're a professional or a customer looking for a proper company. We recommend you review a list of all Industrial Sewing Machine Products available in Linquip. You can also be encouraged to visit Industrial Sewing Machine for Sale and find the most suitable device based on your applications and demands.
What Is A Sewing Machine Used In Industry?
An industrial sewing machine is a sewing machine of professional quality that is made to tackle more difficult and extensive sewing jobs than your standard sewing machine. Industrial sewing machines have been specifically developed to handle heavy-duty tasks and bigger-scale stitching, although most domestic machines are multi-taskers that may be used to sew garments or smaller household chores for perhaps a few hours at a time. Compared to domestic sewing machines, they may be used with stronger materials for longer periods of time, and since they are made to last, they are less likely to break while being used.
They are important to take into account if you want to start creating clothes for a living or if you want to make drapes or other bulkier goods to sell. They're also useful if you frequently stitch thick or durable materials that your machine finds difficult to handle, such as upholstery fabric or denim. For instance, if you frequently make costumes out of specialty fabrics that your existing sewing machine finds challenging.
What Distinguishes A Typical Sewing Machine From An Industrial One?
They Have A Longer Lifespan
An industrial machine may be used for long periods of time without the risk of needles breaking or parts breaking. They will continue on and on, making them the machine of choice if you want endurance or plan to sew for several hours each day.
They Can Work With Stronger Textiles
Industrial sewing machines, though this varies from machine to machine (and you can buy multiple industrial sewing machines that specialize in different textiles), will generally be able to sew through more layers of fabric and tougher fabrics with ease.
They Endure Longer
Industrial sewing machines should perform better under stress and be able to sew considerably more frequently without malfunctioning or requiring frequent maintenance because they were made to be durable.
They Are Quicker
It would be an understatement to say that industrial equipment is quick. They have quite remarkable sewing speeds. You'll finish tasks far faster than you would with a home machine.
They Provide Stitching Of A Better Caliber
Industrial machines, which were designed for professionals, provide nearly flawless stitch quality that is difficult to match with a standard household machine.
They Lack Portability
Industrial sewing machines are bigger and bulkier and have a separate motor, making them more difficult to travel from room to room in your home or to friends' homes or workplaces. Thus, you must choose and dedicate an area to sewing.
They Require More Room
Industrial sewing machines require extra room and a table to house their motor because they are often bigger and heavier than domestic sewing machines. Do you have room for the machine to reside before you make a purchase? Before committing, review the specification.
They Have More Strength
Industrial machinery has been constructed with more power. An industrial machine's foot pedal is extremely strong and requires minimal effort to press. Many sewers initially find this intimidating, but with time and experience, you'll become used to it.
They Are Experts
A domestic machine is the best choice if you want a versatile multitasker. Industrial machinery may not be as versatile since they are frequently made to perform particular jobs at high volume/speed, very, really efficiently. For instance, they could concentrate on making buttonholes, straight stitches, serger stitches, or managing a particular fabric type, such as leather or lighter textiles. They're less likely to like being given a new assignment since they were created for this one. Of course, the machine determines this.
What Is An Industrial Sewing Machine With A Walking Foot?
A unique foot that grips the top of your cloth is incorporated into the stitching area of an industrial sewing machine with a walking foot. Because the feed dogs on a walking foot machine move the bottom layer at the same speed as the top layer, your fabric will move smoothly as you sew. This lessens the possibility of your cloth moving or puckering when you stitch. Businesses that specialize in quilting frequently choose walking foot industrial sewing machines to topstitch necklines or hems. Additionally, because they are made to reduce the possibility of your fabric expanding while you stitch, they are the machine of choice for sewing knit materials.
The Best Industrial Sewing Machine in 2023
1. Juki 2010Q Best Industrial Sewing Machine
Specifications
| | |
| --- | --- |
| Brand | JUKI |
| Material | Aluminum |
| Product Dimensions | 14″D x 25.7″W x 18″H |
| Item Weight | 1 Pounds |
| Power Source | Power Source |
Product Description
The Juki 2010Q is not an industrial model, but we are including it here because of its affordable pricing and useful features.
In terms of size and power, the Juki 2010Q, a low-cost straight-stitch home sewing machine, performs exceptionally well in comparison to the vast majority of industrial versions. This machine does not require mounting and may be used with or without a foot pedal (a toggle switch is supplied). In addition to being simple to operate, it is capable of sewing in both directions.
This Juki is unique from others on the market because of its free arm, which can be used to sew on collars and cuffs. Obviously, industrial equipment can be used for this, but the cost would be at least double what this one would be. Compared to large commercial engines, they also produce far less noise.
This Juki machine contains both an automated thread cutter and an automatic needle threader. The latter is just a mechanism that cuts the thread when you stop sewing. The time and effort you save by combining these two features is greater than you probably realize right now. The lack of a walking foot is a drawback if you frequently work with many layers of fabric in your sewing projects. But getting a second one is a simple solution.
2. Juki DDL-8700-H Industrial Sewing Machine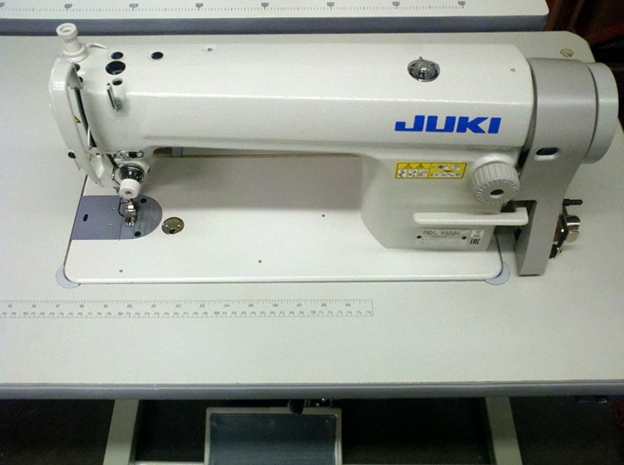 Specifications
| | |
| --- | --- |
| Brand | Zoje |
| Color | White |
| Material | Metal |
| Product Dimensions | 7.48″D x 7.87″W x 3.9″H |
| Power Source | Fuel Powered |
Product Description
The Juki DDL8700 has been a best-seller in the industrial sector for decades, and Juki has recently added several helpful features to this model, including as a thread take-up lever and an easier-to-adjust feed dog. This will boost productivity, improve stitch quality, and extend the machine's usefulness while dealing with a variety of fabrics.
A further perk of Juki machines is their simplicity to operate. Juki machines are a delight to own and operate for this reason, in addition to their exceptional responsiveness and legendary durability. You will, most crucially, be able to produce seams of consistently good quality, regardless of the fabric being used.
If you only need the sewing machine's head and don't yet have a suitable sewing table, you need not worry; the box will have a mounted seat that can be used to hold the machine while you look for a more permanent solution. If you're looking to create a peaceful space for sewing at home, the optional servo motor will do wonders.
3. Consew CP206RL Industrial Sewing Machine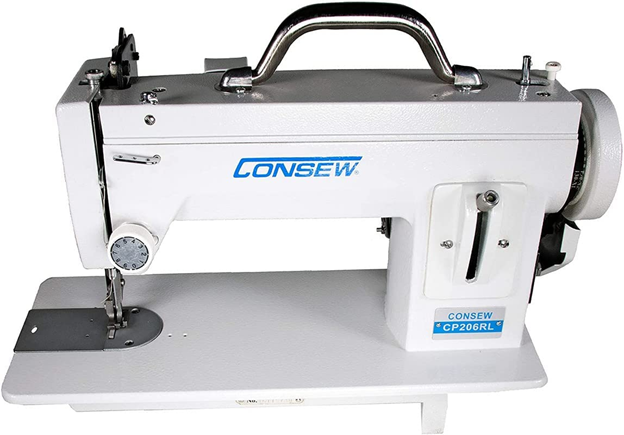 Specifications
| | |
| --- | --- |
| Brand | CONSEW |
| Color | White, Grey |
| Material | Metal |
| Product Dimensions | 20.75″D x 13.5″W x 10″H |
| Power Source | Corded Electric |
Product Description
This walking-foot model from Consew is portable and convenient to store or bring to and from sewing lessons thanks to its lightweight design and included carrying case. The machine's extended surface area may be folded up neatly when not in use.
The CP206RL's high stitch rate of 800 stitches per minute makes it ideal for stitching leather.
This machine's stitch length regulator, the large working area behind the foot, and bottom dual feed capabilities are all tailored to facilitate the sewing of bulky materials.
4. Juki DDL 5550 Best Industrial Sewing Machine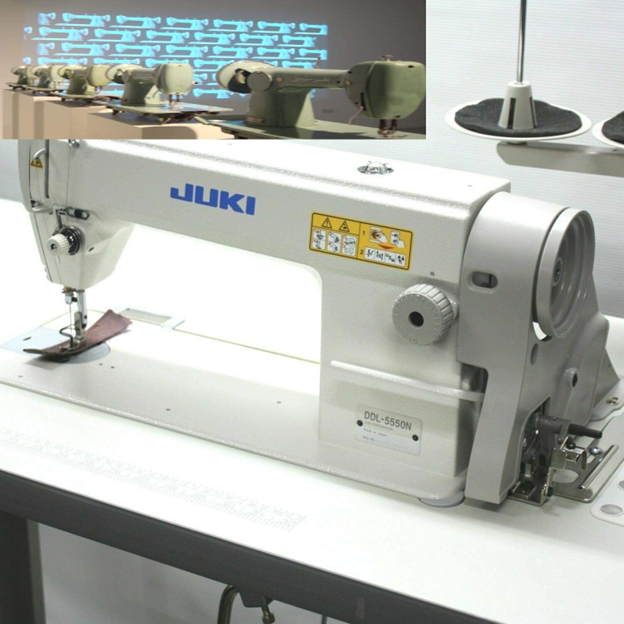 Specifications
| | |
| --- | --- |
| Brand | JUKI |
| Color | DDL-5550 |
| Material | Metal |
| Item Weight | 150 Pounds |
| Power Source | AC |
Product Description
This particular model is unique. Because they are made in Japan and the Juki brand is renowned for its affordability and durability, these machines are worth a few additional bucks. The Juki DDL-5550-N is a suitable replacement for the well-liked Juki DDL-8700 because it maintains the excellent feel of the Japanese manufacturer and has the ideal design for producing clothing and other types of apparel.
The Juki 5550N operates remarkably silently and can easily handle medium-weight fabrics because of its servo motor.
You may set the servo motor lower until you acquire a feel for it if you're unfamiliar with handling industrial equipment or the high speeds they run at. You'll notice right once that these gadgets are more user-friendly than any other type of household equipment.
The automatic bobbin winder is an additional handy function. You are able to wind and stitch at the same time since the winder automatically shuts off when it is full. By using this feature, you may avoid exerting unneeded effort and keep sewing. This machine is a great option if you're searching for a commercial tool that can be used on medium-weight materials other than leather.
Even the smoothest leather can be handled by the Juki DDL5550N with the appropriate accessories. Ensure that the leather foot and needle attachment you use are acceptable.
Finally, in addition to the typical servo motor, this model has a built-in sewing table. The equipment is supplied on a pallet and comes completely constructed at no additional cost, saving you time and money. However, if you live in a two-story home and your sewing area is upstairs, you might want to think about hiring a mover to help you because it is so heavy.
Of course, the advantage of this is that the sewing machine is almost ready for use when it is opened. It only has to be plugged in, lubricated with oil, and the thread holder tightened. Your sewing machine is in perfect operating order.
5. Consew 206RB-5 Industrial Sewing Machine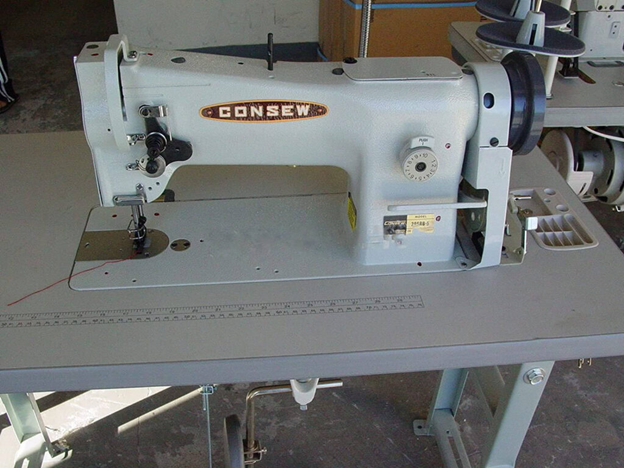 Specifications
| | |
| --- | --- |
| Brand | CONSEW |
| Color | Grey |
| Product Dimensions | 45 x 50 x 20 inches |
| Item Weight | 200 pounds |
Product Description
The industrial sewing machine with a walking foot, model 206RB-5, is Consew's best-selling product globally.
Due to its big throat plate (18″) and several needle settings, it is a flatbed machine that is frequently used in the upholstery and leather manufacturing industry. It is perfect for quilting large objects like sleeping bags, upholstery work, and other projects. Furthermore, it requires fewer thread changes because it utilizes bobbins of a 3/4″ diameter.
Additionally, the 206RB-5 features a needle up/down button, which enables it to feed most fabrics reliably by preventing piles from forming beneath the presser foot or from ceasing stitching in thick layers with each pedal press. Because a belt drive system continually drives its feed mechanism, it can easily sew quickly or under challenging circumstances.
The base plate and body of this machine are made of metal, making it durable enough to withstand rigorous use in any workshop or industry.
6. TechSew 2750 Cylinder Arm Industrial Machine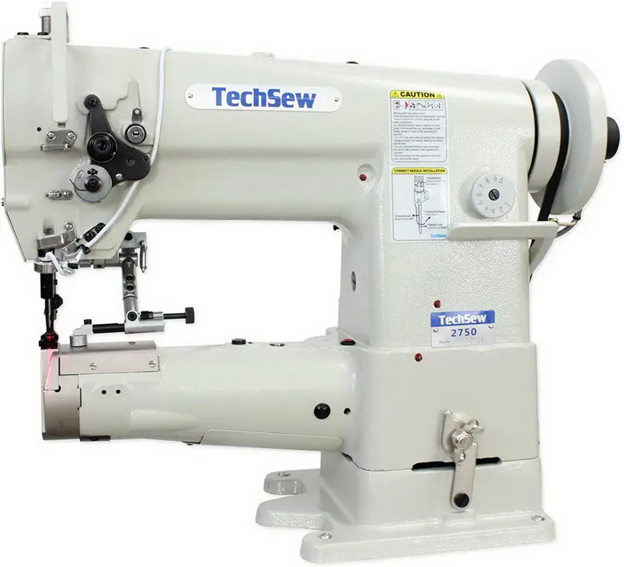 Specifications
| | |
| --- | --- |
| Maximum sewing speed | 2000SPM |
| Thread size | 45 to 210 |
| Needle Sizes | 18 to 24 |
| SmartServo-NP Motor | 800W, 1HP, 110V |
| Item Weight | 200 lbs |
Product Description
This machine is adored by experts who produce leather goods since it expertly makes anything from straightforward belts and wallets to satchels and saddle bags. Of course, this model is also capable of sewing thick fabrics in addition to other materials like canvas, denim, and different synthetics.
The majority of the most recent technological advancements are included in this cylinder bed industrial sewing machine, including a laser guide for very precise stitching and an automated needle positioning system to increase productivity. Stopping the needle in the down position while stitching also enables you to turn the garment.
You can properly feed your materials into the machine while maintaining their straightness thanks to the included roller edge guide. The 2750's cylindrical surface is altered by the flatbed adapter to make it better suited for dealing with flat objects like wallets or belt buckles.
With all of the equipment required to make sure that your leather work is consistent with a high grade, everything comes together to create a trustworthy professional sewing machine for leather craftsmen.
How To Choose A Proper Industrial Sewing Machine?
Find the most suitable industrial sewing machine for your requirements in terms of longevity, productivity, and budget with our assistance. Listed below are some of our recommendations:
How Urgent Is The Requirement For One?
Not to discourage you, but if you're here because your present domestic sewing machine keeps breaking or you're just not getting along with it, you might want to look at other options. In contrast, an industrial machine may be worthwhile if you want to sew professionally or if you sew frequently. If you're a designer wishing to sew professional outfits frequently, a home sewist who wants to begin a sewing company, or the owner of a small store that offers modifications or tailoring, read on!
Just How Much Room Do You Have?
As was previously noted, industrial sewing machines require a unique table to accommodate their robust machinery. Be sure to measure your sewing area and compare it to the specifications of the machine you're considering purchasing.
What Is The Price?
It's no secret that industrial machinery costs more than home machinery; after all, it's built to industry standards. However, there is still variety based on the manufacturer and the intended use of the machine. The following are some budget-friendly alternatives.
When You Get This, What Are You Planning To Do With It?
Industrial sewing machines are highly trained machines that can do a variety of jobs quickly and efficiently, such as buttonholes, straight stitching, and working with heavy fabrics. Because of this, you should have a clear understanding of the duties you want to perform on the computer, both now and in the future, before making a purchase.
How Loud Is It, Exactly?
Industrial machinery, by their very nature of being far more powerful than their home counterparts, tend to generate more noise. There are essentially two distinct kinds of motors that might affect how your machine functions (clutch motors and servo motors). It's common for persons who wish to work with harder materials to prefer traditional clutch motors, despite the fact that they may be noisy (the motor's noise level increases with age, for example). Servo motors, on the other hand, are often more quiet and home-friendly; they also typically operate better with light to medium textiles, and their speeds can be adjusted. You should verify this information before making any purchases.
Which Brand Is It?
You probably won't have to hunt very hard to locate a well-known, dependable brand when shopping for a sewing machine, since there are a few major manufacturers in the industry. You should keep in mind that the most well-known names in home sewing machines may not be the same as those in the industrial sector. Make sure you trust the manufacturer (ask around to see what recommendations other sewers in your circle have, or look at internet user reviews) and think about whether or not it comes with a guarantee and for how long.
FAQs about Industrial Sewing Machine
What aspect of a sewing machine is most crucial?
The ability to adjust stitch length is your machine's most crucial function. Normal stitch lengths range from 0 to 4 mm, covering all of your sewing needs and fabric kinds.
What are some typical sewing risks?
Risks associated with sewing hobbies include the following: Cuts and injuries caused by objects with sharp edges, such as knife blades, scissors, and pins. When cutting with scissors while holding the wrist in an unnatural position, wrist injuries occur.
Conclusion
You may acquire all the details you want about the Industrial Sewing Machines and details about this market on the Linquip website, one of the numerous possibilities available to you. Whether you're a professional or a client seeking for a reputable business, you can rely on Linquip to give you as much basic and trustworthy information on this subject. We advise you to look through the whole range of Industrial Sewing Machine Experts and take advice from our professionals. If you need any services required for your product, you can count on Linquip and visit Industrial Sewing Machine Services.
Download PDF for The Best Industrial Sewing Machine in 2023
You can download the PDF format of this post from the link provided here.
Buy Equipment or Ask for a Service
By using Linquip RFQ Service, you can expect to receive quotations from various suppliers across multiple industries and regions.
Click Here to Request a Quotation From Suppliers and Service Providers
Read More On Linquip