The Best Infrared Thermometers in 2023 – Without touching the object, an infrared thermometer can rapidly and precisely determine its surface temperature. Since these thermometers do not need direct contact with the object being tested, they can be used in situations where a probe thermometer, for example, would be useless, such as when the object's temperature is too high to safely approach. Infrared thermometer guns are useful for a broad range of tasks, from vehicle troubleshooting to food safety monitoring to HVAC system inspections to grilling.
On the Linquip website, among the many options available to you, you will find all the information you need to know about the Infrared Thermometers, as well as information regarding this marketplace. You can count on Linquip to provide you with as much general and reliable information about this topic, whether you're a professional or a customer looking for a proper company. We recommend you review a list of all Infrared Thermometer Products available in Linquip. You can also be encouraged to visit Infrared Thermometers for Sale and find the most suitable device based on your applications and demands.
The Best Infrared Thermometers in 2023
1. ennoLogic – eT650D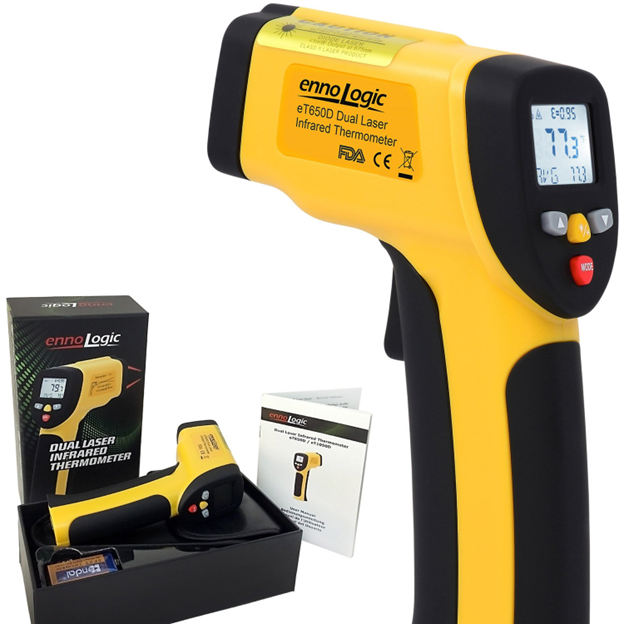 Specifications
| | |
| --- | --- |
| Brand | EnnoLogic |
| Special Feature | High Accuracy |
| Recommended Uses For Product | Cooking |
| Age Range (Description) | Adult |
| Included Components | Infrared Thermometer eT650D, holster, 9V battery, user manual |
Product Description
We found the ennoLogic – eT650D to be the most reliable infrared thermometer during the course of our testing. It uses twin laser technology with a range-to-target ratio of 10 to 1. It has one of the widest temperature ranges of the thermometers we tried, going from -58 degrees to 1202 degrees Fahrenheit. The ennoLogic passed every single test with flying colors, with the exception of the freezer temperature measurement, when it showed some slight fluctuations.
The LCD display was clearly visible from any direction due to its backlighting and contrast between the white backdrop and black digits. The ennoLogic may be set to a number of various modes, allowing you to measure extreme hot and cold temperatures, as well as normal temperatures, and to calibrate the device for surfaces of varying emissivity. As a result of the ennoLogic's ergonomic design, both of the testers were able to hold the device with ease in the palms of their hands, with their forefingers resting naturally on the trigger. The ennoLogic IR thermometer is the most costly of the models we evaluated, but it is also the most reliable.
2. Ultra Performance – 39102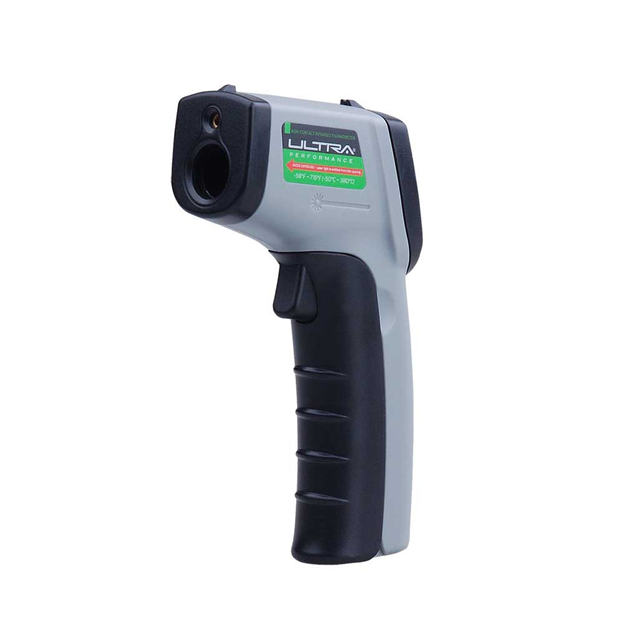 Specifications
| | |
| --- | --- |
| Product name | Ultra Performance Non-Contact Infrared Thermometer |
| Manufacturer SKU | 39102 |
| Brand | Ultra Performance |
Product Description
One of the best-infrared thermometers sold by Home Depot is the Ultra Performance – 39102. The Ultra Performance was the smallest of the thermometers we examined, and despite the finger-gripping indents on its handle, it was still too tiny for our test subjects' hands. Everything was measured precisely, and the values from the freezer were substantially equal to what we had gotten from another device.
The Ultra Performance features a temperature range of -58 degrees to 716 degrees and a distance-to-spot ratio of 12:1. The only thing you can do to alter it is to change the temperature unit from Fahrenheit to Celsius; otherwise, you're stuck with the factory settings. This instrument is useless for measuring reflective surfaces due to its calibration at the emissivity level of 95.
3. Etekcity – Lasergrip 630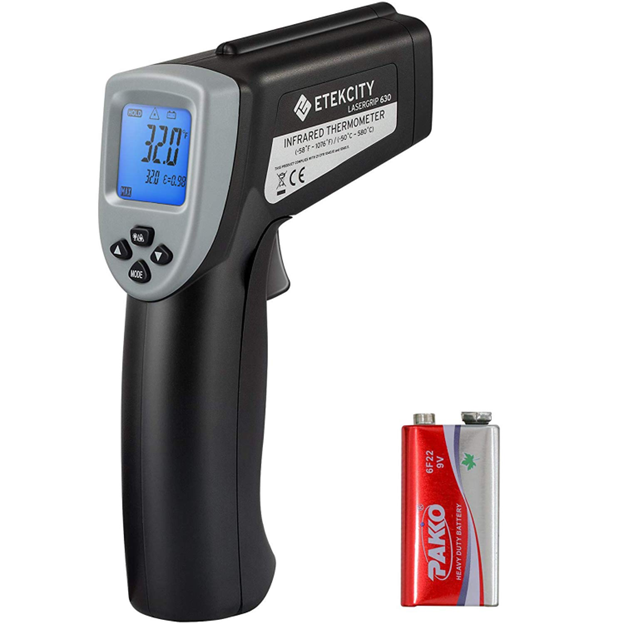 Specifications
| | |
| --- | --- |
| Brand | Etekcity |
| Special Feature | Non-Contact, Ultra Clear Screen, Fast Reading System, High Accuracy |
| Color | Black |
| Age Range (Description) | Adult |
| Included Components | 1 x Lasergrip, 1 x 9V Battery, 1x User Manual |
Product Description
The Etekcity – Lasergrip 630 is an excellent substitute that costs much less. Same functions as the ennoLogic, plus two laser pointers. This Etekcity version measures temperatures from -58 degrees to 1076 degrees and has a distance-to-spot ratio of 16 to 1. In our tests, it was just as precise as the ennoLogic, however its readings changed more when we placed it in the freezer.
However, there were a couple of drawbacks that prevented this IR thermometer from being our top selection overall. It was top-heavy and cumbersome to use since its head was a third bigger than the heads of all the other thermometers we tried. The blue backlighting of the LCD panel made the black numbers hard to read.
4. Klein Tools – 1R5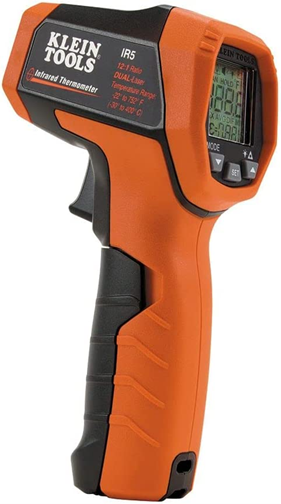 Specifications
| | |
| --- | --- |
| Brand | Klein Tools |
| Special Feature | Several Calculation Modes to Facilitate Different Temperature Measurement Applications |
| Recommended Uses For Product | Accurate Targeting and Temperature Measurement |
| Age Range (Description) | Adult |
| Included Components | Custom Pouch and Batteries |
Product Description
This infrared thermometer from Klein Tools is a great alternative for grill experts and amateur cooks looking for a long-lasting device. This thermometer continues the company's legacy of producing high-quality equipment by boasting an accuracy rating of plus or minus 2 percent, a 12:1 measuring distance, and an adjustable emissivity for materials that are difficult to measure.
The thermometer's wide temperature range, from -22 degrees to 752 degrees Fahrenheit, makes it useful for a wide variety of grilling, smoking, and baking applications. With its clear backlighting and twin laser aiming, this device guarantees a satisfying experience for the user. The built-in auto-off feature helps save the 9-volt battery, which should power the device for up to 10 hours of continuous operation.
5. Fluke 568 Duel Infrared Thermometer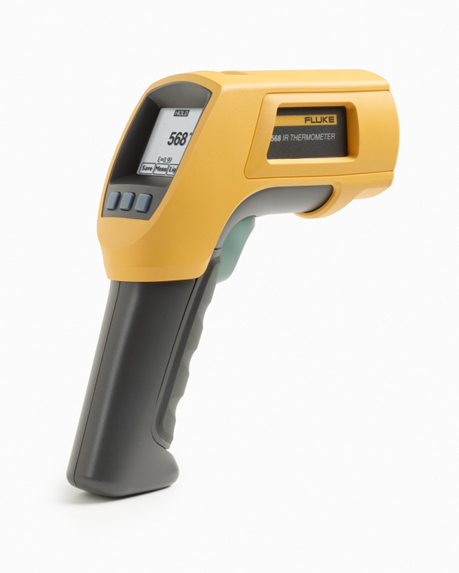 Specifications
| | |
| --- | --- |
| Brand | Fluke |
| Special Feature | Non Contact |
| Age Range (Description) | Adult |
| Included Components | IR THERMOMETER |
| Power Source | Corded-electric |
Product Description
If you're in the market for a high-end infrared thermometer, we recommend taking a look at the 568 Dual Infrared Thermometer from Fluke, which features both a regular thermometer and a second, more precise infrared probe. Because of its wide temperature range of -40 to 1,472 degrees Fahrenheit, this model may be used to test food preparation temperatures in virtually any kitchen. In addition, the 50:1 range ratio allows for measurements to be taken from extremely close quarters.
Also worth mentioning are the machine's capacity to save up to 99 individual readings and the K-Type thermocouple that comes standard with it. The accompanying USB cord allows it to connect to a computer for use. Even though it's pricey, this infrared thermometer is well worth it for anyone who requires the highest level of precision.
6. Taylor Precision Products Infrared Thermometer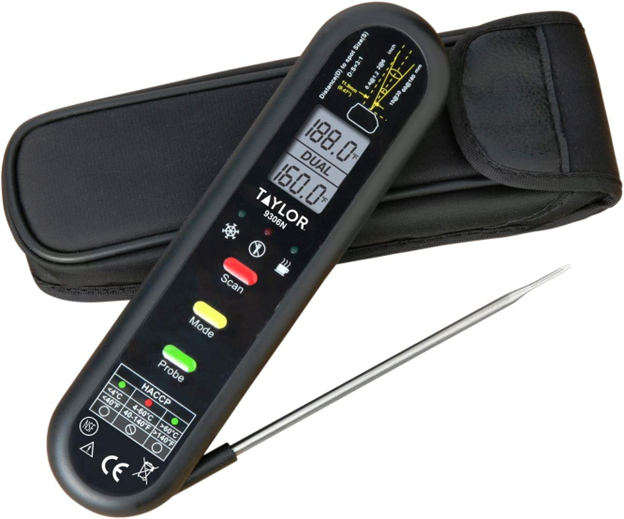 Specifications
| | |
| --- | --- |
| Brand | Taylor Precision Products |
| Special Feature | High Accuracy |
| Color | Black |
| Age Range (Description) | Adult |
| Included Components | Thermometer |
Product Description
If you're a fan of grilling, but hate guessing when your meat is done, the Taylor Precision Products Dual Temperature Thermometer is your savior. This type is equipped with both an infrared thermometer and a thermocouple probe, allowing for instantaneous and precise readings of both the oven and the food.
Both the infrared thermometer and the thermocouple are capable of measuring temperatures from -67 degrees to 482 degrees Fahrenheit, with the latter also measuring temperatures from -67 degrees to 626 degrees Fahrenheit. The range ratio is not easily accessible, unfortunately. However, a pass/fail feature that sounds an alarm if the food temperature is unsafe for eating shows that this is a serious concern.
The hold function and auto-off display are two more important features that make this an excellent infrared thermometer for grilling. It comes with a nylon carrying case and a 9-volt battery.
7. Fluke 62 Max Infrared Thermometer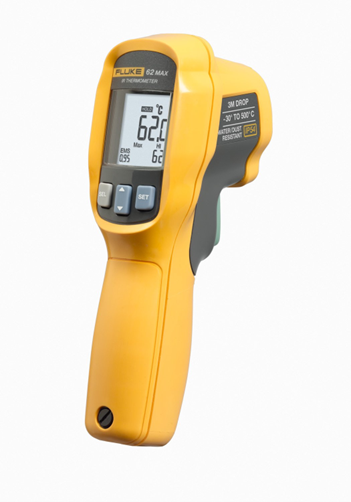 Specifications
| | |
| --- | --- |
| Brand | Fluke |
| Special Feature | Non-Contact |
| Recommended Uses For Product | Outdoor |
| Age Range (Description) | Adult |
| Included Components | Fluke – Mini Temp (62MAX) |
Product Description
The Fluke 62 Max is unparalleled in its precision. This top-rated infrared thermometer has a precision of 1% across a temperature range of -22 to 1,202 degrees Fahrenheit. Its twin laser, adjustable emissivity, and 12:1 measuring distance make precise measurements a breeze.
The huge, illuminated display of the Fluke 62 Max Plus makes it simple to see the instrument's measurements in any lighting condition. It can instantly switch between Celsius and Fahrenheit, can tolerate rain and snow, and can even survive a fall from a height of 3 meters (9.8 ft). It's important to bear in mind that for certain customers, the more cost may not be worth it despite the accuracy.
8. Cuisinart CSG-625 Infrared Surface Thermometer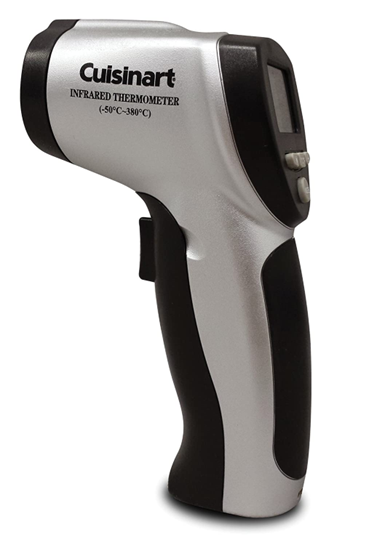 Specifications
| | |
| --- | --- |
| Brand | Cuisinart |
| Special Feature | High Accuracy |
| Type | Infrared Surface Thermometer |
| Age Range (Description) | Adult |
| Product Care Instructions | Clean with a damp cloth |
Product Description
These days, many professional and amateur cooks alike value efficient, time-saving equipment. The Cuisinart CSG-625 Infrared Surface Thermometer is an excellent option, as it allows for fast and easy measurement checks with the press of a button. Grill grates, cast-iron cookware, some pizza ovens or stones, and griddles may all benefit from having their temperatures checked with this infrared thermometer, as can some ovens and oven stones up to 716 degrees Fahrenheit.
The backlit display and integrated laser make it simple to see the thermometer's readings, no matter the lighting conditions. The device requires a 9-volt battery, which is included, and it has an automated cutoff option to extend the battery's life. The lack of easily available information on this model's range ratio and accuracy is the only serious drawback.
9. INKBIRDPLUS Infrared Thermometer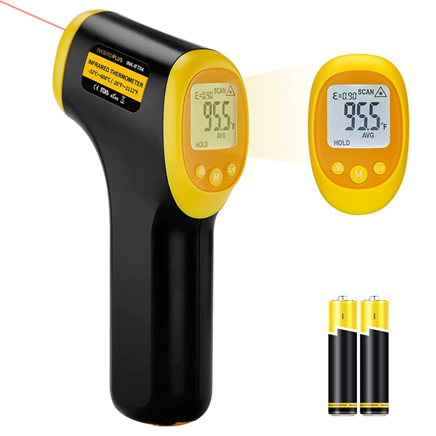 Specifications
| | |
| --- | --- |
| Brand | INKBIRDPLUS |
| Special Feature | Alarm |
| Age Range (Description) | Adult |
| Connectivity Technology | Infrared |
| Power Source | Battery Powered |
Product Description
The Inkbirdplus Infrared Thermometer is an excellent choice for anyone who is daunted by complex gadgets and an overwhelming number of controls. This model has an accuracy rating of 2%, a range ratio of 12:1, and a temperature reading range of -26 to 1,122 degrees Fahrenheit.
While the Inkbirdplus is intuitive to use, that doesn't mean it skimps on functionality. Its backlit display and tunable emissivity make it possible to read off of any surface, no matter the lighting conditions. Moreover, it has a hold feature for reviewing prior readings and an auto-off feature for conserving battery life. The lack of a pouch and thermocouple probe in this model is maybe the only thing to gripe about it, although even that is nitpicking at infrared wavelengths.
Choosing the Right Infrared Thermometer: Some Points to Think About
Investing in a top-tier infrared thermometer is a certain method to improve one's grilling skills. Finding the right IR thermometer, however, requires understanding what to look for. Purchasing one of these intricate gadgets requires careful consideration.
Infrared vs. Thermocouple Probes
It's crucial to know the limitations of an infrared surface temperature gun before purchasing one. It's also helpful to be familiar with backup methods in case the infrared fails.
A surface's temperature is all that infrared thermometers can show. An infrared thermometer may be used to check the heat of grill grates, cast-iron skillets, and even the interior of a freezer. A reading is derived from the infrared thermometer's collection and conversion of the object's unique radiation pattern into electricity. However, not even the most advanced infrared thermometer can offer an accurate reading of an object's interior temperature.
Thermocouple probes, found in everyday appliances like oven thermometers and meat thermometers, are used to take readings from the inside of a given object. These probes may be used to take an accurate inside temperature reading of your meat, soup, sauce, or other dish. They are most accurate when taking the temperature from within an object, rather than from its outside.
Application
Instruments, infrared thermometers measure temperatures in the invisible infrared spectrum. Infrared thermometers come in a variety of varieties, each optimized for a specific need. Cooking and mechanical applications are well suited for regular infrared thermometers, whereas the medical industry makes use of infrared temporal scanners.
Because of their limited temperature range, temporal scanners are not practical for use in the kitchen. The temperature range that regular infrared thermometers can detect is substantially broader than that of a temporal scanner. The range of measurements that may be taken by these instruments is well beyond that of a standard kitchen (both hot and cold).
Spread of Temperatures
In the kitchen, an infrared thermometer may be used for a wide variety of tasks, such as checking the temperature of a freezer, fridge, stovetop, or oven.
As a result of its versatility, the temperature range across which it can function must be rather broad. Whether you need to monitor the temperature of your deep freeze or your industrial kitchen's fryer, an infrared thermometer with a range of about -20 to 700 degrees Fahrenheit should do the trick. The effective temperature range of most infrared thermometers is prominently shown on the side of the device.
Emissivity
While the term "emissivity" may seem scientific, all it means is how well an infrared thermometer can detect the temperature of different substances. A more technical definition would be that it describes how well a surface dissipates heat.
An infrared thermometer may have trouble penetrating some cooking surfaces, such as copper or highly polished stainless steel. Having the flexibility to fine-tune the thermometer's emissivity is a great feature to have in a model.
An IR thermometer may have trouble reading temperatures on common cooking surfaces like stainless steel, copper, and anodized aluminum if the emissivity rating is not changeable.
Accuracy
It's crucial to keep the cooking surface at a safe temperature. For instance, a faulty thermometer will prevent you from obtaining the ideal surface temperature for searing a pricey steak.
Accuracy is a primary design principle of premium infrared thermometers. The plus or minus % of the unit's accuracy will usually be printed by the manufacturer. An accurate thermometer has an error margin of plus or minus 2 percent. An accurate thermometer has a margin of error of plus or minus 7 degrees Fahrenheit, so if a recipe asks for a surface temperature of 350 degrees Fahrenheit, you may be confident in your results. As far as the kitchen or barbecue are concerned, that's spot on.
To better represent the size of the region a thermometer will measure from a given distance, several manufacturers employ a ratio. The ratio of 12:1 indicates that a 1-inch diameter circle on a surface may be tested from a 12-inch distance with an infrared thermometer. For most grilling and other culinary purposes, this ratio of 12:1 is more than adequate.
Effortless Operation
The convenience of an infrared thermometer in everyday life is one of its most appealing features. All you need is a steady hand and to pull the trigger. To check the temperature, you may just open the grill or oven, point the thermometer at the meal, and see what it says.
Most infrared thermometers contain a button that allows you to quickly convert between Fahrenheit and Celsius. Some models also include a memory that remembers the last used temperature and displays it on the screen so it can be accessed quickly.
FAQs about Infrared Thermometers 
1. What is the mechanism of action of an infrared thermometer?
Beyond the scope of this article is the notion of how infrared thermometers operate, but here's the gist: A small quantity of heat radiation is emitted by all objects. An infrared thermometer converts the energy of the radiation into an electrical reading.
2. Is it risky to use an infrared thermometer?
Using an infrared thermometer has been shown to pose no dangers. However, built-in lasers should not be used if they might cause harm to the eyes.
3. How precise are infrared temperature gauges?
The most reliable infrared thermometers provide readings that are off by no more than 2%. Therefore, the real temperature for a reading of 400 degrees will be anywhere between 392 and 408 degrees.
Conclusion
You may acquire all the details you want about the Infrared Thermometers and details about this market on the Linquip website, one of the numerous possibilities available to you. Whether you're a professional or a client seeking for a reputable business, you can rely on Linquip to give you as much basic and trustworthy information on this subject. We advise you to look through the whole range of Infrared Thermometer Experts and take advice from our professionals. If you need any services required for your product, you can count on Linquip and visit Infrared Thermometer Services.
Download PDF for The Best Infrared Thermometers in 2023
You can download the PDF format of this post from the link provided here.
Buy Equipment or Ask for a Service
By using Linquip RFQ Service, you can expect to receive quotations from various suppliers across multiple industries and regions.
Click Here to Request a Quotation From Suppliers and Service Providers
Read More on Linquip