Top USA and International Steel Manufacturers – Metals and metal alloys' properties have resulted in a wide range of goods, from heavy-duty industrial magnets to coated and treated building materials. Metals are so important in production because of their capacity to be transformed to match any purpose.

Steel is a multipurpose material that is used in construction and as a primary component in the production of a wide range of commercial and consumer goods. Steel is an alloy of iron and carbon that may be manufactured in different grades by adding additional elements such as nickel and chromium, as in stainless steel, and is prized for its strength, durability, and ability to be recaptured and recycled.
Stainless steel is the most extensively used manufacturing alloy, and it is utilized to make a wide range of items. Stainless steel has developed to become a vital aspect of practically every sector that relies on metal to generate its goods since its discovery in 1913. Stainless steel is used in airplanes, vehicles, cookware, construction, and a variety of other industries because of its rust and corrosion resistance, as well as its strength and durability.
Steel suppliers commonly offer bars, beams, coils, sheets, rods and tubular profiles, pipes, plates, and wire as standard material forms. Steel alloys come in a variety of chemical compositions and mechanical qualities, which influence the environment and operating circumstances under which the alloy is best suited.
Stainless steel is a kind of steel that resists corrosion, rust, and discoloration particularly well. This steel is characterized by its high chromium content, which provides the metal with outstanding corrosion and rust resistance. Stainless steel must include at least 10% chromium, and several types of stainless steel can be made with varying amounts of chromium, nickel, and molybdenum. This metal has a far longer lifespan than most other materials, requires less maintenance, and is 100% recyclable, making it an excellent choice for a wide range of applications.
A steel service facility offers a diverse range of stainless steel products and forms. Stainless steel foil, strip, wire, bars, coil, plate, sheets, and rods are some of the materials available from a steel service center. The procedures of hot rolling and forming are used to create these materials.
Kitchen supplies, dinnerware, electrical appliances, flatware, laundry equipment, sinks, kegs and vats, silos, and huge kitchen equipment are all made from stainless steel. Stainless steel is utilized in a broad range of sectors, including engineering and construction, and may be found in little objects like elevator doors and gutters all the way up to large-scale applications like skyscrapers.
Steel service centers process and treat various alloys of raw steel before selling the finished product to manufacturers who use it to make a variety of steel products. Steel service centers are used by manufacturers in a variety of sectors, including aerospace, automobile production, construction, electronics, and shipbuilding.
Steel service centers often provide a wide range of prefabricated forms, such as steel beams, steel tubing, steel strip, and I-beams, as well as many pre-treatment operations. In reality, pre-production processing is applied to nearly 70% of all steel acquired by steel service centers. Steel galvanization, aluminization, hot rolling, and cold rolling are all services provided by servicers.
With rollover advertisements and extensive product descriptions, Linquip can examine and find top stainless steel manufacturers. Find stainless steel firms that can develop, create, and produce stainless steel that meets your company's needs. Then, using our simple request for quotation form, contact the stainless steel manufacturers. Each company has a website link, a company profile, locations, phone numbers, product videos, and product information. Customer reviews are available, as well as new product articles. This is the resource for you whether you're seeking stainless steel mills, goods, panels, or bespoke stainless steel of any kind.
Top Steel Manufacturers in the US
Steel service centers, or domestic steel stock manufacturing companies in the United States, offer steel raw material stock in standardized shapes and dimensions that can be used to fabricate finished steel products using fabrication processes such as cutting, roll-forming, galvanizing, or welding.
The major steel manufacturers in the United States are listed in the table below. The table also shows the company's headquarters city/state, primary business activity, and year of establishment. Use this list to analyze and rate top steel manufacturers with previews of advertisements and detailed descriptions of each product.
Table 1: Top Steel Manufacturers in the US
| Manufacturer | Headquarter | Year Founded | Annual Revenue |
| --- | --- | --- | --- |
| Cada Stainless & Alloys | Chester, NY | 1981 | $4.8 M |
| American Stainless Tubing, Inc. | Troutman, NC | 1994 | $20 M |
| Continental Steel & Tube Co. | Fort Lauderdale, Florida | 1984 | $2.12 M |
| New England Small Tube Corporation | Litchfield, NH | 1986 | $16 M |
| Block Steel Corp. | Skokie, IL | 1948 | $17 M |
| Eastern Steel Corp. | Brooklyn, New York | 1924 | $10 M |
| Blue Blade Steel | Kenilworth, NJ | 1928 | $20.37 M |
| Pinnacle Industrial Supply, Inc. | San Diego, California | 1984 | $14.6 M |
| Tube Service Company | Santa Fe Springs, CA | 1976 | $22.55 M |
| Advantage Metal Services, Inc. | South El Monte, California | 1985 | $5.9 M |
Cada Stainless & Alloys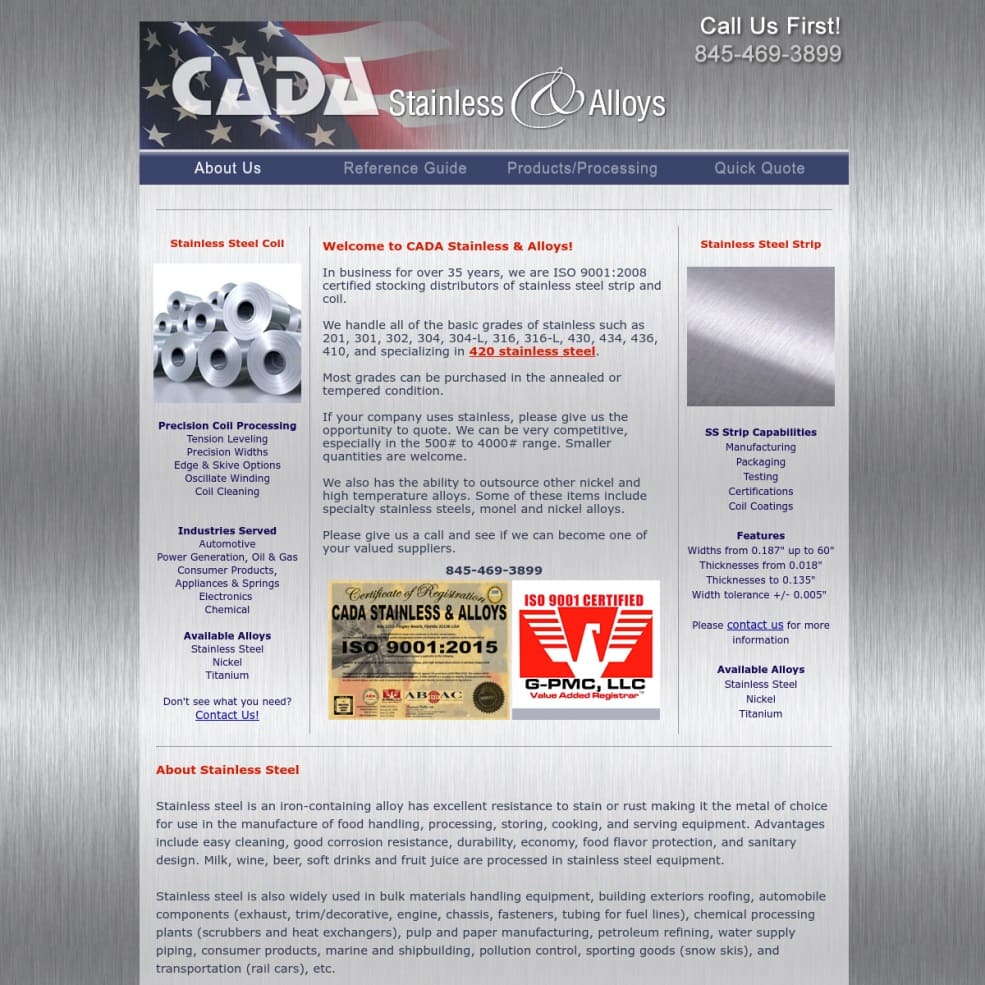 Cada Stainless & Alloys can provide you with the stainless steel tubing you want. They also provide stainless steel strips and coils, with a variety of finishing options, processing options, and other customizing possibilities. Check out their online catalog for a complete list of stainless steel items, and get in touch with them for more information. Their organization has received ISO 9001:2008 certification.
American Stainless Tubing, Inc.
American Stainless Tubing can provide you with the consistent, dependable, and custom-fabricated qualities that you want. Stainless steel tubes, pipes, and other products are available. ASTI tubing is the new standard in beautiful stainless steel tubing for a variety of applications including maritime, food service, construction, furniture, and more. Their ISO 9001:2000 accreditation guarantees that ASTI quality is maintained at all times.
Continental Steel & Tube Co.
Continental Steel & Tube Co. is based in Fort Lauderdale, Florida. They are an ISO 9001 certified provider of carbon steel in plate, coil, beam, sheet, tube, and bar formats. They were founded in 1984. Stainless steel shapes are also available in plate, sheet, coil, bar stock, angle, and tube forms.
New England Small Tube Corporation
New England Small Tube is a stainless steel tube fabricator that serves the medical, fiber optic, and dentistry sectors with tubing in a range of materials and sizes. They have been serving your requirements and offering excellent solutions and products to a range of industries since 1986!
Block Steel Corp.
Their purpose is to provide exactly what their consumers require. While they specialize in aluminized steel, they also provide tubes, plates, and carbon steel, among other steel goods. With over 60 years of expertise in the industry, you can rely on them to offer you high-quality components that will help you stay in business for many years. You are more than a number to us; you are a lifetime partner. For additional information, please contact them.
Eastern Steel Corp.
Bars, grating, plates, roof decking, tubing, and angle shapes are among the common steel forms available from Eastern Steel Corp. in Brooklyn, New York. They also supply specialist goods like extruded aluminum planking and Split Tees, as well as on-site shearing services to cut materials to particular proportions.
Blue Blade Steel
Blue Blade Steel is a spring steel company based in the United States that also provides tempered steel services. They are also a bespoke strip steel maker for a range of businesses. They have cutting-edge technology and believe in accepting new ideas. When you require a high-quality product, look for it.
Pinnacle Industrial Supply, Inc.
Carbon steel and galvanized pipe, as well as stainless steel pipeline and sanitary tubing, are all available at Pinnacle Industrial Supply, Inc. Specialty pipework is available in Chromoly, copper-nickel, aluminum, titanium, Monel, and Inconel alloys. They are based in the city of San Diego, California.
Tube Service Company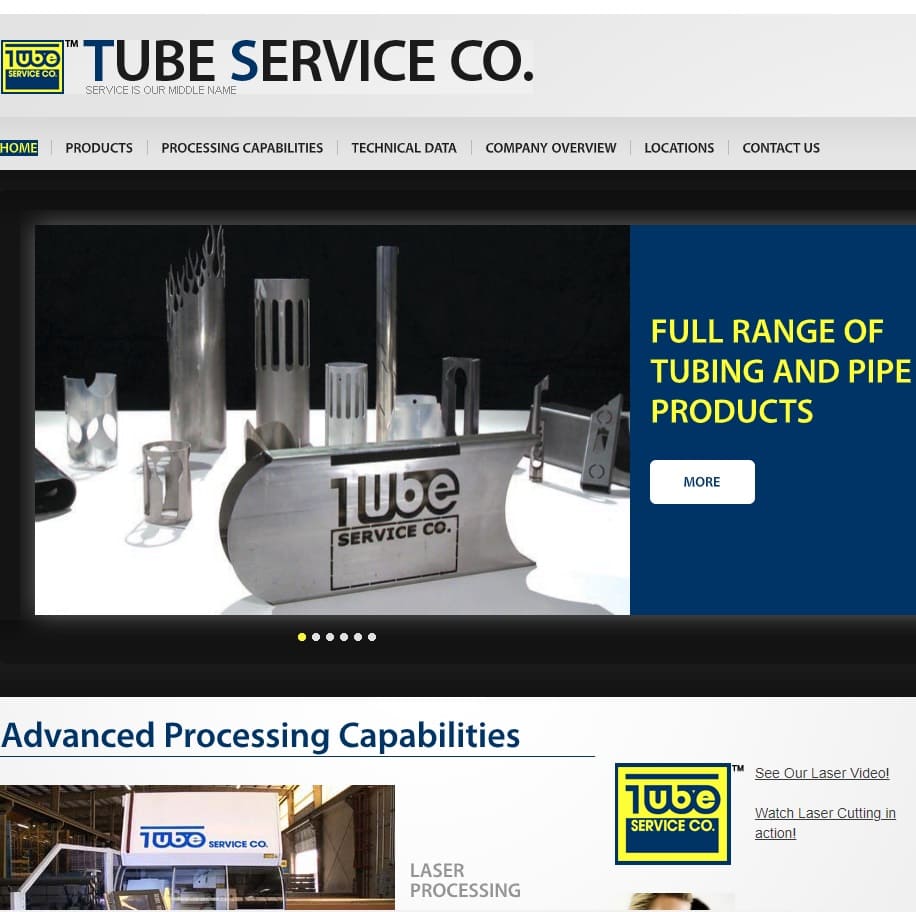 Tube Service Company has been a major tubular product maker in the Western United States for more than three decades. They endeavor to improve their goods and services regularly to fulfill the needs of the clients. At Tube Service Company, client service and delivery quality are the main priorities. They have received ISO 9001:2008 certification. Please contact them right away to see how they can assist you with your tubing need.
Advantage Metal Services, Inc.
Advantage Metal Services, Inc. in South El Monte, California, offers a complete line of carbon steel structural and cold rolled products, as well as pipes, stainless steel and aluminum, and expanded metal in a variety of sizes, thicknesses, and alloys. They may also provide specialized metal fabrication services, such as machining, cutting, bending, forming, and drilling, as well as secondary processes like galvanizing.
Top International Steel Manufacturers
Table 2 shows the main steel manufacturers around the world. Companies are rated based on their projected annual income. The company's headquarters city and country, as well as the year it was founded, are also listed in the table. Estimates of annual income are reported in billions or millions of dollars.
Table 2: Top International Steel Manufacturers
| Company | Headquarter | Year Founded | Annual Sales |
| --- | --- | --- | --- |
| Metalmen Sales Inc. | Long Island City, NY | 1991 | - |
| ArcelorMittal | Luxembourg | 2006 | US$53.27 billion |
| Hynes Industries | Youngstown, OH | 1925 | - |
| NSSMC Group | Chiyoda-ku, Tokyo | 2012 | $43.69 billion |
| POSCO | Pohang-si, South Korea | 1968 | $45.75 billion |
| Benedict-Miller, Inc. | Kenilworth, NJ | 1940 | - |
| JFE Steel | Tokyo, Japan | 2003 | $31.73 billion |
| Hyundai Steel | Seoul, South Korea | 1953 | $17.65 billion |
| ThyssenKrupp | Essen, Germany | 1999 | $51.56 billion |
| Nucor Corporation | Charlotte, North Carolina | 1940 | - |
Metalmen Sales Inc.
Metalmen distributes stainless steel around the world. As a bespoke response supplier for industry, they offer experienced market guidance and comprehensive metalworking with their extensive variety of goods. For over 30 years, they have provided engineering and research services. So many on-demand and specialty metals are delivered quickly; non-standards and small quantities are appreciated!
ArcelorMittal
ArcelorMittal, based in Luxembourg, is one of the world's largest steel makers, with 95.45 million tons of production. Automotive, construction, home appliances, and packaging are among the key markets served by the firm. The corporation is reorganizing operations in Indiana Harbor in the United States, with the project slated to be completed in 2018.
Hynes Industries
Hynes Industries manufactures a variety of bespoke and conventional roll-formed items. They have the background and competence to satisfy all of your needs, with manufacturing experience dating back to 1925. To find out more, simply contact one of their experts.
NSSMC Group
The NSSMC Group (Nippon Steel & Sumitomo Metal Corporation) is the next firm on the list, with a production of 46.16 million tons. Plate, flat sheet steel, bar & wire, structural items including H-beams, and pipe & tube products are all classified by product form. Their total income was $43.69 billion dollars.
POSCO
Another is POSCO of South Korea, which produces 41.56 million tons. The firm also supplies steel products for electrical applications, galvanized steel, and other metal goods such as aluminum, magnesium, and titanium, in addition to hot and cold-rolled steel. The reported revenue was $45.75 billion dollars.
Benedict-Miller, Inc.
Benedict-steel Miller's service department offers aircraft-quality alloy steel in sheet and plate. They are ISO 90012-certified and fulfill AMS, ASTM, and AISI criteria. They have their own metallurgical laboratory on site.
JFE Steel
JFE Steel, situated in Japan, produces 30.29 million tons of steel and earns $31.73 billion in sales. They manufacture steel products for a variety of industries, including automotive, bridge construction and engineering, shipbuilding, energy, appliances, and container shipping.
Hyundai Steel
Hyundai Steel, situated in South Korea, produces 20.09 million tons of steel. The corporation specializes in the production of hot-rolled steel sheets, with annual revenue of $17.65 billion.
ThyssenKrupp
ThyssenKrupp manufactures 17.24 million tons of steel. The corporation is relatively uncommon on this list in that it has diversified business operations, of which steel fabrication is just one component, with total yearly sales from all business divisions of $51.56 billion. This corporation services a variety of sectors, including automotive components, passenger transit systems, and navy submarines.
Nucor Corporation
Nucor Corporation, based in Charlotte, North Carolina, and with operations across the United States, is another steel maker. Nucor manufactures completed steel products such as fasteners, floor and roof decks, joists, and rebar, among others, in addition to typical carbon steel forms such as bar, sheet, and plate. The total amount of steel produced was 21.95 million tons.
Summary
For some of the most well-known steel factories in the United States and throughout the world, this page has compiled a collection of statistics and article summaries. For additional information on these companies and to learn about new steel producers, go to the Linquip Steel Manufacturers page. There are over 18000 steel producers on the list. Linquip's Experts can also supply you with further information and fulfill all of your needs.
Buy Equipment or Ask for a Service
By using Linquip RFQ Service, you can expect to receive quotations from various suppliers across multiple industries and regions.
Click Here to Request a Quotation From Suppliers and Service Provider
Read More In Linquip