Top Gas Turbine Manufacturers In US – In 2022, the worldwide gas turbine market will continue to develop at a strong and consistent pace, with the top ten gas turbine manufacturers remaining some of the major vendors dominating the global industry. Gas turbine demand is predicted to rise further in the coming years as a result of various benefits such as higher efficiency, severe carbon emission laws, and cost savings provided by the use of these turbines. Here we provide a report on the situation of the gas turbine market along with the top gas turbine manufacturers in the US.

⇒ View a List of Gas Turbines for Sale and Their Suppliers ⇐
What is a Gas Turbine and How Does it Work?
A gas turbine is an internal combustion engine that transfers chemical energy in the form of rotational power into mechanical energy. Various industrial operations can be powered by this mechanical energy. Great dependability, low running costs, and high power density are all advantages of a gas turbine. The gas turbines can also be powered by clean, renewable energy sources, lowering carbon emissions. Gas turbines used in the cogeneration or Combined Heat and Power (CHP) process improve plant efficiency by generating steam from exhaust gasses, which may then be utilized for a variety of applications without the usage of extra fuel. In the next few years, these advantages of gas turbines, along with higher carbon pollution standards, will fuel demand for gas turbines.

Applications of Gas Turbine
In terms of gas turbine applications, these turbines are one of the most widely used technologies for power production today. Chemical factories and refineries might potentially benefit from their electricity generation. In recent years, they have made a considerable contribution to greener power generation. The development of new and improved technology would allow gas turbines to be used more effectively in a variety of power sectors, from electricity generation to transportation and aviation, hence increasing the efficiency of all of these industries.
These turbomachines form the backbone of today's aviation and aircraft propulsion, in addition to producing energy in power and chemical facilities. Gas turbines are employed in a wide range of aircraft, from small passenger jets like the Hawker 400, formerly known as the MU-300, to the massive A380. They're also seen on cargo planes ranging in size from tiny to huge, like the Airbus Beluga. Jet engines are also used to propel military aircraft.
If you look further back in history, you'll discover records of jet engines being suggested for railway, marine, and automobile propulsion.
Types of Gas Turbine
The four primary kinds of gas turbine engines are discussed here. Keep in mind that such a wide range of gas turbine designs can only be found in aviation gas turbines. The configuration of gas turbines used in power plants is quite similar to that of turbojet engines, which will be detailed later.
Engines with Turbojets
Turbojet engines were the first form of the gas turbine. Despite the fact that they appear nothing like reciprocating engines, they work on the same principle: intake, compression, power, and exhaust. Air is pushed at a rapid rate to the fuel inlet and ignitor of the combustion chamber in this type of engine. By expanding air, the turbine generates faster exhaust gasses.
Turboprop Engines
A turboprop engine is the second kind of gas turbine. It's a turbojet engine with a propeller attached through a gear system. The operation of a gas turbine of this sort is as follows:
A shaft connected to a transmission gearbox rotates while the turbojet spins.

A transmission box slows the spinning process, and the transmission mechanism is coupled to the slowest moving gear.

The thrust is generated by rotating the air propeller.
Turbofan Engines
Turbofan engines are combined with the world's top turbojets and turboprops. A duct fan can link a turbofan engine to the front of a turbojet engine. The fan then provides an extra push, assisting in the cooling of the engine while also lowering noise levels.
Engines with Turboshafts
Turboshaft engines, which are mostly employed in helicopters, are the fourth type of gas turbine. The most significant distinction is that turboshaft engines use the majority of their power to spin turbines rather than driving them out the back of the vehicle. A turbojet engine with a big shaft attached to the rear is known as a turboshaft engine.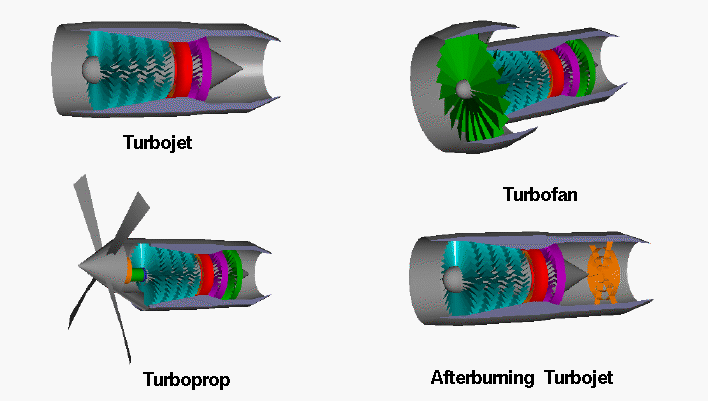 Gas Turbine Industry Analysis
Gas turbine manufacturers are investing extensively in the development of high-efficiency gas turbines in response to the growing demand for efficient turbines across the world. One example of gas turbines with improved efficiency levels is GENERAL ELECTRIC's 9HA/7HA series CCGT created by the Power and Water division. As a result of the increased focus of gas turbine manufacturers on providing technologically sophisticated and sturdy products, the global gas turbine market is expected to grow at a CAGR of over 3% over the forecast period.
When it comes to the worldwide gas turbine market size and industry analysis, Technavio's latest market research study, Global Gas Turbine Market 2018-2022, projects that the global gas turbine industry has developed at a CAGR of over 3% from 2018 to 2022.
Top Gas Turbine Manufacturer in US in 2022
The table below lists some of the top Gas Turbine manufacturers in the US, as well as their yearly sales. Additional information about each business's headquarters location, as well as the number of workers and descriptions of corporate operations, are given in what follows.
Table 1: Top Gas Turbine Manufacturer in the US in 2022
| Company | Headquarters | No. of Employees | Annual Sales |
| --- | --- | --- | --- |
| GE Power | New York | 205,000 | $74,2 Bil |
| Solar Turbines – Caterpillar | California | 97,300 | $41.7 Bil |
| Williams International | Walled Lake | 1,057 | $7.7 Bil |
| Mitsubishi Heavy Industries America, Inc. | New York | 300 | $2.6 Bil |
| Sylvania | Danvers | 11,200 | $2.01 Bil |
| Chromalloy | Midwest City | 4,000 | $1 Bil |
| Bradken, Inc. | Kansas City | 2,880 | $218.6 Mil |
| Capstone Turbine Corporation | California | 123 | $71.8 Mil |
| TurbineAero | Chandler | 167 | $45 Mil |
| Columbia Manufacturing, Inc. | Columbia | 99 | $25 Mil |
Top Centrifugal Pumps Manufacturer Globally in 2022 Summaries
GE Power
GE Power is a division of GE Electric that manufactures engines, turbines, generators, monitoring and control systems, nuclear reactors, solar panels, oil production equipment, heat recovery steam generators (HRSG), and wind turbines. Even under difficult climatic conditions, GE's heavy duty and aero-derivative gas turbines are dependable. The gas turbine industry was exposed to E-Class, F-Class, and H-Class technologies by GE. With its greatest high efficiency turbine, the business also claims to have set a global record for powering the most effective combined cycle power plant.
Solar Turbines – Caterpillar
Solar Turbines Incorporated, a subsidiary of Caterpillar Inc., is regarded as a pioneer in the design and manufacture of gas turbine systems. Solar industrial gas turbines are used for a variety of applications, including maritime propulsion, electrical power generation, and the production of natural oil and gas. The firm is working on creating innovative technologies to minimize emissions from its products and enhance gas turbine fuel economy. This company's gas turbines are outfitted with SoLoNOx combustion systems, which employ dry, lean-premixed combustion technology to eliminate hazardous emissions.
Williams International
Williams International is a global leader in the design, production, and maintenance of gas turbine engines. From its headquarters in Pontiac, Michigan, the privately held corporation conducts R&D (research and development) and R&O (repair and overhaul). The Williams plant in Ogden, Utah, is the world's most advanced and efficient gas turbine design-to-production facility. Williams, which was founded in 1955, has grown its development, test, manufacturing, and product support capabilities to establish a big, adaptable company capable of meeting growth targets in the aviation, industrial, and military industries. Williams offers a product portfolio that covers every demand from 1,000 to 3,600 pounds of thrust in their main market—turbofan engines for general aviation. The company culture of continual development in all facets of their business accounts for each person's and the firm's success. As a privately held company, the goal is kept in focus, communication is clear, decisions are made fast, and efforts are concentrated effectively. Resources are assigned when and where they are most required, allowing the organization to move rapidly and remain at the forefront of its industry. Williams is an ISO9000 and AS9100 certified company.
Mitsubishi Heavy Industries America, Inc.
Mitsubishi Heavy Industries (MHI) Group is one of the world's biggest industrial conglomerates, with interests in energy, logistics and infrastructure, industrial machines, aerospace, and military. MHI Group combines cutting-edge technology with extensive expertise to provide creative, integrated solutions that aid in the realization of a carbon-neutral society, improve quality of life, and assure a safer world.
Sylvania
OSRAM Sylvania Inc. is the lighting manufacturer of OSRAM's North American subsidiary. OSRAM GmbH acquired GTE's Sylvania lighting segment in January 1993, establishing the company. Gas and steam turbine manufacturers for industrial and large-scale applications. Gas turbines with capacities above 50 MW are offered in single casing/single shaft configurations with low-loss gearing for 50-Hz or 60-Hz grids. Models for industrial use ranging from 4-45 MW for power consumer and power producer applications.
Chromalloy
Chromalloy is a worldwide technology firm with the engineering competence to provide solutions that make a significant impact for our clients. They are the only independent firm in the world that can cast, coat, and machine a component entirely in-house, producing even the most complicated parts to specification – and creating methods to improve them – in their sophisticated facilities. They collaborate with manufacturers, operators, governments, MROs, and armies to produce, repair, and maintain crucial turbine components for a variety of engine systems. Their products and services are used in transportation, large-scale industrial, energy generation, resource extraction, and military activities all over the world. Their single area of expertise is the turbines that keep the world turning—an area where our enormous investments in technology have resulted in breakthroughs for the industry as a whole.
Bradken, Inc.
ISO 9001:2008 certified full-service steel foundry and machining company. Carbon, low alloy, and stainless steel castings weighing more than 65,000 pounds may be made in a variety of materials and forms. Will focus on highly engineered, big complex, mission essential steel castings from concept to completed product. To back up that promise, we use cutting-edge technology, as well as considerable industry knowledge and value-added services. Steel and stainless steel castings weighing up to 65,000 lbs. Ni-resist and custom iron castings up to 10,000 lbs., machining, large/heavy fabrications, and wear resistant materials are also available. Custom maker of turbines, including gas turbines, certified to ISO 9001:2008. Gas turbines are appropriate for process equipment, hydro, power generation, military, construction, mining, and industrial machinery, shipbuilding, and transportation.
Capstone Turbine Corporation
Capstone Turbine Corporation is a manufacturer of microturbines that can run on a range of fuels such as natural gas, biogas, and LPG. Capstone microturbines rely heavily on air bearings, which need less maintenance and remove the need for cooling systems. Microturbine generators are used to generate electricity, for cogeneration, and as a source of power for hybrid cars. The firm provides a diverse range of micro gas turbines ranging from 30kW to 30MW. These turbines' fuel adaptability makes them appropriate for a wide range of applications in areas such as oil and gas, transportation, critical power supply, renewable energy, and marine.
TurbineAero
TurbineAero provides world-class MRO services from four locations in the United States and Thailand. With on-staff Designated Engineering Representatives (DERs) and advanced capabilities in components, complicated fabrication, coatings, and line replaceable unit (LRU) assembly, we provide comprehensive maintenance, repair, and overhaul (MRO) solutions. In addition, we provide cost-effective Parts Manufacturer Approval (PMA) solutions. We have serviced over 10,000 APUs and 100,000 LRUs and have a client retention record of 98 percent.
Columbia Manufacturing, Inc.
Machined components, sheet metal, and machined fabrications for aviation and associated sectors. Engineering, brazing, welding, heat treatment, hot forming, EDM, balancing, CNC horizontal & vertical turning, plasma spray, metallurgy, non-destructive testing (NDT), internal & external slotting, 4 axis CNC milling, gang drilling & reaming are among the capabilities available. There are forming services offered, such as double action expansion forming, deep draw forming, draw forming, bulge forming, roll forming, and hydraulic forming. Gas turbine and turbine component maker on a custom basis. CNC milling, CNC turning (contour, taper, form, and straight), internal and external threading, knurling, sheet metal fabrication, drilling, boring, bending, shaping, rolling, punching, and welding are all precision capabilities.
FAQs about Gas Turbine Industry
1. What is the most powerful gas turbine?
The world's largest gas turbine is behemoth. Harriet, GE's 500,000 horsepower gas turbine, cost roughly $1 billion to construct and has the capability of running an entire 600 megawatt steam power station on its own.
2. What is the most efficient gas turbine engine?
The Chubu Electric Nishi-Nagoya power plant Block-1, powered by GE's 7HA gas turbine, has been named the world's most efficient combined-cycle power plant by GUINNESS WORLD RECORDS, with a gross efficiency of 63.08 percent.
3. How do gas turbines generate electricity?
The spinning blades rotate as hot combustion gas expands through the turbine. The whirling blades have two jobs: they drive the compressor, which draws more pressured air into the combustion area, and they spin a generator, which generates energy.
Conclusion
This post has produced a collection of data and business summaries for some of the most well-known gas turbine manufacturers in the US, and a short description about the basics of gas turbines. You are also encouraged to visit the Linquip website to learn more about these firms, as well as to find providers of additional industrial and commercial items. You can also visit our Gas Turbine Suppliers and Companies to find out a complete list of gas turbine manufacturers and suppliers.
Companies to find out a complete list of gas turbine manufacturers and suppliers.
Buy Equipment or Ask for a Service
By using Linquip RFQ Service, you can expect to receive quotations from various suppliers across multiple industries and regions.
Click Here to Request a Quotation From Suppliers and Service Providers
Read More on Linquip