USA and International Process Automation Companies – The technology-enabled automation of intricate business processes is known as business process automation (BPA), often referred to as business automation or digital transformation. It may simplify a firm by streamlining operations, implementing digital transformation, boosting service quality, enhancing service delivery, or keeping expenses in check. It entails employing software applications across the board, integrating programs, and reforming labor resources. Within BPA, robotic process automation is a developing area. Here, we are going to describe some of the top leading companies in process automation in the USA and world. 
On the Linquip website, among the many options available to you, you will find all the information you need to know about the automation process, as well as information regarding this marketplace. You can count on Linquip to provide you with as much general and reliable information about this topic, whether you're a professional or a customer looking for a proper company. We recommend you review a list of all Process Automation Companies available in Linquip.
We would be delighted to provide you with more information on how we can help you generate revenue within your industry. Don't hesitate to contact us if you have any questions! With Linquip's Solutions for Each Company Level, you will be able to upgrade the capabilities of your organization in order to gain a competitive edge by taking advantage of a wide range of options to enhance your organization's performance. If you are looking for the simplest or the most sophisticated marketing and advertising package for your business, we can help you ensure that your company gets as many customers as possible to grow your business. 
What is Process Automation?
BPAs may be used in a variety of company functions, including workflow, sales, and marketing. The sophistication of toolsets varies, but there is a growing tendency towards the usage of artificial intelligence (AI) technologies that can interact with people, comprehend unstructured data sets and natural language, and learn to solve new sorts of issues without human guidance. BPA providers typically concentrate on various industry sectors, but their fundamental strategies are often the same in that they try to offer the quickest path to automation by taking advantage of the user interface layer rather than delving deeply into the application code or databases that are hidden behind them. Low-code automation is an alternate method.
BPA suppliers also make their own user interface as simple as possible so that non-technical workers may utilize these technologies without any training.
The primary benefit of these toolkits is thus their rapid deployment; however, the disadvantage is that it adds yet another IT vendor to the organization.
But the market is changing in this sector. Connectors that suit these systems/solutions coupled with a data interchange layer to convey the information are required in order to automate these procedures. A messaging service that is driven by processes can help you improve your data interchange layer. Using a process-driven messaging platform, you may create integration across different platforms by mapping your end-to-end process workflow. Your process may be built utilizing triggers, tasks, and workflows thanks to a process-driven messaging service. Some businesses employ an API that allows you to create workflows and then link different systems or mobile devices. You construct the process by designing workflows in the API, and the API workflow serves as a layer for data interchange.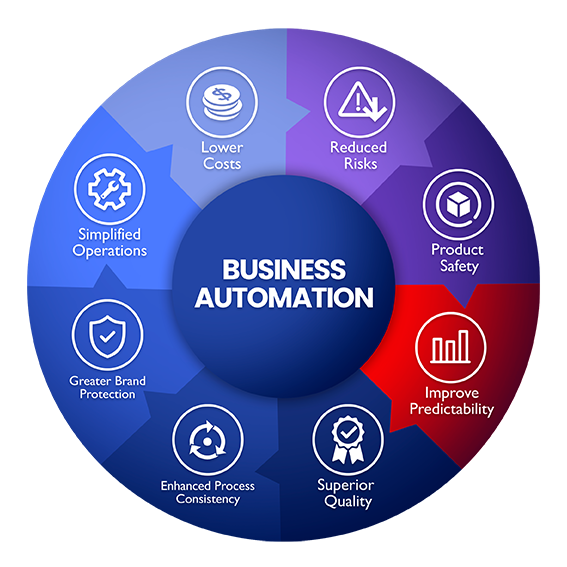 Top Process Automation Companies in USA
Listed below are the top Process Automation Companies in America, ranked by company size. Each company's information includes its headquarters, sales, year of foundation, and the number of employees. US million dollars are used to measure annual sales. Following the table are summaries of each company.
| Company name | Headquarters | Year founded | Number of employees | Annual sale |
| --- | --- | --- | --- | --- |
| Emerson Electric Co. | St. Louis, Missouri | 1890 | 86,700 | 47.81 Bil |
| Applied Materials, Inc. | Santa Clara, California | 1967 | 27,000 | 35.73 Bil |
| Rockwell Automation Inc. | Milwaukee, Wisconsin | 1903 | 24,500 | 23.06 Bil |
| Cognex Corporation | Natick, Massachusetts | 1981 | 2,200 | 9.29 Bil |
| Teradyne, Inc. | Boston, Massachusetts | 1960 | 5,900 | 6.52 Bil |
| National Instruments Corporation | Austin, Texas | 1976 | 7,200 | 6.14 Bil |
| Nuance Communications, Inc. | Burlington, Massachusetts | 1992 | 6,500 | 4.95 Bil |
| MKS Instruments, Inc. | Andover, Massachusetts | 1961 | 4,851 | 4.29 Bil |
| Brooks Automation, Inc. | Chelmsford, Massachusetts | 1978 | 1,052 | 2.38 Bil |
| Plexus Corp. | Neenah, Wisconsin | 1979 | 19,000 | 1.8 Bil |
Emerson Electric Co.
Ferguson, Missouri, serves as the corporate headquarters for the American multinational Emerson Electric Co. For industrial, commercial, and consumer industries, the Fortune 500 firm produces goods and offers technical services. Emerson employs over 86,700 people across 170 industrial facilities.
Applied Materials, Inc.
The American company Applied Materials, Inc. provides machinery, support services, and software for the production of flat-panel computer displays, cellphones, televisions, and solar goods.
Rockwell Automation Inc.
American industrial automation company, Rockwell Automation, Inc.'s brands, include Allen-Bradley, FactoryTalk software, and LifecycleIQ Services. Rockwell Automation is based in Milwaukee, Wisconsin, and employs over 24,500 people. It serves clients in more than 100 nations.
Cognex Corporation
The American company Cognex Corporation produces machine vision systems, software, and sensors for automated manufacturing that are used to examine and identify components, find flaws, confirm product assembly, and direct assembly robots.
Teradyne, Inc.
Based in North Reading, Massachusetts, Teradyne, Inc. is an American company that designs and manufactures automated test equipment. High-profile clients of Teradyne include Texas Instruments, IBM, Analog Devices, Qualcomm, Samsung, and Intel.
National Instruments Corporation
A global American business with operations abroad is NI, formerly known as National Instruments Corporation. It is a manufacturer of virtual instrumentation software and automated test equipment with its main office in Austin, Texas. Data collection, instrument control, and machine vision are examples of common uses.
Nuance Communications, Inc.
With its headquarters in Burlington, Massachusetts, Nuance Communications, Inc. is an American multinational software company that sells voice recognition and artificial intelligence software.
MKS Instruments, Inc.
Instruments, subsystems, and process control solutions are provided by MKS Instruments, Inc. for measuring, monitoring, controlling, powering, delivering, and analyzing crucial industrial process parameters. Produces products for analytical and control solutions, such as flow and valve technologies, I/O modules, automation software, gas analyzers, automation control products, and integrated pressure measurement and control subsystems. It was established in 1961.
Brooks Automation, Inc.
Founded in 1978, Azenta is a Massachusetts company with headquarters in Chelmsford. The business offers automation, vacuum, and instrumentation equipment for a variety of industries, including semiconductor manufacturing, the production of technological devices, and the life sciences.
Plexus Corp.
Plexus Corp. offers a wide variety of automated production solutions and sophisticated automation design along with electrical design and manufacturing services. It was established in 1979.
Global Process Automation Companies
The following table lists the best Process Automation Companies worldwide. The companies are ranked based on their employee size. Furthermore, the global headquarters location of each company and the year it was founded are also presented. The table is followed by descriptions of these companies. 
| Company name | Headquarters | Year founded | Number of employees | Annual sale |
| --- | --- | --- | --- | --- |
| Honeywell International Inc. | UK | 1906 | 114,000 | 124.08 Bil |
| Siemens | Germany | 1847 | 303,000 | 104.97 Bil |
| ABB Ltd | Switzerland | 1988 | 110,000 | 49.12 Bil |
| Tata Motors Limited | India | 1945 | 59,000 | 43.4 Bil |
| FANUC | Japan | 1972 | 8,256 | 39.96 Bil |
| Fiat Chrysler Automobiles N.V. | UK | 2014 | 198,545 | 26.36 Bil |
| Pentair plc | UK | 1966 | 11,250 | 7.48 Bil |
| Kuka | Germany | 1898 | 14,000 | 3.9 Bil |
| Hollysys Automation Technologies Ltd. | China | 1993 | 3,598 | 1.21 Bil |
| B+M Surface Systems GmbH | Germany | 2014 | 3,000 | NA |
Honeywell International Inc.
The corporate headquarters of the American multinational company Honeywell International Inc. are in Charlotte, North Carolina. Building technologies, aerospace, performance materials and technology, and safety and productivity solutions make up its four main business sectors.
Siemens
Siemens is a global leader in energy production, transmission, and distribution to smart grid solutions, the effective use of electrical energy, as well as in the fields of laboratory diagnostics and medical imaging. Has over 377,000 workers functioning in production and manufacturing facilities throughout more than 200 nations and regions.
ABB Ltd
ABB is a worldwide company with offices in Zürich, Switzerland, and Västers, Sweden. Allmänna Svenska Elektriska Aktiebolaget of Sweden and Brown, Boveri & Cie of Switzerland merged in 1988 to form ASEA Brown Boveri, which was later abbreviated to ABB.
Tata Motors Limited
Tata Motors Limited is a subsidiary of the Tata Group and an Indian multinational automobile manufacturer with headquarters in Mumbai, India. Automobiles, trucks, vans, coaches, and buses, as well as luxury and sports vehicles and construction equipment, are all part of the company's product line.
FANUC
Robots, machinery, and systems for factory automation are all produced by FANUC. Products include wire-cut electric discharge machines, CNC drills, industrial robots, servo motors, laser systems, and a variety of other things.
Fiat Chrysler Automobiles N.V.
An Italian-American multinational firm, Fiat Chrysler Automobiles N.V. was best known for producing cars, trucks, commercial vehicles, auto components, and production equipment. The majority stakeholder and owner of the voting rights was the Italian holding corporation Exor.
Pentair plc
The primary U.S. office of Pentair plc, an American water treatment firm with tax residence in the UK and incorporation in Ireland, is located in Arden Hills, Minnesota. Pentair was established in the US, and as of 2017, the US and Canada accounted for 65% of the company's sales.
Kuka
German company KUKA produces industrial robots and technologies for automating factories. Since 2016, the Chinese corporation Midea Group has owned the majority of it.
Hollysys Automation Technologies Ltd.
With operations abroad in eight other Asian nations and regions, Hollysys is a top provider of automation control system solutions in China. Hollysys provides its customers with better operational safety, reliability, efficiency, and intelligence that are crucial to their operations by leveraging its own technology and extensive industry knowledge. Hollysys' primary source of income is the provision of integrated solutions for rail transportation and industrial automation. Hollysys offers the entire range of industrial automation hardware, software, and services, including cloud-based software, control systems, field devices, and enterprise product management.
B+M Surface Systems GmbH
For surfaces requiring extremely high standards of quality, they are a leading supplier of fully automated painting facilities and paint application systems. Their main areas of interest include unique surface qualities, coating thickness, and the creation of unique dosage and application procedures.
In order to satisfy these high-quality requirements, they develop and manufacture critical components in-house, including hardware and software for plant controls, painting robots, paint supplies, dosing systems, atomizers, and color change systems. To meet all of the most recent needs and specifications, they continue to update these technologies regularly.
Download Process Automation Companies in USA & Worldwide (2023) PDF
PDF files are available for download if that's the format you prefer. The download can be started by clicking the link provided here.
Buy Equipment or Ask for a Service
By using Linquip RFQ Service, you can expect to receive quotations from various suppliers across multiple industries and regions.
Click Here to Request a Quotation From Suppliers and Service Providers
Read More In Linquip