Diesel Fuel Supplier & Manufacturers – Any liquid with superior thermodynamic and fuel efficiency is considered to be diesel fuel. It is employed in diesel engines, where the fuel is ignited without the need for a spark. Biodiesel, biomass to liquid, or gas to liquid diesel are only a few of the hydrocarbons that make up diesel fuel. These hydrocarbons are derived from petroleum. Diesel fuel is made from refined crude oil and contains more energy that may be used than gasoline. Natural gas, coal, and animal fat are used in the liquefaction process to create diesel fuel. In contrast to hydrogenated oils and dimethyl ether diesel fuel, which are synthetic and gaseous diesel fuels and project clean combustion, biodiesel fuels made from vegetable oils and their use result in a decrease in unburned carbon dioxide and carbon monoxide. Large amounts of diesel fuel are utilized in passenger and commercial vehicles.

On the Linquip website, among the many options available to you, you will find all the information you need to know about the Diesel Fuel, as well as information regarding this marketplace. You can count on Linquip to provide you with as much general and reliable information about this topic, whether you're a professional or a customer looking for a proper company. We recommend you review a list of all Diesel Fuel Companies available in Linquip.
We would be delighted to provide you with more information on how we can help you generate revenue within your industry. Don't hesitate to contact us if you have any questions! With Linquip's Solutions for Each Company Level, you will be able to upgrade the capabilities of your organization in order to gain a competitive edge by taking advantage of a wide range of options to enhance your organization's performance. If you are looking for the simplest or the most sophisticated marketing and advertising package for your business, we can help you ensure that your company gets as many customers as possible to grow your business. 
What is Diesel Fuel?
The distillate fuel oil marketed for use in automobiles with compression ignition engines is commonly referred to as "diesel fuel," after its creator, German engineer Rudolf Diesel. In 1892, he applied to patent his original idea. The raw materials used to refine diesel fuel are biomass and crude oil.
Diesel engines are used in the majority of freight and delivery trucks, railways, buses, boats, farms, construction, and military equipment, as well as certain automobiles and light trucks. In isolated settlements in Alaska, among other places across the world, diesel fuel is also utilized in diesel-engine generators to provide energy. Diesel generators are commonly used in industrial settings, tall structures, institutional settings, hospitals, and electric utilities as backup and emergency power sources.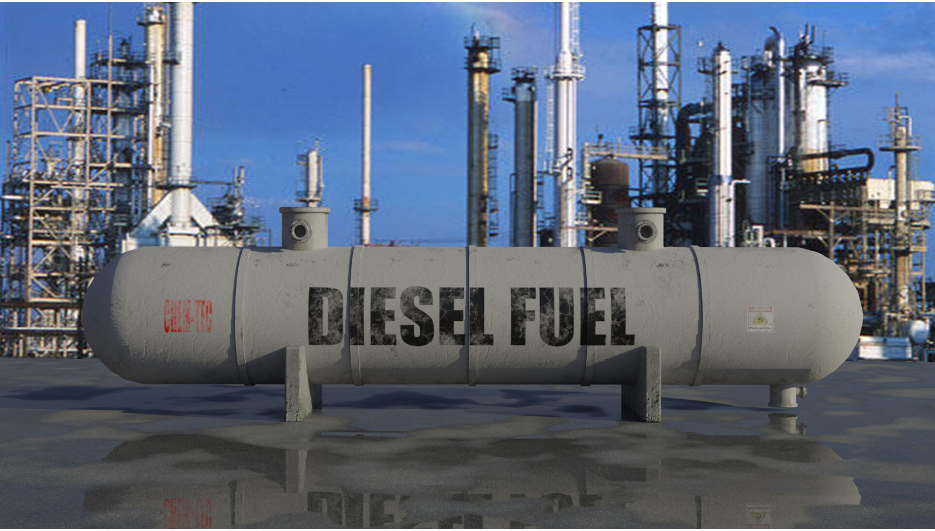 Diesel Fuel Composition
Petroleum refineries transform crude oil into the majority of the diesel fuel that is produced and used in the United States. For every 42-gallon (U.S.) barrel of crude oil processed by U.S. petroleum refineries, 11 to 12 gallons of diesel fuel are produced on average. Diesel fuels made from biomass are also produced and used in the U.S.
Prior to 2006, the majority of diesel fuel sold in the U.S. included a lot of sulfur. Diesel fuel contains sulfur, which contributes to air pollution emissions that are bad for human health. 2006 saw the U.S. To lower the sulfur level of diesel fuel marketed for use in the U.S., the Environmental Protection Agency enacted regulations. Over time, the restrictions were gradually implemented, starting with diesel fuel marketed for use in on-road cars and finally including all non-road diesel fuel. Ultra-low sulfur diesel (ULSD), with a sulfur level of 15 parts per million or less, is the kind of diesel fuel currently available for on-highway usage in the United States. ULSD is also the most common type of diesel fuel offered for off-road (or non-road) use.
Top Diesel Fuel Supplier & Manufacturers
Listed below are the top Diesel Fuel Supplier & Manufacturers, ranked by company size. Each company's information includes its headquarters, sales, year of foundation, and the number of employees. US dollars are used to measure annual sales. Following the table are summaries of each company.
| Company name | Headquarters | Year founded | Number of employees | Annual sale |
| --- | --- | --- | --- | --- |
| Valero | Amarillo, TX | 1969 | 500-999 | $39.2 Bil |
| ExxonMobil | Irving, TX | 1999 | 1000+ | $23 Bil |
| Phillips 66 | Houston, TX | 2012 | 1000+ | $1.3 Bil |
| SC Fuels | Orange, CA  | 1930 | 200-499 | $811 Mil |
| Lykins Companies | Milford, OH | 1948 | 200-499 | $779 Mil |
| Sun Coast Resources, Inc. | Houston, TX | 1985 | 1000+ | $620.0 Mil |
| Superior Plus Energy Services | Rochester, NY | 1922 | 1000+ | $409.9 Mil |
| Petroleum Marketing Group | Woodbridge, VA | 2001 | 200-499 | $296 Mil |
| Kelley Williamson Co. | Rockford, IL | 1924 | 200-499 | $210.2 Mil |
| Wood Oil Co. | Gardena, CA | 1942 | 10-49 | $10 - 24.9 Mil |
Valero
Valero Energy Corporation is a Fortune 500 company that produces and markets electricity, various petrochemical products, and transportation fuels worldwide. Its main office is in the American city of San Antonio, Texas. The company owns and operates a 50-megawatt wind farm, 11 ethanol plants with a combined production capacity of 1.2 billion US gallons per year, and 15 refineries with a throughput capacity of roughly 3 million barrels (480,000 m3) per day throughout the United States and Canada, and one refinery in Wales. With around 6,800 retail and branded wholesale stores operating under the Valero, Diamond Shamrock, Shamrock, Beacon, and Texaco brands in the United States, Canada, the United Kingdom, and the Caribbean prior to CST Brands' 2013 split, Valero was one of the country's major retail operators.
ExxonMobil
The Irving, Texas-based ExxonMobil Corporation is a global American oil and gas company. It was created on November 30, 1999, by the merging of Exxon and Mobil, and is the biggest direct descendent of John D. Rockefeller's Standard Oil.
Phillips 66
An international American energy corporation with headquarters in Westchase, Houston, Texas, is The Phillips 66 Company. When ConocoPhillips successfully spun off its downstream and midstream operations, it made its debut as an independent energy firm.
SC Fuels
Gasoline, lubricant, and chemical distributor. Diesel, regular gas, and alternative fuels are all types of fuel. Oils, lubricants, cleaning agents, degreasers, solvents, additives, and antifreeze are examples of additional items. Deliveries of chemicals, lubricants, and fuel, both branded and unbranded, are among the services offered, along with fleet cards.
Lykins Companies
Petroleum and petroleum-related goods distributor. Diesel and biodiesel fuel, gasoline, propane, and fuel oils for home or business heating, transportation, and bulk wholesale or commercial fuel purchases are all examples of petroleum and petroleum products. The capabilities include installing propane tanks and delivering and transporting fuel products.
Sun Coast Resources, Inc.
One of the biggest wholesale petroleum marketers in the country is Sun Coast Resources, Inc. They provide a wide range of goods and services, such as fuels, water, lubricants, propane, chemicals, oil transportation, emergency response fuel services, and much more. They are licensed in more than 50 states and have 18 facilities in Texas, Oklahoma, and Louisiana.
Superior Plus Energy Services
Distributor of red dye diesel among other diesel fuels. Gasoline, propane, kerosene, and heating oil are some of the other fuel items offered. It also offers services for electricity and natural gas. Also, humidifiers, clock thermostats, indirect hot water makers, air cleaners, air conditioners, heating systems, cooling systems, and heating systems are available. Annual maintenance, efficiency testing, installation, and repair are other services provided. Suitable for both domestic and professional use. Available around-the-clock.
Petroleum Marketing Group
Petroleum goods are distributed by this company, including oils, natural gas, gasoline, biodiesel, and diesel fuels. Franchisee services may include station environmental management and upkeep as well as site engineering, building, project finance, fuel supply, or delivery.
Kelley Williamson Co.
The Kelley Williamson Company, which was established in 1926, is the parent company of KW Oil. They primarily concentrate on managing and providing lubricants and oils to a variety of enterprises in Illinois and Wisconsin. They provide premium oils and lubricants for a wide range of uses, as well as helpful services, including knowledge and advice, Mobil Serv oil analysis, lubricant tanks, and automated tank monitoring systems. Additionally, they oversee roughly 50 modern Kelley's Market gasoline stations and convenience stores located across Northern Illinois and Southern Wisconsin as the parent business of Kelley's Markets.
Wood Oil Co.
Distributor of petroleum goods for business and industry, including diesel fuel. Delivered in a variety of container styles and in short loads or huge bulk amounts of 50 to 5000 gallons. There are services provided for tank testing and cleaning, fuel cleaning and filtration, gasoline pump maintenance, old fuel, waste oil removal, and absorbent removal and disposal. Provides services to a variety of industries, including landscapers, construction sites, equipment rentals, hospitals, hotels, golf courses, office complexes, and healthcare facilities.
Download Diesel Fuel Supplier & Manufacturers PDF
PDF files are available for download if that's the format you prefer. The download can be started by clicking the link provided here.
Buy Equipment or Ask for a Service
By using Linquip RFQ Service, you can expect to receive quotations from various suppliers across multiple industries and regions.
Click Here to Request a Quotation From Suppliers and Service Providers
Read More In Linquip