USA Metal Supplier & Manufacturers in 2023 – Most manufactured items need some kind of metal part to act as a support, cage, framework, or enclosure. Metals are an important component of contemporary manufacturing due to their ability to be molded, structured, or molded to suit any sort of application. Metal suppliers and manufacturers must work together to make raw materials accessible in order for metal goods to be produced and manufactured.
On the Linquip website, among the many options available to you, you will find all the information you need to know about the various metals, as well as information regarding this marketplace. You can count on Linquip to provide you with as much general and reliable information about this topic, whether you're a professional or a customer looking for a proper company. We recommend you review a list of all Metal Companies available in Linquip.
We would be delighted to provide you with more information on how we can help you generate revenue within your industry. Don't hesitate to contact us if you have any questions! With Linquip's Solutions for Each Company Level, you will be able to upgrade the capabilities of your organization in order to gain a competitive edge by taking advantage of a wide range of options to enhance your organization's performance. If you are looking for the simplest or the most sophisticated marketing and advertising package for your business, we can help you ensure that your company gets as many customers as possible to grow your business. 
Basics of Metals
To serve as a support, cage, framework, or enclosure, most manufactured goods require some sort of metal component. Because they may be shaped, constructed, or molded to fit any purpose, metals are a crucial part of modern production. In order to develop and manufacture metal items, metal suppliers and manufacturers must collaborate to make raw materials available.
Classifying metals into a single type or kind is difficult since most metals are alloyed to increase their resistance, stability, and strength. Rarely is a pure metal used in the production of a product. Vendors and manufacturers always look for ways to improve their products by employing higher-quality materials.
An alloy, in the simplest terms conceivable, is a combination of metals intended to bring forth their greatest qualities and conceal their weaknesses. Through the alloying process, many of the materials we utilize are strengthened for durability. The qualities of metals, such as their hardness, corrosion resistance, malleability, temperature tolerance, and flexibility for use in industrial processes, are improved by alloys.
One of the most common alloys is aluminum, a naturally occurring soft metal that can be molded and sculpted to serve a number of functions when alloyed with harder metals. Aluminum is utilized in a variety of ways in houses, machines, buildings, and automobiles, including as a decorative component, window frame, door, or roofing material. The versatility of aluminum makes it the metal of choice for designers. The use of aluminum that most of us are acquainted with is in aluminum cans, which are easily recyclable.
Due to its versatility, aluminum is a very reliable and long-lasting metal that is frequently used in the extrusion industry. Aluminum is widely used in extrusion because of its outstanding strength-to-weight ratio and low cost. A benefit of using aluminum is that it can be formed into a variety of profiles, including pipes, tubes, lighting fixtures, and vehicle trim.
Despite aluminum's better looks, copper has a wide range of applications that are increased when it is alloyed with tin or zinc to produce bronze or brass. Copper and its alloys, including bronze and brass, are frequently employed because of their attractive appearance and resistance to rust and corrosion. They are great materials for manufacturing wire because they are easy to pull through an extruder, have a soft texture, and have good conductivity. Copper is highly coveted because it can be used to make pipes.
The most popular industrial alloy, stainless steel, is utilized to make a variety of products. Since its discovery in 1913, stainless steel has grown to play a significant role in practically every industry that produces things from metal. Due to its dependability, strength, and resistance to corrosion and rust, stainless steel is widely utilized in aircraft, automobiles, cookware, construction, and other industries.
Although alloys are the more common form of metal, a naturally occurring metal called nickel is also quite popular for its unique properties. Two naturally occurring elements that can be found together in nature are iron and nickel. Malleability, ductility, heat resistance, toughness, ferromagnetism, and resistance to rust and corrosion are just a few of the features that make it so valuable. Numerous other metals, including chromium, iron, and copper, may be easily alloyed with nickel to enhance its natural properties and attributes.
Two other naturally occurring metals, tungsten and titanium, have properties similar to nickel. When alloyed with steel, iron, or aluminum, tungsten and titanium get stronger intrinsic characteristics. Tungsten and titanium are utilized in a wide variety of items, much like stainless steel, from jewelry to essential components for spacecraft.
The composition and qualities of metals and metal alloys have led to the creation of anything from powerful industrial magnets to coated and treated construction materials. Because they may be altered to suit any purpose, metals are crucial to production.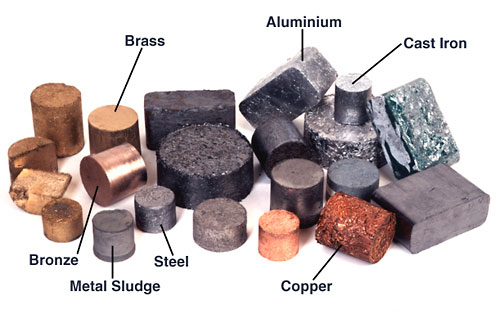 Top Metal Suppliers and Manufacturers in USA
Listed below are the top Metal Suppliers in America, ranked by company size. Each company's information includes its headquarters, sales, year of foundation, and the number of employees. US million dollars are used to measure annual sales. Following the table are summaries of each company.
| Company name | Headquarters | Year founded | Type of Business | Annual sale |
| --- | --- | --- | --- | --- |
| Ulbrich Stainless Steels & Special Metals, Inc. | North Haven, CT | 1924 | Manufacturer | Over $250 Mil |
| Infra-Metals Co. | Langhorne, PA | 1991 | Manufacturer | Over $250 Mil |
| Penn Stainless Products, Inc. | Quakertown, PA | 1949 | Manufacturer | $100-250 Mil |
| Indium Corporation | Clinton, NY | 1934 | Manufacturer | $25-50 Mil |
| Clingan Steel, Inc. | Elk Grove Village, IL | 1962 | Manufacturer | $25-50 Mil |
| Reliable Source, Inc. | Fontana, CA | 2000 | Manufacturer | $10-25 Mil |
| Belmont Metals, Inc. | Brooklyn, NY | 1896 | Manufacturer | $10-25 Mil |
| Bellman-Melcor, Inc. | Tinley Park, IL | 1963 | Manufacturer | $10-25 Mil |
| R.D. Mathis Company | Signal Hill, CA | 1953 | Manufacturer | $5-10 Mil |
| Johnson Bros. Metal Forming Co. | Berkeley, IL | 1948 | Manufacturer | $5-10 Mil |
Ulbrich Stainless Steels & Special Metals, Inc.
The development of the jet aircraft industry shortly after World War II increased the demand for high-performance metals. Ulbrich went on to supply metal for various aerospace applications, including the B-1 Bomber, various jet fighters, and the Space Shuttle, after making a substantial investment in quality control systems and cutting-edge production machinery. Ulbrich added other specialty alloys as clients started broadening their horizons, including titanium and titanium alloys, cobalt alloys, and nickel and nickel alloys.
The Biggest Little Mill in the Country was in desperate need of a nationwide distribution network by the 1960s. Alsip-based Ulbrich of Illinois was the company's first service facility for stainless steel strips. Ulbrich of Georgia and Ulbrich of California adopted it, and it enabled Ulbrich to provide greater service to local markets. Fred Ulbrich, Jr. and Richard Ulbrich, sons of Fred Sr., took over management of the company at this time.
The original Wallingford factory, now known as Ulbrich Specialty Strip Mill (USSM), added new rolling mills and annealing furnaces to keep up with technology and customer demands as the service centers were opening and started to prosper. Ulbrich created a new product line and established the Ulbrich Shaped Wire business, which is based in North Haven, Connecticut, in response to clients' increasing need for thinner and tighter widths for their precision strip orders.
Infra-Metals Co.
Infra-Metals is one of the biggest structural steel service suppliers in the US, offering an incredibly broad range of goods and services. They specially customize our centers to satisfy the requirements of the areas they serve, and they uphold a persistent dedication to delivering premium products and services quickly and affordably.
They have a wide variety of items in their enormous inventory, from beams and tubes to sheets, channels, and expanded metal, and can handle almost anything, from drilling and cutting to blasting and painting. For all of your needs involving structural carbon steel, turn to Infra-Metals.
Penn Stainless Products, Inc.
When Penn Stainless Products, Inc. was first established in 1949, it operated as a fabrication company under the name Schrader's Stainless. The current management purchased this 5,000-square-foot company in Quakertown, Pennsylvania, in 1979 and set its sights on distribution and processing. Moving to a site in Trumbauersville, Pennsylvania, in 1983 and subsequently, to the current location, a 100,000 square foot facility in Quakertown, Pennsylvania, were both influenced by slow planned expansion. In order to provide our clients with the best quality stainless steel products and in-house processing possible, Penn Stainless Products, Inc., a complete line service center, continuously improves its systems.
Indium Corporation
The global electronics, thin-film, semiconductor, and thermal management sectors are served by Indium Corporation, a leading manufacturer and supplier of materials in these industries. Products include brazes, thermal interface materials, sputtering targets, brazes, solders, fluxes, indium, gallium, germanium, and tin metals, as well as NanoFoil®. The 1934-founded business includes facilities in China, India, Malaysia, Singapore, South Korea, the United Kingdom, and the United States and provides global technical assistance.
Clingan Steel, Inc.
By providing a variety of steel coil goods and services under one roof, Clingan aims to efficiently and cheaply support firms in the metals sector and handle numerous specific things that its rivals are unable to provide. Slit, slit and edged, as well as slit, edged, and cut to length, are available. They take great satisfaction in being receptive to customer demands. They offer the most flexibility possible to quickly fulfill all requests, whether routine or urgent. Clingan's trucks or a common carrier, depending on which will best meet the demands of the customer, will deliver shipments.
Reliable Source, Inc.
Experts in tubing, large and small outside diameters, thin and thick walls, extrusions, tubes, pipes, alloys made of stainless steel, aluminum, titanium, nickel, copper, brass, and bronze. They can offer useful services and high-quality goods at incredibly low costs. Give them a chance to lower the material and labor costs for your business.
Belmont Metals, Inc.
Non-Ferrous Specialists since 1896, Belmont Metals Inc. has been a supplier of non-ferrous metals and alloys for casting, brazing, plating, chemicals, soldering, and other applications. Alpro, Anti-Friction, Beryllium Copper, Art Casters' Brass, Britannia, Diesel, Copper Hardened, Everdur Silicon Bronze, Jewelers' Manganese Bronze, Genuine, Levalloy I & II, Marine, Micrograin, Nickel Treated, Miter-Al-Braze, Pewters, Special H Silicon, and Herculoy, Superdie Zinc Alloys, and White Bronze are some examples of high purity metals and low melting alloy
Bellman-Melcor, Inc.
Manufacturer of brazing and soldering alloys and preforms, both standard and customized. ChannelFlux, silver, copper, phosphorous copper, copper, plymetal, and soft solder alloys. Various flow temperatures and melting points. Fluxes and laminates for brazing and soft soldering are available. Preforms come in a variety of shapes, in addition to wire and rod, including discs, rings, wire, shims, strips, cut-offs, washers, edgewounds, and slug. Services include production planning, engineering, material selection, design, cleaning, technical assistance both on- and off-site, inventory management and tracking, training, and stamping.
R.D. Mathis Company
High purity and refractory evaporation metals are produced in a variety of sizes and shapes, including pellet, wire, chunk, rod, granular, shot, and sheet or plate. Types include titanium, titanium oxide, zinc, zinc sulfide, and zirconium, as well as aluminum, chromium, cobalt, copper, hafnium, germanium, indium, nichrome, iron, permalloy, nickel, and silicon. There are also silver, gold, platinum, palladium, and other metals accessible.
Johnson Bros. Metal Forming Co.
Manufacturer of channels, profiles, moldings, angles, tubes, rings, rims, railings, brackets, Z bars, and clamps in both standard and bespoke sizes. Additional products include plates, panels, fins, track caps, slats, strips, gaskets, and flashings. Services for roll forming and fabrication are offered. Serves the military, agricultural, architectural, beverage, conveyor, ceiling, electrical, textile, and woodworking sectors. Produced in the USA.
Download USA Metal Suppliers & Manufacturers PDF
PDF files are available for download if that's the format you prefer. The download can be started by clicking the link provided here.
Buy Equipment or Ask for a Service
By using Linquip RFQ Service, you can expect to receive quotations from various suppliers across multiple industries and regions.
Click Here to Request a Quotation From Suppliers and Service Provider
Read More In Linquip