There are a lot of types of valves used in residential areas or industries. Each of these valves are used for a purpose. some of them are used to control the flow while some others are used just to shut off the flow. So far, we have delivered information about many types of valves such as globe and ball valves. Now in this article we are going to provide you with some beneficial information about another type of valve called angle valve. Linquip, as always, tries to collect the most important information for you so that you know which type of valves are better for you.
For reduced erosion, flashing, or cavitation damage, the Angle Valve can have cage-style construction or extended outlet connections, limited trim, or outlet liners. Products Like Angle Valves Are Used in A Variety Of Industrial Applications, including plumbing systems. Angle Valves are provided by several Suppliers and Companies, different manufacturers, and a lot of distributors and there are a lot of Angle Valves for Sale on Linquip.
There is a complete list of Angle Valve services on the Linquip website that covers all of your needs. Linquip can connect you with a number of industrial Angle Valve service suppliers and experts. Linquip Provides a List of Angle Valve Specialists who can help you with equipment testing.
In the following section we deliver a definition of this type of valve, we make it clear how it works and what it is mostly used for?
⇒ View a List of Angle Valves for Sale and Their Suppliers ⇐
What Is an Angle Valve?
An angle valve has an inlet and an outlet port which are perpendicular to each other. It is sorted as the manual valves and it is usually used to prevent or control the flow of a liquid in a pipe and this is the reason for it is sometimes called simply as stop valve. Stop valves are valves that entirely stop the flow of the liquid inside the pipe. But angles are mostly used as regulating device in residential plumbing and industry. Angle stops usually have an oval knob or twist handle. In public places where vandalism or stealing is a matter, removable handles are a great solution. The old version of angles' knobs need to be rotated many times to make the flow shut off. But now most of the manufacturers provide angles with a ¼ turn handles to shut off the flow as fast as it is possible in emergency situations. Angle valves are the most common-in-use valves that we see everyday around; For example, there is often one connected to toilet and two to faucet allowing you to work on the repair of faucet without having to shut off the water of the whole house.
Now that you are well acquainted with this valve, let's have a look at the most common applications of this type of valve:
Angle valves are mainly used for two reasons:
If you are upgrading or renewing your faucet or other fixtures or have to repair them in your home instead of cutting the flow of water in your entire home plumbing, you can simply use the angle stop valve to shut off the water to just that single appliance or fixture which needs to be repaired.
At the time of water leakage or even complete burst, you can use the angle stop to shut off the flow to that appliance or fixture until the proper repairs are made.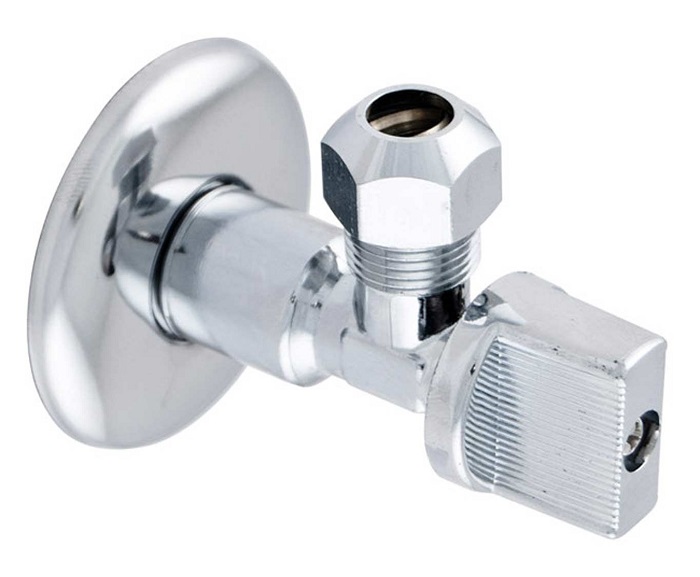 An Elaboration on Features and Functions
An angle valve is used in many settings from the home toilet to a ship and other equipment in industries, it is an important component of many machines and allows for the safe processing of a variety of liquids, chemicals, and gases. In the following sections we are going to elaborate on the most important features and functions of angle valves.
Features and Functions
Angle valves have many designs and sizes. The scope of the project and the size of the piping determine the size and design. Larger and higher quality angle valves are recommended for heavy processes. Based on the mechanical function and materials used in valves each angle stop valve is equipped to handle a certain amount of pressure.
Types of seal, plug, and stem are important determiners in the terms of efficiency. What angle valves are usually used for is to regulate or control the flow and to reduce pressure. They may also have some influences on temperature.
The mechanisms used to reach these functions  may differ. For example, angle valves can be used as shutoff valves, needle valves, check valve or stop-check valves.
Material Selection
The best material for angle valves is copper; it lasts for a relatively longer period of time and provides a better service. In comparison to copper, zinc alloy is easy to aging, and provides a shorter life service. Plastic or PVC is not beautiful and lasts shorter. In addition, the gloss and luster of metal alloys has a better look.
Where Do You Need to Use Angle Valves in Home?
Generally, there are four points at home that need to use the angle stop valves: cold water angle stop valve on toilet water nozzle, wash basin, wash basin on the nozzle respectively need a cold and a hot angle stop valves, the sump on the sink needs a cold and a hot valve and water heater on the water nozzle needs two cold valves. In addition, if you are equipped with water purifier, it also needs to install angle valve for cold water.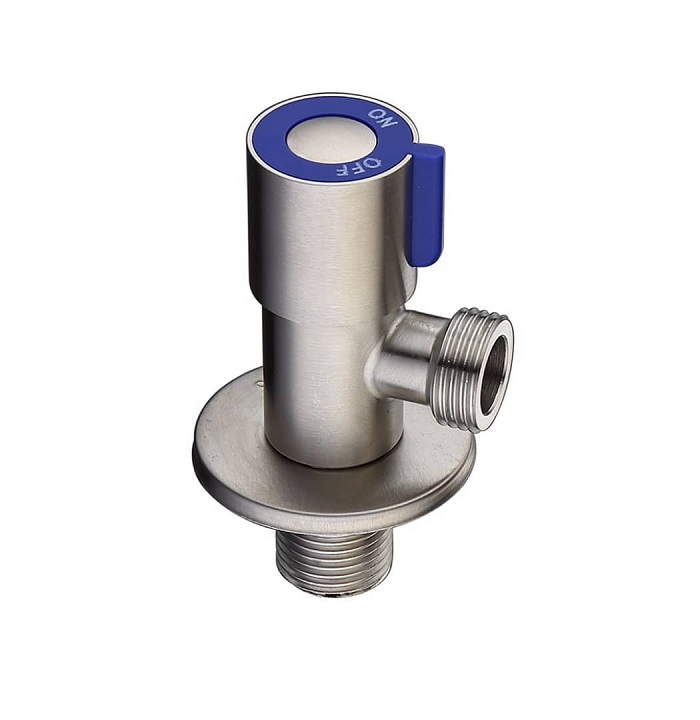 When Do Angle Stop Valves Need to Be Replaced?
There are plenty of reasons that a plumber may recommend you to have your angle stop valves replaced. But one of them is common; If the repairman notices a leak around the valve, this is a sign for replacing an outdated angle stop valve before it completely bursts and causes major water damage inside your home.
There are other reasons for the replacement of valves; Older angle valves, normally were never designed to last.  After 8-10 years of not being used and just with the first use after installation, the compression part of the valve tends to fail. Apparently, there is no leakage but it is the very beginning of the state that leaves your home vulnerable to future leaks and completely broken or burst shutoff valves which more often happen in the middle of night or when you are not at home. This is why repairmen suggest you replace the older angle stop valves. In contrast, the newer version of angle stop valves like quarter-turn shut-off valves are made to last. They are made of stainless steel so there is no possibility for water burst and consequently there is no reason to have any kind of fear of valve leakage while you are not at home.
The Use of Angle Valves in Industry
for almost every mechanical operation which needs to be in control of flow, temperature, and pressure, there is a need for angle valves. However, valves used for industrial operations must be 100% reliable and dependable in order to be sure of safety and efficiency of operations.
Conclusion
In this comprehensive presentation of angle valves, we tried to provide essential information in order to have a better sense of experience and minimum level of troubles in operations. Linquip has gathered all the useful data to save the time of search for you to reach information about angle valve better and sooner. But it's okay if you still have some troubles to choose the best for your application. Our experts are ready to answer your questions. All you need to do is to sign up in our website. Besides, If you have any experiences of using angle stop valves, or have some opinions about the topic, please share them with all of us by writing them down in comments.
Buy Equipment or Ask for a Service
By using Linquip RFQ Service, you can expect to receive quotations from various suppliers across multiple industries and regions.
Click Here to Request a Quotation From Suppliers and Service Providers
Download Angle Valve PDF 
Read More on Linquip