Top Fastener Suppliers & Manufacturing – To link and secure things together, a range of screws, bolts, nuts, and other tools are referred to as "fasteners." Fasteners come in more than 500,000 different varieties and are used in a wide range of commercial, industrial, and consumer product situations. There are several manufacturers, distributors, Suppliers, and Companies that offer fasteners, and Linquip has a big collection of Fasteners for Sale.

Linquip's website has a comprehensive list of fasteners services for all OEM fleets. Vendors from Linquip can help you with this. To learn more about how to connect with a varied collection of service providers who consistently produce high-quality products, please contact Fastener Experts.
Fasteners are tools that make mechanical couplings between two items that are non-permanent or semi-permanent, as their name indicates. In contrast to welding, gluing, or cementing, fasteners used in this type of coupling rely on mechanical forces rather than heat or chemical bonding to hold two pieces together. Fasteners differ from rope, wire, and wrapping in that these techniques are too versatile to be referred to as simple fasteners.
What is a Fastener Supplier?
Casting, milling, injection molding, and several more production techniques are used by fastener makers to provide fastening technology for customers. Depending on the firm, they may concentrate on ASME, ANSI, ISO, or other standardized fasteners, bespoke fasteners, materials, or both. Fastener makers frequently create huge numbers of components using casting technology, automated machinery, and control systems to maintain high productivity because the unit costs of such tools are generally low.
Companies that distribute or supply fasteners, either from their production capabilities or from another fastener producer, are known as fastener suppliers. They frequently modify their business to supply particular fastener types to particular industries, such as the military, construction, or medical uses, to mention a few. In order to target a certain market sector, they might also specialize in unusual material kinds or concentrate on fasteners of a particular size.
This article will demystify the market by listing the top fastener suppliers and manufacturers, just as there are hundreds of different fastener kinds and even more fastener manufacturers and suppliers.
For your convenience, Linquip conducted market research and developed a list of the most trusted names to help you choose businesses that promise on-time delivery and provide individualized care. To assist you in making the best choice possible, this extensive collection offers analytical information, testimonials, and ratings. Look over this list of fastener suppliers to choose which one best suits the needs of your company.
Top Fastener Suppliers in the USA
The makers of the fasteners are listed in the table below. Table 1 contains relevant information on the top fastener suppliers in the USA.
| Company | Headquarter | Year founded | No. of Employees |
| --- | --- | --- | --- |
| Ford Fasteners, Inc. | Fairfield, NJ | 1963 | 150 |
| CPC | St. Paul, Minnesota | 1978 | 1100 |
| Fastco Industries Inc. | Grand Rapids, MI | 1970 | 70 |
| The Rodon Group | Hatfield, Pennsylvania | 1956 | 200 |
| U.S. Titanium Industry Inc. | Baldwin Park, California | 1950 | 200 |
| Armour Screw Company | Elk Grove Village, IL | 1955 | 60 |
| Chicago Rivet & Machine Co. | Naperville, Illinois | 1920 | 250 |
| Clampco Products, Inc. | Wadsworth, Ohio | 1971 | 500 |
| EPS | Alpharetta, Georgia | 1986 | - |
| Suncor Stainless, Inc. | Plymouth, Massachusetts | 1985 | 50 |
Ford Fasteners, Inc.
The business is known for its top-notch goods, responsive customer service, and dependability. They know that their customers appreciate the commitment to employing the best materials and production processes since all of our fastener products are made to last. Visit their website right now or get in touch with them by phone if you want to know more about them.
CPC
Manufacturers of quick detach couplings, fittings, connectors, and fasteners for plastic tubing used in a range of industries include CPC (Colder Products Company) of Saint Paul, Minnesota. They create approximately 10,000 bespoke and standard devices for fluid handling applications, and they provide both standard and custom goods made of a variety of plastic materials.
Fastco Industries Inc.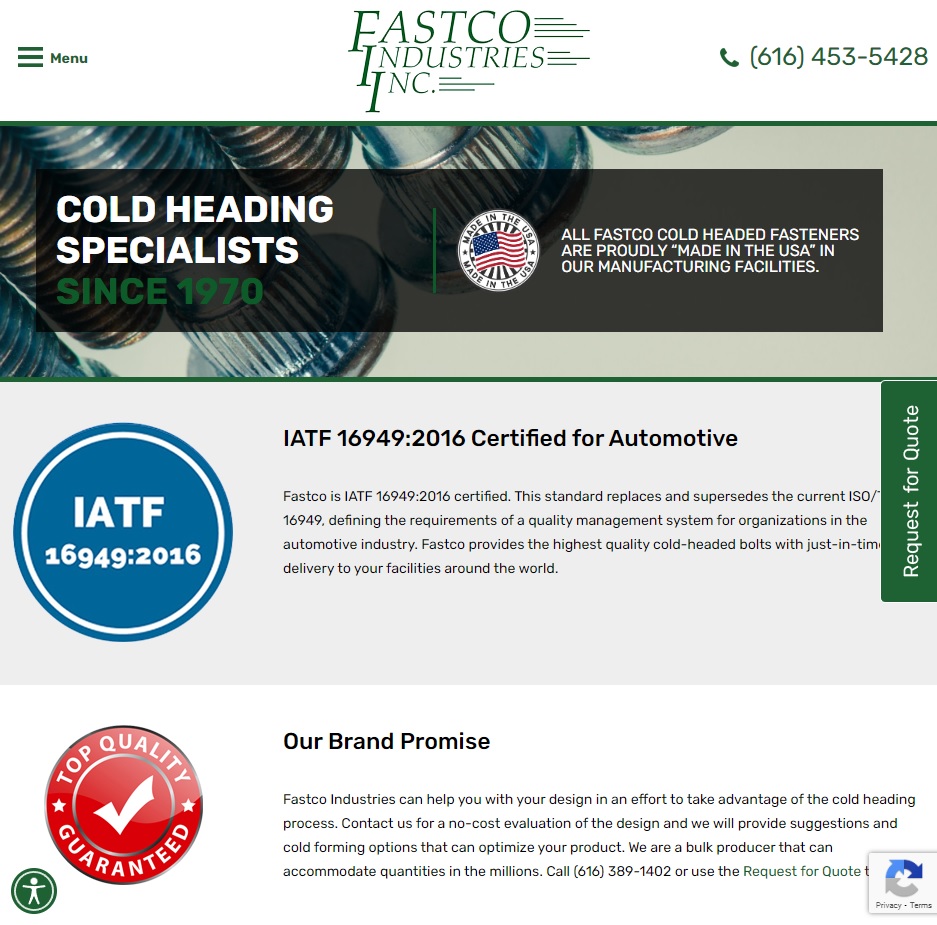 Fastco Sectors, Inc. is cold headed fastener manufacturer that provides the construction, material handling, and automotive industries with specialized bolts, rivets, screws, and pins. In-house tool production enables quick lead times. Engineers on-site offer knowledgeable assistance. For a quotation, call right away!
The Rodon Group
Custom maker of high-volume plastic injection molding systems is The Rodon Group of Hatfield, Pennsylvania. The food and beverage, window and door, and medical industries all get their bespoke components from Rodon, and the company employs automated production techniques to offer JIT shipping in big numbers. They will design, tool, build, and transport your product without any fuss, and they provide both standard and bespoke fasteners and parts.
U.S. Titanium Industry Inc.
U.S. Titanium Industry Inc. produces a variety of high-performance alloy products as well as raw titanium stock, tubes, sheets, pipe fittings, forgings, wire, machined components, fasteners, and castings. Their titanium fasteners are used in the racing, marine, aerospace, military, medical, and other sectors. They are available in several alloy kinds. Their main office is in Baldwin Park, California.
Armour Screw Company
Armour Screw does more than just sell fasteners; they treat their clients like real business partners, working to maximize their profitability by offering the best industrial screw, bolt, or other components for your application whenever feasible. No one surpasses Armour when it comes to quality, knowledge, and competence, as well as pricing, selection, and service when it comes to product creation.
Chicago Rivet & Machine Co.
Cold-headed fasteners, rivets, riveting equipment, and customized products are all produced by Chicago Rivet & Machine Co. for the industrial fastener market. Along with producing and offering rivets and related equipment, CR &M also repairs and rebuilds its rivet machines and makes service calls for their clients. They are based in Naperville, Illinois.
Clampco Products, Inc.
Hardware clamps, flanges, t-bolt band clamps, as well as other unique clamps, fasteners, and handles are produced by Clampco Products, Inc. They cater to the automotive, aerospace, filtration, construction, marine, irrigation, material handling, medical, truck, water treatment, and other sectors and concentrate on producing rubber hose, plastic tubing, and comparable goods. Their main office is in Wadsworth, Ohio.
EPS
Based in Alpharetta, Georgia, EPS is a specialized maker of metal hardware, fasteners, and standard and bespoke cold-formed parts. With secondary CNC machining, knurling, threading, shaving, drilling, heat treating, tapping, plating, and other forming capabilities to fulfill any fastener demand, EPS offers both cold forming services and distribution warehouses. They provide services to the HVAC, lawn & garden, heavy equipment, and automotive sectors.
Suncor Stainless, Inc.
Stainless-steel hardware is produced by Suncor Stainless, Inc. for the maritime, industrial, architectural, commercial, government, and OEM industries. They provide a variety of products that are all protected by Suncor's limited lifetime guarantee, such as anchors, chains, deck and awning hardware, eye bolts, general fasteners, hinges and hasps, hooks, clips, mil-spec hardware, threaded fasteners, turnbuckles, and more. Their in-house product development staff will guarantee that goods transported from their Plymouth, Massachusetts factory is useful, of high quality, and delivered on time.
Top Fastener Suppliers all over the World
The makers of the world's largest fasteners are listed in the table below. Here is a comprehensive list of the top 10 fastener suppliers in the world to save you time and effort.
| Supplier | Headquarter | Year founded | Annual Sales (b) |
| --- | --- | --- | --- |
| Wurth Group | Künzelsau, Germany | 1945 | 17.1 |
| Southern Fasteners & Supply, Inc. | Winston‑Salem, North Carolina | 1982 | 0.5 |
| Alcoa Corporation | Fayetteville, Arkansas | 1888 | 12.1 |
| LISI Group | Paris, France | 1986 | 0.6 |
| ARaymond | Grenoble, France | 1865 | 1.2 |
| Fontana Gruppo | Veduggio, Italy | 1952 | 0.1 |
| Accurate Manufactured Products Group, Inc. | Indianapolis, IN | 1987 | 0.7 |
| KAMAX Group | Homberg, Germany | 1939 | - |
| Aoyama Seisakusho | Aichi, Japan | 1950 | - |
| Agrati Group | Veduggio, Italy | 1939 | 0.3 |
Wurth Group
The Wurth Group, a market leader in the fastening materials sector, has more than 400 firms operating in more than 80 nations and serves 3.6 million clients worldwide. For use in automotive, chemical, tooling, and a variety of other industries, Wurth is a supplier of fasteners, chemicals, safety items, tools, and inventory management systems. The location of its worldwide headquarters is Künzelsau, Germany.
Southern Fasteners & Supply, Inc.
They can choose the exact fasteners from the collection of more than 130,000 distinct types based on your application. They evaluate them for measurement precision and material composition. With the help of the Vendor Management Inventory service (VMI), the Service Technicians keep an eye on your requirements and keep you constantly supplied. The ability to uphold system standards that guarantee the fasteners we sell are the best components available is made possible by both ISO 9001 and AS9120B certifications.
Alcoa Corporation
The Alcoa Fastening Systems business unit is a leading global designer and producer of specialty fasteners, fastening systems, components, and related equipment for aerospace, defense, and commercial markets. Alcoa Corporation is a leading global manufacturer of aluminum and maker of products containing aluminum. Howmet Aeronautical, its most recent independent spinoff, also offers industrial fastening technologies for aerospace applications. Their head office is in Fayetteville, Arkansas.
LISI Group
A global maker of metal components for the aerospace, automotive, and medical sectors is LISI Group. They provide fastening systems and parts for healthcare, automotive, aerospace, and military applications worldwide through its three primary divisions, LISI Medical, LISI Automotive, and LISI Aerospace. They have 45 industrial locations spread over 13 nations, all of which are managed from its Paris, France, headquarters.
ARaymond
Fastening solutions for the automotive, industrial, energy, agricultural, and life sciences areas are produced and designed globally by ARaymond, a French company. With locations in 25 countries and more than 7000 personnel, they developed over 1000 novel fastening solutions alone in 2018. Their headquarters are in Grenoble, France.
Fontana Gruppo
Based in Veduggio, Italy, Fontana Gruppo is a conglomerate of international producers of standardized fasteners, custom components, patents, structural goods, and other fastening solutions. With its 50+ global sites, they provide services to the distribution, automotive, agricultural, building & construction, earthmoving, powertrain, aerospace & military, and general engineering industries.
Accurate Manufactured Products Group, Inc.
Designing and producing fasteners, production aids, and other measuring tool accessories that meet your demands is the company's primary emphasis. They dispatch the in-stock products from the huge collection within a day. Their crew is made up of specialists in producing products on demand fast, at extremely low rates, and with assured client satisfaction.
KAMAX Group
In 12 international sites, KAMAX Group is a top producer of high-strength fasteners and cold-formed parts for automotive applications. Ford, Honda, Mack, Hyundai, ISUZU, Land Rover, Jaguar, Johnson Controls, KIA, and several more well-known companies are among its clients. The location of its global headquarters is Homberg, Germany.
Aoyama Seisakusho
Aichi, Japan-based Aoyama Seisakusho is a prominent global producer of automobile fasteners. With direct access from their facilities, they can handle wire drawing, cold forming, rolling, heat treatment, surface treatment, and shipping for clients in 6 different countries.
Agrati Group
An international manufacturer of fastener solutions for OEM and Tier 1 clients is the Agrati Group of Veduggio, Italy. They have 12 production facilities that can produce 160,000 tons of product annually and 40 million parts per day. They cover three continents and provide services to the automotive, OEM, distribution, and other industrial areas.
Summary
Linquip is your best choice if you're seeking a firm that can offer you high-quality fasteners that meet your expectations. Visit our website and contact Linquip's Fasteners Experts for more details. This video can help you to know the fasteners clearly.
Download Fastener Suppliers PDF
Buy Equipment or Ask for a Service
By using Linquip RFQ Service, you can expect to receive quotations from various suppliers across multiple industries and regions.
Click Here to Request a Quotation From Suppliers and Service Provider
Read More In Linquip