Best Circular Saws in the USA- Carpenters, homeowners, do-it-yourselfers, and professionals in the handy industry all need Circular Saws. They are among the best power tools for woodworking and among the most effective cutting tools on the market. They can also cut masonry, porcelain, metal, and plastic with the right blade.

All OEM fleets can access a complete list of circular saw services on Linquip's website. Linquip vendors can assist you with this. Please get in touch with circular saw experts to find out more about how to find a wide range of Service Providers who consistently deliver high-quality goods.
Circular saws are available from a wide range of Suppliers and Companies, as well as manufacturers and distributors, and Linquip has a large selection of circular saws for sale.
A high-quality circular saw has a strong blade that can cut through wood, making it a dependable worker for do-it-yourself projects around the house. Depending on the power source, circular saws can be either corded or cordless. The power of a corded circular saw is expressed in amps, but the power of a cordless circular saw is expressed in volts. The cutting power increases with the amps or volts. In our internet research, we looked at the top circular saws and considered their strength, precision, use, and durability.
What to Consider Before Buying a Circular Saw
Everyone can discover a circular saw that matches their needs, regardless of their financial situation or level of experience. Overall, the performance and usefulness of most circular saws are quite comparable. However, there are some things to take into account when buying a new circular saw. The power source, speed, blade size, weight, and features are the most crucial factors.
Wired vs. Wireless: Unless you use a long extension cable, wired circular saws can only be used in a certain location since they need a power source. Electric power in a wired circular saw is expressed in amps; the more the amps, the more power you will have. Battery-operated cordless circular saws provide you the freedom to take your tool anywhere. Look at the tool's voltage to get an idea of its power capacity. Circular saws with batteries typically have voltages between 18 and 24 volts. These two circular saws have relatively similar cutting capacities.
Style: There are two styles of circular saws: worm-drive and sidewinder. Worm-drive saws typically provide right-handed users with excellent sight because the engine is situated behind the blade, which is located on the left. Direct drive saws, also referred to as sidewinder saws, have the engine positioned right next to the blade (which is often on the right). The saw may be easier to handle, but since the engine side will be heavier, the saw may also become slightly unbalanced.
Blade Size: The size of the blades used by circular saws is used to measure them. They are available in various dimensions, such as 7 1/4 inches, 6 1/2 inches, and 4 inches. A 7 1/4-inch circular saw is the most popular size among experts and do-it-yourselfers.
Power: The motors in corded circular saws are measured in amps. The benchmark for a circular saw that can handle the majority of do-it-yourself projects is a 15-amp motor. Although there are affordable 10-amp and 12-amp tools available, they are typically only appropriate for light jobs. Today's cordless circular saws use lithium-ion batteries, which are typically 18 volts. However, there are also more potent 20-volt models available, which are a fantastic option if you frequently use your saw for extended periods or work with bulky or heavy materials.
Speed: In circular saws, the speed is expressed in revolutions per minute (RPM). The cut progresses more quickly and smoothly the higher the RPM. The majority of wired circular saws operate at 5,000 RPM or less. The tiny difference in performance between battery-powered ones and their equivalents, though, shouldn't be a deal-breaker.
Weight: Circular saws weigh between 4 and 13 pounds, based on their size. The base plate is the element that has the most impact on the weight of circular saws. The majority of base plates for circular saws are constructed of steel, aluminum, or magnesium. The most expensive and lightest are constructed of magnesium, while the heaviest is composed of steel.
Corded or Cordless: A wonderful benefit for an outdoor job site is the freedom and flexibility that cordless circular saws provide to cut anything, anywhere. However, cordless devices also often have less power, and their operating time is constrained by battery life. A corded saw, on the other hand, often provides more cutting power and can operate for as long as it is plugged into an electrical outlet.
Features: When it comes to practical characteristics, circular saws are very similar. These features include a lever to alter angles from zero degrees up to 55 degrees or more and a blade depth adjuster. However, a lot of them have features that enhance and secure the user experience. A laser guide, LED light, electric stop, dust collector, and built-in hooks are a few of these characteristics.
Reviews of the Best Circular Saws
SKILSAW SPT67WL-01 Circular Saw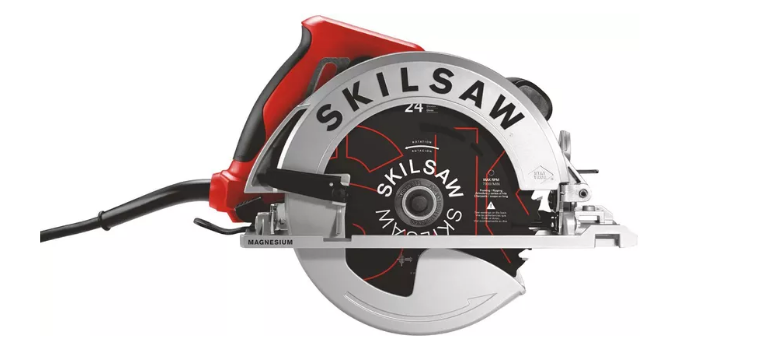 General Descriptions
The SPT67WL-01 is 8.6 pounds light, making it one of the market's smallest Pro circular saws. You will immediately realize the difference a lightweight saw can make while working on jobs that last all day. You may increase your range with a 10-foot power line without having to worry about a battery dying. But don't mistake the saw's small weight for a weakness in terms of its strength, precision, or adaptability. Its 15-amp motor, which can spin the blade up to 5,300 rpms, is made to stay cool even during prolonged work hours. This is a fantastic option for professionals who perform a lot of framing or other construction work in addition to DIYers.
A standard 7-1/4-inch blade that can be tilted up to 56 degrees is included with the saw and allows you to bevel cuts through soft, hard, or engineered wood. Common cuts are sped up by the 45-degree angle at which the till locks. Additionally, you can quickly adjust the saw for a range of typical depths, including 14 ply, 12 ply, 34 ply, and 2x boards, thanks to the depth-of-cut system. The built-in dust blower helps you retain the accuracy you want by keeping your line of cut visible.
Skil 5180-01 Circular Saw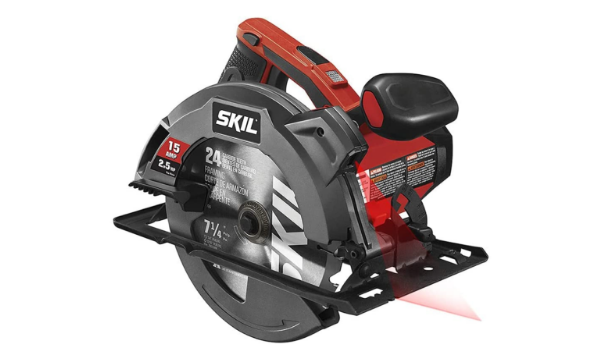 General Descriptions
If you're shopping for the newest and greatest models, conventional circular saws might soon approach those prices. The most expensive saws won't be appropriate for folks who occasionally do weekend or DIY projects. The Skil 5180-01 is a great low-cost option since it offers dependable cutting power and longevity at a reasonable cost. It weighs 7.2 pounds, which is a few pounds less than the other best choices. This saw can readily handle the ordinary 2 x 4s and plywood that most minor projects require thanks to its standard 7-1/4-inch blade.
SKIL invented the circular saw. The business has been providing some of the most powerful, dependable, and accurate circular saws on the market ever since it was founded. Some of the most practical features of this specific circular saw include a laser beam to aid in getting straight cuts, a safety lock and guarded trigger for your protection, and a dust blower for a clean task site, to name a few. Additionally, it has a power of 15 amps, a maximum speed of 5,300 RPM, and it includes a blade and a tool bag.
This saw is an excellent choice for dusty work areas given its pricing. You can maintain the cutting area free of the small pieces of dirt that can damage the 14-amp motor by using the built-in dust blower.
BLACK+DECKER BDECS300C Circular Saw with Laser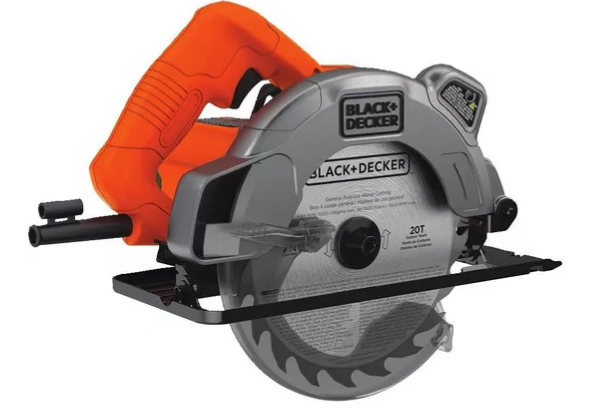 General Descriptions
When cutting long pieces of material that must be perfectly straight, a laser guide can provide you with a distinct and visible point of reference. It is simple to correctly straight-cut normal 2x boards, rip plywood, and create miter or bevel cuts on typical 2x boards with the BLACK+DECKER BDECS300C's built-in laser.
Although not the most potent motor on the market, the 13-amp motor is more than sufficient for the majority of DIY or domestic usage. When it's time to change the blade, the spindle lock means no fumbling around. The bevel may be adjusted from 0 to 45 degrees. Additionally, the saw is quite competitively priced and weighs only 7 pounds, making it portable and easy to use.
This saw will ensure that all of your cuts are straight and true from start to finish if you frequently work with longboards.
Rockwell RK3440K Versacut Circular Saw
General Descriptions
The Rockwell RK3440K Versacut is a very adaptable and comfortable circular saw that anyone seeking should consider. The Versacut is simple to operate with just one hand thanks to its streamlined design. Even though it is compact, it has enough power to complete a variety of popular DIY projects around the house or garage. Even a built-in laser guide is included for precise cutting.
Woods, ceramic tiles, plastics, and even some metals like aluminum and sheet metal may all be cut using the Versacut. This circular saw comes with three blades, as opposed to the typical circular saw's single blade: a diamond blade for cutting ceramic tile and cement board, a 44T HSS blade for cutting aluminum and PVC, and a 24T carbide-tipped blade for cutting wood.
Dewalt 6 1/2-Inch 20V MAX Circular Saw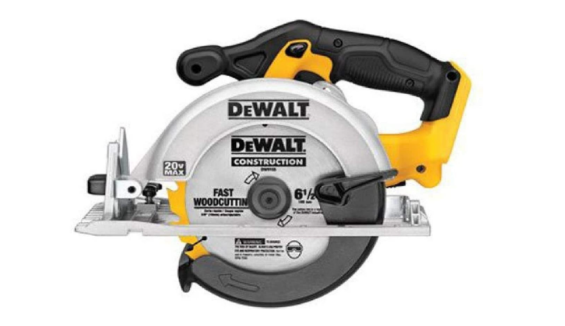 General Descriptions
This Dewalt 20V MAX Circular Saw has become a favorite among DIYers and homeowners because it is inexpensive, dependable, and powerful. It offers up to 50 degrees of bevel capacity, outputs up to 5,150 RPM, and runs on batteries. It is pleasant and simple to use (not included here). Given that it weighs only 7.1 pounds, this is a great choice if you want a lightweight saw.
Makita SP6000J1 Circular Saw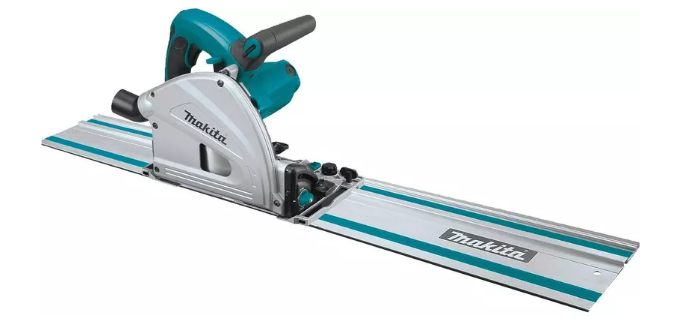 General Descriptions
A rail-guided circular saw is the only option you should even think about using if you require the highest level of precision achievable. Even though laser guides are excellent for making precise cuts, the rail's sturdy guiding line is incomparable. Since it will provide you with this degree of precision without limiting you as a tablesaw would, the Makita SP6000J1 stands out among circular saws. This saw can also perform lengthy, repeated cuts with the same level of accuracy thanks to its 55-inch guide rail.
The 12-amp motor and 6-1/2-inch plunge blade are sufficient to handle the majority of common cuts used on residential and commercial projects. Unlike most circular saws, which can only start a cut from the edge of the material, you may "plunge" the blade into the material from any point. The variable speed control dial will also help you adapt the speed of the blade to the material you're cutting if you anticipate cutting a variety of materials and thicknesses at once.
RYOBI ONE+ HP 18V Brushless Cordless Circular Saw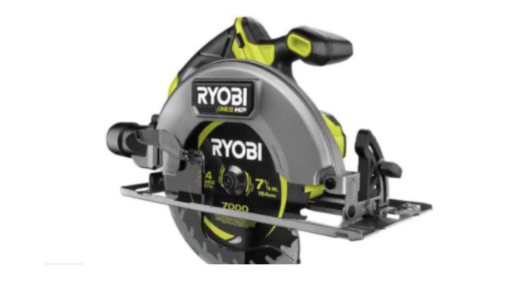 General Descriptions
RYOBI is the brand to choose from if you want a stylish circular saw that has lots of power. Because of its reasonably priced and dependable products, RYOBI has become a favorite among DIYers and homeowners alike. The 18V brushless motor, streamlined design, and integrated LED light of the RYOBI cordless 7 1/4-inch circular saw increase visibility. Additionally, it offers up to 4,300 RPM, keeps your workstation tidy with a vacuum adaptor, and produces excellent results for all of your home improvement jobs. It should be noted that this circular saw does not come with a battery.
SKILSAW SPT77WML-0 Circular Saw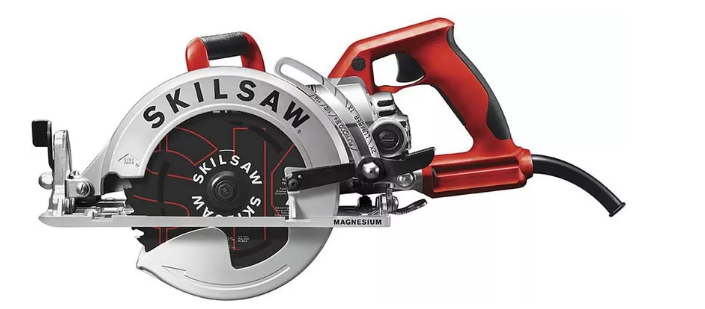 General Descriptions
Professionals frequently expect more of their circular saws than the average DIYer, so their equipment must be able to withstand the usual damage that job sites can dish out. The SKILSAW SPT77WML-0 is the sole choice for those looking for the finest possible durability and cutting power. It can effortlessly cut up to 2-3/8-inch chunks of wood with the regular 7-1/4-inch cutting blade. With 0 and 45-degree locking, the blade can also tilt up to 53 degrees.
The structure of this saw is made of magnesium, which distinguishes it from alternatives. This saw's overall construction will hold up better under misuse than less expensive options because lighter metals and polymers were not used. If you need to produce quick, precise cuts of different depths, SKILSAW's Cut-Ready technology comes in.
Makita SH02R1 Cordless Circular Saw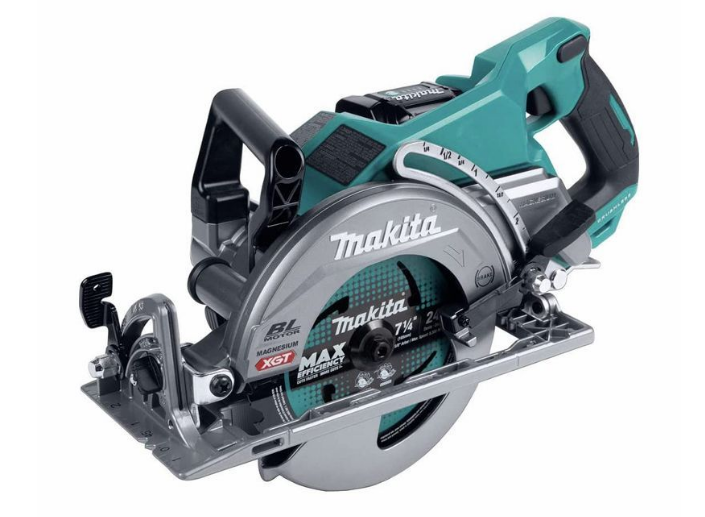 General Descriptions
Although corded circular saws unquestionably have more power, portability can be important in some situations. You'll like the Makita SH02R1's ability to easily cut through plywood, MDF, pegboard, drywall, melamine, particleboard, and other lightweight materials while also eliminating the need for an electrical outlet by using the included 12-volt lithium-ion battery. You won't feel the weight of the saw in the workplace because it weighs only 3.5 pounds.
The maximum cutting depth for the 3-3/8-inch blade is 1 inch at 90 degrees and 5/8 inch at 45 degrees. You can make bevel cuts between 0 and 45 degrees using a tilting base.
FAQs about Best Circular Saws
1. How Do You Use a Circular Saw to Cut Straight?
If you're an experienced user of a circular saw and you're not cutting the entire length of a large board, you can usually keep a straight line by marking the cut line with a pencil, checking it with a straightedge such as a tape measure, and then carefully cut along the pencil line.
Use a guide if you've never used a power saw before or if you don't want to risk straying from the path. Numerous guides are accessible; the majority are rails or metal brackets that must be secured to the board with clamps or screws before cutting can begin. The same result can also be obtained by attaching a different board to the one you will be cutting, positioning the guide board in line with the cut line you want to make, and then cut using the clamped board as your guide rail.
2. How Is a Circular Saw Blade Changed?
The first and most critical step in changing a dull or damaged blade or switching to a new blade is to unplug the saw if it is corded or remove the battery if it is cordless. Being certain that the saw will not be used while you change the blade is important. If there is a lock, depress it after lifting the plastic blade guard to reveal the blade. Using the wrench that is often provided with the saw, loosen the arbor nut holding the blade in place. Carefully remove the old blade by rotating your wrench counterclockwise to the direction the blade rotates.
Use a cloth to wipe away any sawdust or accumulated dust from the top and lower guards. Look for an arrow pointing in the rotational direction on your new blade. Install the blade by turning it counterclockwise. This could indicate that the writing is facing you or away from you, depending on the brand of blade. After positioning the replacement blade, tighten the arbor nut with the saw wrench. When you need to remove the blade again, the nut shouldn't be too tight to prevent you from doing so, but it should be snug enough to retain the blade firmly in place. When you're ready to use the saw, unlock the blade and lower the blade guard back into place.
3. Can A Circular Saw Cut Concrete?
Using a diamond blade and a circular saw, you can cut concrete. Replace your ordinary circular saw blade with one of these blades, which are designed specifically for cutting concrete, masonry, and pavers.
Conclusion
The only feasible tool for chopping up large pieces of hardwood so that they can be fed through a table saw or other equipment is a circular saw. It can also be used to cut enormous amounts of plywood and timber. Yes, there are other options. Some of this can be done with a handsaw, but plywood doesn't respond well to it. And for all of it, a jigsaw seems appropriate. But it moves slowly.
The ideal cutting tool for quick and precise work is a circular saw. We test circular saws frequently and use them in our projects as a result. This list includes anything from inexpensive circular saws to equipment that any contractor could use to frame a house. The rear-handle kinds of saw, a new subcategory of saw, are also listed here. These cordless saws are designed for professional use, and they have a handle behind the motor and a blade to the left of it.
If you're looking for a company that can provide you with high-quality circular saws that fit your needs, Linquip is your best option. For more information, visit our website and get in touch with Linquip's Experts.
Download Best Circular Saws PDF
Buy Equipment or Ask for a Service
By using Linquip RFQ Service, you can expect to receive quotations from various suppliers across multiple industries and regions.
Click Here to Request a Quotation From Suppliers and Service Providers
Read More In Linquip