The Best Belt Sander in 2023 – A belt sander is a popular power instrument to remove layers of wood, metal, plastic, or other target materials. This is done by rapidly rotating a cylindrical piece of sandpaper using two or more drums, which accelerates the pace to the point where the sandpaper can quickly rip through many layers. Before transitioning to a light-duty sander for precise work, belt sanders are effective sanding equipment for removing layers of rough material.
Given the widespread use of this instrument in woodworking studios, there are a variety of manufacturers from which to select the best belt sander for your upcoming project. Consider a DeWalt belt sander, a Milwaukee belt sander, a Ryobi belt sander, or just look at the list of top items below to find numerous acceptable possibilities, such as a bench sander, a little belt sander, and a hand belt sander, when you're looking for a new product.
On the Linquip website, among the many options available to you, you will find all the information you need to know about the Belt Sander, as well as information regarding this marketplace. You can count on Linquip to provide you with as much general and reliable information about this topic, whether you're a professional or a customer looking for a proper company. We recommend you review a list of all Belt Sanders available in Linquip.
We would be delighted to provide you with more information on how we can help you generate revenue within your industry. Don't hesitate to contact us if you have any questions! With Linquip's Solutions for Each Company Level, you will be able to upgrade the capabilities of your organization in order to gain a competitive edge by taking advantage of a wide range of options to enhance your organization's performance. If you are looking for the simplest or the most sophisticated marketing and advertising package for your business, we can help you ensure that your company gets as many customers as possible to grow your business.
The Best Belt Sander in 2023
1. Makita 9403 4-Inch x 24-Inch Belt Sander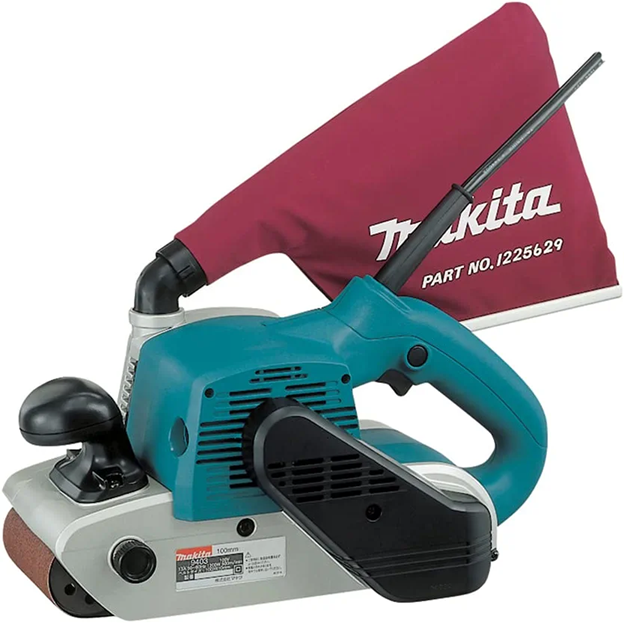 Specifications
| | |
| --- | --- |
| Brand | Makita |
| Item Dimensions LxWxH | 9 x 16.1 x 9.76 inches |
| Grit Type | Medium |
| Power Source | Corded Electric |
| Amperage Capacity | 11 Amps |
Product Description
You'd be hard-pushed to find a better belt sander than the Makita 9403 if you're looking for a product that provides professional-grade sanding at a price that won't break the bank. Although it has enough power to be called a "beast," it stays to itself, holding the distinction of being the quietest belt sander in its class, with noise levels limited to 84 dB. If you plan to use the tool frequently, its design is excellent since it prevents dust and debris from getting into the motor, increasing tool life. The external dust bag can be simply kept out of the way as you operate since it can rotate 360 degrees.
The 9403 is a master of wood removal, effortlessly removing layers of wood from a range of surfaces, including floors, tabletops, and more. It is outfitted with a 4 x 24-inch belt that moves at a pace of 1,640 feet per minute. Additionally, its somewhat snub-nosed form, which enables you to sand all the way up to the edge of the wall or corner, will come in handy while working in confined spaces or sanding into corners. Additionally, it includes a big front handle that makes it simple to manipulate the instrument as you operate and lessens hand and arm strain.
The weight of this professional-grade device, a staggering 15.8 pounds, is one of its few drawbacks. As a result, you probably won't use the 9403 for any overhead or vertical work, but it's ideal for finishing horizontal sanding jobs on floors, furniture, decks, and more.
2. Astro Pneumatic Tool 3037 1/2-Inch by 18-Inch Belt Sander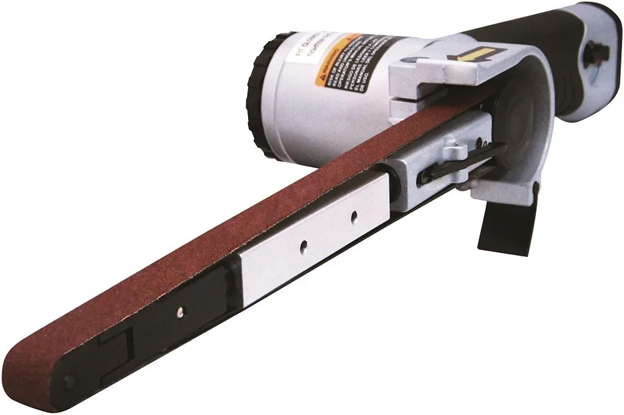 Specifications
| | |
| --- | --- |
| Brand | Astro Pneumatic Tool |
| Item Dimensions LxWxH | 15.5 x 3.5 x 2 inches |
| Grit Type | Medium |
| Power Source | Air Powered |
| Grit Number | 40 |
Product Description
Auto repair Belt sanders include lightweight frames for handed and vertical operation and are particularly made for use in the automotive industry. If you frequently work with metal, the Astro 3037 Air Belt Sander tops the list of portable performance tools that are reasonably priced. Be aware that this equipment, unlike the majority of belt sanders, is an air-powered pneumatic device that necessitates an air compressor that can produce at least four cubic feet of air per minute at 90 psi of air pressure.
The Astro 3037 delivers unmatched control, an easy-to-adjust lever, so you get the correct angle every time, a 12-inch belt groove, and variable speed control — with rpm reaching 16,000 for ideal grinding. It is ideal for sanding down difficult-to-reach spot welds or polishing exhaust pipes.
The Astro 3037 is a superb addition to any amateur's and professional's toolbox, and it's ideal for working on your favorite autos. It may be used for a variety of sanding tasks, including repairing fiberglass and wrought iron railings. The Astro 3037 does not have a dust bag, thus you should wear appropriate safety clothing because it may throw up metal pieces.
3. WEN 6321 3-Inch x 21-Inch Belt Sander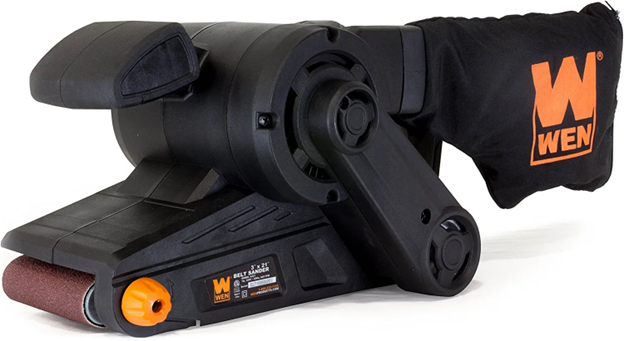 Specifications
| | |
| --- | --- |
| Brand | WEN |
| Item Dimensions LxWxH | 12 x 6 x 6.5 inches |
| Power Source | Corded Electric |
| Amperage Capacity | 7 Amps |
| Item Weight | 6.2 Pounds |
Product Description
The average DIYer on a budget is aware that there is nothing improper with choosing a less expensive belt sander over a more expensive one that offers fewer features. One such tool is the WEN 6321 Corded Belt Sander with Dust Bag, yet it doesn't compromise performance in any way. The WEN 6321 is powered by a 7-amp motor that rotates its 3-inch by 21-inch belt over 13 feet per second and equals a higher-end model's quality at a fraction of the cost.
Whatever the endeavor, this belt sander completes the task, so don't be fooled by its thin frame (weighing in at just over 6 pounds). This top-notch, cost-effective device is completed with a profusion of practical features, including simple belt replacement and adjustment with the turn of a lever or a knob and a detachable dust bag that makes cleanup a snap. The WEN 6321 Belt Sander is essential for the homeowner who dabbles in all things handy.
4. BLACK+DECKER DS321 3-Inch by 21-Inch Belt Sander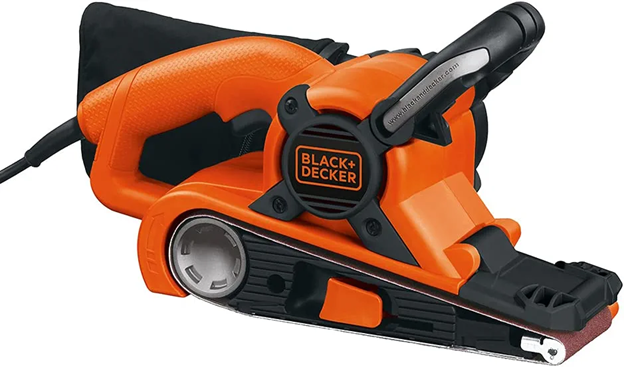 Specifications
| | |
| --- | --- |
| Brand | BLACK+DECKER |
| Item Dimensions LxWxH | 15.25 x 6.32 x 6.32 inches |
| Grit Type | Medium |
| Voltage | 120 Volts |
| Power Source | Corded Electric |
Product Description
While most DIY projects don't require high-end equipment, you can occasionally stumble into a situation that calls for a belt sander. And even if, depending on the project, employing a professional is typically the best option, amateur enthusiasts of home renovation would be hard-pressed to find a more deserving investment than the BLACK+DECKER DS321 Corded Belt Sander.
A front roller on this useful belt sander, which weighs only 6.5 pounds, enables you to reach incredibly tight corners while assisting users in maintaining a flush sanding. In other words, you'll labor less with BLACK+DECKER and yet get high-quality outcomes. Additionally, an adjustable handle gives you a ton of additional control by allowing you to tackle every task from whichever angle you desire.
5. RIDGID 18-Volt GEN5X Cordless Belt Sander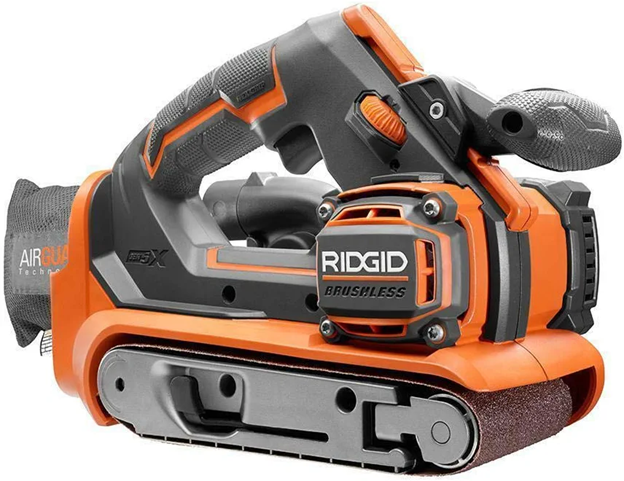 Specifications
| | |
| --- | --- |
| Brand | RIDGID |
| Item Dimensions LxWxH | 12.38 x 6.94 x 8.25 inches |
| Voltage | 18 Volts |
| Amperage Capacity | 18 Amps |
| Grit Number | 80.00 |
Product Description
The RIDGID GEN5X Brushless Cordless Belt Sander has been evaluated and found to be a flexible, user-friendly sander with performance on par with higher-end models and enough power to discredit the corded competition. It spins a 3-inch by 18-inch belt and weighs just a little over 6 pounds, making it portable and simple to use in confined settings.
The brushless motor in the GEN5X makes it a smarter tool since it has better resistance sensing, a longer run-time, a longer motor life, and generally less friction and voltage dips. In other words, performance is constant without annoyance-inducing power spikes.
The amount of time this cordless, battery-powered belt sander operates with only one charge will astound you. It's important to keep in mind that this power tool does not come with a battery or charger, so before you buy this small powerhouse, be sure you get the proper RIDGID 18-volt battery.
6. WEN 6307 Variable Speed Detailing File Sander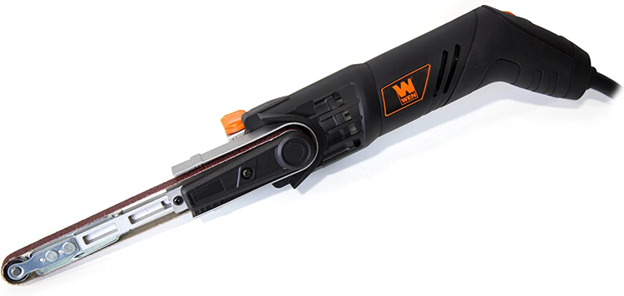 Specifications
| | |
| --- | --- |
| Brand | WEN |
| Item Dimensions LxWxH | 17.5 x 3.5 x 3.5 inches |
| Grit Type | Medium |
| Amperage Capacity | 2 Amps |
| Grit Number | 120 |
Product Description
A corded detailing sander is safer and more useful equipment than a full-sized device, depending on the home improvement project. The WEN 6307 Variable Speed Detailing File Sander is specifically made to handle smaller projects—or operations that just require sanding particular portions of a bigger surface. Yes, you could use a regular belt sander for detail sanding, but they're normally rather heavy and unwieldy.
The WEN 6307 is ½ x 18-inches, which is smaller and more slender than a typical belt sander, but it doesn't sacrifice performance for size and shape. It rotates 1,080–1,800 feet per minute and has an adjustable handle that pivots 55 degrees to give users complete control when working on challenging, hard-to-reach areas like the tops of doors or cabinets.
7. Dominty Mini Belt Sander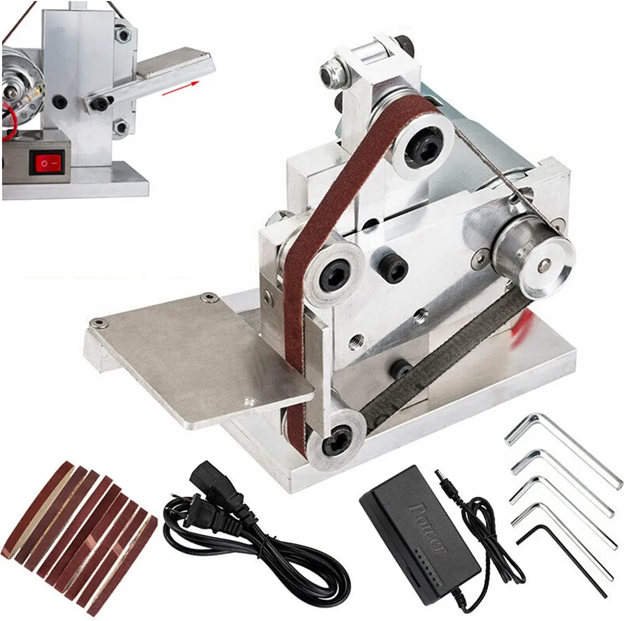 Specifications
| | |
| --- | --- |
| Brand | DOMINTY |
| Grit Type | Fine |
| Voltage | 110 Volts |
| Maximum Rotational Speed | 9000 RPM |
Product Description
You won't want a full-size instrument that is made for larger operations if you're searching for a belt sander primarily to sharpen tools or perform detailed work on little objects. Instead, you'll discover that a little belt sander, like the one from Dominty, is more than adequate for general workmanship around the home and yard, creating and maintaining the sharpness of your knives, gardening tools, and other instruments with blades.
This tool demonstrates that great performance may be found in compact forms. Rotational rates for the 13-inch by 1/3-inch belt range from 4,500 to 9,000 rpm. Although the engine isn't the strongest, the tool nevertheless makes up for that with its adaptability. You'll like how easily this sander can smooth down sheets of metal, plastic, and even wood.
Ten belts with various grits are included with the tiny belt sander.
What a Belt Sander Should Have?
Form
The two main varieties of belt sanders are the bigger, benchtop-mounted fixed ones and the smaller, portable handheld variants.
To grind, sand, or shape metal, wood, cabinets, or furniture, stationary belt sanders are a need in carpentry or metalworking industries. There are heavy-duty instruments that run a 6-inch by 48-inch belt, as well as devices geared for more accurate work that employ 1-inch by 30-inch belts. The standard stationary belt sander uses a 4-inch broad by 36-inch long belt.
The most often used option for DIY projects and residential use is a portable belt sander. For light to medium-weight shaping, polishing, or sanding activities, belt sanders are ideal. These tools are helpful for a wide range of typical DIY projects, including removing paint, glue, or other finishes, preparing furniture or cabinets for refinishing, sharpening tools, wearing down swollen door or window edges, and sanding metal surfaces.
There are several belt sizes to take into account: 3 inches by 21 inches, 3 inches by 18 inches, and 4 inches by 24 inches are all often used for DIY and other domestic purposes. For precise or challenging work, there are also tiny belt sanders; they frequently employ a 1/2-inch by 18-inch belt.
Power
The majority of portable belt sanders are corded, but cordless models are also available. All stationary belt sanders operate on AC power. Like with other power tools, a corded tool will provide you the maximum power but will also limit your movement because you are attached to the power line. While some more durable versions employ 20-volt batteries in place of 18-volt lithium-ion batteries, most cordless belt sanders use the former.
The majority of handheld belt sander motors produce between 6 and 12 amps of power; the lower end of that range is adequate if you only need the tool for light, infrequent sanding tasks, but if you intend to work on more substantial projects, you'll be happier with a belt sander that produces power closer to the top of that range.
Speed
Although some manufacturers continue to use rotations per minute, most manufacturers measure the speed at which a belt sander turns the sanding belt in feet per minute (fpm) (rpm). Numerous of these instruments only have one preset speed, which is often 1,500 fpm. Others feature high and low-speed options that range between 1,500 and 500 fpm. Additionally, more expensive belt sanders include variable speed controls, so you may precisely adjust the speed as needed.
FAQs about Belt Sander
1. What Are The Finest Uses For A Belt Sander?
Belt sanders are a fantastic option for smoothing out roughness and prepping the surface for other, less aggressive sanding equipment like random orbit sanders or finishing sanders since they can swiftly remove a lot of material. One may also be used to level out uneven surfaces or refinish flooring or furniture.
2. What Belt Sander Size Should I Buy?
Most usages in the home shop call for sanding belts that are 3 x 21 inches and 4 x 24 inches in size, according to several woodworking professionals. Such a tool allows you to sand a respectable quantity of surfaces without becoming tired. The heavier weight and mass of a larger machine will certainly cause you to become exhausted soon.
3. A Belt Sander's Belt Lasts For How Long?
A sanding belt may easily last for 12 to 18 months with moderate use. The belt's lifespan is also influenced by other elements, such as the belt's material, sandpaper grain, and the surface you are sanding.
Download PDF for The Best Belt Sander in 2023
You can download the PDF format of this post from the link provided here.
Buy Equipment or Ask for a Service
By using Linquip RFQ Service, you can expect to receive quotations from various suppliers across multiple industries and regions.
Click Here to Request a Quotation From Suppliers and Service Providers
Read More on Linquip