Best Cordless Impact Wrenches in 2023- Gearheads are aware that having the appropriate equipment for the job is essential to being able to work on your automobile with the least amount of irritation and the most amount of enjoyment. Because of this, your auto toolkit needs a cordless impact wrench. Cordless impact wrenches simplify the process of working on your car because they are more maneuverable than a corded electric or air impact wrench and are capable of applying high torque to nuts, screws, and bolts.
Cordless Impact Wrenches are available from a wide range of vendors, Suppliers & Companies, manufacturers, and distributors. Linquip offers a thorough range of services for all OEM fleets. Please get in touch with Wrenches Experts to find out more about how to establish connections with a wide range of Service Providers who consistently deliver high-quality goods.
There are many various kinds of cordless impact wrenches, though — so how do you decide which one is suitable for you and your home garage? Your final decision will be influenced by the size, cost, and unique needs, so it's critical to have the correct electric impact wrench advice before starting.
Few things are more annoying than having to struggle with obstinate nuts and bolts that won't budge. Every garage should have a handheld ratchet wrench, but there are occasions when actual moving and twisting strength is required. The impact wrench can be used in this situation.
Even the most difficult fasteners can be easily loosened or tightened using these power tools. Though they were previously only available as pneumatic (air-powered) choices that needed an air hose and compressor, technological advancements have resulted in the development of cordless versions that can go almost everywhere. So, if it's time to replace those air hoses with batteries, read on for suggestions on picking the best cordless impact wrench.
Learn more about our procedure to see how we independently investigate, test, evaluate, and suggest the finest items. Below is a list of the best cordless impact wrenches.
List of the Best Cordless Impact Wrenches
Here are our selections for the top cordless impact wrenches in a range of categories, chosen based on user feedback, professional judgment, and first-hand experience.
The 9 Best Cordless Impact Wrenches in 2023 include:
Milwaukee M18 Fuel 1/2-In. Impact Wrench

PORTER-CABLE PCE211 7.5-Amp 1/2-Inch Impact Wrench

Makita 18V Cordless 1/2 in. Impact Wrench Kit

DEWALT DCF899M1 20V Max XR Brushless High-Torque Wrench Kit

Ryobi 18V One+ ½ In. Impact Wrench

Ingersoll Rand 36QMAX ½-Inch Ultra-Compact Impact Wrench

ENEACRO 20V Cordless Impact Wrench Brushless Motor

KIMO Cordless Impact Wrench

Bosch Freak GDX18V-1800B12 Cordless Impact Driver/Wrench
Milwaukee M18 Fuel 1/2-In. Impact Wrench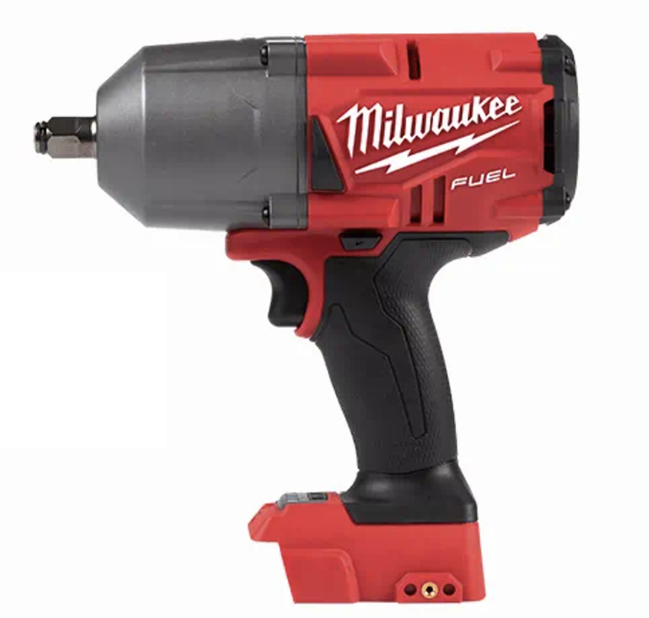 General Descriptions
Models like this Milwaukee are the bigger names when it comes to impact wrenches. They have greater size, weight, and torque (1,400 foot-pounds for the M18 Fuel here). The M18 has two enormous 5-Ah batteries because the amount of torque it produces requires a lot of energy. With this impact wrench, removing the lug nuts off our F-250 Super Duty was no problem. It barely hesitated to break them loose. According to how much battery power was used during our test, the two batteries should be sufficient to change tires for an entire day.
It is simple to set the speed/torque for the task thanks to the four modes, three-speed settings, and Bolt Removal mode. It's also a pleasure to use the Bolt Removal mode because it reduces speed and torque when a nut or bolt comes loose so that it won't run off the end and shoot off. The rusty old bolts on the agricultural machinery were easily freed by the M18, and using the Bolt Removal mode also served to minimize damage by spinning the nuts off excessively rusted threads. An M18 impact wrench is a useful tool for really large tasks like heavy equipment repair, industrial maintenance and repair applications, or any other project requiring large, durable nuts and bolts.
Key Features
Power: 18 V
Drive size: 1⁄2-in.
Motor: Brushless
RPM: 3,300
IPM: 1,750
Torque: 1,400 ft-lb
Battery: 5 Ah (x2)
PORTER-CABLE PCE211 7.5-Amp 1/2-Inch Impact Wrench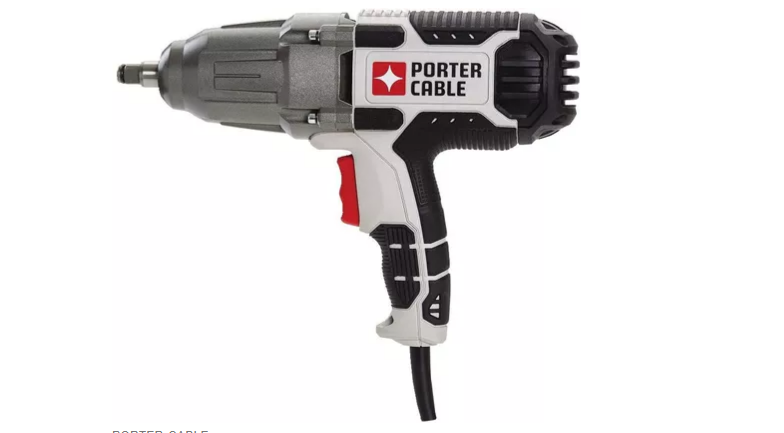 General Descriptions
It's not always true that a tool's low price indicates that it has poor power or performance. The tool series produced by PORTER-CABLE is strong and reasonably priced. One of the versions with the best reviews on the market is the PCE211 7.5-amp 12-inch impact wrench from the tool manufacturer. With this impact wrench, you are not sacrificing anything because it has 450 ft-lb of torque and 2,200 rpm. With one hand, the forward-and-reverse rocker switch is simple to operate, and the grip is cozy to hold. This is the perfect tool for swiftly replacing the nuts and bolts on light objects like furniture, shelving, and door hinges as well as removing the lug nuts from commercial cars.
Key Features
Power Source: Corded
Torque: 450 foot-pounds
Speed: 2,200 rpm
Impacts per Minute: 2,700
Makita 18V Cordless 1/2 in. Impact Wrench Kit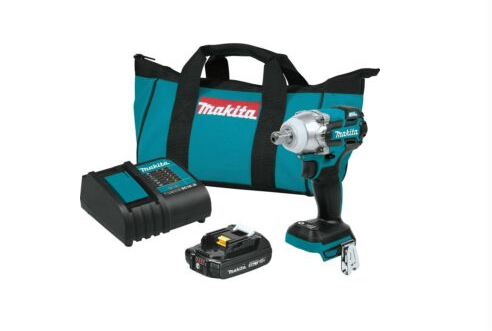 General Descriptions
Power, runtime, and versatility are all included in the Makita 18V Cordless 12-inch Impact Wrench Kit. With its 4-speed power selector, users can manage the 430 foot-pounds of torque that its brushless motor is capable of producing. Users are prevented from overtightening in one direction thanks to this level of control, and its "reverse rotation autostop mode" immediately halts rotation when it detects the fastener is loose.
Two 5-Ah batteries, a charger, and a carrying case are included in this kit. The user can cram this 12-inch drive impact wrench into small locations like wheel wells or engine bays thanks to its lightweight and compact design. It has four speeds that may be changed: 0 to 1,000, 0 to 1,800, 0 to 2,600, and 0 to 3,200 rpm.
The Makita model turned out to be our favorite during testing. Although it isn't the most powerful model, it still has a lot of power, and we eventually had a hard time finding anything it couldn't loosen. Except for the narrowest engine bays, it can fit practically any place, and the LEDs will illuminate any oily crevices. The one thing we didn't enjoy was how difficult it was to move between the various speeds and autostop options.
Key Features
Motor type: Brushless
Torque: Up to 430 pounds
Drive size: ½ inch
DEWALT DCF899M1 20V Max XR Brushless High-Torque Wrench Kit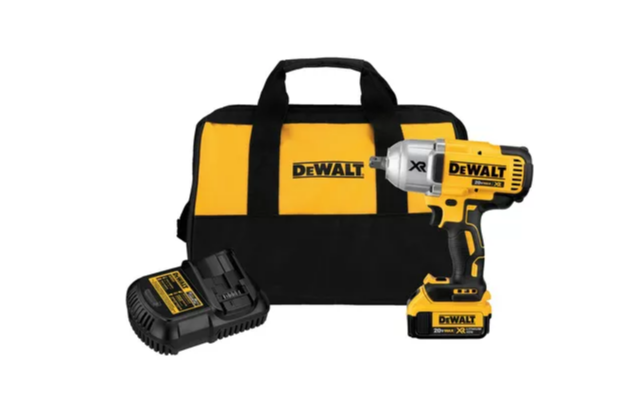 General Descriptions
This wrench kit is worthy of consideration if you're just getting started or would like to purchase an all-inclusive starter kit that contains the battery, charger, and carrying case. The DEWALT DCF899M1 20V Max XR Brushless High-Torque Wrench Kit is powerful and ergonomically designed. Additionally, it has every premium feature you could ask for in a wrench kit.
The DEWALT kit is strong, with up to 700 ft-lb of fastening torque, 1,200 ft-lb of nut-busting force, and 2,400 impacts per minute. With a height of 8-13/16 inches and a weight of 7.2 pounds, it is compact and light. The impact wrench may be used for a variety of odd jobs thanks to its multi-speed control. It has a half-inch anvil with a detent pin and a strong LED light with a 20-second delay for confined, dark spaces.
Key Features
Power Source: 20-volt battery
Torque: 700 foot-pounds
Speed: 1,900 rpm
Impacts per Minute: 2,400
Ryobi 18V One+ ½ In. Impact Wrench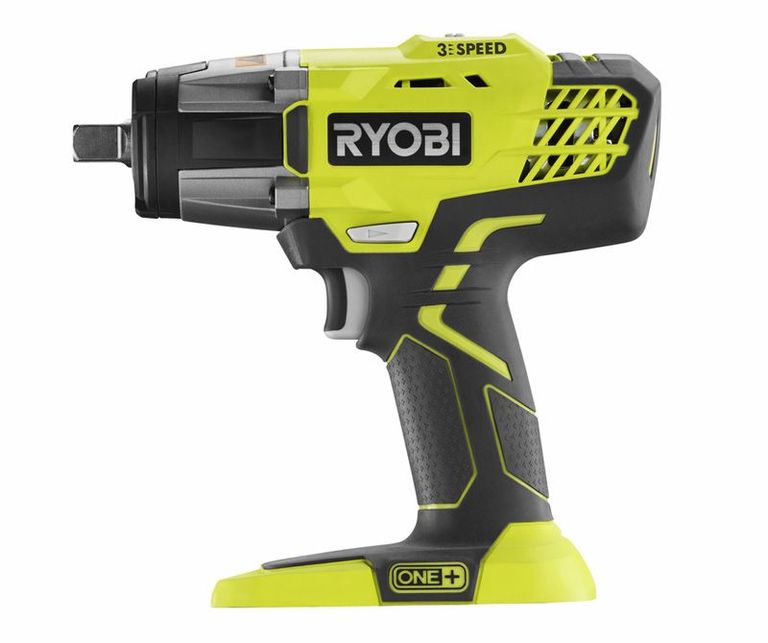 General Descriptions
Ryobi's 18V One+ does everything we asked of it during testing while also hitting a pricing point that is difficult to match. It impacted for a fraction of a second before breaking them loose and spinning them off when we used it to remove lug nuts. When we took out corroded bolts from a farm tool, it only took a little bit longer. Additionally, we drilled pressure-treated lumber with 6-inch lag bolts. We discovered that using the three speeds helped us avoid overtightening fasteners the most. The lack of a brushless motor means we wouldn't expect it to stand up to regular usage, but this is a capable tool that will help get a lot of chores done around the house.
Key Features
Power: 18 V
Drive size: 1⁄2-in.
Brushless motor: No
RPM: 2,900
IPM: 3,200
Torque: 300 ft-lb
Battery: 4 Ah
Ingersoll Rand 36QMAX ½-Inch Ultra-Compact Impact Wrench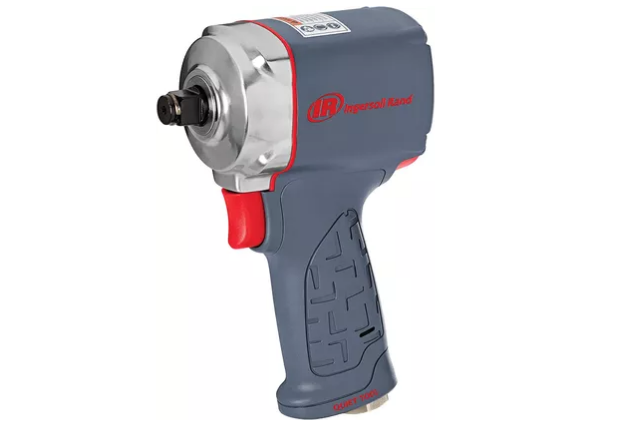 General Descriptions
A true workhorse is the Ingersoll Rand 36QMAX 12-Inch Ultra-Compact Impact Wrench. Its stubby design makes it easy to move in small spaces, and while weighing only 2.6 pounds, it has a tremendous punch with 640 ft-lb of torque and up to 8,000 rpm. Use it to remove corroded bolts or obstinate stripped screws that are hidden in awkward places. Working on transmissions or other buried engine components calls for the ideal tool.
The tool features a one-handed trigger with three forward and reverse position settings. Additionally, this tool is functional for both right- and left-handed users. Keep in mind that it needs a power source, which is not included, that can deliver at least 5 cfm of air at 90 pressure. For best performance, you should ideally have a considerably larger air compressor.
Key Features
Power Source: Air compressor
Torque: 640 foot-pounds
Speed: 8,000 rpm
Impacts per Minute: 1,300
ENEACRO 20V Cordless Impact Wrench Brushless Motor
General Descriptions
The 20V Cordless Impact Wrench from Eneacro boasts a brushless motor and 300 foot-pounds of torque to handle difficult tasks, all while being reasonably priced. This brushed 12-inch model has a variable torque selector, three speeds (1,600, 2,100, and 2,800 rpm), and three speeds (1,600, 2,100, and 2,800 rpm).
Along with the tool, this impact wrench package includes a carrying case, a 4-Ah battery, a battery charger, and four different size sockets. It also has a grip that is covered in rubber. Although this instrument is better suited to enthusiasts than professionals (it doesn't even explicitly list the torque levels), the price makes it worthwhile to take into account.
The Eneacro 20V cordless impact wrench surprised some testers during the testing process. No, it couldn't compete in terms of raw power with the other models, but for do-it-yourselfers who want to change their tires a few times a year, it's more than enough. We also loved the 4-Ah battery's price point.
Key Features
Motor type: Brushless
Torque: NA
Drive size: ½ inch
KIMO Cordless Impact Wrench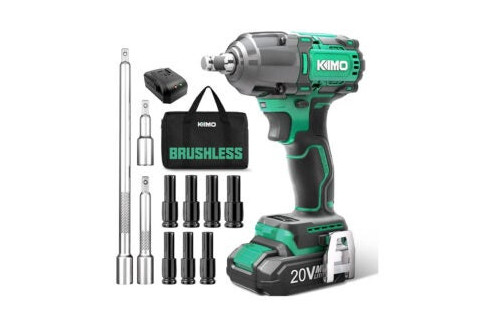 General Descriptions
Standard sockets will be destroyed by impact wrenches, so a model that includes a sizable beginning kit of impact-ready sockets is a great benefit. The Kimo Cordless Impact Wrench comes with a set that includes three extensions and seven impact sockets with diameters of 10, 12, 13, 15, 17, and 21 millimeters (3, 5, and 10 inches). It also includes a belt clip and a carrying case.
The brushless motor in this 20V variant can provide up to 300 foot-pounds of torque. Additionally, it features three different speed ranges: 0 to 1,800 rpm, 0 to 2,500 rpm, and 0 to 3,000 rpm. The kit includes a 2-Ah battery and charger as well as an integrated LED.
We valued the tool package that came with this impact wrench. Although other compact versions did outperform it in terms of production, it is also pretty powerful. The Kimo's affordable pricing is also difficult to contest.
Key Features
Motor type: Brushless
Torque: 300 foot-pounds
Drive size: ½ inch
Bosch Freak GDX18V-1800B12 Cordless Impact Driver/Wrench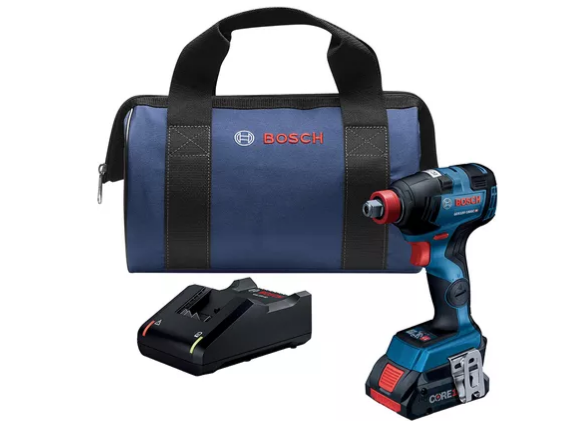 General Descriptions
A tool that must perform two tasks simultaneously may occasionally perform one task superior to the other. With the Bosch Freak 18-Volt Impact Wrench, this is not the case. It functions as a driver and a wrench, and it excels in both capacities.
It makes use of 12-inch impact sockets and 14-inch hex screwdriver bits. You won't need to look around for an adapter for the trickier chores that call for different tools because the useful tool swiftly flips between screwdriver and nut-driver bits (as well as sockets). Professional power and impact are delivered by the strong brushless motor, which has a maximum torque output of 150 ft-lb and a maximum impact rate of 4,200 per minute. The Freak includes a battery, charger, soft carrying case, and a belt clip to keep it close by.
Key Features
Power Source: 18-volt battery
Torque: 150 foot-pounds
Speed: 3,400 rpm
Impacts per Minute: 4,200
FAQs about Best Cordless Impact Wrenches
It's understandable to have some concerns considering the significant investment that a cordless impact wrench might represent. Finding the answers to these frequently asked questions may help make the selection clearer because there are numerous elements to take into account and possibilities to select from.
1. What Is an Impact Wrench Used For?
Impact wrenches are commonplace in auto shops and are frequently used by both experts and amateurs to install or remove lug nuts on automobile wheels. However, they are also an extremely helpful tool for tightening or loosening nuts, bolts, and other threaded fasteners on a variety of heavy machinery, during construction or remodeling, and in situations where there are numerous huge threaded fasteners.
While the majority of DIYers won't require an impact wrench, if you plan to undertake a significant home renovation or extension, enjoy performing your auto repair, live on a farm, or operate with heavy equipment, an impact wrench is a useful addition to your toolkit.
2. Which Voltage Should We Choose for A Cordless Impact Wrench?
That depends on what you're intending to use it for. A 12-volt impact wrench should be adequate if you plan to work primarily in confined locations. On the other hand, a 20-volt impact wrench will undoubtedly be necessary if you're working with 1-inch drive sockets. An 18-volt impact wrench is probably your finest option for all-purpose use with the most adaptability. Click here to explore more about them.
3. Do Impact Wrenches Need Special Sockets?
If you use the same socket set with your ratchet and impact wrench, will you be able to save money? Unfortunately, attaching a standard socket to an impact wrench runs the risk of the socket fracturing, which could be harmful. It is generally safe to use an impact-wrench socket with a ratchet.
The steel of an impact-wrench socket is noticeably lighter than the steel used for normal sockets. As a result, the impact-wrench socket can withstand the tool's extremely high torque forces with a little bit of "give." Regular sockets are made of a harder, more brittle steel that is prone to cracking or shattering when subjected to such high forces, but they are perfectly suited to the force of your handheld ratchet.
4. Will A Cordless Impact Wrench Remove Lug Nuts?
Absolutely! With a 3/8- or 1/2-inch anvil, removing lug nuts is simple.
Conclusion
Cordless impact wrenches are no different from other power tools in that they should all be used with caution. Reading the user's handbook will help you operate an impact wrench safely by providing instructions on how to use it and suggested safety precautions. Don't force the tool to function beyond its specified performance specifications and be sure to choose the recommended torque level for the sockets in use.
Use all the safety equipment that is required, including gloves, safety goggles, and hearing protection, and take frequent rests to prevent weariness. Utilizing an impact wrench just for that reason and wearing the appropriate safety gear can help keep you safe. If you have any additional inquiries, contact Linquip Experts.
Download Best Cordless Impact Wrenches PDF
Buy Equipment or Ask for a Service
By using Linquip RFQ Service, you can expect to receive quotations from various suppliers across multiple industries and regions.
Click Here to Request a Quotation From Suppliers and Service Providers
Read More on Linquip