SEO for Industrial Distributors – Search engine optimization (SEO) has been around for a while, but as more B2B clients purchase items online, it has become increasingly crucial for industrial distributors to implement. This year, Google intends to tweak its algorithm to add a new component dubbed Page Experience. The information on an industrial distributor's website should, at the very least, be informative and easy to explore. However, your page's loading speed, mobile friendliness, and aesthetic stability all play a role in the overall experience. If you want to maintain your page ranks high, now is the time to take important actions to improve the health of your website.

What Is SEO for Industrial Distributors?
Around 90% of Google traffic originates from the first page of search results. On the other hand, only about 10% of people click through to the second page of search results. Distributors must stand out from the crowd by making their websites available to search engines and favored by them.
With a defined strategy and plan, distributors may have a beneficial impact on SEO for their website. What that strategy looks like is primarily determined by your company's overarching objectives. Are you attempting to boost conversions, give self-service choices, raise wallet share among existing consumers, or extend your client base? Promotional content, such as application information, case studies, and whitepapers may also be included in some plans.
In the manufacturing and industrial sectors, a lot has happened in the last few decades. Many businesses used to rely heavily on direct mailings, word-of-mouth referrals, and face-to-face sales attempts in their marketing tactics. Although these strategies still work, the internet has made things a bit more difficult.
Ranking first in search engines such as Google has become a major objective for many manufacturing and industrial customers and specifiers these days. Many B2B firms have responded to these needs by using novel keyword strategies, content production, social media advertising, and other strategies. That's why it's critical to choose a digital marketing business that specializes in creating returns in the manufacturing/industrial industry.
Distributors should begin by doing a simple website audit to verify that their site is error-free, mobile-optimized, speedy, and secure. There are four ways B2B organizations may boost SEO when an audit is done and faults are corrected. In what follows, some of them are described.
Quality Website Content
"A great experience isn't a replacement for having outstanding page content," Google writes on its blog, despite the fact that page experience has an impact on ranking. Your digital material should be updated as part of your content marketing plan. For simpler ranking, combine comparable website pages and consolidate weaker sites into one page. To construct a page with more authority, pages should be complementary and target a single topic.
According to research:
Consumers anticipate a webpage to load in two seconds or less, according to 47% of respondents.

An increase in conversions of 7% might result from a one-second delay in page response.

If your ecommerce site generates $100,000 per day, a one-second page delay might cost you $ 2.5 million in missed sales per year.
Your B2B customers demand rapid responses to their inquiries as well as quick access to the items they require. To improve your website's functioning, create industry-specific and detailed product pages and incorporate them in your navigation. Use photographs that accurately depict the markets you serve and remember to include alt tags.
Using an ecommerce solution to supplement your digital strategy may also help with SEO and page experience. According to recent industry data, thirty one percent of manufacturers who engaged in e-commerce got access to new markets, while thirty four percent enhanced consumer experience. Maintain the product data and confirmed formats that engineers require in your online product catalog.
Optimization of Videos and Images
More than half of engineers and technical workers interviewed for a 2020 research indicated they spend at least an hour a week watching videos for work, according to the Content Marketing Institute. Videos are a terrific marketing tool for attracting visitors to your website, but depending on how you embed them and how many other components are on the page, they might slow down the page's loading time. If a visitor comes across your site and a page takes too much time to load all of the material, they will most likely leave and go to a competitor's site. Long load times and high bounce rates can have a detrimental influence on your SEO and quality lead conversion rate.
Although there are other methods for embedding movies on a website, self-hosted films take the longest to load. Choose the appropriate video format and explore specialized video hosting to ensure that your website loads quickly. Remember to provide the media file with a unique name and label that corresponds to the content of the associated page.
Similarly, huge photos, high-resolution photographs, and uncompressed images might slow down the loading of your website. Set up the logical functions to offer pictures that are the right size for the user's device. It's crucial to have a good mobile experience. When a B2B shopper isn't meeting, they're probably looking on their tablet or phone.
Link Building
Investing time in obtaining backlinks might assist in increasing your SEO traffic. This entails utilizing other high-authority websites and connecting to them from your own. To generate attention to your website, guests write on a cutting-edge resource like Linquip Insights and promote it in a newsletter advertisement. (You may hire one of our industry marketers to write for you.)
On their websites, several vendors include a "distributor locator." Request that your suppliers include a link to your website on theirs. Create profiles for Google My Company, LinkedIn Company Directory, Apple Maps, and Facebook, among other online business directories. These individual statements may have a little backlink value, but they add to your SEO traffic in massive quantities.
Keep your information up to date and double-check that your NAP – company name, address, and phone number – is consistent across directories. A Linquip Company Profile is a big company directory geared for B2B buyers, engineers, and procurement experts seeking industrial services. To boost your exposure and get calls for tenders from qualified buyers, create a free company profile.
Developing Content Using a "Question-Based" Approach
Companies may gain an advantage over competitors by generating information that is tailored to quickly answer voice-based questions, when new voice-based search tools like Alexa and Cortana are released. One of the most effective methods to achieve this is to include a FAQ or Q&A section on your website. You can bring more viewers to your site and climb the ranks by employing focused, long-tail keywords and inventive content.
Using Schema to Get the Best Results
Recent improvements to Google and other search engines provide an opportunity for manufacturing and industrial businesses to grow. A schema vocabulary is a means to construct structured data that appears immediately on a search engine's website, such as answer boxes, rich text snippets, and other items. The better your schema implementation, the more likely your company will appear as one of the highlighted snippets at the top of Google searches pertaining to your industry.
User Intent and Content Matching
It's no secret that keyword research takes time, which is why many companies in the manufacturing and industrial sectors choose to outsource it rather than do it in-house. You'll have the resources to match your content to exactly what potential visitors are looking for if you do your keyword research and SEO optimization right.
Digital marketing firms conduct considerable research into what kind of content in your business provides the best organic search results, which rival websites rank in Google, and what specific types of content high-ranking competitors provide.
Hiring a Manufacturing Marketing Agency and Taking the Next Steps
Enlisting the services of a manufacturing marketing firm experienced with your sector is a terrific initial step for individuals who want to start producing more returns and developing their business. An experienced, dependable agency will be able to give you proven results and a data-driven strategy, allowing them to make real-time adjustments to your marketing initiatives. Adjustments like this help you stay on top of the ever-changing SEO landscape and obtain a competitive edge.
When it comes to being an industry leader online, proper SEO and content strategies are only one piece of the jigsaw. Targeted marketing solutions, such as pay-per-click campaigns that spotlight certain users or items, are frequently used in conjunction with such methods. Retargeting is another strategy that pays off handsomely. These campaigns bring back prior users who, for whatever reason, did not complete the last step of requesting a quote or purchasing one of your products or services.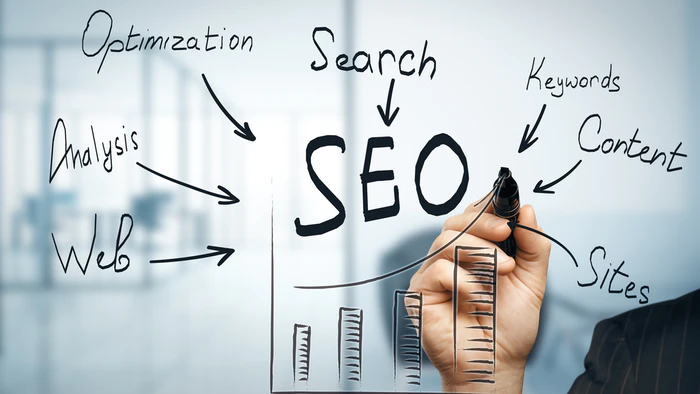 Linquip Solutions
Linquip is a business network for equipment manufacturers, industrial customers, service providers, industry experts, and researchers.
This open-access interactive platform allows professionals to actively improve technical material, audiences to have access to empowered data, and industrial customers to receive the most up-to-date technical information from manufacturers. Linquip is a global cloud-based network that uses an intelligent search engine to help professionals identify quality industrial equipment and services. It allows professionals to communicate with one another, cooperate, discuss, and share their experiences.
All industrial organizations may use this network to search, sort, and compare certified suppliers in real-time. Linquip provides sales intelligence services to companies in a variety of industries, including oil and gas, power and energy, construction, mining, medical, agricultural, and more. Companies may increase their pipeline and get new consumers by utilizing this online industrial platform.
Linquip offers various solutions for each company level. You can see various solutions we offer in the following figure.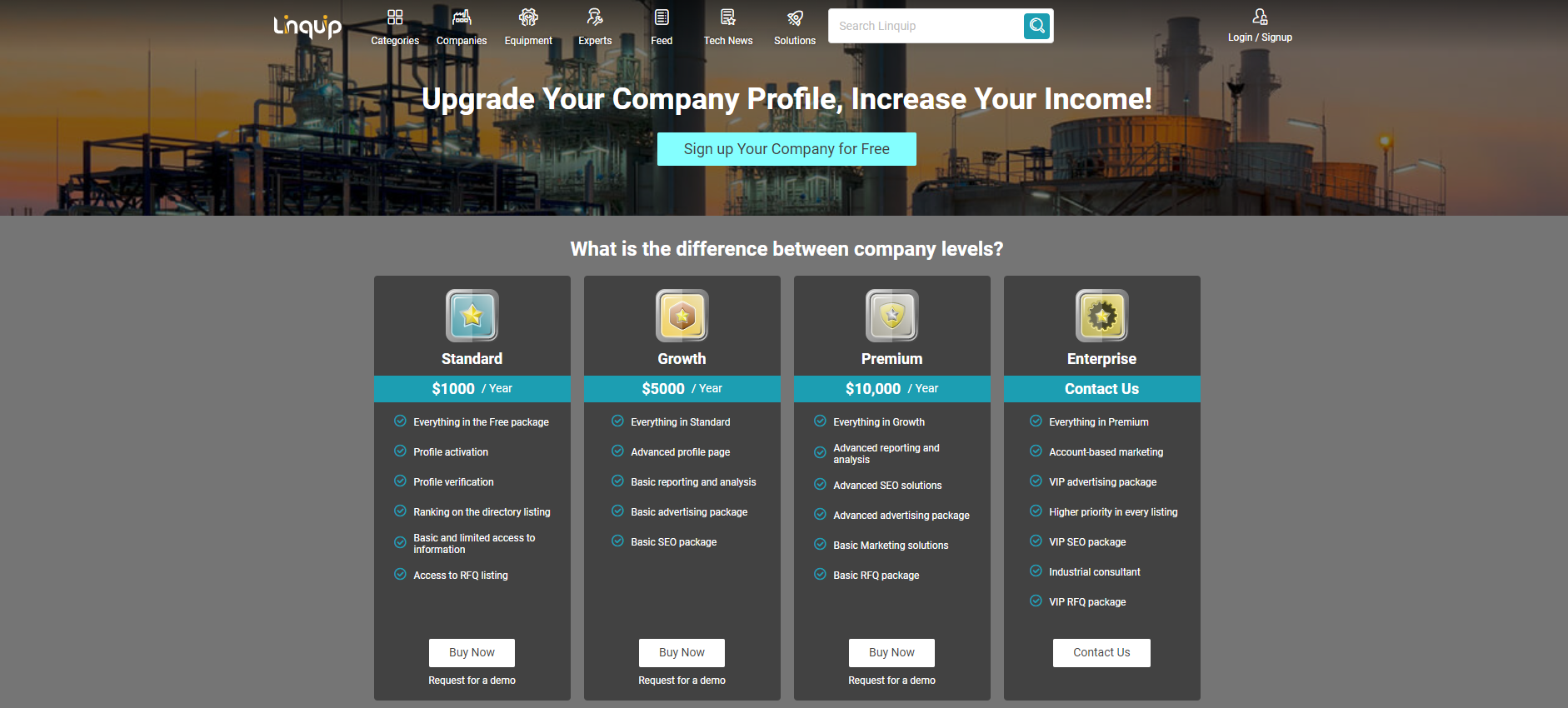 You can conduct all of your industrial research in one place! It can be challenging to find industrial experts, companies, news and equipment with standard search engines. With this feature, take advantage of unlimited access to Linquip's comprehensive industrial directory.
Besides, you are able to increase your chances of being seen on Google SERPs more than ever before with Linquip. Utilizing a wide range of industrial queries, Linquip introduces your company to organic niche users.
You can also get the most out of your Linquip profile by maximizing your impressions and engagement. With this feature, your company will be listed in our industrial directory with higher precedence than non-member profiles.
For more information on how the Linquip platform can help you boost your digital advertising, visit our Solutions section. You can use our Sponsored Brand solution to ensure your brand is top of mind when customers are browsing and discovering companies in the Linquip Directory. The Linquip platform will make sure your brand is showcased whenever a prospective customer is searching for similar companies or related keywords. Through Linquip's smart placement software your brand will be targeted to the right decision makers to ensure maximum exposure. You can also increase leads by exposing the right people to the right information at the right time.

Sponsored posts appear directly in the Linquip feed of professions you want to reach, and come in multiple formats including video, images, or articles. Using accurate, profile-based first-party data, Linquip makes sure your posts are seen by the most relevant audience. Whether your focus is brand awareness, product awareness, product sales, etc., Linquip can help you reach your targets by making marketing easy and effective. With a user base of over 260k in-market buyers from around the world, Linquip exposes your posts to more users than was ever possible before.

We also encourage you to visit Linquip SEO Solution. You can increase your chances of being seen more than before in Google SERPs with Linquip. Linquip, with a large share of industrial niche queries, introduces your company to organic niche users.
Buyers are doing more and more of their research online than  before. By creating a Linquip Premium Profile you're hiring a group of experts to be an extension of your marketing team that will help your company be easily found on search engines and build brand awareness.
Step one is building brand awareness, the next step is helping potential customers understand your brand's expertise and product line. Linquip's Premium Profile takes care of this.

Come join Linquip now that you know the answer to "What is industrial advertising?" and why digital advertising might improve your industrial advertising strategy.
We'll assist you in developing the most effective industrial digital advertising plan for your company. We've worked with B2B enterprises before, so we know what it takes to market to other businesses. We understand the ins and outs of online advertising.
Visit the Linquip website and talk to a strategist about our industrial marketing plans!
FAQs about SEO for Industrial Distributors
1. What are the 3 important components in SEO strategy?
A Strong SEO Strategy Must Include These Three Components:
Rankings:

Indexing, Crawling, Formatting and Links.

Quality Content:

What sets your website apart from the rest.

Measure:

Integrate your SEO strategy.
2. Does industry affect SEO?
When it comes to SEO, each website has unique requirements. However, those requirements are seldom determined by the firm or sector.
3. What is the most important part of SEO?
One of the most essential SEO ranking elements is content. Because search engines aim to produce the greatest possible results, they favor sites with well-researched, in-depth, and well-crafted material.
4. How do companies use SEO?
SEO firms work to raise your company's visibility in search results, allowing you to gain more visitors (and, eventually, income) through search. For SEO businesses, increasing search visibility entails a variety of duties, including keyword research, link development, content generation, and more.
5. How does SEO increase traffic?
SEO may enhance your website traffic by ensuring that it appears in relevant searches and so attracts people. The technique of attaining a natural placement on search engine results pages (SERPs) is known as organic SEO.
Read More on Linquip