SEO Tips for Manufacturing – When looking for a product or service, more than 87 percent of individuals go online first. Consumers are increasingly reaching your company's website via their cell phones before taking any more steps toward sales conversion, which means that search results are becoming more mobile.

Search Engine Optimization (SEO) is still a mystery to many manufacturers and industrial businesses. It's understandable, given that the regulations and "best practices" are continuously changing as new technology and trends emerge. As a result, it's no wonder that there are a lot of misunderstandings about SEO. So, if you're new to the realm of digital marketing, let's go through the basics of SEO and how it may benefit manufacturers and industrial businesses using Linquip Platform.
Manufacturing firms that do not rank — that is, those that do not appear on the crucial first page of search results — do not receive that business. Manufacturers have never had a greater need to stand out in the digital throng, utilizing a systematic search engine optimization (SEO) approach to attract quality leads, improve website traffic, and increase contracts and revenue.
What Does SEO Have to Do with Marketing?
Relevant content for industrial buyers helps you get found online, keeps them engaged on your site, and boosts your chances of converting them to a sale. Content, backlinks, site usability, keywords, and page authority are all criteria that search engines look for while scanning websites to provide relevant web pages.
To be successful, SEO employs the following marketing components:
Content: Effective content marketing includes e-books, site material, and corporate information, all of which are likely to include relevant keywords like "metal stamping New England" or "custom injection molding for medical supplies."
Backlinks: All other online sites, such as social networking pages and industry publications or resources that link back to your site.
Usability: User experience and design of your website – how easy it is for people to browse around your site and locate what they need or contact you.
Page authority: What is the relevance of your website to your industrial goods or services?
For SEO to add value to your website, there are several factors to consider. One of the most crucial considerations is to keep your website up to date. Do you want to discover how your website stacks up against the competition? Request a free digital health check from Linquip. You'll get a website evaluation and learn exactly what you need to do to enhance your visibility among eligible shoppers.
SEO Tips for Manufacturing Companies
With these expert-approved SEO methods and best practices intruded by Linquip, you can improve your company's website rank and exposure, and then see the needle move on important client conversions.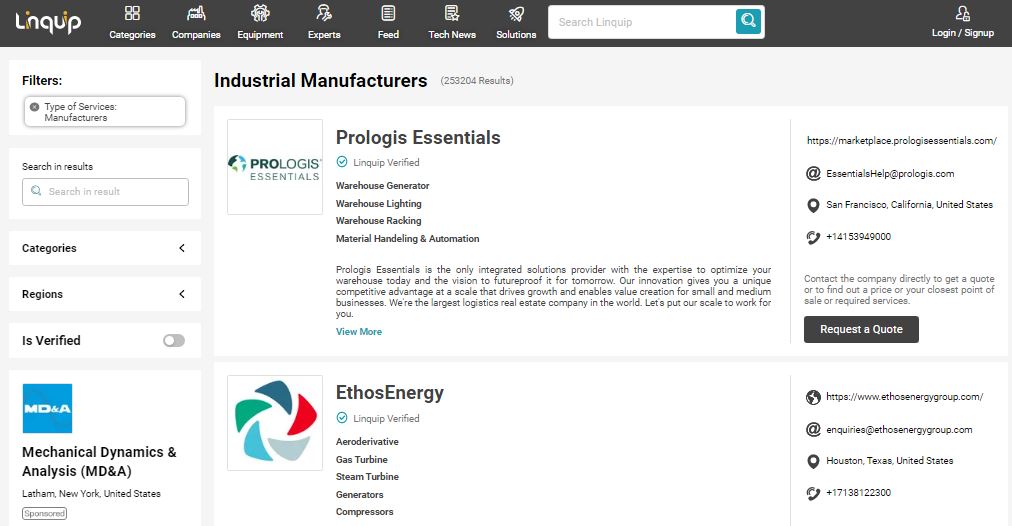 Write for User Intent
Brands that write for user experience create content for the web and social media with the requirements of the end-user in mind. To put it another way, they develop content based on the reasons that drive a search, giving relevant, useful information for real people's questions.
The most important SEO tactic for marketers today is writing for user intent. As Google's trends and ranking algorithms improve, they will favor helpful, engaging, and in-depth information sources above keyword stuffing or outright commercial advertising to internet consumers.
Ask yourself if your website's special pages:
Have a definite goal in mind.
Respond to a common worry or inquiry among your target audience.
Are beneficial to the intended audience.
Provide reliable, accurate, and authoritative information.
Create and Register a Sitemap
Google inspects and ranks web pages using "crawler" algorithms. A crawler's task is to rank your web pages based on Google's definitions of relevant, expert, and authoritative content. The higher a page's rank, the better it meets these criteria.
Sitemaps work in the same way as a crawler's manual does. Rather than allowing search engines to browse your whole website and make their own conclusions, sitemaps lead crawlers to your most significant pages and tell them how often they are updated – two critical pieces of information for ranking. You may also exclude particular pages from your sitemap, which means Google will not rank your site based on them.
Optimize for Specific Key phrases
When it comes to keyword use today, quality trumps quantity. Targeting low-volume, high-value long-tail keywords benefits manufacturing enterprises the most. These are lengthier, more specialized phrases that are less commonly put into a search engine, yet have fewer rivals competing for the same keywords.
Add Metadata to Your Pages
The context of your web pages is better understood by both Google engines and real consumers thanks to SEO metadata. For a manufacturing company's SEO tactics, two sorts of metadata are particularly important:
Meta titles: The connected titles that display in search results are known as meta titles. When looking at query results, users prefer to skip over meta titles, also known as title tags. They're most effective when they're no more than 60 characters long.
Meta descriptions: The one- to two-sentence page description that appears beneath the clickable meta title is known as a meta description. Meta descriptions provide a page context and are more likely to entice users to click.
Set Up a Google My Business Profile
A Google My Business page gives your website more credibility and validity. Organizations who have Google My Business accounts will show up more frequently in Google searches related to your business or location. Use your Google My Business profile to control how your company appears online, including managing reviews, as well as improving your website's ranks and clicks.
Use Google Analytics
The Google Analytics standard package is a free service that allows you to track a variety of important SEO indicators, such as:
Advanced customer segmentation
Top website content
Online marketing campaign traffic and click-through rates
Most visited pages
Website traffic sources & patterns
Given Google's dominance in the internet search industry, it makes sense to track and optimize your material for a larger audience using their platform.
How SEO Drives Business for Industrial Manufacturing
SEO tactics strive to increase the visibility of your website in the face of fierce industry rivalry. Your manufacturing firm will get various benefits as a result of the increased visibility.
Generates brand awareness: The chance that someone will buy your items or work for your firm is related to brand awareness. Your brand recognition grows in tandem with your rating and online traffic, eventually attracting people to your sales funnel.
Increases customer retention: Client retention is more cost-effective than acquiring new consumers. Acquiring a new client is generally five times more expensive than retaining an existing one. Successful SEO allows you to attract and hold the attention of qualified buyers.
Builds trust: A successful search engine optimization campaign makes a searcher feel understood. Their question was answered directly, in a competent, straightforward, and convenient manner. When it comes to incentivizing a sale or contract, content providers that develop that type of connection with a user have an advantage.
Nurtures conversions: A solid SEO strategy is a foundation for converting qualified leads into paying clients. You'll be well on your way to increasing sales income if potential clients are familiar with your name and services, and you've established authority and trust.
Is There Value in SEO Tips for Manufacturing Today?
Manufacturing was a roller coaster throughout the twentieth century, with the bulk of industrial enterprises coming out on top. Word-of-mouth referrals, direct mailings, and directories like our own Linquip Platform all helped bring in new clients. The internet then ushered in a time of intense, fast change in corporate practices.
Prospective consumers flocked online as the "big green books" went out of print, throwing up a floodgate of potential business prospects – provided you knew how to find them. In the last two decades, as the amount of data available on the internet has grown, buyers and buying managers have begun to rely on it for supplier and product knowledge rather than business contacts. Is there still a place for SEO in the manufacturing world today?
Yes, if you want to reach out to a new generation of B2B buyers and generate more quality leads. Getting to the first page of Google became, and continues to be, a top aim for manufacturers and industrial enterprises who regard the internet as a valuable source of new consumers.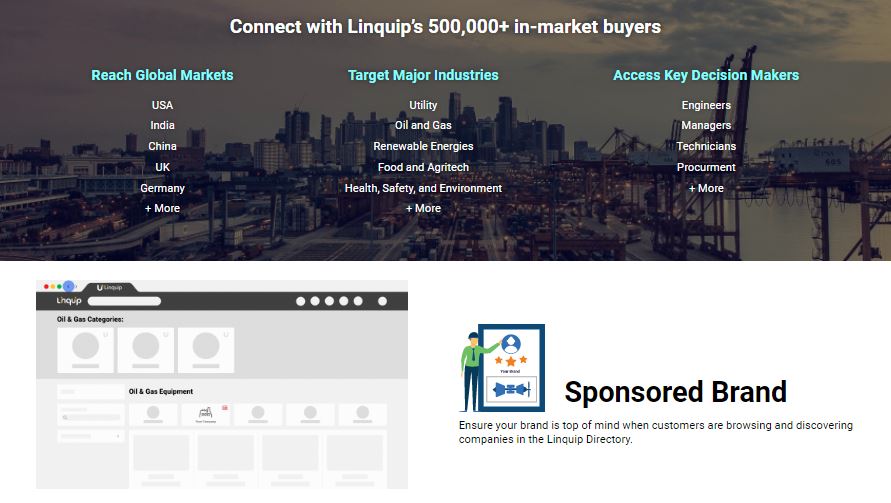 These internet usage tendencies will continue to accelerate as the millennial population ages, graduates from college, and joins employment. In the industrial industry, millennials (roughly aged 20 to 36) in engineering and purchasing roles utilize the internet, especially search engines and Linquip.com, to find the information they require to make informed specifications and purchase decisions — studies show that 73 percent of them use your website as an important component in submitting RFIs.
Engineers, procurement managers, and B2B buyers will find your company first if you use SEO. You might be losing out on major development chances if you don't use SEO and other suitable digital marketing techniques (like online advertising!).
Adjusting your development strategy to fit the demands of your B2B buyers so you can be where they are based on their behaviors is the best approach to handle all of this ongoing change and gain the greatest value.
Future of SEO and Manufacturing
SEO tips for manufacturing are most effective when they are tailored to the current search engine and social media usage patterns. Because those purposes and technology are always changing — as seen by the move from desktop to mobile search — SEO best practices are changing as well.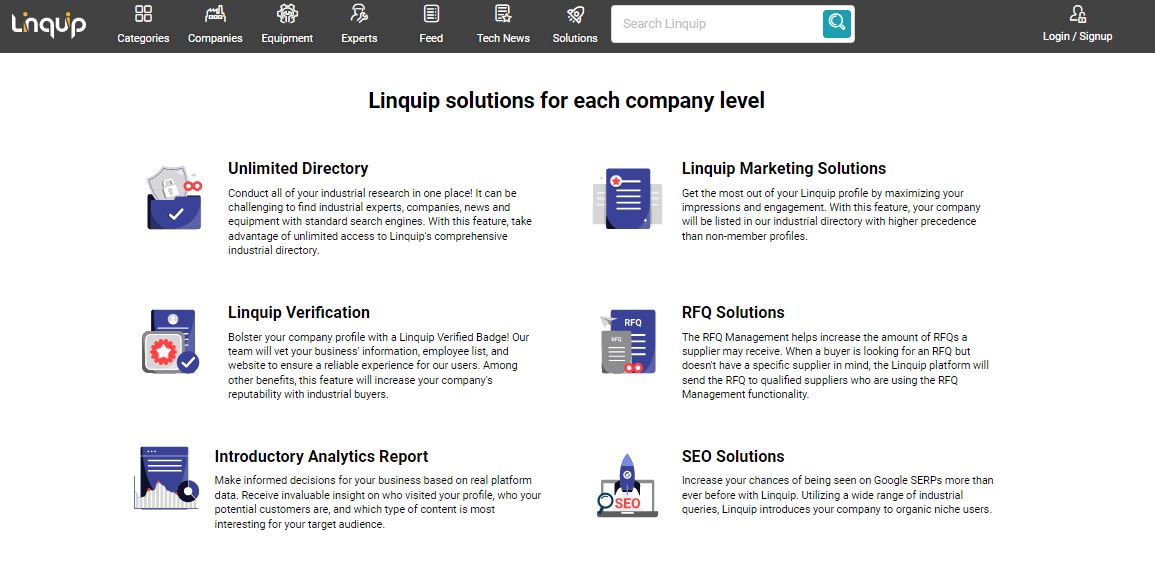 You can improve your website's search engine rankings in a variety of ways. Because each manufacturing organization is unique, it takes some trial and error to establish the proper balance of best practices. Consider the following Linquip-predicted trends for the future of SEO in the manufacturing business.
Non-Text Optimization
Marketers currently use text-based meta tags to improve their website's videos and photos. These tags include textual descriptions of the picture or video, typically with targeted keywords, that crawlers scan to determine the page's usefulness and relevance.
Artificial intelligence-driven computers will be able to contextualize non-text material using audio-visual clues in the not-too-distant future. This technology ushers in a new era of optimization. Companies will most likely adjust by allocating resources to the development of optimized videos, much as they did for producing optimized web pages, blog posts, and social media campaigns.
Carefully Choose Your SEO Keywords
Keyword research aids in the identification of keywords that appeal to a certain audience, allowing you to broaden the reach of your material. Using keyword research tools might help you figure out what sorts of material consumers are looking for on a certain subject. Make keyword research a top priority at all times.
You should keep the aim of your website in mind while choosing keywords. If your website's primary goal is to generate revenue, go with transactional keywords; if your goal is to deliver valuable information to viewers, go with informative keywords. Simple industry descriptions like "metal stamping" or "injection molding" will be extremely competitive. Develop long-tail keywords that are more unique to your jobs, such as your area or the sectors you want to target. Make sure you've done your keyword research and are targeting the right people.
Industrial marketers are designing intricate digital marketing programs to enhance lead generation in today's more competitive industry. As rivals improve their SEO, pay-per-click advertising, for example, is increasingly becoming a vital aspect of a complete and effective SEO strategy.
Here are a few keyword research methods that experts recommend:
Natural Language Processing Voice Search
In the last several years, natural language processors (NLPs) have advanced tremendously, pushing the aims underlying user intent. Crawlers may employ NLP machine learning to look at topics like sentence patterns, keyword synonyms, phraseology, and even regional terminology to provide consumers with the most appropriate results.
Instead of taking a search literally, the technology is far better at contextualizing it. As a result, businesses will need to move their writing styles and information from text to voice search in order to be picked up by voice assistant devices and future NLP-crawler technologies.
Automated Personalization
"Automated" and "personalized" may appear to be mutually exclusive terms. Manufacturing brands, on the other hand, may utilize artificial intelligence to make customized information appear to a consumer based on previously obtained data. These AI-powered systems are already capable of making sales recommendations and sending shipping or delivery updates. They'll soon be able to send totally customized communications to certain end-users.
Make Your Website Design Mobile-Friendly
Websites that were established more than five years ago are likely to have a poor user experience and obsolete technology, which is bad for everyone — especially mobile users. Older websites that don't adapt to mobile device usage or aren't optimized for search engine algorithms will fall behind and won't provide any good lead-generating outcomes. Consider the importance of the millennial generation, which we discussed previously, and how they've influenced internet trends and the industrial client buying process.
Because 57 percent of consumers would not suggest a company with a badly designed mobile site, it's critical to optimize your website not only for smartphones but also tablets and laptop computers. Partner with an industrial marketing professional who can make fast changes to your website so that potential consumers can find it.
In today's increasingly linked, digital world, responsive website design is critical. In fact, a non-mobile-friendly site design might harm your SEO position significantly. As more people use their smartphones and other mobile devices to access the internet rather than their PCs, search engines are promoting mobile experiences.
User Solutions Kept Front-of-Mind
Useful and relevant web material for your target audience will be rewarded. Pages that meet user demands and match meaningful queries, ideally in natural-sounding but specialized language, will continue to be prioritized by search engines.
Other user-friendly SEO elements, such as fast website loading times, mobile adaptable designs, and a clean, elegant interface, must be included as well. In conclusion, the more appealing your website seems and functions to your target audience, the more effective your SEO approach will be.
Review Your Redirects and Identify Broken Links
Certain URLs may need to be temporarily redirected due to server migration. These redirects (status code 302) ensure that the previous URLs are indexed by Google, allowing users to access them even after the server has moved.
To permanently redirect a URL, utilize the status code 301, which converts the old URL to the new URL. In the process, some of the link juice is also sent on. However, what about those annoying 404 errors?
A user's browser displays error code 404 when they visit a URL that cannot be found on a server (file not found). This not only produces a terrible user experience but also causes search engine crawling to be disrupted. If your website has a lot of 404 errors, search engines will interpret this as a hint that it isn't well-maintained. However, broken links are the most common reason for 404 errors.
To put it another way, you've put a link on your website that points to a page that no longer exists. This frequently occurs when the destination URLs have been changed or written incorrectly. Make sure to monitor your website for any broken links regularly (especially after a relaunch or small URL changes).
Here are a few online tools that might assist you in locating 404 issues on your website:
Google Search Console
Ahrefs' Broken Link Checker
Screaming Frog SEO Spider
Are you unsure what a 404 error is or how it might affect your marketing efforts? Check out What Does A 404 Error Mean? for all the essentials and how to solve a 404 error.
Track Your SEO Success
It's critical to join up for Google Search Console and Google Analytics before beginning any content strategy. You'll be able to track the effectiveness of your SEO approach if you use a mix of these SEO tools. Organic traffic is the most important measure to watch while beginning your SEO journey. You'll see an improvement in your search engine ranking if you cut back on your plan to increase this measure.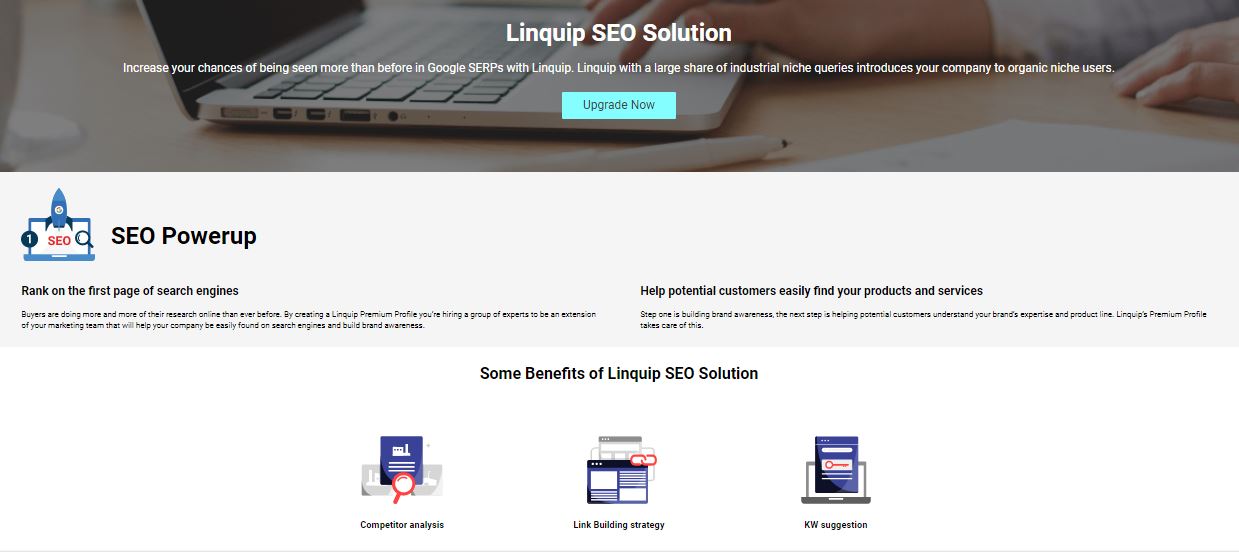 The Google Search Console platform serves as a link between a website's owner and the Google search engine. As a result, it provides unique data, tools, and monitoring capabilities not found anywhere else.
You may also use data from the Search Console in other Google products, such as Google Analytics and Google AdWords, by tying them together. CTR and traffic data, as well as links in other online analytics tools, may all be integrated via the API.
Google Analytics is vital for measuring the performance of your SEO efforts since it allows you to study user behavior on your website in detail. The analysis choices vary from the most basic to the most advanced. Google Analytics keeps track of how many people visit your site. Place the required Google Analytics code snippet on each page to enable tracking.
Work With Linquip to Develop Your Modern SEO Strategy
Although we've discussed the fundamentals of SEO and what it implies for your online presence, there's still a lot of work to be done to optimize your website – SEO is only one part of a comprehensive digital marketing plan. There's still a lot to learn, such as the difference between onsite and offsite SEO and how adding video marketing into your lead generation plan affects SEO.
Smart industrial marketing specialists use a conventional content planning method of keyword research, relevancy, and subject discovery when brainstorming content ideas. To effectively enhance your SEO traffic, this planning includes determining what sort of content should be developed and how organic rivals are performing.
Linquip is a non-profit consulting organization that specializes in assisting small and medium-sized businesses in implementing more competitive business processes. Contact us to see how our manufacturing SEO and social media services may help you create more leads and expand your business faster than the competition.
Contact us immediately to make sense of it all and bring additional value to your online growth plan. It's OK if you don't have time to handle your website or SEO but still want to be seen by more qualified buyers. The marketing staff is backed up by engineers with degrees who can do all of the heavy work for you.
Read More on Linquip