Seven SEO Tips for Industrial Companies and Suppliers – Search engine optimization (SEO) is still a mystery to many manufacturers and industrial businesses. It's understandable, given that the regulations and "best practices" are continuously changing as new technology and trends emerge. As a result, it's no wonder that there are a lot of misunderstandings about SEO. So, if you're new to the realm of digital marketing, let's go through the basics of SEO and how it may benefit manufacturers and industrial businesses.

What is SEO?
How can you connect the dots if you want more new clients and you know how vital your website is for generating leads? You're more inclined to click a link from one of the first five items in a Google search. Have you ever considered how one of those sites manages to achieve a high ranking? It's a strategy for generating leads that rely on high-quality content and SEO to attract your target website traffic.
Search engine optimization (SEO) refers to how search engines such as Google, Bing, Yahoo, and others employ a formula to decide the results of a user's search. A search engine algorithm ("algorithms" are the formulae employed by search engines to determine search results) is what this is termed. Google's SEO algorithm is often updated. While keeping up with SEO algorithm modifications might be tough, it keeps marketers focused on providing high-quality website content.
It's not about "quick solutions" or "tricks" to rank a few of your pages. Fundamental, long-term, and established best practices, applied and modified through time, are the cornerstones of good SEO. Some SEO strategies are more technical than others, and they may evolve as your business expands.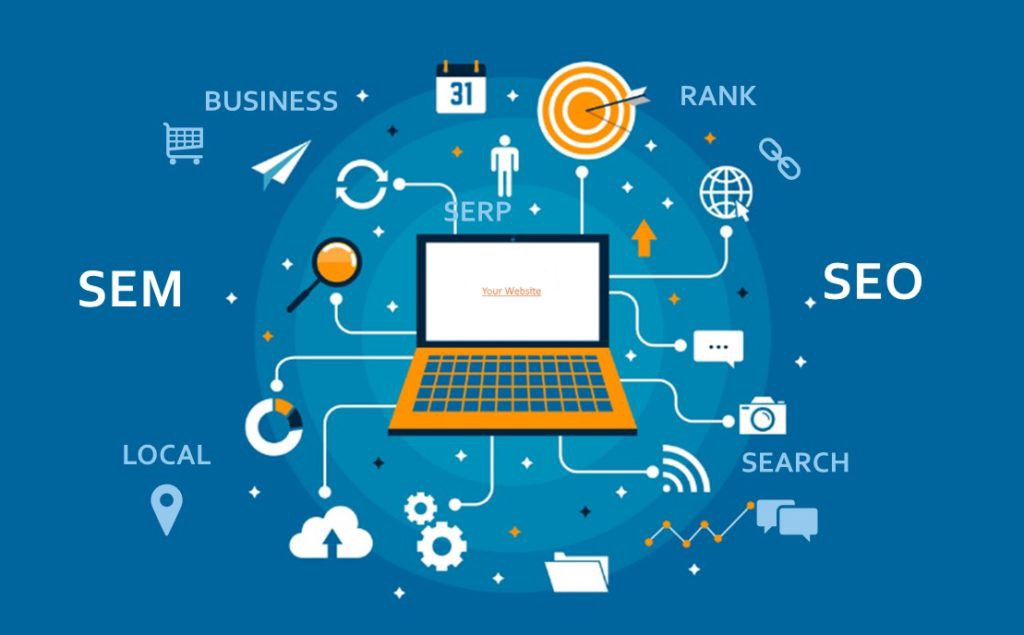 What is The Relationship Between SEO And Marketing?
Relevant content for industrial buyers assists you to get found online, keeping them interested in your site, and boosts your chances of turning them to a sale. Content, site usability, keywords, backlinks, and page authority are all criteria that search engines look for while scanning websites to provide relevant web pages to people.
To be successful, SEO employs the following marketing components:
Content:

Effective content marketing includes e-books, site material, and corporate information, all of which are likely to include relevant keywords like "custom injection molding for medical supplies" or "metal stamping New England".

Usability:

Refers to the ease with which website users may browse through your site to locate what they're looking for or contact you.

Backlinks:

All the other sites on your website that link back to yours, such as social networking pages and industry newsletters or publications.

The relevance of your website to your unique industrial products or services is measured by its page authority.
For SEO to add value to your website, there are several factors to consider. One of the most crucial considerations is to keep your website up to date.
Is SEO Still Relevant For Today's Manufacturers?
Manufacturing was a roller coaster throughout the twentieth century, with the bulk of industrial enterprises coming out on top. Direct mailings, word-of-mouth referrals, and directories all helped bring in new clients. The internet then ushered in a time of intense, fast change in corporate practices.
Prospective consumers flocked online as the "big green books" went out of print, throwing up a floodgate of potential business prospects – provided you knew how to find them. In the last two decades, as the amount of data available on the web has grown, buyers and buying managers have begun to rely on it for supplier and product knowledge rather than business contacts.
Is there still a place for SEO in the manufacturing world today?
The answer is yes if you want to reach out to a new generation of B2B buyers and generate more quality leads. Getting to the foremost page of Google became, and continues to be, a top aim for manufacturers and industrial enterprises who regard the internet as a valuable source of new consumers.
These internet usage tendencies will continue to accelerate as the millennial population ages, graduates from school, and joins employment. In the industrial industry, millennials (roughly aged 20 to 36) in engineering and purchasing roles rely on the internet, specifically search engines, to find the data needed to make knowledgeable specifications and purchase decisions — studies show that 73 percent of them use your website as a critical factor in submitting RFIs.
7 Essential SEO Tips for Manufacturing Companies 
1. Start With Your Target Audience
Only when your target audience is addressed can SEO for manufacturing enterprises produce revenue-boosting benefits. It's important to remember that the purchasers you want to attract aren't the same as the consumers who are the focus of most sectors' SEO efforts. They may use search engines to find relevant topics, but their behaviors may be different.
This is when analysis of the audience comes in handy. It permits you to create a customized profile of hypothetical, ideal consumers that goes beyond demographic analysis. It has the added advantage of allowing you to comprehend your audience's pain issues, which can then be used to steer your SEO approach.
2. Select the Correct Keyword
Keywords are the words or phrases that allow visitors to locate your website, and they are the foundation of SEO. That's why, after building buyer profiles and understanding their desires, requirements, and reasons, it's critical to choose keywords. In the absence of it, you risk targeting phrases that do not result in traffic or conversions. You may monitor what is being discussed on internet forums and websites that specialize in your sector and its specialty in addition to conversing with your clients to find out what they want to learn. This social listening should be represented in your keywords if you need to be at the top of the search engine results pages (SERP).
Short-tail keywords, on the whole, have a high search volume and a high level of competitiveness. Another issue with short-tail keywords is that it's difficult to determine the user intent. For instance, a search for "industrial equipment" may be motivated by the following factors:
Investigating industrial machinery
Buying industrial machinery
Recognizing the many types of industrial equipment
Maintenance of industrial machinery
Repairing industrial equipment
Utilizing industrial machinery
Offering industrial equipment for sale
That's why low-competition keywords, often known as long-tail keywords, are occasionally a good idea. Instead of targeting "industrial equipment," a manufacturing company's SEO strategy may focus on a term such as "industrial equipment benefits." The best technique is to start with the most valuable keywords and work your way down to the less valuable ones.
3. Ensure That Your SEO House is in Order on a Technical Level
Before you consider what people are looking for, make sure your website is easy to find, trusted by both users and search engines, and provides a positive user experience. Take a look at these examples:
Page Speed: Is your website slow because it has too many huge photos or videos? Is there any code on your website that you don't need? These and other variables might cause your website to load slowly, causing viewers to abandon it before interacting with your content. You may check your Google PageSpeed Insights report or obtain a free website grade.
SSL Certificates: Have you ever noticed the words "http" or "https" at the beginning of URLs? The "s" at the end of the latter indicates that your website is secure to web servers, browsers and users. Thanks to this Secure Sockets Layer (SSL) certificate, the connection between the web server and the browser is encrypted, and the data is confidential thanks to this Secure Sockets Layer (SSL) certificate. Google considers whether or not a page has an SSL certificate when ranking it. A safe website also conveys the appropriate impression to your users: your organization is concerned about security and follows the current online standards.
4. Local or National SEO
After you've got your house in order, it's time to figure out who you want to target with your content. The following is a broad breakdown: a local or nationwide audience. The demarcation should be reflected in the material on your website.
Local SEO: A local approach is advised if you work for a manufacturing facility (such as a steel company) that can only deliver items to specific locations or has predefined boundaries specifying which leads you may convert to clients. Create a Google My Business account and use targeted keywords for the areas you can serve.
To maintain directory entries in bulk, you may also look at various local SEO solutions. For example, you can update your information in one location and have it sent to many directory listings, such as Google My Business, Yelp, and Facebook, using Moz Local.
National SEO: A broader content and keyword approach are advised for the majority of manufacturers and industrial enterprises that may distribute their products statewide or have various distribution locations to target a bigger audience group.
5. Optimize Your Metadata
Metadata is a fragment of code contained within a webpage's header that aids search engines in understanding what the page is about. Google is always trying to direct its users to the most relevant page available, and metadata lets search engines determine if your website has the information they're looking for. Because the manufacturing industry is getting more competitive, optimizing page information is extremely beneficial. Optimized metadata is an inescapable part of every manufacturing company's SEO strategy if they want to stand out in the eyes of the Google algorithm.
The Meta title and Meta description are two of the most important forms of information for SEO.
Meta Title
The appropriate title tag is taken into account by Google when evaluating search engine rankings. Your meta title shows up at the top of your search engine listing, as illustrated below.
The presence of concentrated keywords at the start of the Meta title is beneficial to SEO. It should not exceed the 160-character restriction that has been specified.
Meta Description
Meta descriptions are meant to provide short summaries of web pages. Below the clickable link in Google search results, they can be one sentence or a brief paragraph.
Though meta descriptions aren't used to determining search results, they are crucial for getting users to click through from search engine results pages. They function as ad copy to urge people to click on your site link and convince them that your page is the most relevant to their search query.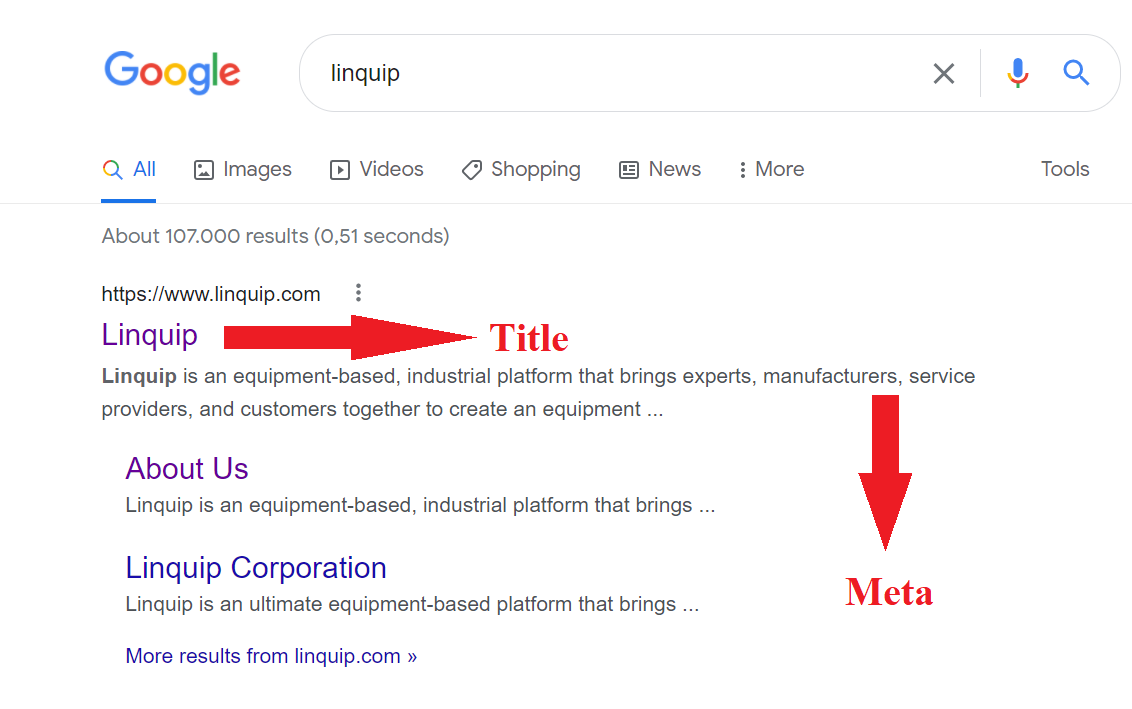 6. Quantify Success as Lead Growth
SEO for manufacturing firms, like any other marketing plan, is incomplete without a continuous review of your efforts' success. It's tough to measure ROI in the absence of precise indicators to identify whether your optimized blogging is truly helping to expand your business.
Unlike other companies, which measure SEO effectiveness based on visitor generation, the manufacturing industry should employ superior KPIs. One of them is the overall number of new leads and prospects created. As a result, it's critical to know how many tips this post/keyword will assist me in producing before starting any blog. You may build a direct link between the two variables using Google Analytics and HubSpot capabilities.
7. Clean Up 404 Pages
A 404 error appears when people attempt to browse a page on your site that does not exist. If you delete pages or goods from your website, your users may see 404 errors. It's worth noting that it has an impact on more than simply the final user experience. If Google crawls a large number of your 404 pages, it means your website isn't working properly, which might affect your search engine results.
Creating a 301 redirect is the best way to deal with it. It essentially sends consumers and search engines to a different website. It also redirects the authority of the 404 pages to the new page, transferring any traction you've obtained from that page to the new one.
How To Get Started With SEO For Manufacturers
Although we've discussed the fundamentals of SEO and what it implies for your internet persona, there's still a lot of work to be done to enhance your website – SEO is only one part of a complete digital marketing plan. There's still a lot to learn, such as the difference between onsite and offsite SEO and how adding video marketing into your lead gen plan affects SEO.
Smart industrial marketing specialists use a conventional content planning method of keyword research, relevancy, and subject discovery when brainstorming content ideas. To effectively enhance your SEO traffic, this planning includes determining what sort of content should be developed and how organic rivals are performing.
Contact us immediately to make sense of it all and bring additional value to your online growth plan. It's acceptable if you don't have time to handle your website or SEO but still want to be seen by more potential buyers. Our marketing staff is backed up by engineers with degrees who can do all of the heavy work for you.
We'll begin with a free Digital Health Check to assess how you stack up against the competition and what approaches you'll need to reach eligible B2B buyers.
In what follows, we briefly discuss the capability and offering of the Linquip platform that can assist you in powerful marketing for your industry and business.
Linquip Solutions
Linquip is a business network for equipment manufacturers, industrial customers, service providers, industry experts, and researchers.
This open-access interactive platform allows professionals to actively improve technical material, audiences to have access to empowered data, and industrial customers to receive the most up-to-date technical information from manufacturers. Linquip is a global cloud-based network that uses an intelligent search engine to help professionals identify quality industrial equipment and services. It allows professionals to communicate with one another, cooperate, discuss, and share their experiences.
All industrial organizations may use this network to search, sort, and compare certified suppliers in real-time. Linquip provides sales intelligence services to companies in a variety of industries, including oil and gas, power and energy, construction, mining, medical, agricultural, and more. Companies may increase their pipeline and get new consumers by utilizing this online industrial platform.
Linquip offers various solutions for each company level. You can see various solutions we offer in the following figure.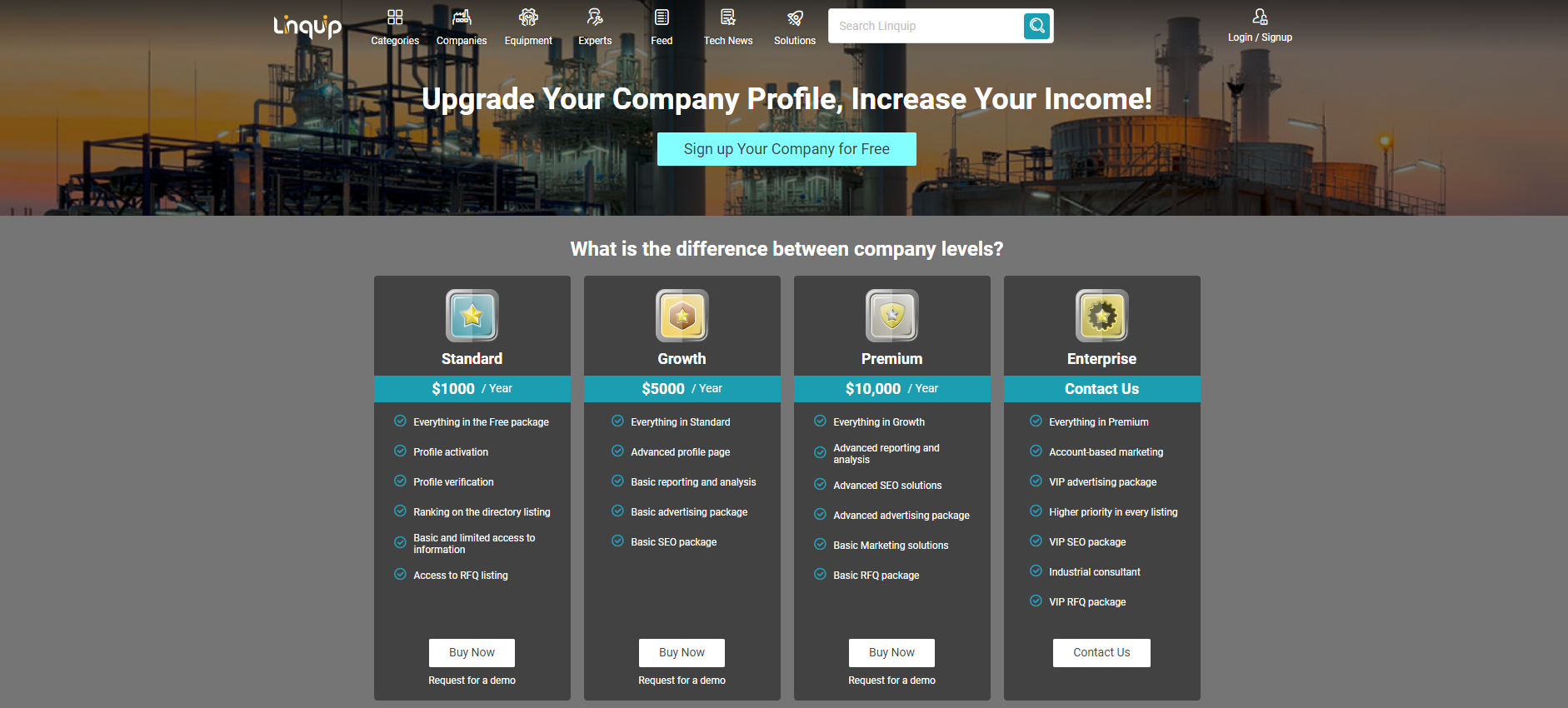 You can conduct all of your industrial research in one place! It can be challenging to find industrial experts, companies, news and equipment with standard search engines. With this feature, take advantage of unlimited access to Linquip's comprehensive industrial directory.
Besides, you are able to increase your chances of being seen on Google SERPs more than ever before with Linquip. Utilizing a wide range of industrial queries, Linquip introduces your company to organic niche users.
You can also get the most out of your Linquip profile by maximizing your impressions and engagement. With this feature, your company will be listed in our industrial directory with higher precedence than non-member profiles.
For more information on how the Linquip platform can help you boost your digital advertising, visit our Solutions section. You can use our Sponsored Brand solution to ensure your brand is top of mind when customers are browsing and discovering companies in the Linquip Directory. The Linquip platform will make sure your brand is showcased whenever a prospective customer is searching for similar companies or related keywords. Through Linquip's smart placement software your brand will be targeted to the right decision makers to ensure maximum exposure. You can also increase leads by exposing the right people to the right information at the right time.

Sponsored posts appear directly in the Linquip feed of professions you want to reach, and come in multiple formats including video, images, or articles. Using accurate, profile-based first-party data, Linquip makes sure your posts are seen by the most relevant audiences. Whether your focus is brand awareness, product awareness, product sales, etc., Linquip helps you reach your targets by making marketing easy and effective. With a user base of over 260k in-market buyers from around the world, Linquip exposes your posts to more users than was ever possible before.

We also encourage you to visit Linquip SEO Solution. You can increase your chances of being seen more than before in Google SERPs with Linquip. Linquip, with a large share of industrial niche queries, introduces your company to organic niche users.
Buyers are doing more and more of their research online than ever before. By creating a Linquip Premium Profile you're hiring a group of experts to be an extension of your marketing team that will help your company be easily found on search engines and build brand awareness.
Step one is building brand awareness, the next step is helping potential customers understand your brand's expertise and product line. Linquip's Premium Profile takes care of this.

Come join Linquip now that you know the answer to "What is industrial advertising?" and why digital advertising might improve your industrial advertising strategy.
We'll assist you in developing the most effective industrial digital advertising plan for your company. We've worked with B2B enterprises before, so we know what it takes to market to other businesses. We understand the ins and outs of online advertising.
Visit the Linquip website and talk to a strategist about our industrial marketing plans!
FAQs about SEO for Industrial Distributors
1. What are the 3 important components in SEO strategy?
A Strong SEO Strategy Must Include These Three Components:
Rankings:

Indexing, Crawling, Formatting and Links.

Quality Content:

What sets your website apart from the rest.

Measure:

Integrate your SEO strategy.
2. Does industry affect SEO?
When it comes to SEO, each website has unique requirements. However, those requirements are seldom determined by the firm or sector.
3. What is the most important part of SEO?
One of the most essential SEO ranking elements is content. Because search engines aim to produce the greatest possible results, they favor sites with well-researched, in-depth, and well-crafted material.
4. How do companies use SEO?
SEO firms work to raise your company's visibility in search results, allowing you to gain more visitors (and, eventually, income) through search. For SEO businesses, increasing search visibility entails a variety of duties, including keyword research, link development, content generation, and more.
5. How does SEO increase traffic?
SEO may enhance your website traffic by ensuring that it appears in relevant searches and so attracts people. The technique of attaining a natural placement on search engine results pages (SERPs) is known as organic SEO.
Read More on Linquip