Email Marketing for Manufacturers – Since 1978, when Gary Thuerk marketed his company's computers in a group message sent to 400 subscribers, email marketing has been at the forefront of the digital marketing industry. That single email generated millions in sales for him, and email marketing has done the same for many other businesses afterward.

The explanation for email marketing's long-term success is simple: it works. People are always on their phones. They check their email on a daily basis, numerous times a day. After all, an email inbox is a window into a person's hobbies, professional life, and social life.
Manufacturing firms should pay attention. These people aren't just figures on a spreadsheet. They're real people in high-ranking positions at firms you care about. People that are a good fit for your company's target market. Manufacturing, with 3.9 billion active email subscribers by the end of 2019 and the potential to expand to 4.48 billion by 2024, can't afford to neglect such a vital cornerstone of contemporary marketing.
Now that you understand the actual power of email marketing, I'll go through some of the most common questions I receive from manufacturing firms, as well as how you can utilize email marketing to develop your company.
Is It Vital For My Manufacturing Company to Use Email Marketing?
Email marketing is yet one of the most successful marketing channels, according to Ascend2's 2019 Digital Marketing Strategies Survey Summary Report.
This might be due to a variety of factors. The biggest one is that every email you send is going out to people who have previously opted to receive emails from your company at some time. As a result, all email marketing leads are pre-warmed and more likely to convert into actual purchases.
Another significant advantage is that email marketing is simple to automate. The capacity to simplify and streamline any process is critical in the manufacturing industry since it is so detail-oriented and complicated.
Because of the high return on assets, email marketing is essential for any manufacturing company. With the correct tools, the work necessary to establish and implement a plan is relatively low, and the benefits may be exponential.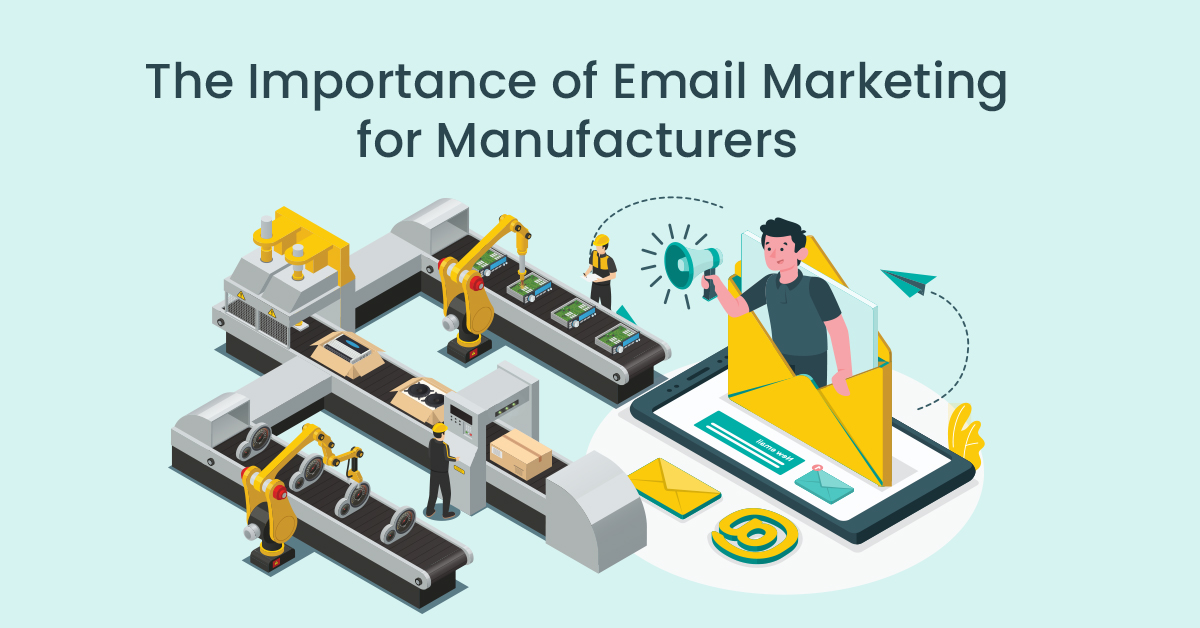 In My Manufacturing Marketing Emails, What Should I Say?
It's not enough to send random emails. They must be strategic in their approach. Messages delivered into the void with no aim or purpose will remain in the emptiness. Following these two fundamental content guidelines has generated the most favorable benefits for manufacturing organizations throughout the years:
Begin by extending a warm welcome. You're making a mistake if you don't instantly recognize and thank a potential consumer for providing you with their email address. They're offering you a present, so accept it. Welcome them and let them know what they may anticipate from future messages from you. You can give the highlights of your website's resources, but don't make your welcome overly sales-y. This is an excellent moment to let them know who they can contact if they want to chat with you more, but that's about as "sales-y" as you should go in your first correspondence.

Make a list of all possible "contact" possibilities. You are the expert on your firm. I propose creating a list before beginning to design an email marketing strategy. This list will cover any and all potential avenues for communicating with your email contacts that you can think of. Trade fairs you'll be speaking at, new product releases, industry trends, case studies, and probably more are some examples. This list will help you generate material more quickly and simply in the future.
Manufacturers Should Use These 7 Email Marketing Strategies
Select the Most Appropriate Email Marketing Software
First and foremost, the software you employ will have a significant impact on the performance of your email marketing activities. This should be your first step if you aren't already utilizing email marketing software.
You can design, segment, customize, and automate compelling emails for your leads and customers with smart email marketing software. It will also have data tracking and analysis capabilities, allowing you to identify which sorts of emails work better than others. While we're big fans of HubSpot, any email marketing software that can link to your CRM will give you a leg up on importing leads, staying on top of warm leads, and up-or cross-selling to current clients.

Develop a Powerful Email List
An email list is just a collection of email addresses that you gather, store, and utilize to send information to. Building a solid email list might seem out of reach if you're beginning from scratch. However, if you want to build a devoted email subscriber list with ultra-qualified prospects, this is an excellent place to start.
Although there are places where you may purchase vast, pre-made email lists, purchasing contacts is never a smart idea. Remember that one of the advantages of email marketing is that you can communicate directly with those who have expressed an interest in your product or service. Buying lists negates this benefit. Quality trumps quantity in this case as well. Try any of these ways to build a successful email list from the bottom up instead of buying one:
Include a pop-up or call-to-action on your website for people to sign up for email newsletters.

Collect email addresses from visitors to your fair trade stand (this is critical in the manufacturing business!)

Create appealing content offerings that consumers may access after providing their email addresses. Capability downloads and product catalogs are always a good idea for manufacturers!

Use your social media profiles and email signature to promote your email newsletters.
Make sure you don't kill your list of prospects once you've compiled one. Make sure you're not missing out on fantastic leads by following these 8 Bad Email Marketing Habits that are Killing Your List.
Make Use of Tools for Segmentation and Personalization
It's time to split your email list after you've built it. Any excellent email marketing software, as described above, will allow you to segregate email subscribers into numerous different groups depending on whatever criteria you want. The following are some popular email segmentation criteria:
Stages of the buyer's journey (awareness, consideration, decision)

Which product/service do they want to learn more about?

Job title/industry

Location
It's critical to become intimately acquainted with your buyer personas during the segmentation process. Know what your customers want and communicate with them directly. Personalization touches, such as including their name in the subject line or mentioning their company name, go further than you may expect.
Get Your Subject Line Right
People frequently rate emails based on their subject lines. When their inboxes are clogged with marketing emails from other firms, you need something that will stand out and inspire them to open it rather than delete it.
So, you might wonder what makes a subject line "catchy." Typically, anything brief and to-the-point that evokes a sense of immediacy, interest, and/or timeliness. Take some time to consider what you want those 40-50 characters to say. If you need additional ideas, HubSpot provides a guide on how to enhance your subject line that's really worth checking out.
Create Useful Content
If your subject line piques your prospect's interest enough to open your email, make sure it contains high-quality content; otherwise, they'll be less interested in read your emails in the future.
Education is an important part of lead generation and leads nurturing in the manufacturing business. Our world is based on progress, and your prospects want to know more about the tools and technology you're working on. As a result, the content of your email should focus on providing value to readers rather than generating sales. This increases your reputation and industry authority, increasing the likelihood that they will trust you, engage with you, and buy from you. Are you looking for some content ideas for your emails? Take a look at a couple of these:
Your most current blogs, for example, should be on your list of resources.

News and developments in the industry

Highlights of the product and service

Discounts or sales

Case studies are utilized to illustrate a point.

Changes in your organization (events, employment, etc.)

Any knowledge you discover that a large number of your clients are unaware of yet may benefit from
Send Visitors to Other Useful Site Content
Give your leads something to do once they open your email. An excellent email marketing tactic for keeping them interested and learning more about you is to direct them to other helpful material on your website.
There is no incorrect answer when it comes to which CTA to include in your email, from reading blogs to downloading content offerings and even filling out contact forms. Choose the one that best fits your existing business goals and the objectives of your email marketing campaigns.
Use Email Marketing Automation to Your Advantage
Email automation allows you to design and deliver targeted emails to the relevant prospects without having to perform the job manually every time. Email automation, which is usually included as part of your email marketing software, is a significant time saving that allows you to be more strategic about who you're sending to, what you're sending, and when you're sending. You are, after all, a manufacturer. Streamlining procedures should be a top priority for you.
In most situations, email automation works by sending a specific lead an email (or a series of emails, known as a workflow) after they fulfill a given trigger. It may, for example, automatically send a "welcome" email to someone who subscribes to your site. It may also send a "we miss you" email to someone who hasn't been active in a while, in an attempt to re-engage them. Email marketing automation will allow you to do things like:
Enhance and personalize consumer experiences

Create an automatic email series or sequence depending on consumer behavior.

Boost your personal efficiency.
How Often Should I Email My Subscribers?
You should begin with your initial welcome emails. This is the series of one or two greeting texts we described earlier. They aren't hard-sell communications; rather, they are an overview of all you have to offer a possible consumer.
Following that, it is recommended to send at least one more email every month. In marketing, consistency is crucial. You want people to remember your organization but not be upset or annoyed by the number of communications they get.
How Does Email Marketing Help My Manufacturing Company Make More Money?
Email is the primary revenue-generating medium for 59 percent of B2B marketers. We've already stated why, but it's worth repeating: Email is simple to set up and automate. The amount of labor required to maintain an email marketing campaign is absolutely doable after your initial attempts to build one up. Not only that, but email marketing automation solutions may help you make things even easier.
The truth is that email marketing is critical for all businesses, not only manufacturers. That's because emails are easy to use, personalized, and something that almost everyone, even company owners, is willing to interact with.
Linquip Solutions
Linquip is a business network for equipment manufacturers, industrial customers, service providers, industry experts, and researchers.
This open-access interactive platform allows professionals to actively improve technical material, audiences to have access to empowered data, and industrial customers to receive the most up-to-date technical information from manufacturers. Linquip is a global cloud-based network that uses an intelligent search engine to help professionals identify quality industrial equipment and services. It allows professionals to communicate with one another, cooperate, discuss, and share their experiences.
All industrial organizations may use this network to search, sort, and compare certified suppliers in real-time. Linquip provides sales intelligence services to companies in a variety of industries, including oil and gas, power and energy, construction, mining, medical, agricultural, and more. Companies may increase their pipeline and get new consumers by utilizing this online industrial platform.
Linquip offers various solutions for each company level. You can see various solutions we offer in the following figure.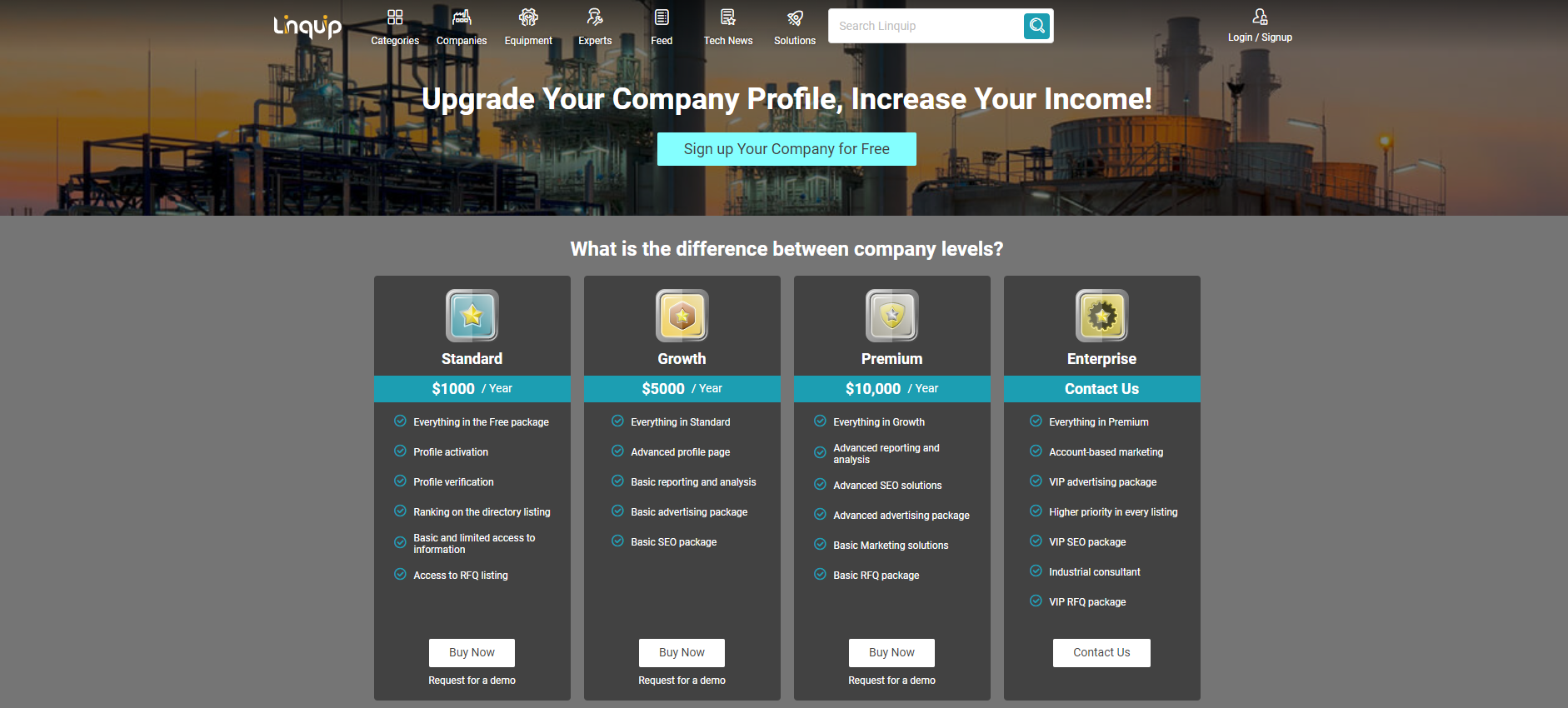 You can conduct all of your industrial research in one place! It can be challenging to find industrial experts, companies, news and equipment with standard search engines. With this feature, take advantage of unlimited access to Linquip's comprehensive industrial directory.
Besides, you are able to increase your chances of being seen on Google SERPs more than ever before with Linquip. Utilizing a wide range of industrial queries, Linquip introduces your company to organic niche users.
You can also get the most out of your Linquip profile by maximizing your impressions and engagement. With this feature, your company will be listed in our industrial directory with higher precedence than non-member profiles.
For more information on how the Linquip platform can help you boost your digital advertising, visit our Solutions section. You can use our Sponsored Brand solution to ensure your brand is top of mind when customers are browsing and discovering companies in the Linquip Directory. The Linquip platform will make sure your brand is showcased whenever a prospective customer is searching for similar companies or related keywords. Through Linquip's smart placement software your brand will be targeted to the right decision makers to ensure maximum exposure. You can also increase leads by exposing the right people to the right information at the right time.

Sponsored posts appear directly in the Linquip feed of professions you want to reach, and come in multiple formats including video, images, or articles. Using accurate, profile-based first-party data, Linquip makes sure your posts are seen by the most relevant audience. Whether your focus is brand awareness, product awareness, product sales, etc., Linquip helps you reach your targets by making marketing easy and effective. With a user base of over 260k in-market buyers from around the world, Linquip exposes your posts to more users than was ever possible before.

We also encourage you to visit Linquip SEO Solution. You can increase your chances of being seen more than before in Google SERPs with Linquip. Linquip, with a large share of industrial niche queries, introduces your company to organic niche users.
Buyers are doing more and more of their research online than ever before. By creating a Linquip Premium Profile you're hiring a group of experts to be an extension of your marketing team that will help your company be easily found on search engines and build brand awareness.
Step one is building brand awareness, the next step is helping potential customers understand your brand's expertise and product line. Linquip's Premium Profile takes care of this.

Come join Linquip now that you know the answer to "What is industrial advertising?" and why digital advertising might improve your industrial advertising strategy.
We'll assist you in developing the most effective industrial digital advertising plan for your company. We've worked with B2B enterprises before, so we know what it takes to market to other businesses. We understand the ins and outs of online advertising.
Visit the Linquip website and talk to a strategist about our industrial marketing plans!
FAQs about Email Marketing for Manufacturers
1. Does email marketing still work in 2022?
Email marketing is far from dead in 2022, and it offers businesses several benefits and opportunities to explore. The outcomes will be seen with proper practice and a well-planned strategy produced by effective digital marketing companies. 
2. What are good marketing emails?
Straightforward and to the point (40 to 50 characters, or 9-14 words). Depending on your brand voice, humor and wit might be great email subject lines. Words in all capitals or with spaces between each letter, as well as phrases like "purchase now" or "free," are not spam filter triggers.
3. How much does email marketing cost?
If a mid-size company manages their own campaigns, they should expect to spend $9 to $1,000 per month on email marketing (depending on the platform and number of subscribers). It might cost them $300 to $500 per month if they work with an agency.
Read More on Linquip